Ever since it was released a few months back, TRIPLE THREAT has been electrifying audiences all over the world with its non-stop, bone crushing action as today's top stars have joined forces for what surely is the "Action Event of the Year."  Never before has this much talent been involved in one film and to see Tony Jaa, Scott Adkins, Iko Uwais, Michael Jai White and more throwdown in a 95 minute barrage of extreme fisticuffs has certainly been well worth the wait.
The film just had its premiere in the UK at the Fighting Spirit Film Festival back in April and Scott Adkins, himself, was on hand to welcome the film to his native UK. As part of bringing top tier exclusive content to you, Dan's Movie Report had the opportunity to chat with the action star and we have a special exclusive interview where Scott answered some questions about the film like working with Tony Jaa in general.
The TRIPLE THREAT UK premiere was held on April 28th in Birmingham and Tayah Kansik was on hand to ask Scott some exclusive questions for Dan's Movie Report. Filmmaker Dean Meadows, who has directed the upcoming SCARLETT CROSS: AGENTS OF DEATH, handled the camera work for the interview and Adkins was able to talk about working with both Tony and director Jesse V. Johnson whom Adkins has now collaborated with for a half a dozen times. Check out the full written interview with intro by my partner in action crime Danny Templegod right below along with the full video at the end!
Greetings valued Dan's Movie Report and www.action-flix.com readers. Back in April, my good friends Tayah and Dean were able to attend the Fighting Spirit Film Festival in Birmingham and witness the U.K. Theatrical debut of Triple Threat, and to interview the amazing Scott Adkins! Though I posted the video awhile ago, many viewers were not able to see it, thus I have decided to type it out and pay respects to the entire Fighting Spirit Film Festival Staff, and of course the gracious Mr. Adkins. I was not able to attend, nor send a rep for the most recent one, yet I stand in support of this great event. On to Tayah and the one and only Scott Adkins! (Danny Templegod)

DMR: Tayah- Hi I am here with the one and only Scott Adkins on behalf of Dan's Movie Report. I have a few questions for you, can you chat a little bit about working with and having a fight scene with Tony Jaa, in Triple Threat? What are some of the things you did to amplify the action.

Scott Adkins: I did as I was told,  because we had Tim Man as our Fight Coordinator. He is brilliant, obviously, I have done a lot of stuff with him.  He had a really difficult job as he was creating fights for the best martial arts actors in the world. I think there was a lot of pressure on him and he did not have a lot of time to do it but he did a brilliant Job as he always does. I had always wanted to work with Tony Jaa, it was an absolute pleasure, he is such a humble guy, obviously he is an incredible martial artist, I literally have never been kicked as hard by anyone in my life. I know he was not trying to be he has so much power. He is a great guy, mutual respect. I cannot wait to work with him again and I believe we will.

DMR: You and Jesse V. Johnson have worked together on more than half a dozen films, can you talk about the chemistry you have together, and why the two of you work so well together?

Scott Adkins: I am just doing more character stuff with Jesse. I am really enjoying doing the more character based action stuff with Jesse as I get a bit older. I am really interested in creating characters and Jesse gives me the space to do that. It is a great working relationship, we know each other's strengths, each other weaknesses. We can be hard on each other, we even have arguments on the set, to be honest, but it is always from a passionate place, where we are trying to do the best work that we can do.  It can get pretty heated sometimes, haha, but by the time the film comes out we are both super happy with the direction we are both going.

DMR: I know we are running out of time, will we see Boyka again?

Scott Adkins: I don't think we will. I think Boyka is done. I think he ended in a nice way, he ended in prison, rotting. Haha, yes that is the trajectory of Boyka he is like a tragic hero in a way.

DMR: Thanks for that insight to Boyka, what have you got coming up, that you can discuss?

Scott Adkins: Yes I have Ip Man 4 coming up. It was great to work with Donnie Yen as he was a childhood hero of mine. He specifically asked for me in that film, so that was great. (Avengement is coming out, character driven action film, again working with director Jesse V. Johnson, very British very gritty, excited about that one.

DMR: OK Great, thanks Scott for taking time out of the Fighting Spirit Festival Birmingham to conduct this interview, we will look forward to watching the new films.

Scott Adkins: Thanks, thank you

For more information on Scott Adkins please connect with him on his official social media pages:

Scott Adkins Facebook: https://www.facebook.com/officialscottadkins/
Scott Adkins Twitter: https://twitter.com/thescottadkins?lang=en
Scott Adkins IMDB page: https://www.imdb.com/name/nm0012078/

For more information on the amazing Fighting Spirit Film Festival please point your browsers to:

https://www.fightingspiritfilmfestival.com/
Special thanks to Soo Cole and the entire Fighting Spirit Film Festival staff for their assistance in this interview. Please check out my associate, and interviewer Tayah Kansik. Tayah is an excellent martial artist, actress, and personal protection specialist: http://dansmoviereport.blogspot.com/2019/01/tayah-kansik-acting-action-spotlight-c.html

All photography and videos are courtesy of Dean Meadows, Dean owned and operated Vengeance Magazine in from 2003 to 2006 and now is completing his first feature film Scarlett Cross: https://www.facebook.com/deanmeadowsfilm/
Keep it locked on Dan's Movie Report and www.action-flix.com for the latest news and exclusives!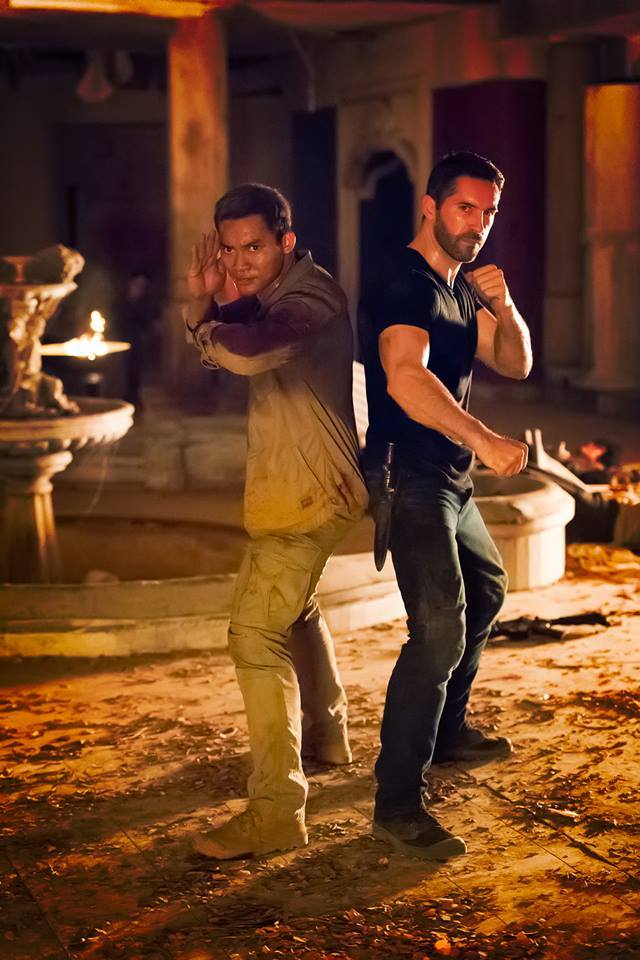 At one point, Adkins was asked about whether or not we will see Boyka again and Adkins gave an answer that might not sit well with fans as he stated that he really doesn't think so and that the last film was a fitting end for the character. I must say that while it is certainly sad news, hopefully that might change in the future. A new TV series is in the works with Isaac Florentine set to helm but no word on a cast or if Adkins will reprise the character of Boyka for it. Check out my full article on the Undisputed TV series by clicking here!
A huge tip of the cap to my partner Danny Templegod for the exclusive interview and as always, keep it locked and loaded right here and at Dan's Movie Report for more exclusive action content!