(Original Publication Date: March 29th, 2019) By: John M Jerva
A few years ago, I was fortunate enough to touch base with an actor and martial artist named Dan Cade who I featured in one of my ONE TO WATCH entries and to his credit, Dan is one of the hardest working guys and one of the nicest people currently working in the film industry today. Having appeared in such films as PAPILLON, EXTINCTION and the recently released THE HARD WAY with Michael Jai White, Dan is certainly cutting his teeth in the busy world of films and television and making a name for himself. Dan's TV credits include BORGIA where he got his start and also A.D. THE BIBLE CONTINUES and LEGENDS with Sean Bean and he is well on his way to establishing himself in all the genres besides action.
In this exclusive interview with Action-Flix, Dan talks about getting started in both the martial arts and film business and also sheds light on filming THE HARD WAY which can now be seen on Netflix and how it was to go toe to toe with Michael Jai White. Scroll on down and get to know Dan Cade a little better as we chat action, movies, TV and more!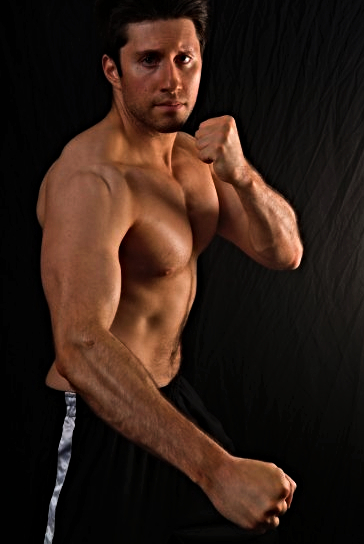 1) Hi Dan! Thanks for taking the time to chat. We first got to know you here at Action-Flix.com when you were featured in our One To Watch segment a few years back. Since this is your first official interview with the site, tell us how did you get started in the martial arts.

THANKS JOHN! WELL, I STARTED OFF GOING TO A JUDO CLASS MY DAD WAS TAKING WHEN I WAS AROUND 4 YEARS OLD. I DIDN'T REALLY TAKE TO IT, SO A COUPLE OF YEARS LATER I STARTED GOJU RYU KARATE AND REALLY FOUND I WAS A LOT BETTER AT THE KICKS AND PUNCHES AND MOVEMENT. THEN IT DEVELOPED FROM THERE. I GOT GOOD AT ALL THE KICKS, SKIPPED SOME OF THE BELTS, GOT MY BLACK BELT AND THEN MOVED INTO OTHER MARTIAL ARTS LIKE WUSHU AND TAE KWON DO. I GOT INTO WATCHING ALL THE MARTIAL ARTS MOVIES FROM BRUCE LEE, JACKIE CHAN, VAN DAMME AND SEAGAL. I THEN MOVED INTO GYMNASTICS AND MIXED UP THE MARTIAL ARTS STYLES TO JUST CONCENTRATE ON THE ACROBATIC MARTIAL ARTS, WHICH IS WHAT I DO NOW.



2) How did you get involved in the film industry. Was this a path you always wanted to take or was there something else at one point.

I ALWAYS WANTED TO GET INTO IT. AS WELL AS THE MARTIAL ARTS, I WAS ALSO REALLY CREATIVE AND WENT TO TRAIN IN ACTING FROM A YOUNG AGE TOO. I DEVELOPED THIS AND WENT ON TO TRAIN AT A DRAMA SCHOOL IN LONDON AND LEARNT ALL THE TECHNIQUES FOR THE SCREEN. I THEN STARTED MAKING SHOWREELS AND BUILT UP CREDITS AND AUDITIONED/SELF TAPED AND STARTED TO LAND ROLES AND IT WENT FROM THERE. IT WAS ALWAYS THE PATH I WANTED TO TAKE. THERE WAS NEVER ANYTHING ELSE I REALLY WANTED TO DO.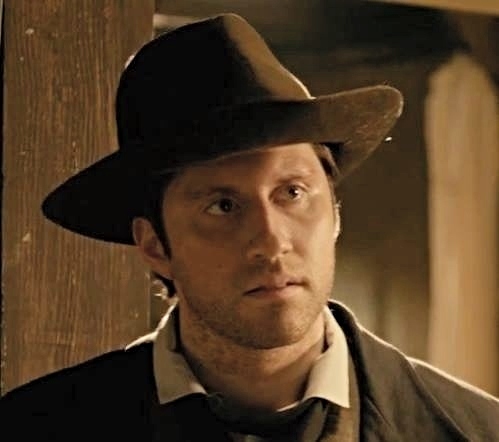 3) Talk about your first acting gig. Any fond memories of that time?

THIS WAS GREAT. I WAS AWARE OF A SHOW CALLED "BORGIA" WHICH WAS BEING DONE FOR CANAL PLUS. THIS WAS MY FIRST PROPER GOOD GIG. I THOUGHT IF I COULD GET INTO THIS SERIES, THIS WOULD BE THE TYPE OF WORK I WANT TO BE KNOWN FOR. SO I CONNECTED WITH CASTING AND I FOLLOWED UP EVERY COUPLE OF MONTHS. THEN I WAS SENT A SELF TAPE FOR A CHARACTER, GALEOTTO – A COLD, MILITARY ITALIAN SOLDIER. SO I TAPED IT. I DIDN'T HAVE TOO MUCH SELF TAPING EXPERIENCE AT THE TIME, BUT WAS PRETTY PLEASED WITH IT. IT WAS AN EXCITING PROCESS. AT FIRST I WAS TOLD I DIDN'T GET THE ROLE, BUT THEN A COUPLE OF WEEKS LATER I WAS TOLD I WAS STILL IN THE MIX. THEN I WAS CONFIRMED FOR THE ROLE A COUPLE OF DAYS LATER AND THE SAME WEEK FLEW OUT TO PRAGUE TO START SHOOTING IT. I WAS WORKING WITH DEARBLA WASLH, A REALLY REKNOWNED TV/FILM DRAMA DIRECTOR. I WATCHED HER EMMY ACCEPTANCE SPEECH THE DAY BEFORE I WAS GOING TO MEET HER, SO THAT WAS PRETTY NERVE RACKING AND EXCITING AT THE SAME TIME. IT WAS MY FIRST EXPERIENCE ON THESE HUGE SET PIECES WITH WEAPONS, HUGE COSTUMES, AND I GOT TO WORK ALONGSIDE ART MALLICK FROM "TRUE LIES" AND SOME REALLY GOOD QUALITY U.S. AND EUROPEAN ACTORS.

4) You perform in a lot of action oriented films. How do you prepare for these roles? Any specific training you do?

WELL, I MAKE SURE I KNOW THE DIALOGUE, SO I DON'T HAVE TO THINK ABOUT THE LINES AND THEN I CAN CONCENTRATE ON THE CHARACTER, THE ACCENT, THE MOVEMENT AND THE SCENES. I MAY PREP WITH AN ACTING COACH AND MAKE SURE I GET DIFFERENT IDEAS FOR THE CHARACTER FROM ANOTHER ACTORS/DIRECTOR POINT OF VIEW AS WELL. I PREP IN THIS WAY FOR MOST ROLES. WITH THE ACTION, IT'S MORE OF I STAY FIT AND KEEP UP THE TRAINING, THE MARTIAL ARTS AND THE GYMNASTICS WHICH IS WHAT I DO ALL YEAR ROUND. SO WITH THE ACTION, I'M READY FOR THAT ANYWAY.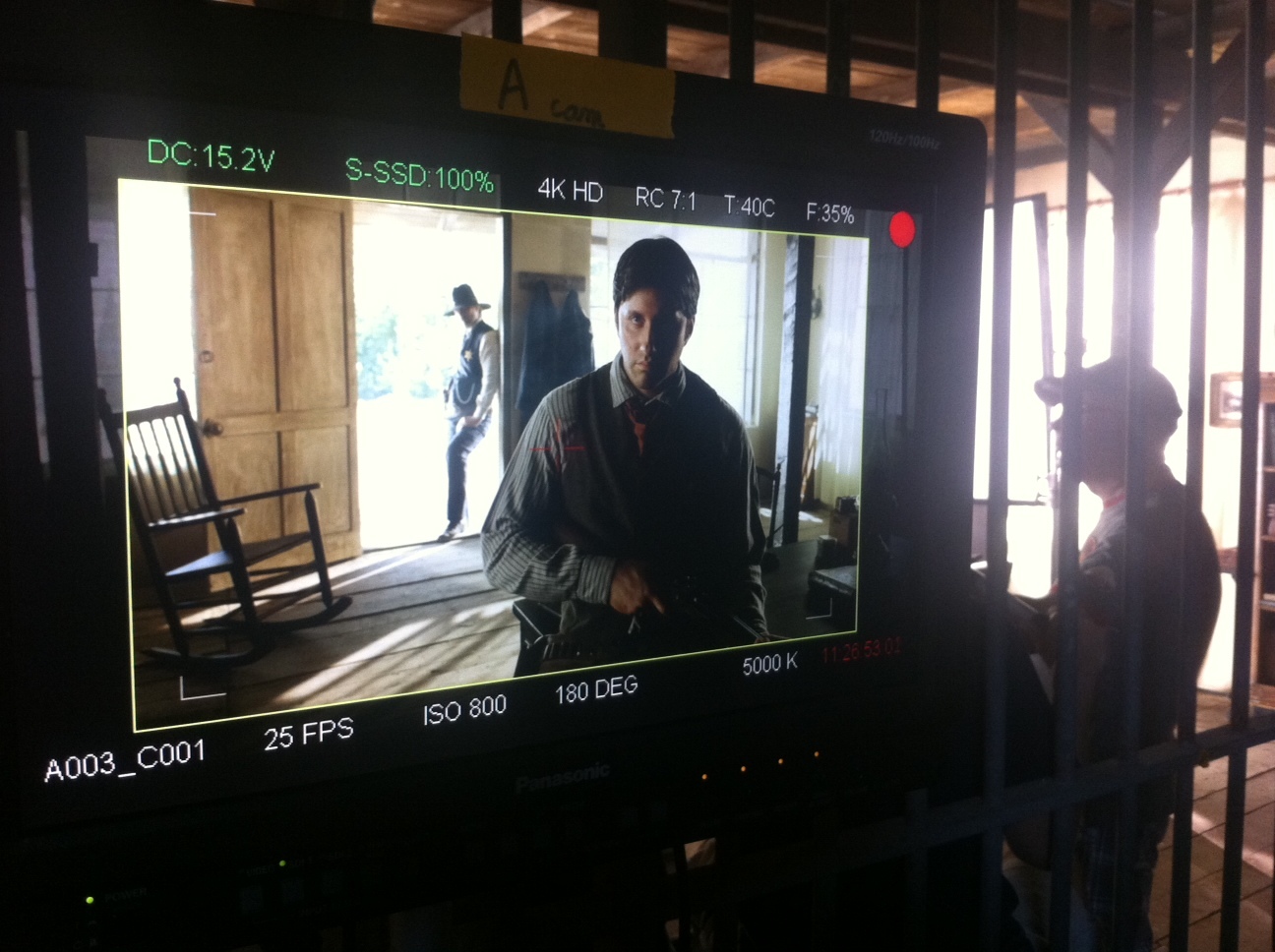 5) Your most recent project is the awesome action The Hard Way which stars the great Michael Jai White, Luke Goss and Randy Couture. How did you get involved with the film. I recently did a review for it and thought it was top notch especially for watching Mr. White kick ass for 90 minutes.

THIS WAS GREAT. I ALWAYS WANTED TO DO THESE TYPES OF PROJECTS, SO I WAS EXCITED WHEN THIS CAME UP. I KNEW THE PRODUCER AND THEY SHOOT A LOT IN EASTERN EUROPE AND I HEARD HE WAS DOING A MOVIE, SO I REACHED OUT, AND THEN HE CALLED ME ASKING ME IF I'D CONSIDER TAPING FOR THIS ROLE OPPOSITE MICHAEL JAI WHITE. SO I TAPED IT. I TALKED THROUGH THE CHARACTER WITH THE PRODUCER AND WHAT THEY WANTED AND I SENT HIM A FEW DIFFERENT VERSIONS. WE DID THIS IS ALL IN A COUPLE OF HOURS AND HE LIKED IT AND SENT MY ACTION REEL AND THE AUDITION'S TO KEONI, THE DIRECTOR, AND THEN THEY CONFIRMED ME FOR THE ROLE, WHICH WAS AWESOME.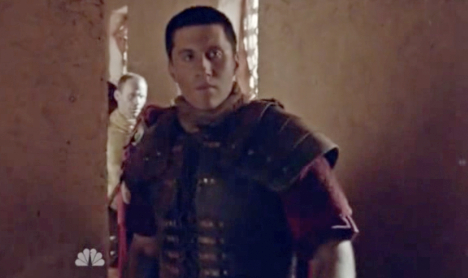 6) Your character of Tony Zito is featured at the beginning of the film and you get to mix it up with Michael. How was it to go toe to toe with one of the greats?

THE FIGHTING WAS GREAT TO DO OPPOSITE MICHAEL. HE'S A GREAT MARTIAL ARTIST WITH PRECISION, SO IT WENT SMOOTHLY AND WE DID THIS PRETTY QUICK. HE HAS CONTROL TOO, SO I DIDN'T HAVE TO WORRY ABOUT HIM HITTING ME IN THE FACE. THAT'S THE GREAT THING ABOUT WORKING WITH A GOOD MARTIAL ARTIST AS WHEN IT'S ONLY AN ACTOR AND THEY DON'T KNOW HOW TO FIGHT FOR CAMERA OR HAVE GOOD TECHNIQUE AND CONTROL MOVEMENTS. IT'S NOT AS EASY TO WORK WITH. FOR EXAMPLE, WHEN I WORKED ON THE NBC SHOW EMERALD CITY, THE OTHER ACTOR WASN'T A TRAINED FIGHTER, SO HE ENDED UP NOT CONTROLLING HIS MOVES AND HIT ME RIGHT IN THE NOSE.

7) Your character ends up getting kicked through a window. Was that you or did you let someone else enjoy that?

THAT WAS A STUNT GUY, MICHAEL HAD TO KICK HIM 100 PERCENT IN THE CHEST THROUGH THE WINDOW, SO I WATCHED FOR THAT ONE.

8) Michael seems like a really great guy. How was he to work with?

I LOVED WORKING WITH MICHAEL ACTUALLY. HE'S A GREAT ACTOR. WE CONCENTRATED ON THE DIALOGUE AND ACTING JUST AS MUCH AS THE FIGHT. HE'S A REALLY GENEROUS ACTOR AND GIVES FULL PERFORMANCE OFF CAMERA FOR THE OTHER ACTOR TO ALSO BOUNCE OFF. THIS ISN'T ALWAYS THE CASE AS WHEN YOU'RE OFF CAMERA NOT EVERY ACTOR WILL KEEP UP THE SAME ENERGY AS THEY HAD WHEN IT'S THEIR CLOSE UP, BUT MICHAEL DID THE WHOLE WAY THROUGH FOR EACH SET UP. HE ALSO HAD COOL STORIES ABOUT ALL THE GREATS.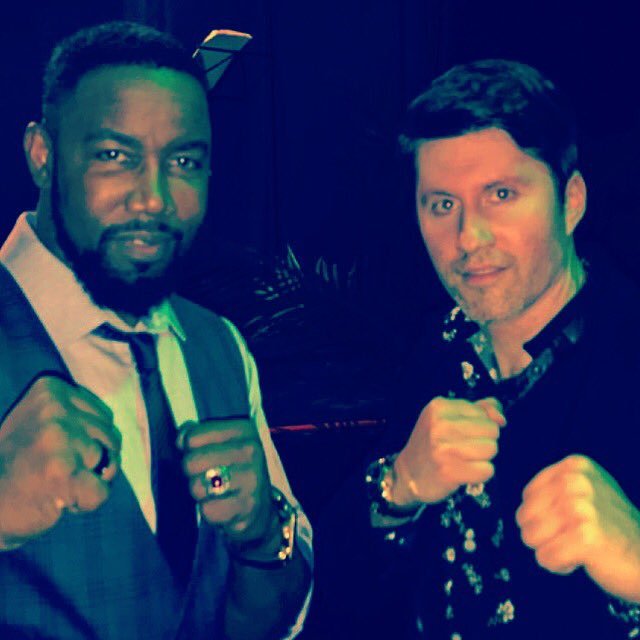 9) Talk about Keoni Waxman who directed the film. He has directed a lot of action films with Seagal and so forth. How is he as a director and how is he as an action director?

KEONI IS AN AWESOME DIRECTOR AND A REAL NICE GUY TO, SO HE'S EASY TO TALK WITH. KEONI KNEW EXACTLY WHAT HE WANTED AND WAS REALLY CLEAR, SO THE WHOLE PROCESS JUST FLOWED. HE'S GREAT WITH THE ACTION TOO. MAKES IT REALLY SLICK AND FAST PACED AND DYNAMIC. WE DID IT IN STAGES AND HE DID SOME REALLY COOL SET UPS AND GREAT ANGLES. HE ALSO CREATES A LOT OF FREEDOM AND IS REALLY OPEN TO IDEAS ON THE CHARACTER TOO AS WELL AS THE ACTION.

10) Switching gears now, you are in the History Channel show Knightfall. Tell us about what role you are playing and what we can expect.

KNIGHTFALL WAS A GREAT EPIC SHOW TO WORK ON. I PLAY A CHARACTER CALLED SIR HENRI DE MONTFOY. HE'S A POMPOUS, ARROGANT KNIGHT, SO YOU CAN IMAGINE WHAT'S COMING WITH THAT ONE. YOU CAN EXPECT AN EPIC SHOW, WITH GREAT BATTLE SCENES AND GOOD ACTING. ROEL RAINE WAS DIRECTING SOME OF THE EPISODES BUT UNFORTUNATELY I ARRIVED WHEN ROEL WRAPPED HIS SECTION, SO DID'T GET TO WORK WITH HIM.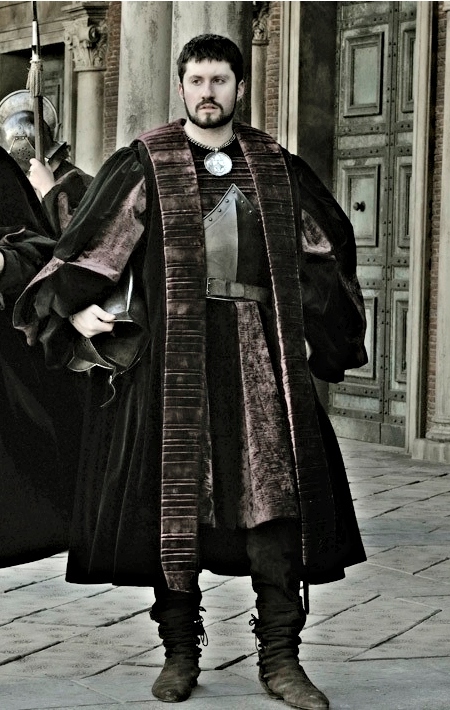 11) Now in terms of acting, you have done both TV and feature films. Is one better than the other for you? Do you have a preference?

WELL I LOVE BOTH ALTHOUGH TV SEEMS TO BRING MORE WORK FOR ME. THE SHOWS I'VE BEEN DOING ARE MORE LIKE MOVIES WITH THE BIG SET'S AND HUGE CREW. THE PERFORMANCE IS SIMILAR AND BOTH WORKING WITH THE CAMERA. TV DOES SEEM TO BE A BIT MORE FAST PACED THEN THE MOVIES I'VE WORKED ON.

12) Now you also mentioned the projects Carnival Row and Atlantic Crossing. What can you tell us about those projects.

CARNIVAL ROW IS A BIG BUDGET TV SERIES FOR LEGENDARY AND AMAZON. IT'S A FANTASY SHOW. THE LEADS ARE CARA DELEVIGNE AND ORLANDO BLOOM. THIS WAS A GREAT EXPERIENCE TO WORK ON. I'M EXCITED FOR THIS SHOW AND EVERYONE INVOLVED HAS A FEELING IT'S GOING TO BE A BIG ONE.

I JUST FINISHED UP ATLANTIC CROSSING. THIS WAS ANOTHER ONE I HEARD ABOUT. I SAW THAT A REALLY WELL RESPECTED CASTING DIRECTOR, AVY KAUFFMAN, WAS CASTING THE LEADS, SO I THOUGHT IF SHE IS CASTING, THIS IS SOMETHING I NEED TO GET INTO. ALSO THE DIRECTOR AND PRODUCTION COMPANY ARE SCANDINAVIAN AND THE LEAD WAS SOFIA HELIN FROM THE ACCLAIMED SERIES "THE BRIDGE". I'M EXCITED ABOUT THIS ONE, THE QUALITY OF WORK AND PERFORMANCE WAS GREAT FOR ME AS AN ACTOR TO BE INVOLVED IN. I PLAY "JOSEPH LOCKARD" BASED ON THE REAL LIFE CHARACTER WHO COULD HAVE HELPED STOP PEARL HARBOR. THE SERIES WON'T BE RELEASED FOR A COUPLE OF YEARS, BUT WHEN IT DOES, I THINK IT'S GOING TO DO REALLY WELL.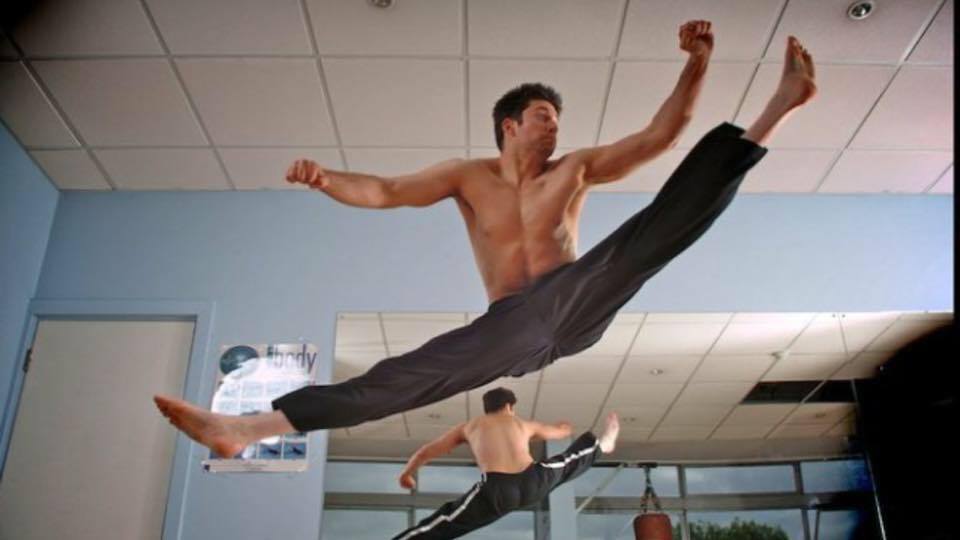 13) Now you have worked in all types of genres. Is action your favorite or do you love them all equally?

I DO LOVE THEM ALL, THOUGH ACTION IS WHAT I WANTED TO DO. I'M A VERY PHYSICAL ACTOR AND THE ACTION GENRE ALLOWS ME TO DO THIS. PLUS I GREW UP WATCHING ALL THESE ACTION MOVIES, SO I'D SAY ACTION IS DEFINITELY MY FAVORITE AND IT'S THE MOST FUN TO WORK ON.

14) In terms of on screen fighting, do you have a particular scene from a film or show that stands out for you. What's your favorite moment from all the action you have done?

THE MOVIE, "DRIVE" WITH MARK DACOSCOS. THAT END FIGHT WAS AWESOME AND SLICK. I LOVE THE HONG KONG ACTION TOO, BUT "DRIVE" IS THE FIGHT THAT STANDS OUT FOR ME OUT OF THE WESTERN ACTION FILMS. THE HONG KONG ONES, THERE IS SO MANY, SPL, ONG BAK…TOO MANY TO CHOSE FROM.

15) In terms of the state of action films these days, it seems that the indie films are kicking the big budget films in the ass in terms of content and action sequences. Would you agree with this and can you tell us what you prefer as a movie watcher?

THE INDIE FILMS I ENJOY MORE AND YOU'RE RIGHT THE CONTENT AND ACTION IS ANOTHER LEVEL. THE BIG BUDGET ONES USE TOO MUCH CGI. IT'S NOT BELIEVABLE AND YOU CAN'T SEE THE REAL ABILITY, WHEREAS THE INDIE ONES SHOWCASE THIS AND THIS IS WHAT I'VE ALWAYS LOVED TO WATCH.

16) Besides what we talked about, what else can we expect from you in the future?

BESIDES CARNIVAL ROW, THE HARD WAY, KNIGHTFALL AND ATLANTIC CROSSING, I'M ALSO IN AN UP AND COMING MOVIE TRILOGY FROM THE SAME DIRECTOR AS THE SWEDISH "GIRL WITH THE DRAGON TATTOO" TRILOGY, CALLED "INTRIGO". I'M IN THE THIRD PART WHICH SHOULD BE RELEASED LATER THIS YEAR. THIS IS MORE A DRAMA/THRILLER AND I GOT TO WORK WITH GREAT ACTORS AND THE DIRECTOR, DANIEL ALFREDSON ON THIS, SO THIS SHOULD BE EXCITING TO WATCH.

Thanks Dan for the great interview and best of luck in the future!

Follow Dan on his social media pages and keep up to date with all the latest news:
DANE CADE SHOWREEL