(Original Publication Date: December 3rd, 2018) By: John M Jerva
In the world of modern action cinema, Paul Allica is a force to be reckoned with. The Australian native is making a name for himself with such films as THE TRIGONAL which recently debuted in The Philippines as well as the new action short film THE PROPOSAL where he takes on fellow Aussie Marc Natoli. Allica has also been seen in GHOST IN THE SHELL and in Jackie Chan's KUNG FU YOGA and the upcoming VIY 2: JOURNEY TO CHINA which also stars one Arnold Schwarzenegger. Allica is also set to light the screen on fire with his own take on ROBIN HOOD in THE SIEGE OF ROBIN HOOD which promises to infuse Hong Kong style action in with the old time legend. 
Allica is one busy professional but he took some time out to chat with us personally about where he has been and where he is headed. The future is bright for Paul Allica and here is the exclusive Action-Flix.com interview with Robin Hood himself! Watch out folks because Paul Allica is coming your way!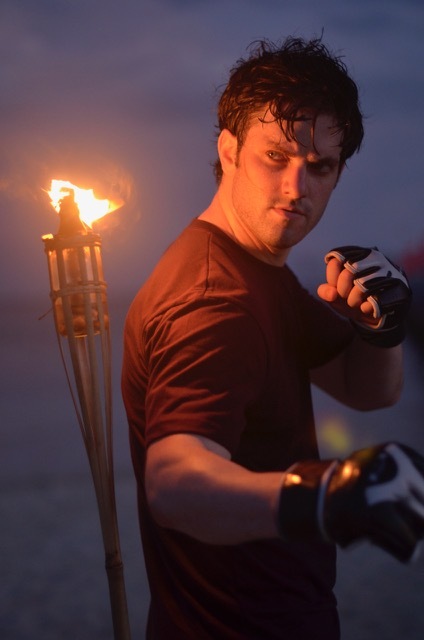 1) Hi Paul. First I wanted to thank you for the opportunity to chat. Before we get on with the films, I was wondering if you could tell us how you got started in the martial arts. What or who was your inspiration?
Thanks for having me John. So many of my heroes have graced the Action-Flix pages so I consider it an honour to be interviewed by you.
I was always a huge fan of Jackie Chan and Jet Li. Renting movies was a luxury growing up so I would survive on TV taped videos and would watch them so frequently that I could quote them verbatim.
I think I drove my parent's crazy. Shanghai Noon was my favourite growing up and really sparked my imagination- I would have seen it over 30 times. It's the perfect combination of great story, visuals, comedy and inventive action.
As a kid I asked my folks to do martial arts training literally every day for over 10 years. They always declined with good intentions because I had a bad neck from a previous jumping castle accident, or no because I might fight my sister. After a particularly bad punch on at school where it was me and two mates vs a gang, I told my parents I was going to learn how to do martial arts and defend myself or I was moving out. Talk about an ultimatum.
They finally acquiesced and I began learning Cop Den Do, a type of Vietnamese Kung Fu which is equal parts self defence and traditional weaponry. A great introduction to the world of fighting.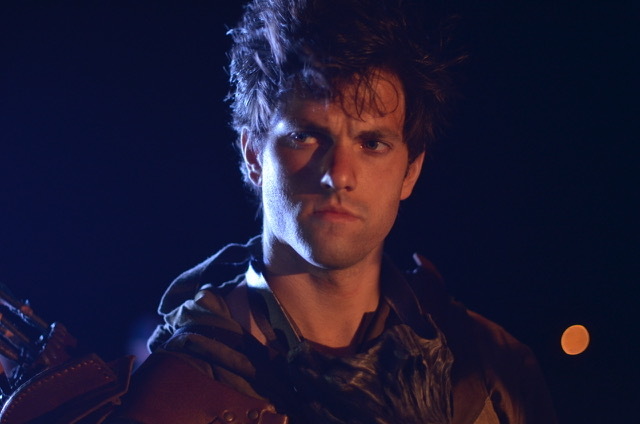 2) Now tell us how you got started in the film industry. Was it something you always wanted to do?
I hated drama as a subject in school. They would make us do weird animal exercises and I vividly remember my diabetic teacher consistently sending herself to sleep from low blood sugar. We weren't far behind her lead. I actually got into acting via the school musicals. I was interested mainly because it was a chance to get out of math for rehearsals or you'd get to check out the year 12 girls which was a big deal in year 8 (haha!). Probably not the most altruistic start to the industry.
My huge passion for martial arts led me to accidentally falling into action choreography. One day I noticed a new martial arts instructor in my style that I hadn't seen before. He was doing incredible balletic choreography at the back of class with the blackbelts while I was stuck with the blue belts doing forms and stances. It didn't take long before I introduced myself and realised the reason I hadn't seen him before was he was working with Jackie Chan in Asia. He took me under his wing and taught me a lot. We would butt heads at times but I'll forever be grateful for him giving me my start in the action industry.
After a while, I decided that falling on my head for a living wasn't the best career path and began to pursue a more hybrid approach to action acting similar to what Tom Cruise does. He's an actor first but can also do a lot of his own stunts and fights.
I also in, a round about way, have Donald Trump to thank for getting my first break. I was at a success conference in my hometown of Melbourne, Australia and he was one of the guest speakers (This is pre politics/property mogul days). I remember he said, and I'm paraphrasing, 'to be successful, its not always about skill, its sometimes about being in the right place at the right time and that chance encounter, and going after it'. I proceeded to sneak past security into the Diamond VIP area where tickets were $1500 plus – I'd spent $20 for mine.
I sat down and soon recognized a local actor Paul O'brien in front of me who was quite successful and had been on our number one rated soap opera Home and Away. I didn't know his real name but remembered his character. After a bit of Iphone IMDB research, I approached him and asked for advice on how I might break out of purely stunts and into dramatic performance. The rest is history.
After some limited success in Australia, my first big break came when I headed over to China. They have a great action industry and are making about 1000 features a year compared to our approximate 50 in Australia. All of a sudden I was working opposite Arnold Schwarzenegger, Jackie Chan and Scarlett Johansson. I spent a good three months on set of a Chinese Action Epic called Wolf Warrior 2 starring Wu Jing and Frank Grillo where I was assisting the American action team behind Marvels Avengers Infinity War and Civil War. It was a great honour to work with those guys under the tutelage of Sam Hargrave (Atomic Blonde, Dhaka).
Working with Jackie Chan was a big highlight. I even have a fight scene with him in the upcoming film 'Journey to China 3D'. I would have never expected I'd have a chance to meet him as a child let alone do action with him.
After 18 months in China I decided I'd take what I'd learnt on set and try to replicate it back home in Australia.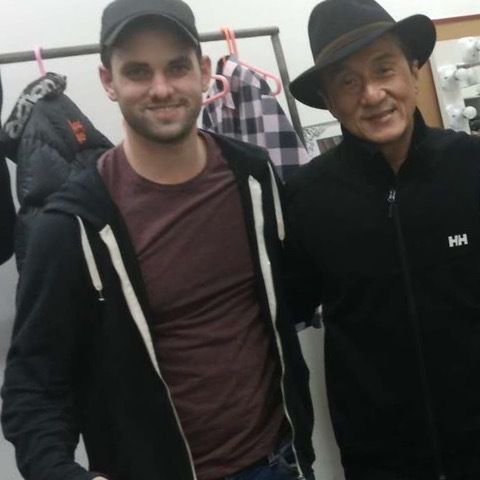 3) We are here to talk about the upcoming The Siege Of Robin Hood but first, could you talk a little about The Trigonal. How did you get involved and what was the experience like. It looks awesome. Will we get to see it here in North America? I'm dying to see it.
The Trigonal is an MMA Epic set in The Phillipines but with an English Speaking all star martial arts cast. There's guys that flew in from all around the world from it including Li Jiang from the UFC and Tae Kwon Do Olympian Monsour Del Rosario. We were in safe hands as The Trigonal is also directed by World Muay Thai Champion Vincent Soberano and Action directed by Wushu World Champion Sarah Chang.
I play an all round nasty guy named James Lowe, the right hand man to the older oligarchiacal crime boss Henry Tan (Gus Liem). When he wants someone 'coerced' or beaten to a pulp, I'm his man. A fast talking, smart ass fighter that loves the ring. I tread a fine line between charming cockiness and cold villainy. Think Connor Mcgreggor. You either love or hate the guy!
I knew Dir. Sarah Chang from working on set with her in Wolf Warrior 2. We spent a lot of time together in the fake African shanty town built in rural China and she knew first hand what I might bring to the table. Ever the smart ass, she called me and said 'hey Paul I'm looking for an arrogant douchebag villain for my film and I thought you'd be a perfect fit'. I think that level of banter pretty much sums up our friendship.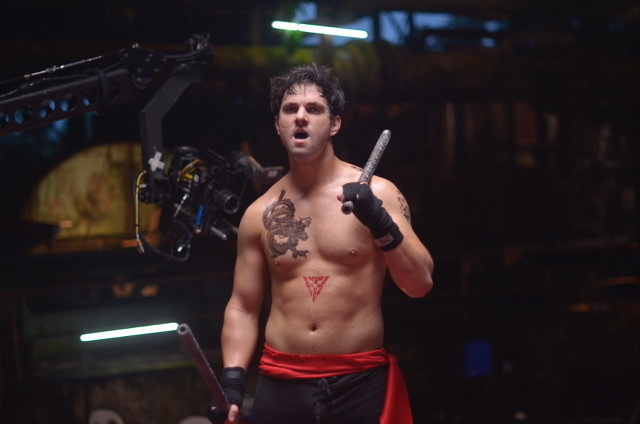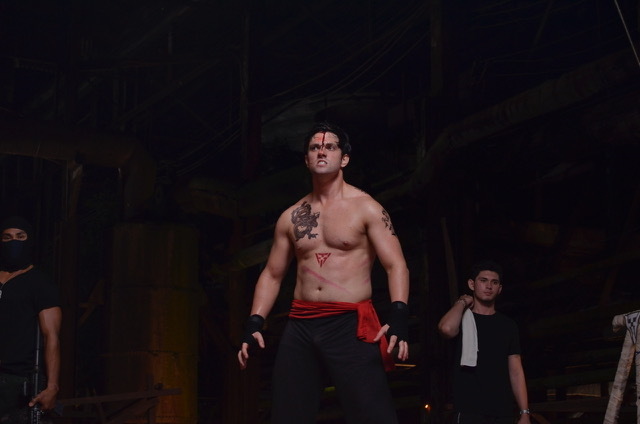 Jokes aside I still had to audition for the role, and after taping successfully, she set me the task of ripping up to boxing weight and learning General American accent in only 7 weeks. A HUGE challenge. I drilled that American accent daily and drove my family and fellow Australians a bit loopy. Big shout out to WWE Wrestler and friend Oleg Prudius and Stunt Man/Falcon Avengers Stunt Double Aaron Toney for their training prep tips to rip up in time.
Its worth noting that in the film, James Lowe actually speaks in a Cockney British accent. When I arrived in the Phillipines feeling pretty prepared I met Vincent for the first time. After seeing rehearsals he came up to me and said in relation to the accent "what else you got?". My stomach dropped. I cycled through the other accents in my toolkit, Russian, Southern American, British RP etc. before settling on Cockney British. There was a harshness and cockiness that suited the character.
I had only two days to perfect that accent before going on set for the first time – they were certainly sleepless nights but after recently seeing a pre-release screener I'm happy with the end result and my performance.
We filmed in many beautiful tropical islands and filmed our final epic MMA fight in an abandoned sugar factory. The film looks like it's a $50 million dollar production from the locations and sets alone. You can expect some hard hitting action, you'll laugh, you'll cry and you ultimately be drawn in by a story of both vengeance and redemption – its a story full of heart.
The Trigonal just finished a successful theatrical run in The Phillipines and will be released in North America later this year!
You can expect to see me do about 5 dramatic scenes and the big climactic ring fight that goes on for about 10 minutes. A huge stick fight that ends up on the ground MMA style. Prepare for brutal injuries and fury!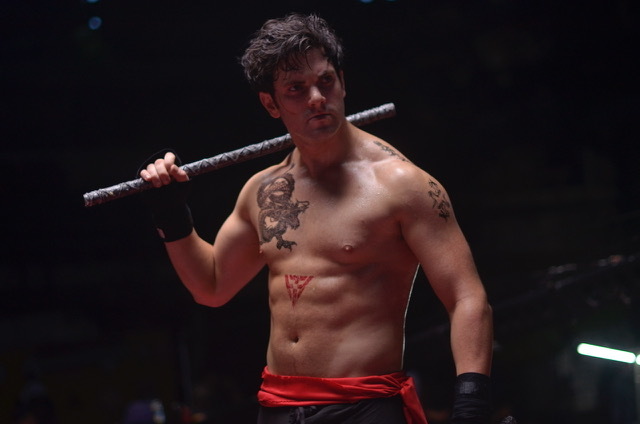 4) Now lets talk The Siege of Robin Hood. How did the project come about and how did it evolve?
Funny enough, I wrote the script in China while on set with Schwarzenegger and Jackie Chan. We had filmed all my scenes with Jackie's double and we were waiting for both the stars to arrive. Due to some scheduling conflicts they weren't able to both get to Beijing at the same time and so the entire cast and crew (me included) were sitting on our hands waiting for them to arrive for 21 days.
I remember feeling a little frustrated because as amazing as it was to work with these guys, it was again a smaller role with a couple of lines. I wasn't complaining at all but just felt I had more to offer and potentially could pull off a lead. I used that spare three weeks to write the script.
I knew I wouldn't have a lot of money being my first script so I reverse engineered it around what I new I could get. There was a castle I knew of near my house in Australia that was sort of like an amusement park or medieval museum. The sort of place you'd take your kids for a picnic and see jousting and dungeons. I looked it up from China online and started writing around what they had knowing full well that they might not agree to have us at all. It was a leap of faith but I pushed forward. I listened to Sylvester Stallone's story daily as motivation to get off my ass and make it happen. This guy was homeless trying to make Rocky and even sold his dog to make ends meet. I knew I would have to take a similar path to give myself an opportunity.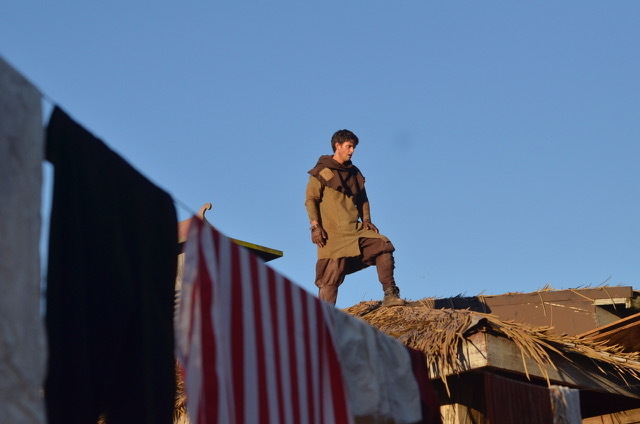 Once written, I brought in a pro named Don MacNab-Stark, a pro screen writer that polished my draft and put in a serious rewrite to fix some structural issues. I also brought in my producing partner and fellow recent film school graduate Shaun McFadyen. I'd made a stack of shorts with Shaun over the years and he was the one who financed the script polish so early on. He invested based on my work alone that If he put in I'd make sure the film would get finished and it'd be an epic adventure. I'm so lucky to have a friend like Shaun that's backed me and continues to do so. In face, I've borrowed his iMac to edit The Siege and he's using a barely functioning laptop – that's true friendship.
My main investor came from random that I met at a bar in China. She was ordering a cocktail and I asked what she was drinking. We got chatting and she asked what I did. I told her I was an actor and making an epic martial arts Robin Hood film and was looking for investors. Naturally, she thought I was full of shit. After a few months of friendship, she saw how much effort I put into refining the script, and concept art. We even shot a proof of concept tavern scene for a kickstarter campaign. Eventually she came on board and put in a decent chunk of the budget which is how this all came about.
I moved back to Australia and immediately went into pre-production. I called in favors from everyone I knew. My dad was building collapsible, breakaway tables out of free pallet-wood. My best mate, the carpenter, built me a stack of stocks for people to get pelted with tomatoes in. No stone was left unturned.
Konrad McCarthy, our Director of Photography, was a quiet force of support and experience that I leaned on throughout shooting. He was the single greatest asset to this film and has captured some truly truly beautiful work. His lighting and camera work, and his entire team for that matter was so professional. There were days were we did 17 hours on set and they didn't mutiny. God I love them all but Konrad's leadership was central to keeping everything moving along. I can't wait for you all to see his work – he will be one of Australia's premiere DOPs, mark my words.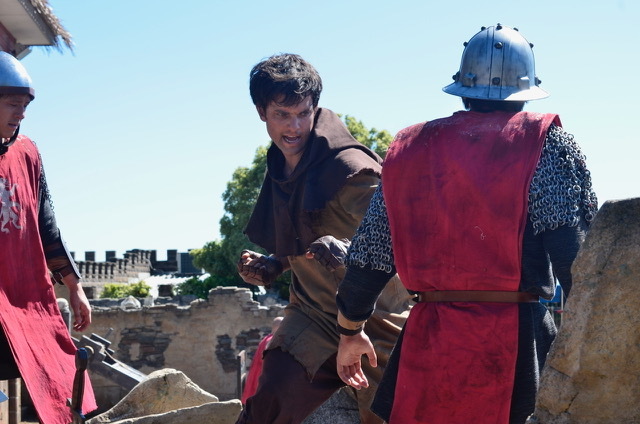 5) There's a lot films and TV shows about Robin Hood with two current films out or coming out soon. What's different in your version and what will attract the fans? Describe the type of Robin Hood you play.
A lot of the Robin Hood's of the past have been camp and silly and our take is 180 degrees sideways to that.
This Robin certainly is charming and silly, a bit of a practical joker at the start of the film but as soon as personal tragedy hits, he becomes like a dark wraith. I drew a lot of inspiration from Christopher Nolan's Batman Begins. The dark figure lurking in the shadows. Robin's redemption is brought forth from his team – they bring him back from the brink of revenge and I can say there is a happy ending.
This film is a heck of a lot of fun. We have really strong action and a lot of laughs. This will be a great family film that appeals to older fans of Robin Hood, and younger fans that just want something fun and lighthearted.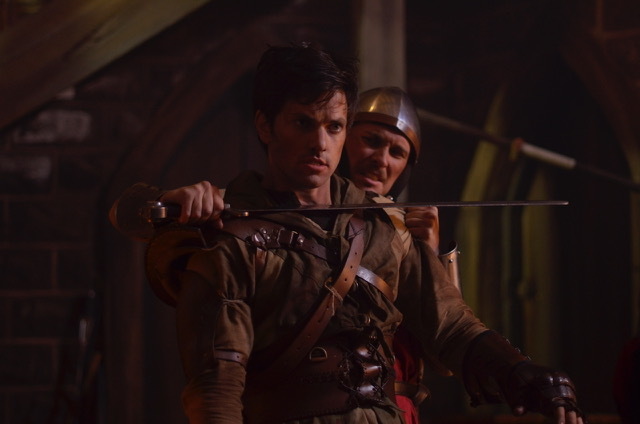 6) I have read that it will infuse Asian style fight choreography. Talk a little about that and what can we expect from the fight sequences?
Remember that martial arts teacher that took me under his wing all those years ago? That's Paul Andreovski, leader of Showdown Productions. Showdown specializes in Hong Kong style action choreography. I was fortunate enough though my personal history with the team to attach them to the project.
The action in The Siege Of Robin Hood is world class. No smoke or bullshit. Seriously amazing. The team pulled off an engaging laugh out loud marketplace chase scene and an epic finale that wouldn't look out of place in a Jackie Chan film… probably because Paul spent so many years working with him!
Having said that, this isn't a retread. We've really found our own style and having unique fighting styles for each character helps break it up so its not just rehashing the same gags.
We also have a full medieval joust with hundreds of cheering background actors screaming and booing at each pass.
I promise you the action in this film is second to none and you won't be disappointed.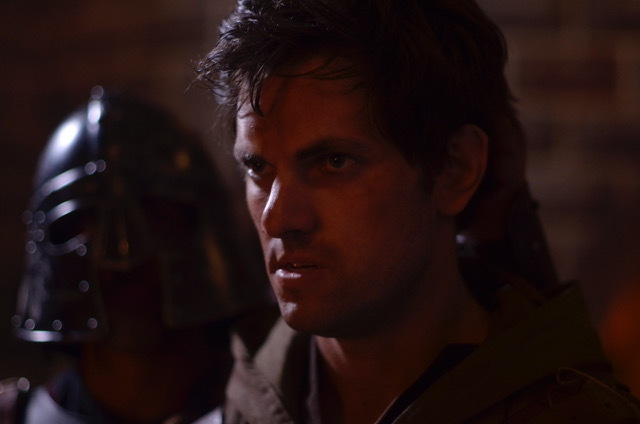 7) You get to work with John Fallon and Marc Natoli. How did you meet them and how great was it to work with them? How was doing The Proposal?
Marc answered my call for martial artists in the casting stage for The Siege Of Robin Hood. We were a little short on action personnel and he was one of the gems we found in the process. At the time he hadn't done film work before but it was clear from early on he was reliable, had a great attitude and was insanely talented at fighting.
He has a background in instructing Jeet Kune Do (Bruce Lee's style) and learned very quickly on the go. From what was originally a small part, I ended up using Marc throughout our entire three week shoot at the Castle. He filled a gap as a featured guard 'Captain Crowley' and began delivering dialogue and doing featured action fights like a seasoned pro. Talk about a natural. I hate guys like him – they make it look easy. I'm really grateful for having had him on set as such a calm and positive force ensuring we got the shots we needed and never complaining once. He'll be back on my future productions for sure…If he's not already booked.
Marc caught the acting bug on our set and has since gone from strength to strength starring in numerous commercials and leading in the award winning short The Proposal. A short about an ex assassin beating through a shit load of mercenaries to get a wedding ring to his girlfriend. I returned the favor he had given me on Siege and performed a featured fight in The Proposal – good to beat down with Marc again but in this film its Robin that eats dirt.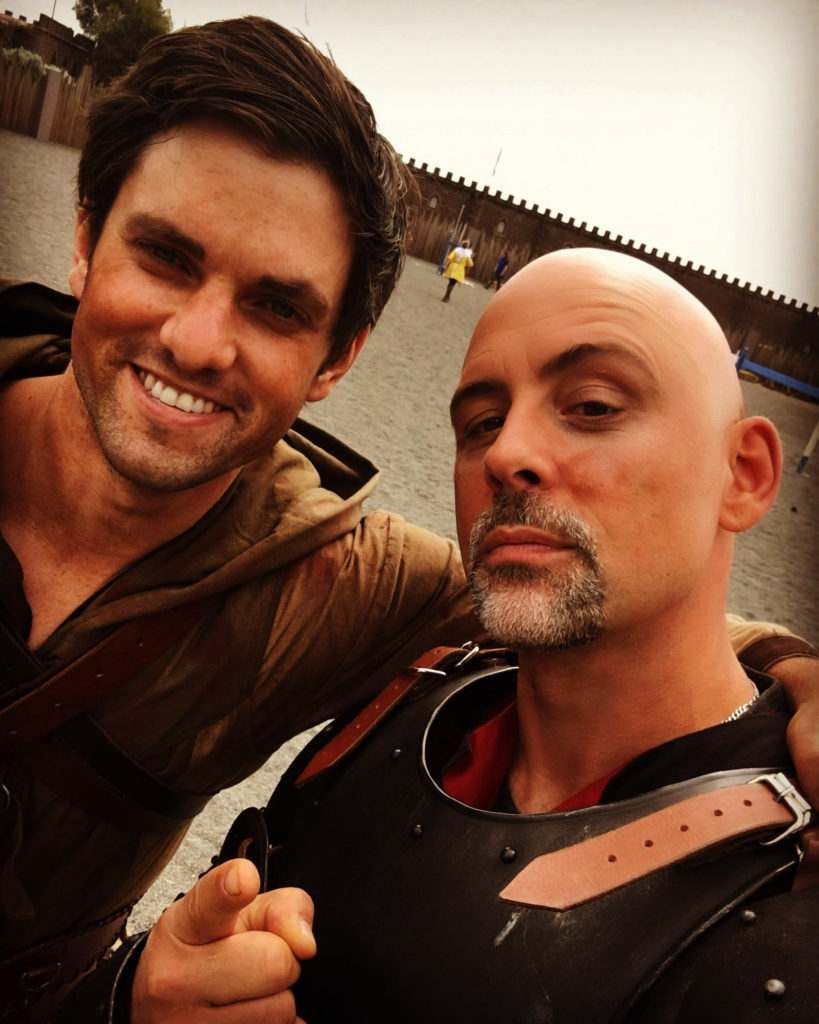 Meeting my co-producer John Fallon was a godsend. He's one of the genuinely good guys in the industry and has saved my ass from a whole range of issues more than once.
Originally I found out about John's work because he'd recently announced an upcoming film called 'Heretic' and I reached out to introduce myself and cheekily asked him for a role – it sounded like an epic production. We became Facebook friends but it was too early for casting at that stage. One day he randomly posted something along the lines of:
"I've had a lot of hits in this industry and gotten through it with the help of solid mentors to help me with my productions. If anyone is emerging in the industry and needs some free advice, reach out I'll do what I can to give back".
Immediately I reached out and John helped shore up some personnel issues and contract problems I was having. Having that sort of battle hardened producer backing you up while cast and crew are mutinying are worth their weight in gold. He encouraged me in the tough times and continues to stay in touch every few days to kick my ass into gear and make sure The Siege Of Robin Hood is kicking along nicely, which it is. John ended up flying in and playing the role of the Sergeant and did the day to day producing so I could focus on my performance. For this I am SO SO grateful. He shielded me from a lot of drama so that I could keep my mind where it needed to be. Thank you John!
A great team is everything and these two were key parts of it. I'm very thankful to have had them on my side, but I was blessed to have such a great team all round.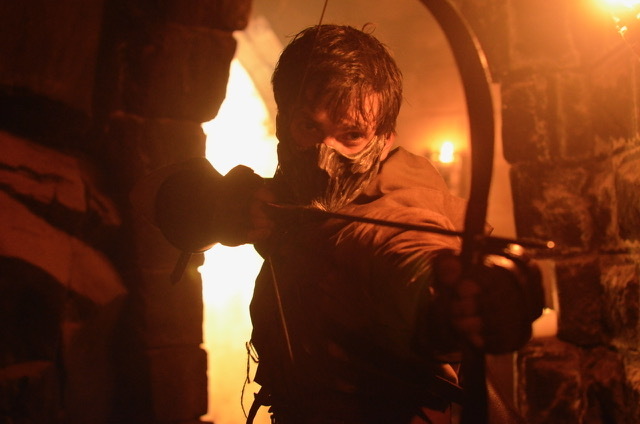 8) Filming is wrapped up on Robin Hood. Where do you stand now with the film and what else is left to do?
We wrapped filming a few months ago. I'm now editing it in my spare time whilst balancing it with five, yes five, part time jobs. I'm still paying off elements from the castle shoot last year!! Once I lock the fine cut, then onto visual effects, sound, grading and score. We've recently attached the supremely talented Pascal Horn from Germany to do our music and I'm really excited by the samples he's produced already.
Expect Siege of Robin Hood to be ready to go 2019!
9) What is it about Robin Hood that keeps people coming back to it? Were you always a fan of the tale?
To be honest I wasn't a huge fan, The campyness of it was always a bit much. However I saw the huge potential in reinventing Robin into a charming rogue pickpocket like Aladdin. Almost like medieval super hero. This is the angle that caught my attention.
It also really helps to have a known property when making your first film. People of all ages know these myths and heroes and we are getting tremendous interest from distributors and fans all across the world already because they know this is a story that fans have been waiting for.
A mythical all star medieval team up action flick with great action and a lot of fun. What's not love!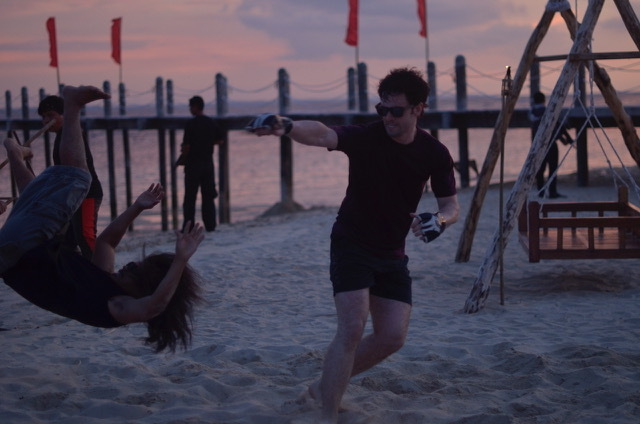 10) What were some of the challenges in making the film? Filming or otherwise?
When you are in film school they often recommend your first feature be a one room film. A person trapped in an elevator, or a horror film where a young girl is trapped in a haunted house with a demon. This is because they are modern day settings that you can beg, borrow and steal your way through, and can be shot quickly with a small crew.
In hindsight, I pretty much broke every rule there was to break which led to immense challenges.
Don't work with animals – okay we'll do a full joust and ride a horse.
Don't do action, stunts are too hard and dangerous– okay we'll have 7 huge action set pieces including a 15 minute opening chase scene.
Don't work with children – okay let's make 16 year old Sophie Hardy a lead (she was actually fantastic – hire her).
Don't do accents – English it is.
Don't do a period piece– Ok we shoot at a castle and needed 1000 costumes and extras.
Don't do fire or pyrotechnics – Okay I'll build a hut and blow it up with a trebuchet.
…I'm a glutton for punishment it would seem.
There were certainly a lot of challenges and there continues to be but I have to start by saying this film was only possible because of such a fantastic cast and crew that helped plug holes and banded together.  No one had the luxury of wearing only one hat. Kahli Williams, who fantastically plays the Viking shield maiden Freyda would often be found on set building flaming torches out of three dollar Bunnings tiki Torches and casting day players from her acting class. Our unfatigueable head of art department Zac Douglas could be spotted building a full size market place with the help of my old scout leaders, and our producer John was busy wheelbarrowing so many props around the castle grounds that the poor guys knee gave way and had to rehab it! Dai Sanders our head of costuming pulled out some 500 unique wardrobe pieces seemingly out of thin air and donated scrap material from a local supplier.
Resourcefulness was the name of the game and we played it well.
Being perfectly honest, our biggest challenge was a lack of proper funding. Being mine and Shaun McFadyen's (co-producer) first feature out of film school, we struggled to attract any big time investors. We raised the budget a few grand at a time. We cut TV Commercial comp deals with accommodations at last minute and I managed to raise our catering budget three days out from principle photography. When there's a will there's a way!
Towards the end of the shoot, I had actors move interstate and others needed to cut their hair and change it for other roles which was quite understandable but it put a huge amount of pressure to finish the production ASAP.
For our last shoot date, I was being encouraged to shoot Little John's introduction as a quick dialogue scene under a tree – "hey want to join the gang? OK" Kind of thing. I thought this was phoning it in compared to the epic scale of the rest of what we'd shot. Even though I'd run out of money by this point, I said no we need to finish strong. I borrowed money, hired a catapult, some explosives and built a prison to break him out of as a narrative way of indebting Little John to Robin. A much stronger character motivation.
To pull this scene off I spent a good 5 days in the wilderness cutting down trees and building a shanty prison hut out of cardboard boxes with a few willing cast and crew. I must admit this was one of the lonelier times of my life. I also hired a full size Trebuchet that we could blow it all up with on screen which wasn't cheap but added serious production value.
Long story short, I had a choice of paying for the scene, catapult, explosives etc or paying my rent that month. I chose the film and subsequently ended up sleeping on my sisters floor for the next three months until I could get back on my feet.
Because of this choice, what may have been a potential lull in the film's first act is now one of the biggest action set pieces and strongest elements of the entire film and I'm immensely proud of what we, as a team, pulled together on with little more than good will and tenacity. When you finally see that scene, you can have a laugh and remember that this is the sequence that made Paul Allica homeless haha! I hope it was worth it.
I don't feel like I'm particularly skilled as a producer, I'm just tenacious.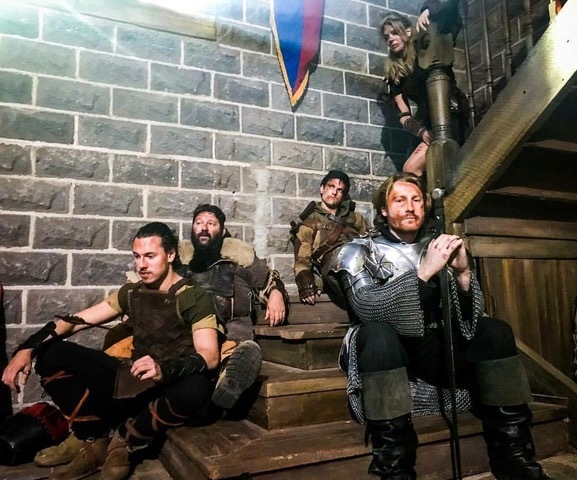 11) Talk a little about your supporting cast. How did they get involved and what's different in the interpretations of such classic characters like Little John and the others?'
I tried to set The Siege Of Robin Hood up like a medieval version of The Expendables or The Avengers. Each character has a unique extreme skill or fighting style that they bring to the table.
This way they aren't just characters for fillers sake. Merlin (Tom McCathie) brings potions and explosives, Lancelot (Dave Beamish), courage and an idea of the castle layout, Freyda (Kahli Williams), the independent Viking is a shield maiden, Tuk (Keanu Gonzalez), the blacksmith becomes the defacto weapons expert and Little John (played by new comer Peter Roordink) is the hired muscle. Robin, as the leader of the team, is equal parts great with a bow, pickpocket, parkour thief, and equal parts headstrong hero that is the central heart of the film's plot.
Our cast was huge, producer John Fallon plays the Sergeant, the brutal right hand man of the Sheriff. The Sheriff was played by David Macrae. He's an older gentleman, and I was surprised how he threw him self into the action scenes and never complained once wearing that heavy armour. His performance is something very special: creepy, yet powerful.
Tom McCathie was a standout playing the eccentric Merlin, he was born to play this role and knocked it out of the park. Dave Beamish as Lancelot was a late edition to the cast coming in a week before shooting and he kicked ass. His comedic timing and gravitas was second to none and Wallis Murphy's Munn brought a level of experience and nuance to the evil Queen that lifted the whole production. We were blessed with such a strong cast and they stood by us when things were tough and didn't quit. I'll always respect those that stood by us to the end.
From early on, it was clear that this was not a historical epic, but rather a fun fantasy retelling of this story. I didn't want to be bogged down with the lore. Instead we introduced all the best myths of the era and reinvented characters. Instead of Friar Tuck who was a fat alcoholic friar, instead I invented 'Tuk' as an Asian martial artist influenced blacksmith that thinks Chinese steel is far superior to an English bow. Tuk shows off his extreme wushu inspired fighting style throughout the film but what's so fresh about this is each fighter has their own style. Excalibur even makes an appearance but unfortunately, Robin can't retrieve it from the stone (haha!).
Little John, armed with a giant hammer is the team's muscle. When he hits someone they go flying. This character allowed us to experiment with wire jerk backs and huge dynamic choreography.
Rather than being a semi noble army man, Robin is instead a scallywag pickpocket in the vein of Aladdin. I love the moment in our opening marketplace chase scene where Robin kisses an unassuming peasant girl played by the beautiful Russian actress Nina Laroslavtseva. The guards pass by the kissing couple looking for the thief but the ensuing face slap Robin receives re -alerts the guards to his whereabouts and the chase resumes.
So many gags in the veins of Jackie Chan and Buster Keaton.
Forget what you know about Robin Hood, this is Robin Hood reinvented and reimagined..
Robin Hood and six warriors of legend, one evil sheriff, one impenetrable castle, and a shit load of Royal Guards!
12) What do you want people to take away when they finally get to see the finished film? What messages do you want to get across?
First and foremost this film aims to be a lot of fun and doesn't take itself too seriously. We knew we would never be able to compete with the huge budgets of Hollywood so we had to be extra creative with our action and gags. There's some truly inventive action sequences and many laugh out loud moments.
Art imitates life here. I couldn't have made this film without the support of my family, friends, cast and crew and Robin couldn't get through his challenges and overthrow the challenges that he faced without his team.
Team and family is everything and if there was one takeaway it would be that. Having said that, this film is just a shit load of fun with some of the best action you will have ever seen come out of Australia and it's beautifully shot.
Check it out – you won't be disappointed.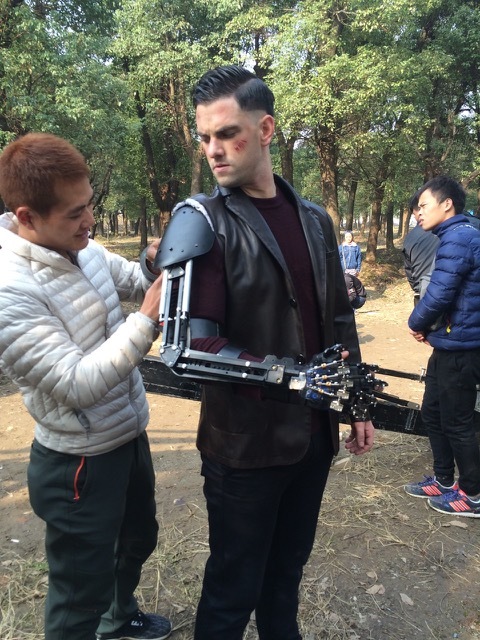 13) What other projects do you have coming up in the future? What can we expect?
There's a few big ones in the works but I'm always keen to collaborate with great directors and teams, both dramatic and action focused. I'm happiest when I'm on set and really have a passion for bringing interesting characters to life.
I have about 7 projects loosely mapped out through my company Alpha Rush Productions in which I'll be starring in. Everything from Post Apocolyptic to Westerns and action spy thrillers.
I'm also starting to audition for big roles in the US which is interesting – its great to now be across markets in Australia, Asia and now by the looks of it Hollywood. Perhaps I'll sign with a manager over there and check out LA next year.
I dream of being an Avenger, playing a superhero and playing a game of golf on the moon one day. Random I know.
Either way you can be sure I'll keep on pumping out great flicks until I'm old and broken.
I'd love to invite Action- Flix readers to follow me on Instagram @paulallica and @thesiegeofrobinhood for more updates and please all stay in touch – I always try to get back to people personally! Thank you all for your ongoing support and I hope to work with you and entertain you for many years to come.
Long live Action-Flix.com!!!!
Thank you again Paul for a great in-depth interview. All the best in the future. You Sir are Action-Flix Approved! Until next time! 
THE OFFICIAL THE TRIGONAL TRAILER
Check out Paul in action with these Showreels!