REVIEW: JOHN WICK: CHAPTER 3- PARABELLUM
STARRING: Keanu Reeves, Ian McShane, Laurence Fishburne, Halle Berry, Asia Kate Dillon, Lance Reddick and Mark Dacascos
DIRECTED BY: Chad Stahelski
OFFICIAL SYNOPSIS: After gunning down a member of the High Table — the shadowy international assassin's guild — legendary hit man John Wick finds himself stripped of the organization's protective services. Now stuck with a $14 million bounty on his head, Wick must fight his way through the streets of New York as he becomes the target of the world's most ruthless killers.
THE REVIEW: By this time, any serious action fan has already gone out to see the latest entry in the JOHN WICK franchise and review after review has been written about the film so I'm a little late to the party but that's because I was on vacation when the film was released. The good thing is I was able to see the film on its opening Thursday night which I never get to do and I even got to see it in all its glory on an IMAX screen. I wouldn't be a serious action blogger if I didn't review the film and I have even released a small review on my social sites which pretty much sums up my feelings on the matter. I pretty much called CHAPTER 3 Action Armageddon Bliss and all those involved with the making of the movie have definitely set the bar for modern action cinema way up high. The John Wick movies are the quintessential action set pieces of our modern times and they are the closest thing the West has to Asian action films. The story in enthralling, the characters are over the top and the action is balls out off the charts. Keanu Reeves has essentially solidified himself as one of this generations leading action stars with just these three films and the sky is the limit as we will certainly be getting more.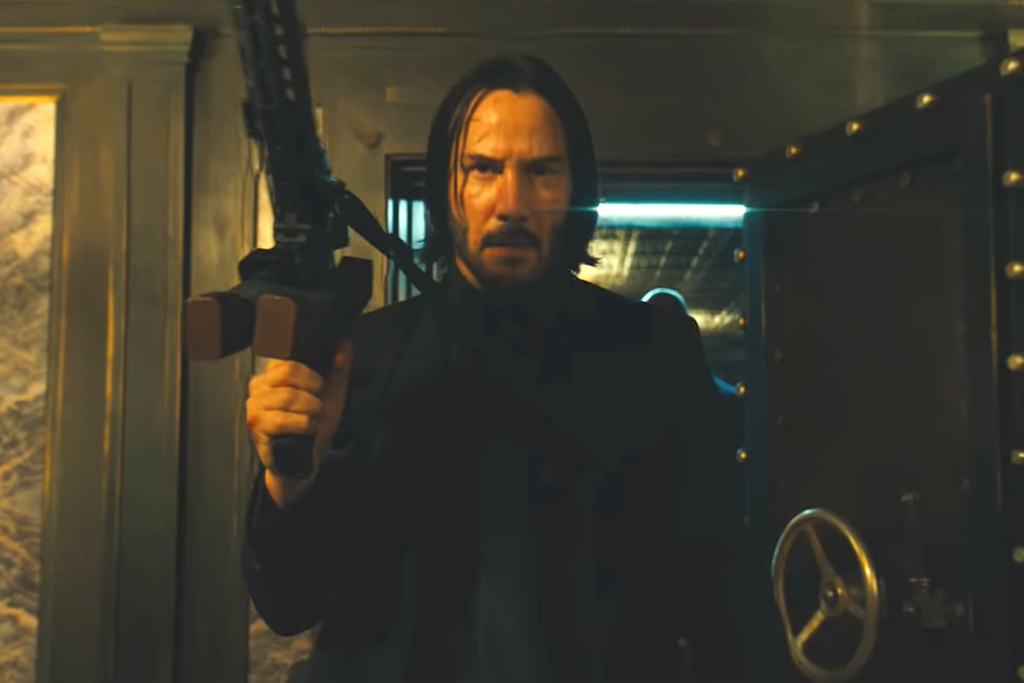 PARABELLUM, just like the second film, starts off right at the moment the last one ended with John Wick trying to make a run for it as he has one hour before he is deemed  'excommunicado'  by the mysterious High Table who essentially runs the underworld of assassins around the world. Wick broke the golden rule which was conducting company business on Continental grounds and now it is him against the world. As the film starts, Wick is on the run in New York trying to evade the gauntlet that is coming for him as a $14 million bounty has been placed on his head. It seems that not even Wick's allies like Winston, played by the always dependable Ian McShane, can even get him out of this quicksand that he has gotten himself into. As the clock expires, Wick is immediately attacked from all sides by assailants who not only want to collect the money but also want to be kn own as the one who took down Baba Yaga and so the roller coaster that is CHAPTER 3 is underway.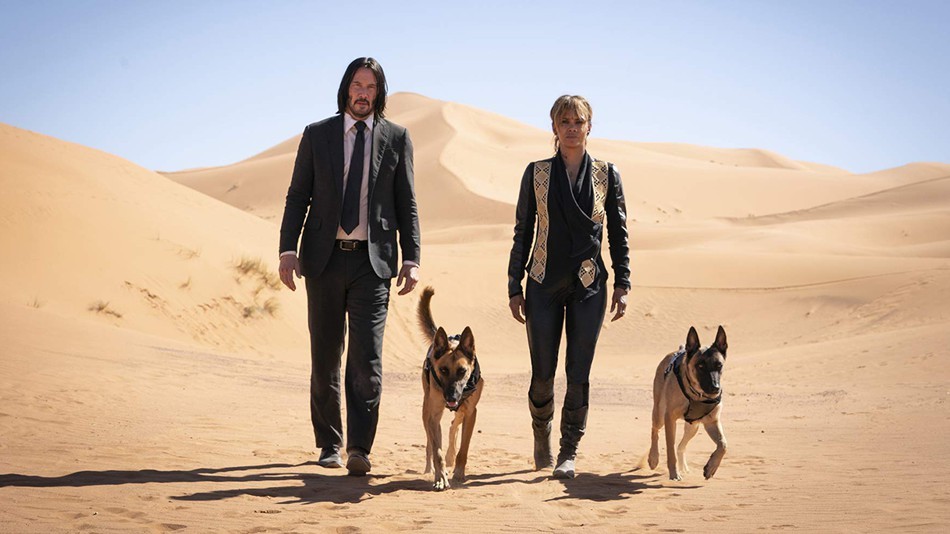 What sets JOHN WICK apart from other action films is the action which includes tactically precise shoot outs to hand to hand combat. CHAPTER 3 excels more than the first two films in that it contains a shit load more of knife fights and martial arts and with Chad Stahelski at the helm with the 87Eleven Action Design Team creating all this chaos, we are in the presence of action film gold. Now make no mistake, the action is only part of it although it is a pretty massive part but JOHN WICK also excels in its mythology (which is heightened in this entry and its characters). Keanu Reeves plays Wick with a stoic demeanor but it is everyone around him that brings out the best in him. There's the usual suspects like Winston and his Continental go to man Charon played brilliantly by Lance Reddick and newcomers Halle Berry, Angelica Huston and the action legend himself Mark Dacasoc who plays Zero. It's a rogues gallery for sure but one that is mandatory for a wild story like this.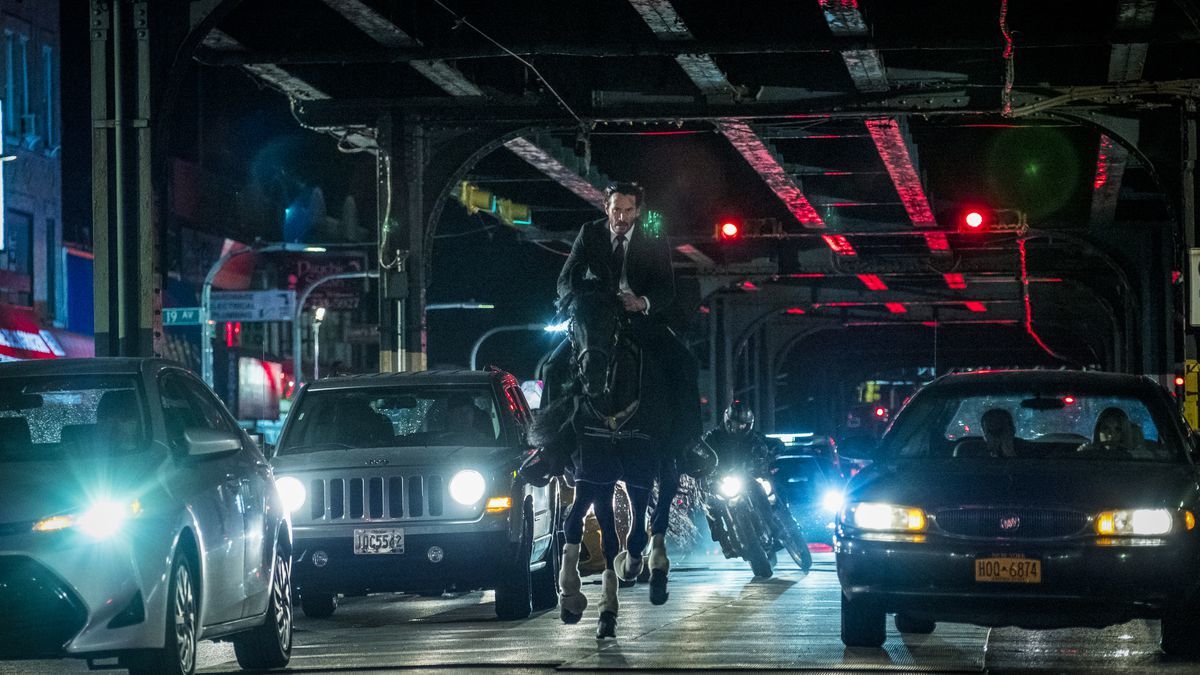 The action is on another level and it is relentless as Wick must defend himself from all angles. The beginning opens up with an awesome fight between Wick and a rather large assassin which culminates with John breaking his neck with an encyclopedia. From there Wick tangles with a group of Asian hitmen which include Roger Yuan (BLINDSIDED: THE GAME)  and Tiger Hu Chen, who also took Reeves on in MAN OF TAI CHI. This fight alone is worth the price of admission and it would have been a fitting finale for any action film but here it's just the first act people. It's just an insane scene that includes hands, feet, knives and anything else the participants can find. From there, Wick is involved in all kinds of instant classic scenes which includes a massive shootout in Morocco wich includes Berry's Sofia and her two German Shepherds that are simply bad ass, a gunfight while Reeves is riding a horse down the streets of New York and a great homage to the Korean action flick THE VILLAINESS where Wick engages in a sword fight while he and his attackers are all on motorcycles. This is basically an action fan's wet dream come to life which is the best way I can describe it. What makes JOHN WICK thrive is the fact that it is a big budget Hollywood movie that is shot beautifully with clear and concise editing and we can see all the glorious mayhem on the screen. The editing is first rate and the camera pans back multiple times so we can see everything crystal clear.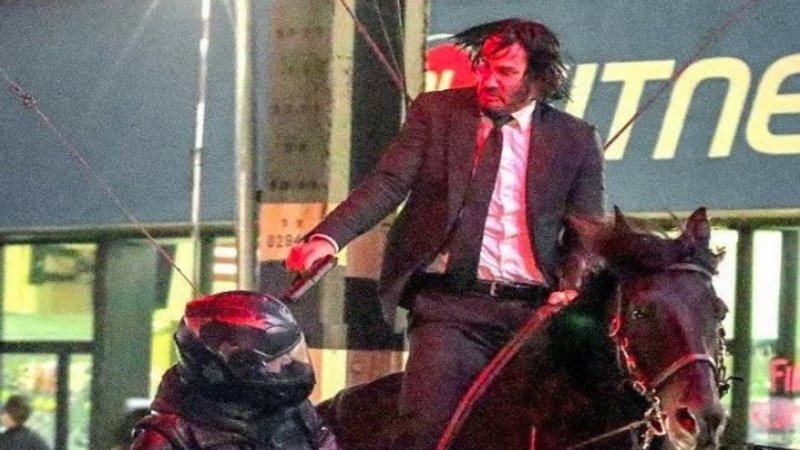 With CHAPTER 3, Stahelski brings us deeper into this wonderful and mysterious world of assassins but he also gives us even more questions that will hopefully be answered in future installments. We learn more about Wick's past which includes a very cold Angelica Huston and the mythology is built up even more. Like I said though, Stahelksi doesn't tip his hand and he keeps a lot of this world to himself still with the rest of us on the outside looking in. It's a bold move but it makes us even more invested with what's going on.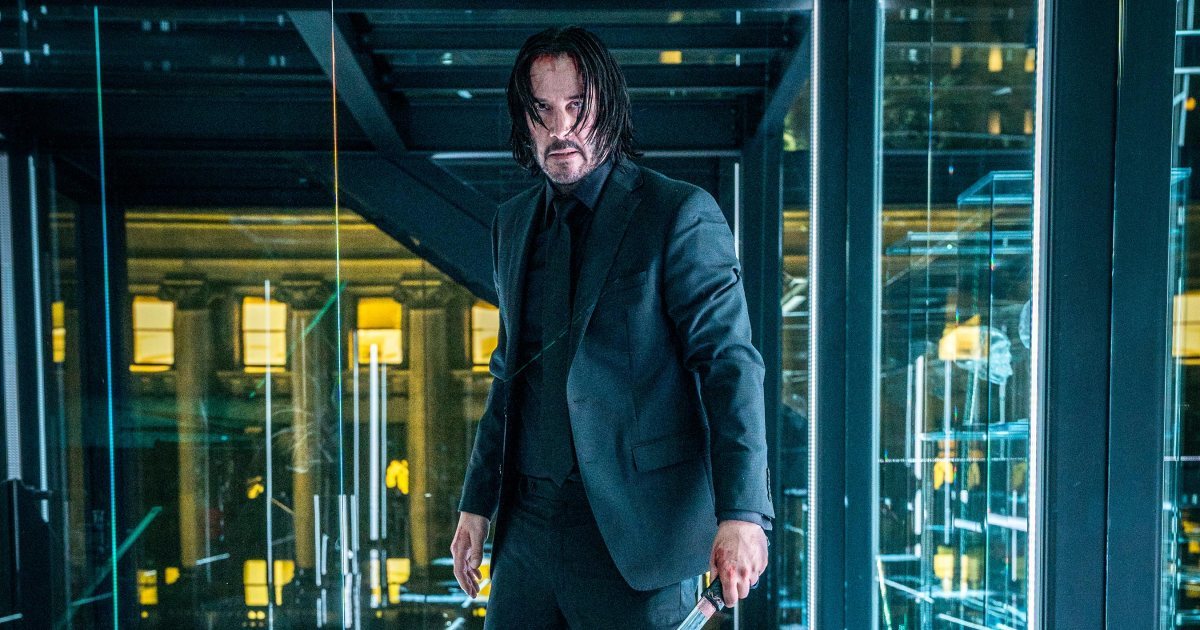 Everybody always talks about what and action god Tom Cruise is and while they are certainly right, I feel that Keanu Reeves is right there with him. Now in his 50's, Reeves does pretty much all of his own fighting and tactical movements and you just know that he took yet another beating while making this film. How much longer can he make these films is anybody's guess but lets hope he has Stallone's endurance because we need Wick every couple of years.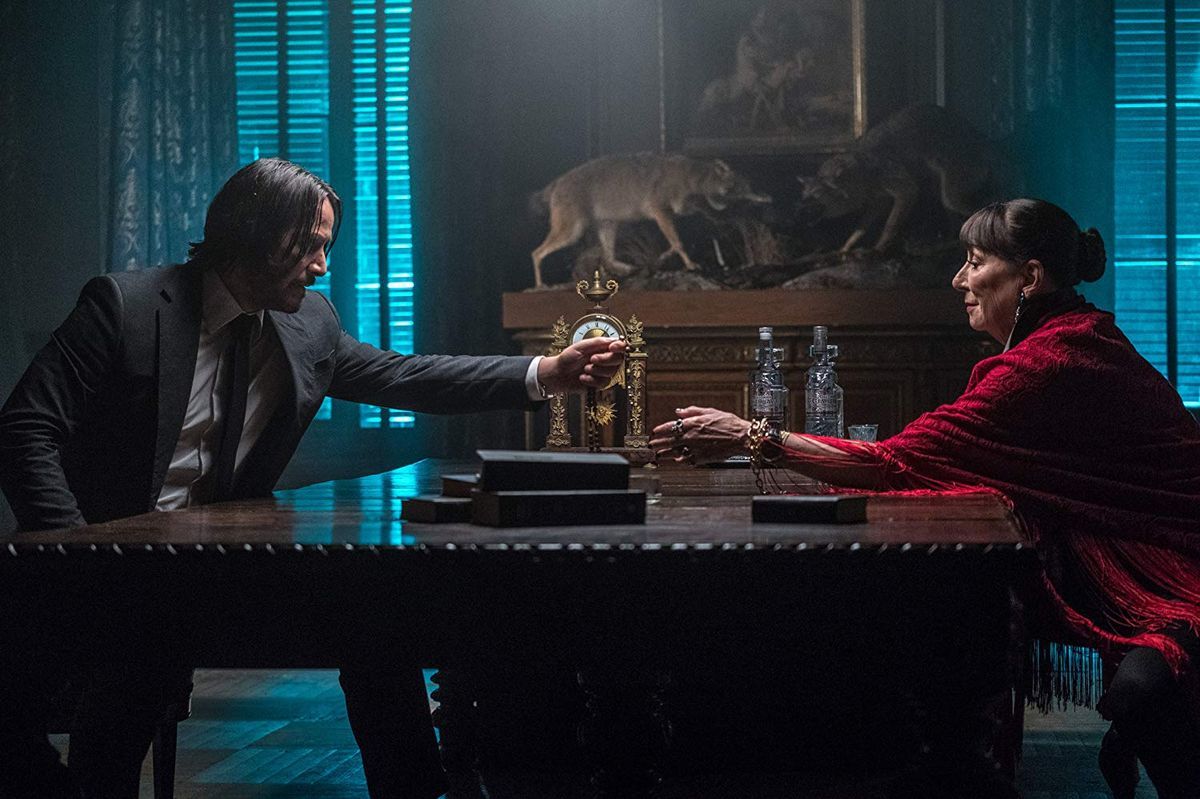 Now lets talk about Mark Dacascos. Any serious action and martial arts fan knows who Dacascos is and that's a living legend. I have been a fan of his since the early 90's and to see him finally get the recognition that he so rightfully deserves is inspiring. Dacascos, who pays assassin Zero, is one of the best parts of the film and he gets ample opportunity to showcase his lethal on screen fighting skills to a worldwide audience. Many film fans are now discovering what we select few have known for years and that is Mark Dacascos is an action god. Stahelski, who has cut his teeth in the stunt world far before he became a director, gives Dacascos his just dues and it is truly blessed to see.
The epic finale to CHAPTER 3 takes place on the grounds of The Continental and it has Wick fending off SWAT clad assailants as they invade the premises that are now free reign for all attackers. Even Charon gets in on the action at the end and it was a great and pleasant surprise. The ending is long and involved and a cinematic experience in its own right and the bloodshed culminates in Wick taking on a host of Zero's confidants that include Yayan Ruhian and Cecep Arif Rahman from THE RAID films. Its is a sight to behold watching this two on one match and all participants leave a piece of themselves on the floor of The Continental when all is said and done. The fight is brutal, gorgeous and epic in its precision choreography and Reeves shows us that he might just be a little slower than his RAID counterparts but he deserves to be there right along with them. The last display of fisticuffs is reserved for Reeves and Dacascos and the two do not disappoint as they lay into one another with ferocious intensity. We kn ow who will come out on top but it is sure one hell of ride to get there.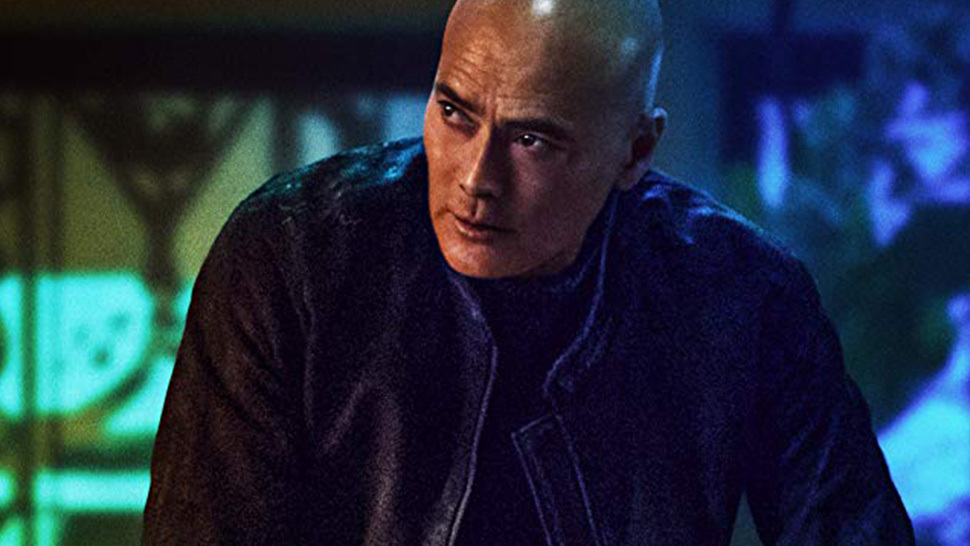 Like I said earlier, I was able to see CHAPTER 3 on an IMAX screen and that was an experience I will never forget. This is a movie tailor made for that type of viewing and the sound was bombastic where you could literally feel every shot that was fired in the film. It was like a 4D event and I strongly suggest that you see it on this canvas before it goes away. 
To sum it all up, CHAPTER 3 just like the previous two entries is another example that when someone with a stunt background who knows what they're doing can make an action film that is respectful to the genre. Stahelski just like David Leitch or Jesse V. Johnson know how to shoot action because they've lived action and with these men dishing out the carnage, the action genre is in good, capable hands for a long time to come. JOHN WICK is a modern day action spectacle and as soon as it ended I wanted CHAPTER 4. I have read that both Reeves and Stahelski will make these films as long as the audience wants them and I am here to say that I speak for everyone when I say…WE DO!!!
VERDICT: 5 OUT OF 5 STARS
ACTION-FLIX APPROVED!!!
AN ACTION CLASSIC!