By: John M Jerva
REVIEW: THE OLD GUARD
STARRING: Chalize Theron, Kiki Layne, Marwan Kenzari, Luca Marinelli, Harry Melling, Veronica Ngo, Matthias Schoenaerts and Chiwetel Ejiofor.
DIRECTED BY: Gina Prince-Bythewood
Synopsis: Led by a warrior named Andy (Charlize Theron), a covert group of tight-knit mercenaries with a mysterious inability to die have fought to protect the mortal world for centuries. But when the team is recruited to take on an emergency mission and their extraordinary abilities are suddenly exposed, it's up to Andy and Nile (Kiki Layne), the newest soldier to join their ranks, to help the group eliminate the threat of those who seek to replicate and monetize their power by any means necessary. Based on the acclaimed graphic novel by Greg Rucka and directed by Gina Prince-Bythewood (Love & Basketball, Beyond The Lights), THE OLD GUARD is a gritty, grounded, action-packed story that shows living forever is harder than it looks.
THE REVIEW: I know that Netflix has taken its fair share of criticism over the past few years with many Hollywood insiders saying that the films they release shouldn't be considered blockbusters because they are not released in theaters but ever since the COVID-19 pandemic hit and all our entertainment was put on hold, the streaming service has been a Godsend for genre fans to get their daily shot of adrenaline in a summer movie season that is virtually non-existent. With releases like Ryan Reynold's 6 Underground and most recently Extraction with Chris Hemsworth, Netflix has given us something to fawn over while we wait impatiently for any type of movie to open up in any type of cinema.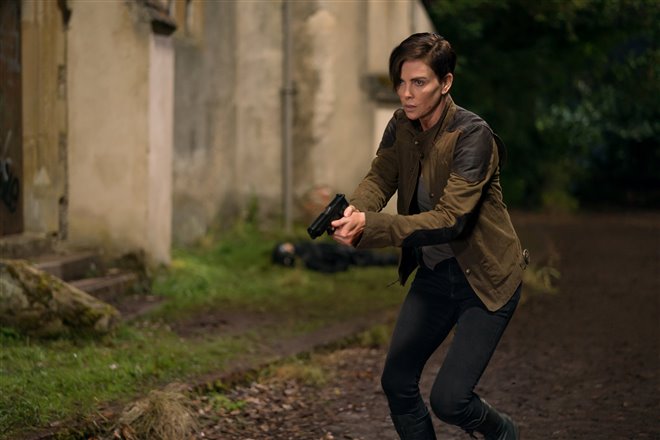 With that, we have our newest Hollywood blockbuster to be released in the comforts of our living rooms with The Old Guard which stars one bad ass Charlize Theron in an epic tale of an elite unit of imortal warriors who live forever and fight the good fight to protect those that don't even know they exist. Theron plays Andromache of Scythia, or simply Andy, who is one of the oldest living immortals who scours the lands in search of her next fight and she leads a tight group of operatives including  Luca Marinelli & Marwan Kenzari as Nicky and Joe who are former Crusaders and Booker played by Matthias Schoenaerts who was a soldier during the Napoleonic wars. These five individuals are as deadly as they come because they have had literally hundreds of years to perfect their lethal skills. They cannot die and they only get better with age. Think Highlander with heavy, automatic weaponry.
As our story begins, Andy and crew are hired by Chiwetel Ejiofor who plays a former CIA operative named Copley who has gone freelance to rescue a group of young girls who have been taken hostage by rebels. Andy accepts the mission even though she has become weary of this endless life and would like nothing more than to see it end. Unfortunately, during the operation, they are set up in a big way and after being gunned down by mercenaries, they ressurect to get payback in the film's first of many action drenched sequences.
It seems that said ex-CIA oprative works for a conniving  pharmaceutical magnate named Merrick played by Harry Potter's Harry Melling and he wants to discover what makes them tick and use it for his own personal gains. Merrick is the very definition of a sniveling little weasel and at the end of the day, he's just another leach sucking on the blood of the world.
Enter Marine named Nile played by KiKi Layne. Nile is viciously killed during a raid in Afghanistan and instead of dying, she is brought back as the newest member of this elite club of immortals. Andy and the rest immediately feel her presence and set out to bring her in and help her deal with her new found power. Nile is less than accomodating at first, of course, but that slowly changes as she discovers what she can do and who she can help.
With Merrick and his army of hired killers hot on their trail, Andy and the group must dig deep inside themselves and unleash the brutal and unforgiving skills they have mastered over the centuries to win one more war.
Based on the acclaimed graphic novel series by  Greg Rucka, who also wrote the screenplay, The Old Guard certainly doesn't reinvent the wheel in terms of plot but it still is one kick ass thrill ride loaded with fine acting and expertly choreographed action sequences that includes just the right amount of fisticuffs and firepower. The film is a much needed shot of adrenaline as it is already July and new releases have been relegated to streaming platforms like Netflix.
Theron leads the way and just like her anti-hero in Atomic Blonde and Mad Max: Fury Road and here vilainous turn in the Fast and Furious franchise, Theron proves once again that she has what it takes and more to be one of Hollywood's top action stars. Theron is believable as she is kicking ass and taking names and it is great to see her doing all her stunts as it lends credibility to her roles in these kinds of flicks. You know that she has practiced countless hours with stunt crews and when it comes time for action, she steps up to the plate and hits a grand slam everytime. The Old Guard is the perfect vehicle for you to show off her acting chops and her bad assery all in one tidy package.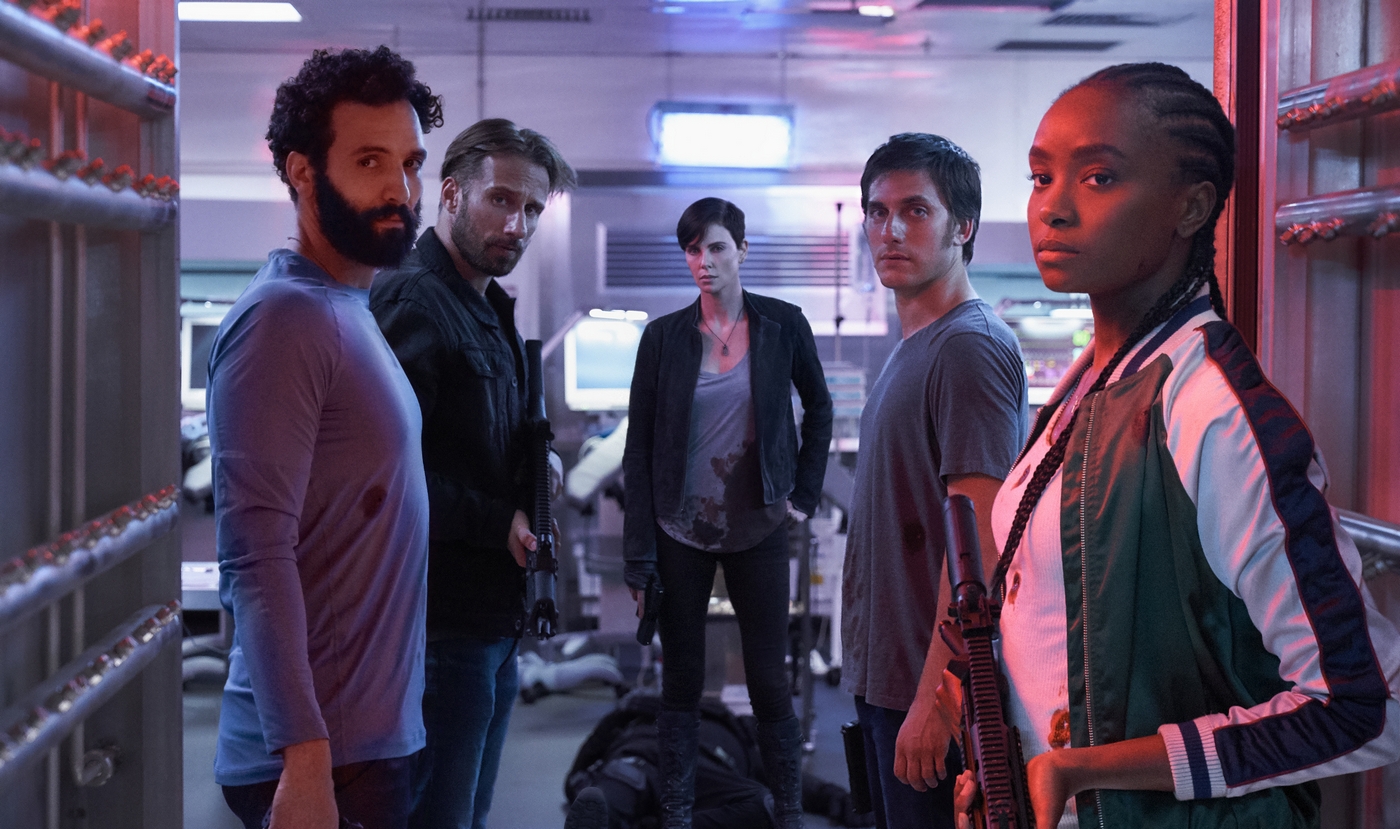 The supporting cast is top notch as well with Layne, Ejiofor, Marinelli, Kenzari and Schoenaerts all doing their respective parts to surround Theron with the A team she needs to pull this thing off. The only weak link or chink in the armor is Melling. Nothing against the actor but I felt that his antagonist just didn't live up to what he should have been. Andy and her band of merry men are legit and they needed a bad guy who rivaled them. Furie's Veronica Ngo has a great cameo as Quynh, another immortal who was doomed to a horrible fate and while I would have liked to see her utelized to her full potential, she still makes an impact. Ejiofor is stellar in anything that he is in and as Copely, he brings a low key fire to his role.
From the get go, it is evident that The Old Guard is epic in scope and it is a film that probably should have been seen on the big screen but these are the times we live in and even though it is not playing in multiplexes, it still lights it up on any screen. Director Gina Prince-Bythewood (Beyond The Lights) delivers a lean, mean action film that never overstays its welcome. She isn't known for directing action but with her freshman effort in this case, she makes a point to do more of these types of films.
The action set pieces which include both firefights and close quartes combat is done exceptionally well with fight coordinator Daniel Hernandez, who also worked on John Wick, delivering some pretty rad scrapes throughout and he makes everyone look good and brings some nice R rated moments that will surely please fans who are looking for their next action packed viewing for a Saturday night. There is enough adrenalized action sprinkled throughout the film's two hour and five minute running time and the finale is worth the price of admission alone as our imortal heroes make their way through Merrick's high rise and bring us some John Wick inspired chaos. The action does get brutal and with the characters using centuries old weapons like swords and the sweet battle axe wielded by Theron along with the machine guns, we get some impressive adults only kills.
There is no denying that Netflix is looking to make yet another franchise with this offering and I for one would love to see Andy and her team fight again. The ending leaves it open for more follow up and I won't spoil it but if more installments are made, I believe Veronica Ngo will have a bigger role in the proceedings. That will make up for her bit role in this first film. I do hope that if there are more, they delve deeper into the mythology of these immortal soldiers and how they came to be.
One again, Netflix has swooped in to save the day and while it's not perfect, The Old Guard is a welcome addition to a summer movie season that is starving for films that do what they say the're going to do. Theron is in top form as always and she brings it in spades to both the dramatic side and the action side of her character. Fans will most likely enjoy themselves with this one and I definitely had a good time with it and was immensley satisfied by the action which is what I was aiming to see. Netflix does it again and delivers a much needed shot of adrenaline to this anemic summer that is on life support and while we wait for a blockbusers to return to our local theaters, these films will save the day in the meantime.
VERDICT: 4 OUT OF 5 STARS
ACTION-FLIX APPROVED!
The Old Guard in now streaming on Netflix.