By: John M Jerva
Welcome to FOOT FIST FRIDAYS! A weekly dose of fight action where the Action-Flix.com experts share their thoughts on some of the greatest scenes of fisticuffs in action cinema history!
Ahhhh yes the 90's. Just like the 80's, this decade was loaded with countless action cinema choices from the theaters to home video and during this 10 year run, many action stars flooded the market trying to stake their claim to the throne of DTV action star. Many tried and failed, but there were several individuals who rose to the top and staked their flag on top of the mountain. Even if it was for only a little bit.
One such performer was Thomas Ian Griffith. A practitioner of Tae Kwon Do in which he studied since childhood, Griffith also earned a Black Belt in Kenpo Karate which is the style that I have studied for over thirty years which is pretty damn cool. Griffith was fortunate enough to train in Tae Kwon Do under legendary master Jun Chong who also starred in a host of B action goodies including my personal favorites Street Soldiers and Silent Assassins which also featured the one and only Sam (Flash Gordon) Jones.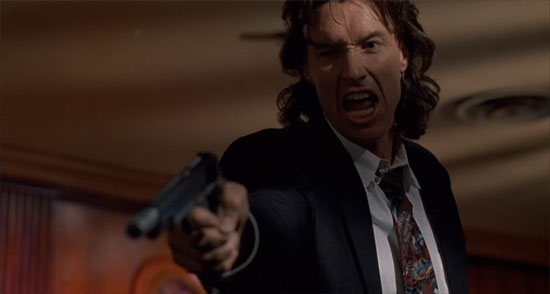 Griffith was one of those rare action stars in besides kicking ass on screen, he could also act and deliver in the dramatic department. A definite double threat, Griffith burst onto the scene as the slimy, villainous Terry Silver in The Karate Kid 3. Even though he was an over the top a-hole who took advantage of Ralph Macchios' Daniel Larusso in that movie, it didn't take long for the film industry to cast him in heroic roles. Griffith had star power and physicality in spades and the genre was a perfect match for him.
Griffith's most notable role was his second (after Ulterior Motives, which I'll discuss later) action film called Excessive Force and in it, he played seasoned Chicago detective Terry McCain who gets engulfed in police corruption when he and his elite unit are framed for taking money during a drug raid which takes place at the beginning of the film. Of course,the mob comes after them in hordes and McCain must break out his particular set of skills and take them all down including corrupt cops before he ends up six feet under.
The film itself isn't an actual martial arts flick as it is a police action-thriller with loads of fighting in it and Griffith gets ample, and I do mean ample, chances to showcase his bone breaking moves which include some pretty rad kicks as he was noted for. He also gets the opportunity to dish out classic one liners like "Die with a little dignity." Simply love that line when he's about to take out Sal DiMarco played oozingly sleazy by Rocky's Burt Young.
The scene we have for you today for this edition of Foot Fist Friday is a great scene in the latter stage of the movie where McCain and his on again, off again girlfriend Anna played by Charlotte Lewis (The Golden Child) get ambushed while hiding out at a secluded ranch outside of Chicago. To make it even more exciting, it's snowing at the same time making the terrain very tricky to throwdown on.
McCain has one of his longest fights in this scene as he drives off countless attacks from mob enforcers. We get it all in this sequence as he shoots, kicks and punches his way through and he even gets to demonstrate his weapons skills with a staff and above all a pitchfork for maximum results. That's one good thing about getting into an altercation in a barn, you have a pitchfork at your disposal.
Griffith is solid in this fight as all the others and his long legs work great for the camera and the angles. The fights are staged perfectly and besides some rapid editing here and there, you can see all the action just fine. Griffith does all of his own stunts and fights and this era was brilliant in that these actors could do it themselves without stunt professionals. Sure there were the dangerous ones that were executed by the pros but for the most part, it's Griffith doing what he does best.
Now in the immortal words of Arnold Schwarzenegger in Conan The Destroyer, "Enough Talk!" It's time to watch Griffith take out the trash in this scene from the bruising 90's Actioner Excessive Force!