By; John M Jerva
Update: Lionsgate Home Entertainment has just released fresh DVD cover art for the release of FoxTrot Six which is similar to the poster below it but it is way more simplistic in design. A new trailer is expected soon but you can watch the original international version below. Check out the artwork below and get ready for a war on April 14th when producer Mario Kassar's epic Indonesian action epic finally hits North American DVD!
(Original Post) This is one film that I have been wanting to cross off my must see list ever since it was announced and that is the epic Indonesian action thriller Foxtrot Six from legendary Hollywood producer Mario Kassar who is best known for bringing us Rambo and Terminator 2: Judgement Day which is regarded as one of the best genre sequels ever made.
The flick has been released overseas in its native Indonesia but now we have official confirmation via VideoETA.com that the film will finally make its North American debut on DVD on April 14th courtesy of Lionsgate Home Entertainment. Unfortunately, the site just has DVD listed so it look slike there will be no Blu-Ray release which is a crying shame. At least we will finally get to see the film which looks massive in its action set pieces and with fight design by Iko Uwais and his legendary stunt team, expect maximum carnage for this one.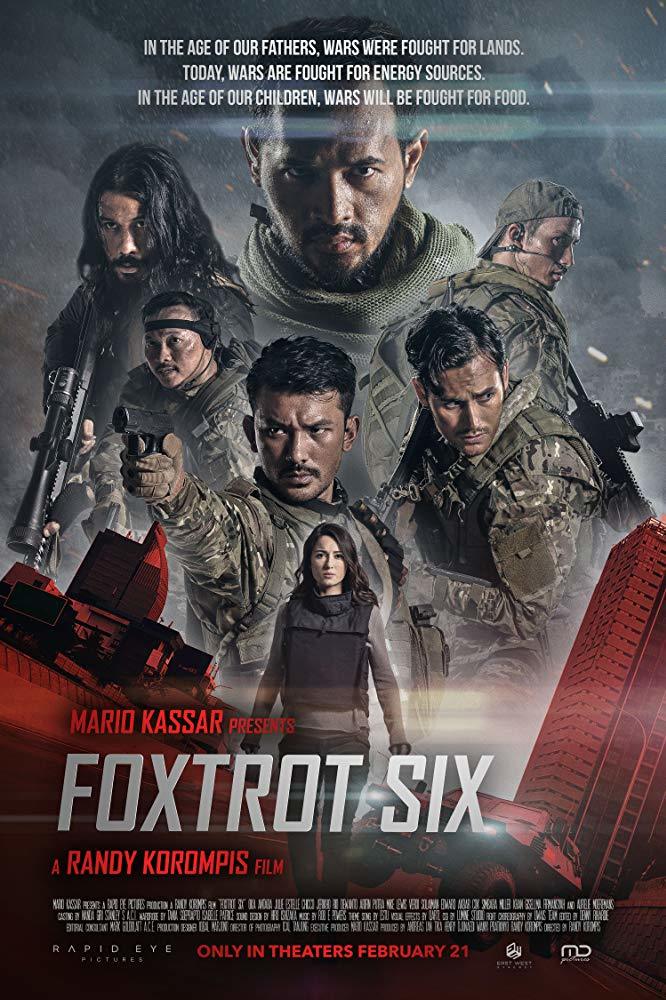 OFFICIAL SYNOPSIS:  IN THE TIME OF OUR CHILDREN, escalating climate change is turning the world economy upside down. With crops dying and food price spiking, FOOD has replaced oil as the world's most valuable commodity. Among the very few lands still left fertile, Indonesia is quickly rising as the next economic superpower, when its government was suddenly and ruthlessly overtaken by a popular rogue political party: PIRANAS.

Enter ANGGA SAPUTRA, an ambitious former Marine-turned-Piranas-Congressman, who has a primary directive: to keep the people's morale and obedience in check, and stop any underground group of rebels who might uprise against the Piranas Party. One large group in particular, calling themselves: the REFORM.
Angga is forced to join forces with an old adversary, the infamously ruthless Paramilitary leader, WISNU. During the mission, a lone Angga is intercepted, captured, and dragged underground by a group of Reforms. But instead of encountering enemies, Angga instead encounters his supposedly-dead fiancee, a former award-winning field journalist, SARI NIRMALA. There, Angga learns that the Party has been lying and exporting much of its produce at the expense of starving its own people.

When the Reform safehouse is suddenly breached by Wisnu, Angga has no choice but to save Sari and the rest of the people and escape, thus declaring him a traitor and an enemy of the Piranas Party.
Angga has nobody left to trust except for his four former Marine Teammates: OGGI, BARA, ETHAN, and TINO, plus a mysterious silent Reform's assassin, known only by the call-name, SPEC. Together, the six discover Piranas and Wisnu's new sinister plan: a False Flag attack to effectively remove all Reforms and their sympathizers in a nationwide government- sanctioned genocide.

In just three days, the six has-beens must work together, find their long-lost brotherhood, stop the nation-wide False Flag attack, and save millions of lives, for one last shot at redemption. Or die trying.
From famed Hollywood producer Mario Kassar (RAMBO: FIRST BLOOD PART II, TERMINATOR: JUDGMENT DAY) comes the epic Hollywood/Indonesia co-production FOXTROT SIX which has been in development for quite some time. The film stars Oka Antara, who co-starred in THE RAID 2 and he takes center stage here as Angga and he is reunited with Julie Estelle from THE RAID 2 as well as Arifin Putra. Iko Uwais, who was rumored to have a role in the film a few years back, serves up the film's action choreography so alas he will not be in front of the camera but expect even more great fight scenes in this one courtesy of Uwais and his top tier stunt team. 
While we wait for official DVD cover art, which I will update the site with, and the official domestic trailer, check out the extended international trailer that was released a while back below!