(Original Programming: January 26th, 2018) By; John M Jerva
Years ago, Alexander Nevsky had a dream and that dream was to become an action star. Growing up, Nevsky idolized the action heroes of the golden age of VHS like Arnold Schwarzenegger and through hard work that included a lot of blood, sweat and tears, Nevsky became Mr. Universe winning bodybuilding competitions all over the world and eventually became a star in his homeland of Russia. Nevsky wasn't satisfied with just that however and he set out to conquer the world. Now, he is a true international action star with hits like Moscow Heat and most recently Black Rose which he made his directorial debut. Nevsky is also a producer having formed his own production company called Hollywood Storm in which he promises to bring great action entertainment to the masses. His newest offering, Showdown In Manila, is an Expendables type homage to those awesome action films that Nevsky grew up watching. He has assembled some of the greatest action stars of that generation and has made a fitting tribute to the glory days of VHS action.
In this exclusive interview with Action-Flix.com, Nevsky stops by to chat about the new film, working with action icons and making films that he hopes will bring the same excitement and thrills that he experienced through the years.
Here is the exclusive Action-Flix interview with Showdown In Manila's Man of Action Alexander Nevsky!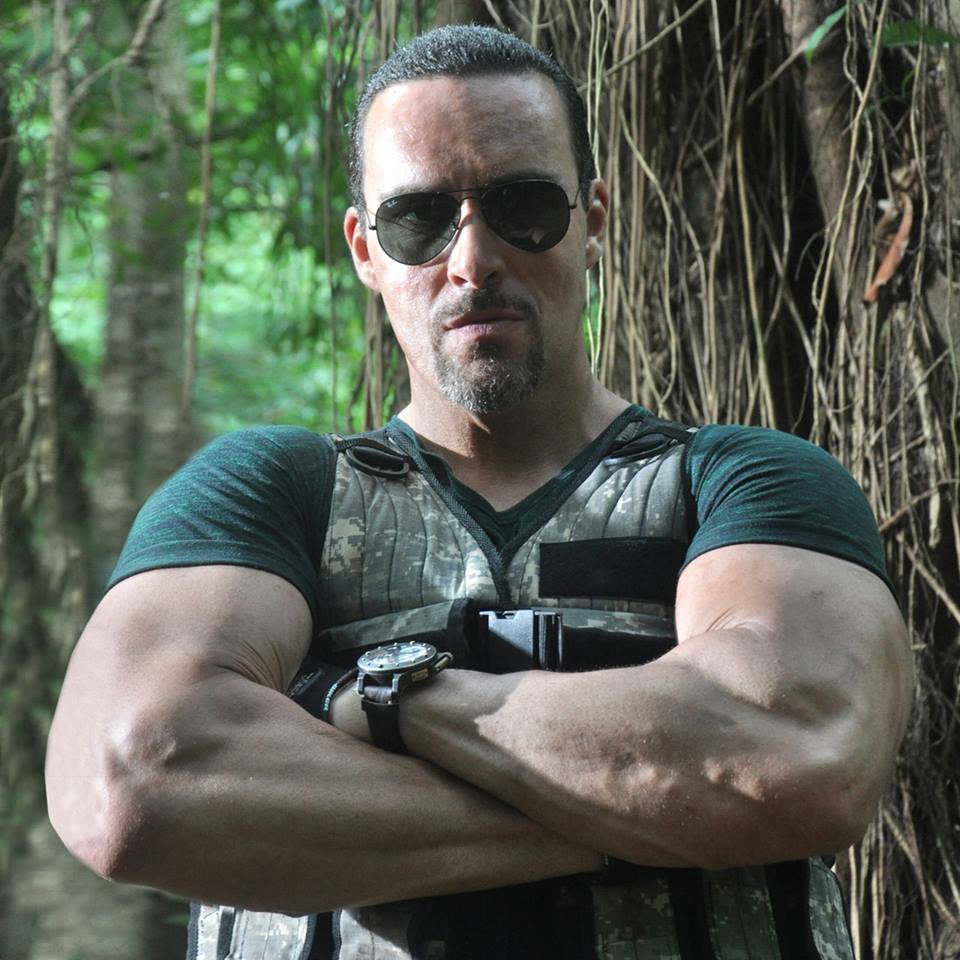 1) Action-Flix: Hello Alexander and thank you so much for taking the time to talk! .Since our last interview for Black Rose, tell us what has the rest of the year been like for you. Give us an update!
  Hi John! First of all, thank you and your readers very much for all the support, I'm glad to be back on Action-Flix! It was a busy time, Black Rose was released in the US in limited theaters, VOD and all the digital platforms last April. A release on DVD and in RedBox followed last May,  and the premiere on Netflix took place last July. I was dealing with Maximum Impact post-production after that and I'm happy to say that this film is done completely now. My next project Savage Attack is in pre-production.
2) We are here to talk about your newest action film Showdown In Manila. Tell us how the concept for the film came about.
I was really inspired by Sly Stallone's The Expendables franchise and created an idea for Showdown in Manila. Craig Hamann wrote a great script and my friend and idol Mark Dacascos decided to make this film as his directorial debut. We shot it completely in The Philippines and had a great cast: Casper Van Dien, Tia Carrere, Cary Tagawa, Olivier Gruner, Cynthia Rothrock, Matthias Hues, Robert Madrid and Mark Dacascos himself. I produced it and co-starred with all these legends.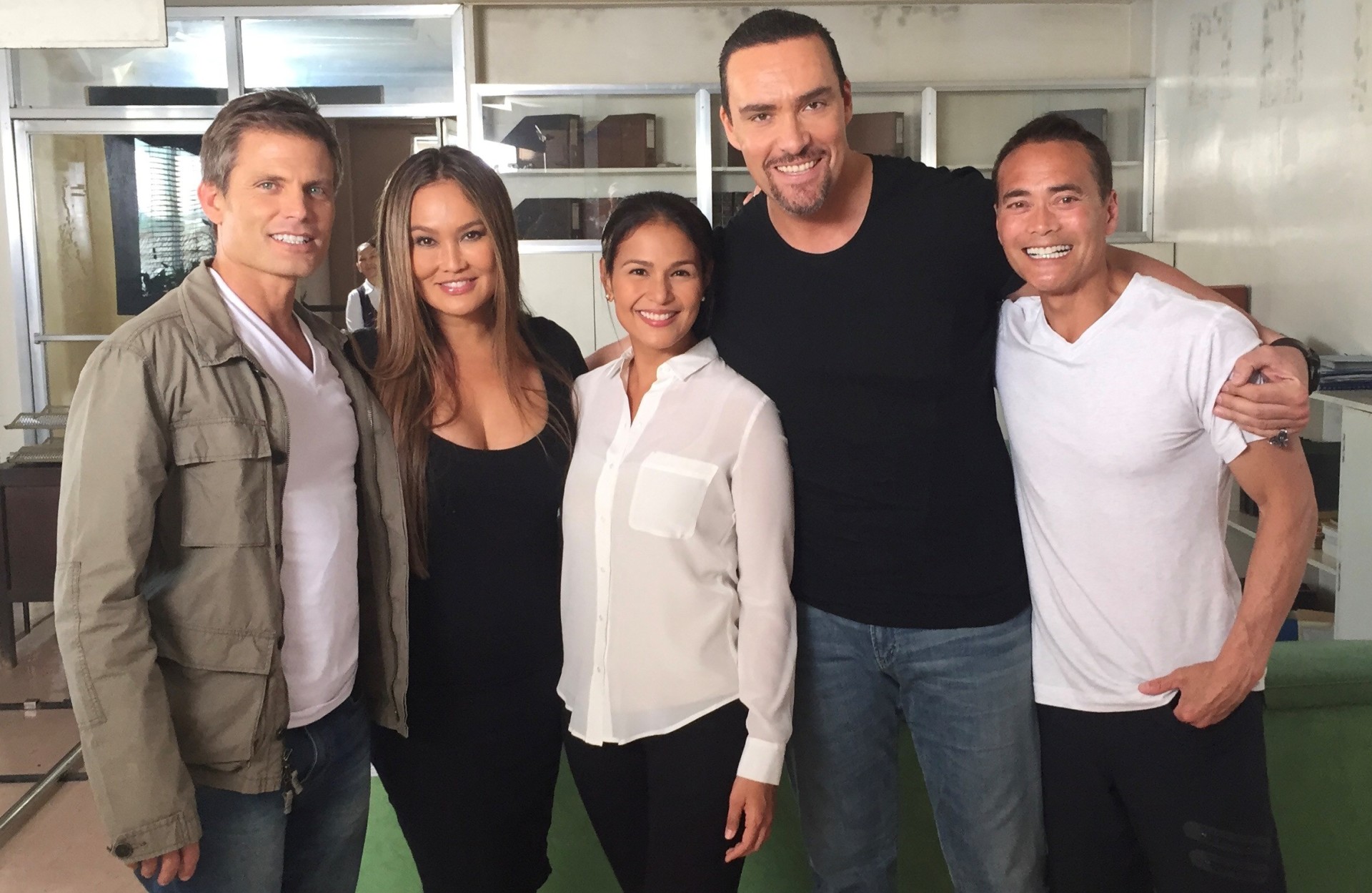 3.It has a definite 90's action vibe going for it. Was that what you were going for?
Yes! I'm a big fan of these action films of the past. They don't make them in Hollywood anymore for some reason. I think those movies were very honest to the fans and  fun to watch. I Hope we made a nice tribute to those 80's and 90's action classics. Showdown in Manila was a big theatrical hit in Russia/CIS and sold pretty much everywhere internationally already. I'm glad that it was released finally in the US and Canada on January 23!
4.You play the role of Nick Peyton in the film. Give us a little bit of info about him. How is he similar or different to your role of Vladimir Kazatov in Black Rose?
My character Nick is Russian-American, and he's a cop from New York. His girlfriend Sofia (played by actress Maria Bravikova) is a journalist and Nick followed her to The Philippines and got a job with the Manila police. He's similar to Vlad (my character from Black Rose) because they both are nice and tough at the same time. But he's more relaxed, in my opinion. Most important thing – I'm playing a good Russian again! As you know, I don't play those bad stereotypical Russian gangsters which you can see in many Hollywood movies now.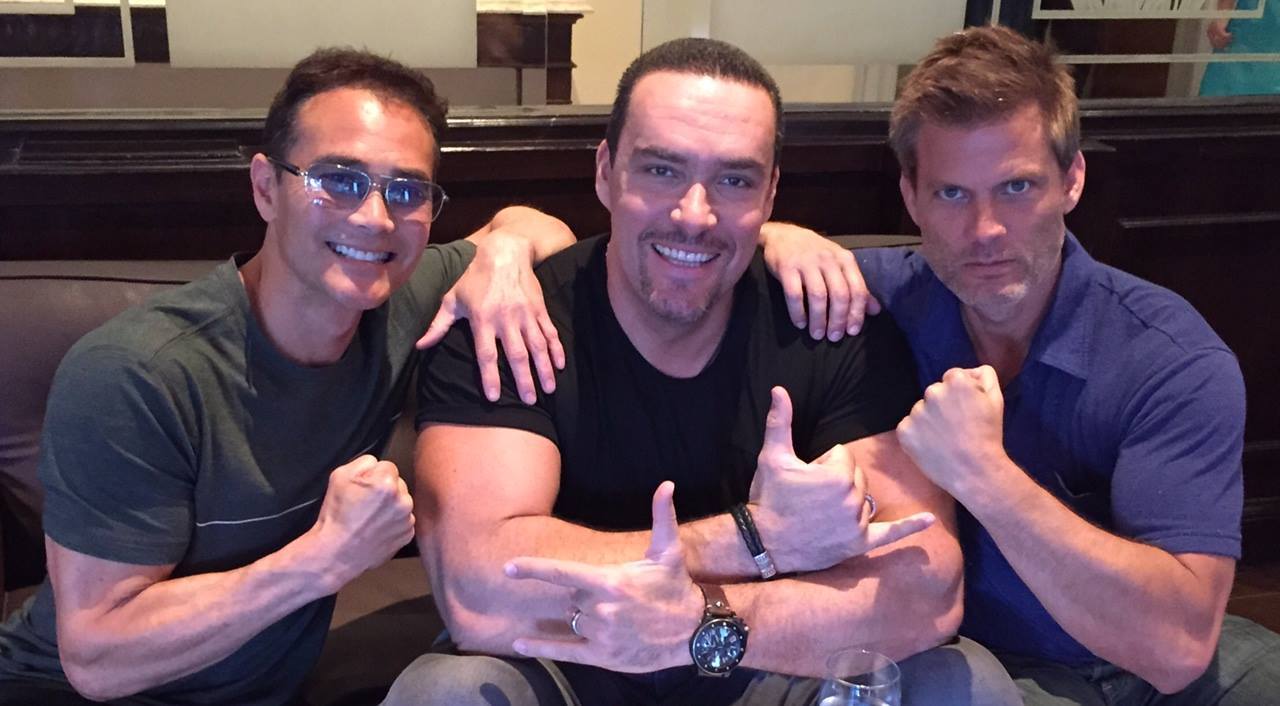 5.You work with the great Mark Dacascos in the film. He not only stars with you but he directed the film. How was it that you to came to work together?
Mark is a personal friend of mine, we have known each other for many years. We were looking for a project for us to work together for some time and Showdown in Manila was just a perfect opportunity. Mark is a great martial artist and a great actor, it was  big fun to work with him.
6.How was he as a director seeing that this was his debut?
I think that Mark did a very good job! It's not easy at all to shoot an independent action film even for experienced directors and he was just making his debut. We all tried to support him and he supported us: Mark was always positive and nice and creative. Our director of photography was Rudy Harbon who worked with me on Treasure Raiders and Black Rose. Rudy helped Mark a lot and did a great job too. And, as a producer, I was trying to support Mark and his ideas as much as I could.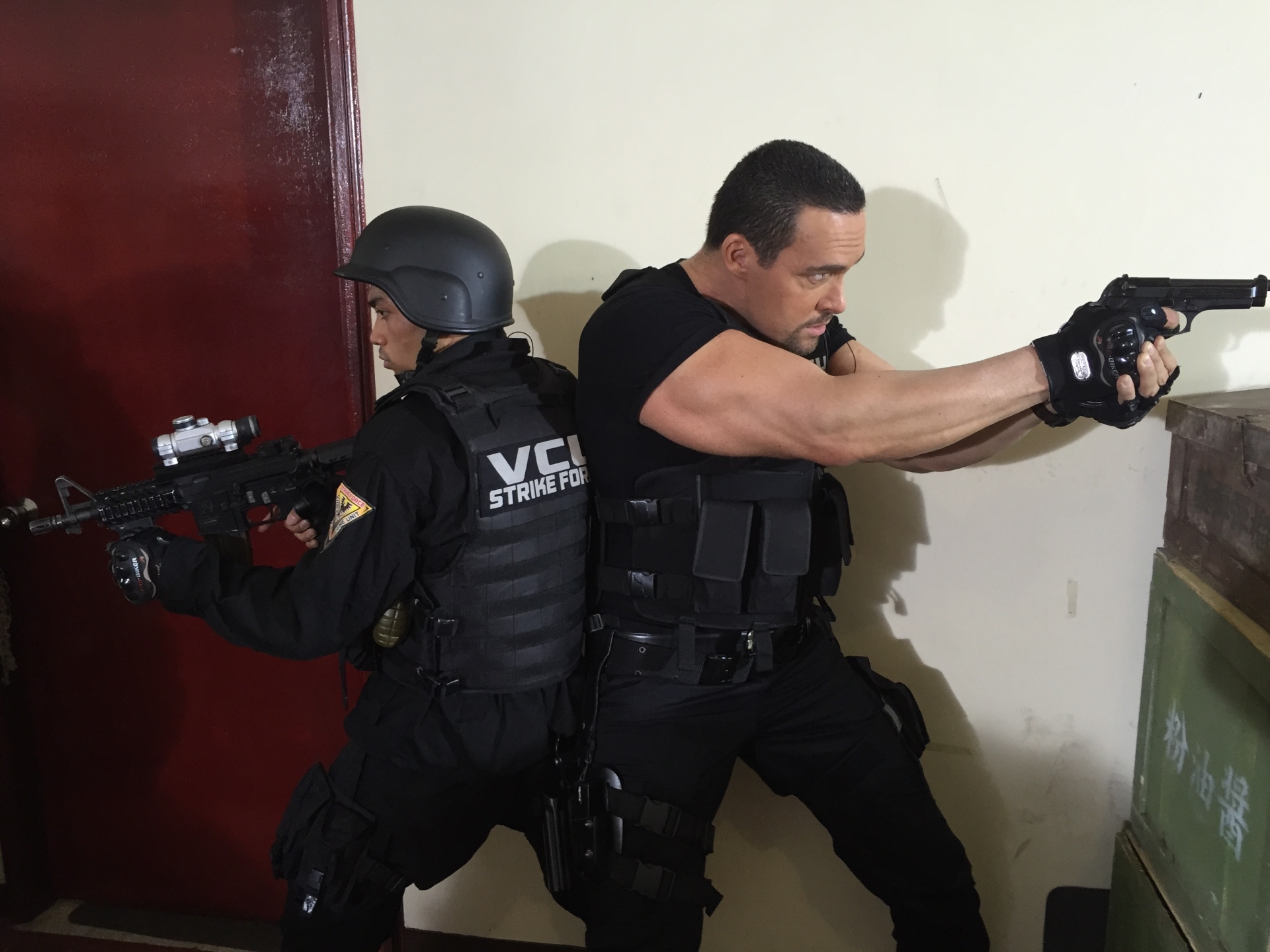 7.You have also directed your first film in Black Rose. Did you give him any tips or advice? Did you trade off ideas?
To be honest with you, I understood all the pressure very much. On Black Rose I was a director, producer and actor and it was crazy. I didn't give Mark any advice but I made sure he had more time for pre-production and more time for shooting compared to me with Black Rose. We spoke about my character Nick a lot and Dacascos was happy with my ideas.
8.You partner up with Casper Van Dien in the film, who is a veteran of action films. How did you two come to work together.
Mark Dacascos actually introduced us to each other in 2014. I'm a big fan of Casper. He's an action icon and we all love him in the Starship Troopers movies. But he's a great actor also and it was interesting and easy to work with him in our movie. His character Charlie is ex-LAPD and a really funny guy but he's also a real friend of my character in Showdown in Manila. I think we made a very good team!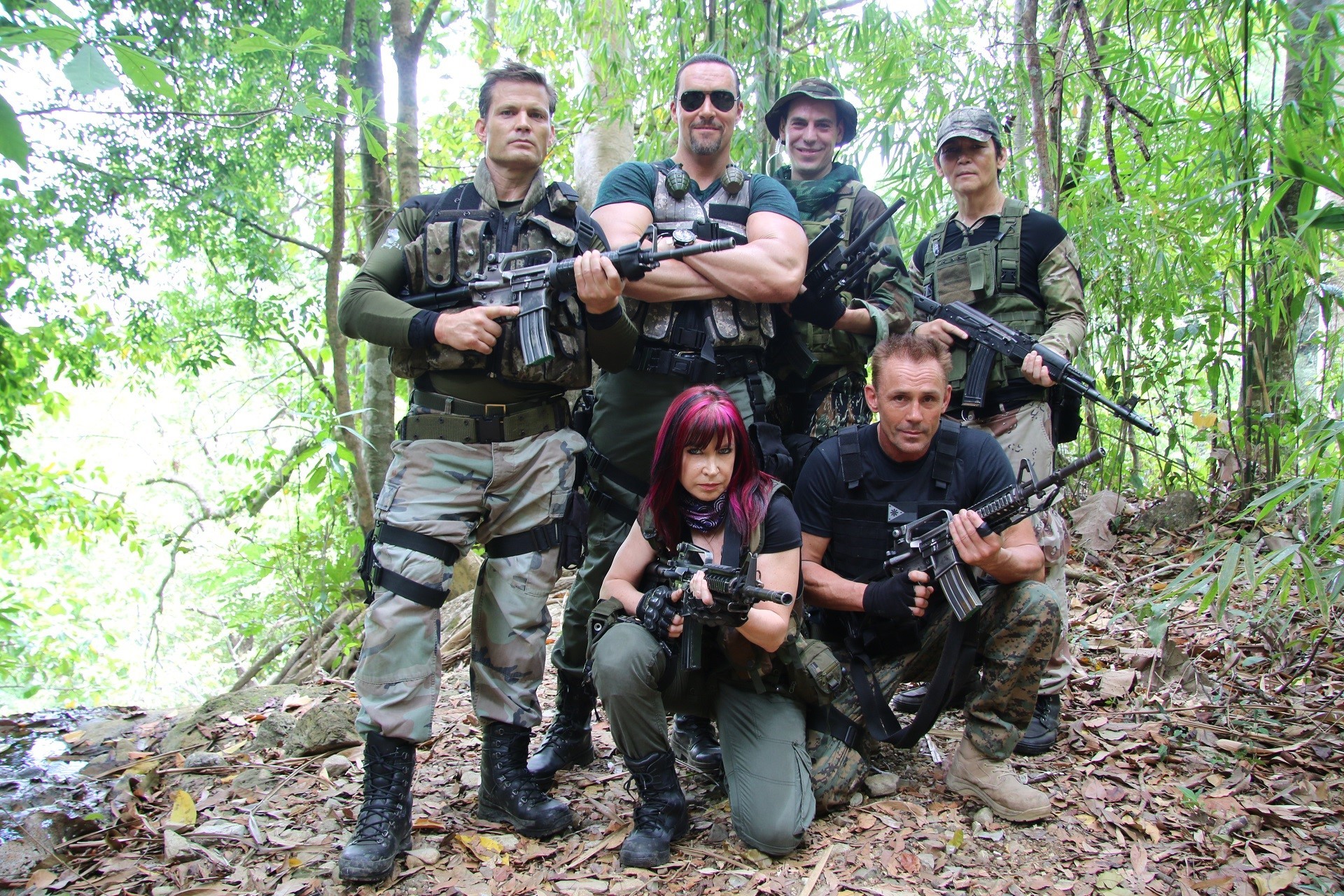 9.The film is like a version of The Expendables with some of the greatest action stars of the 90's teaming up in the film like Don Wilson, Cynthia Rothrock and Olivier Gruner. How did you get them all involved?
I was a boxer before I started bodybuilding and I also studied kickboxing for some time. Don "The Dragon" Wilson is the one of the greatest kick-boxers and 11 time world champion, I wanted to work with him since I saw Bloodfist.  Cynthia Rothrock and Olivier Gruner are great martial artists too and I always liked their films. I knew Don and Cynthia personally and my friend Matthias Hues (who is a legend of the Action genre himself) introduced me to Olivier. To my delight, they all liked the script and said "yes" to Showdown in Manila right away.
10.How was it to work with some of these great action legends?
It was just a dream come true. We lived at the same hotel and trained in the gym together almost every morning. They all are in great shape and trust me – audiences will have a chance to see each one of them in action in Showdown in Manila! They were all very supportive when we were shooting in the city and in the jungle and, as I said already, it was a big fun to work with them!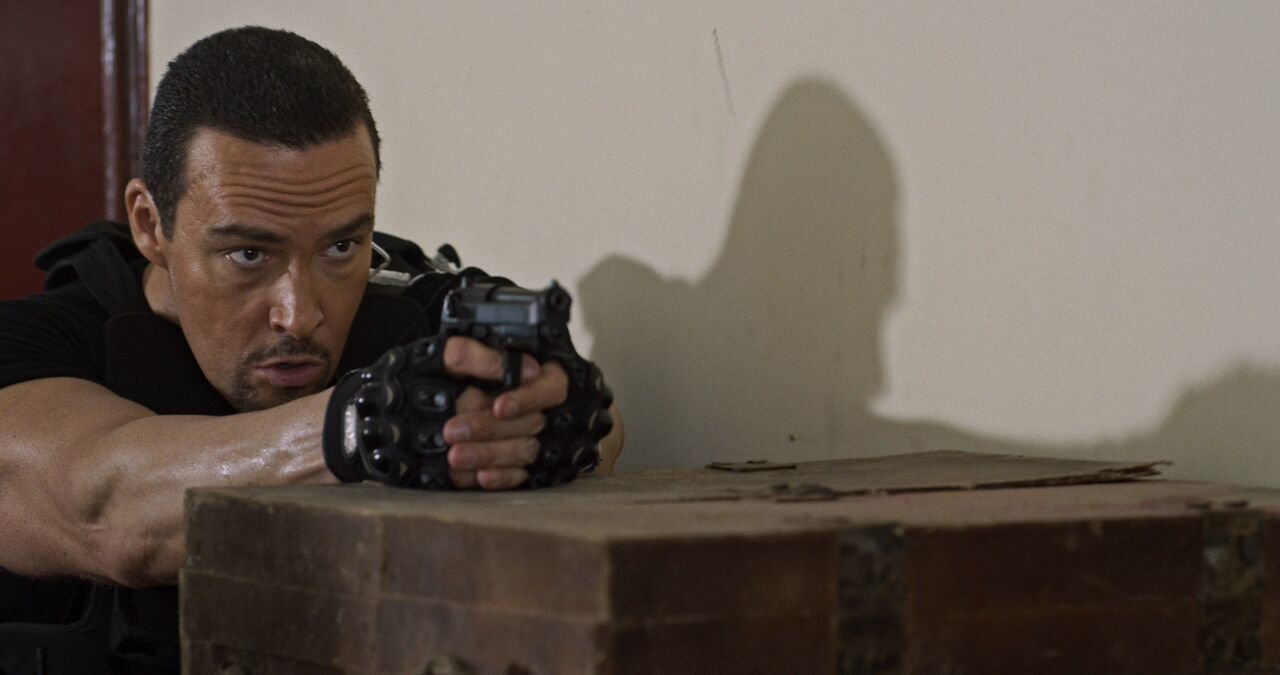 11.Talk about the others also like Tia Carrere, Cary-Hiroyuki Tagawa and Matthias Hues. Must have been great to work with them also.
Matthias is a great friend, we did 3 movies together already. The only thing is, before the shoot, I asked him to play one of the good guys and he refused. He said: "Alexander, I'm sure my fans want me to play a villain!" A couple of months after that conversation, when we were shooting a scene in Manila, with him in a trunk of a small Mercedes, he probably regreted that choice but it was too late.. 
Regarding Tia – of course it was an honor to work with her, as well as with Cary.
12.Talk about some of the explosive action fans will see in the film. What can we expect from an action standpoint?
Expect a big shoot out scene in the beginning, expect fighting and some action-comedy moments through the film, expect ALL your favorite 90's martial arts stars to show their unbelievable moves and expect The Expendables type of war action in the jungle!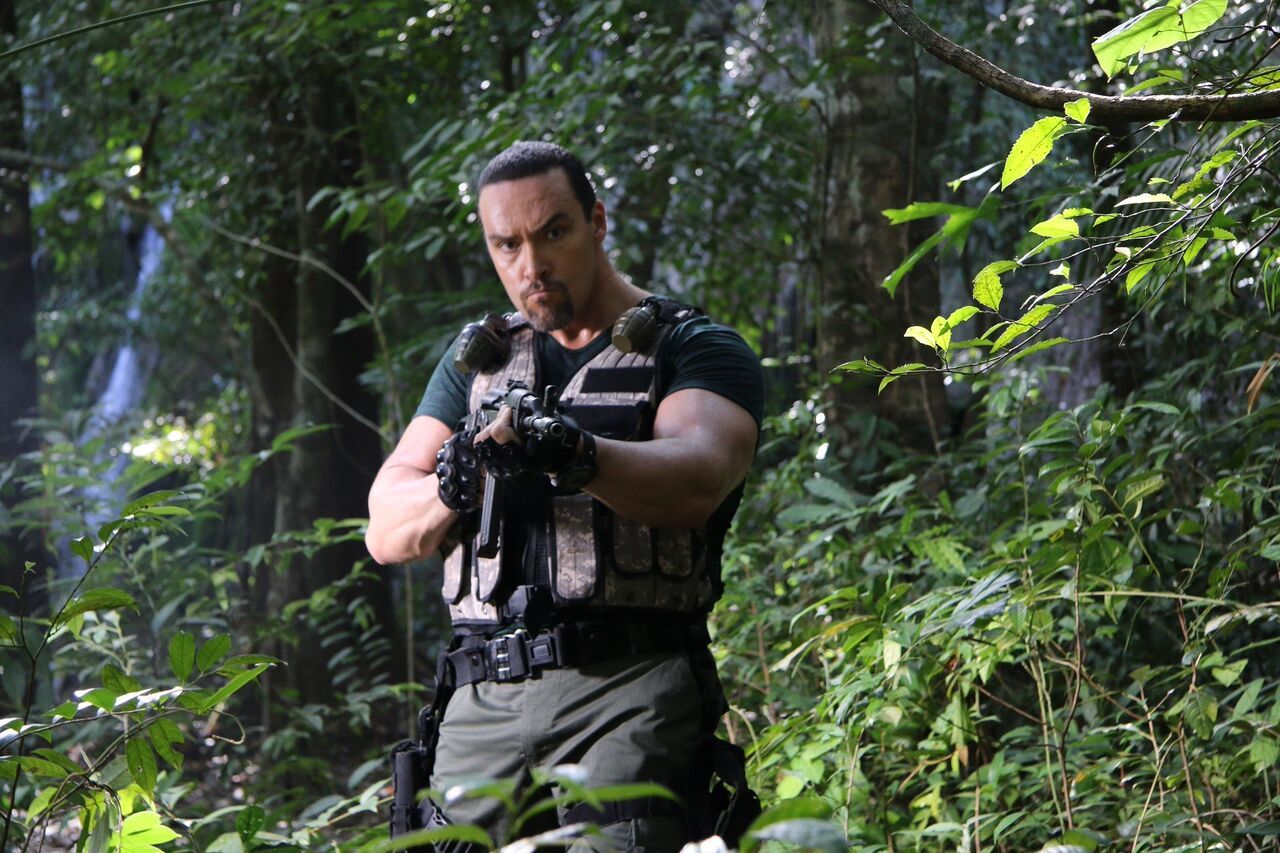 13.Could there be a sequel?
I hope so. Showdown in Manila was a theatrical hit in Russia/CIS and CineTel Films sold the rights to a lot of other countries already. The Film was just released by ITN and eOne in limited theaters, on VOD and all the digital platforms in the US and will premiere on Netflix in April. I have a couple of other projects right now but will be happy to go back and work with all these legends for Showdown in Manila 2!
14.I wanted to talk to you about being a voter for the Golden Globes. How did that come about and how is it to have that kind of responsibility? Must be great!
I represent Russia at the Hollywood Foreign Press Association and  have voted for the Golden Globes since 2003. It's a huge honor but also a big responsibility, you're right. I'm an independent filmmaker myself and I try hard to support fellow filmmakers. We all know how The Golden Globes can change a fate of the film, so I take this job very seriously and watch all the screeners I'm getting. But don't get me wrong, it's also huge fun, especially all the parties after the Golden Globe Awards!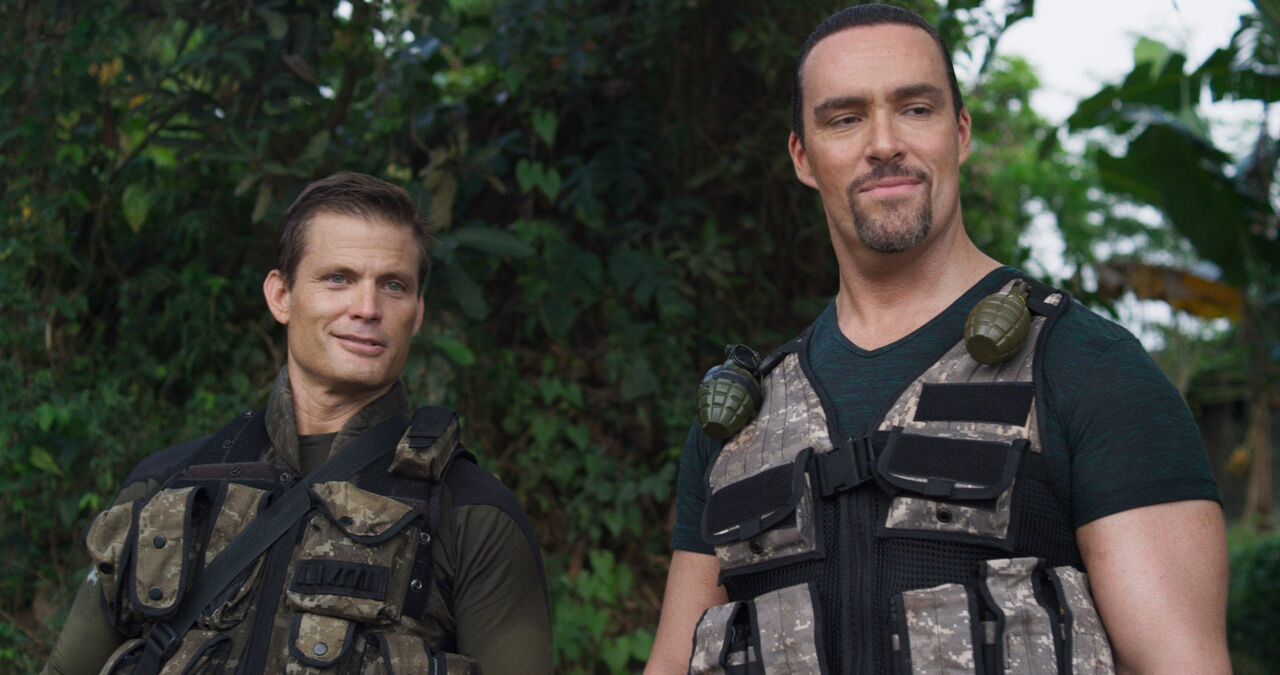 15.Can you tell us about your other film Maximum Impact you have coming. You got to work with Mark again. What can we expect? When can we expect it?
Maximum Impact is an action-comedy. The director is Andrzej Bartkowiak (Romeo Must Die) and  the writer is Ross LaManna (Rush Hour). I'm playing a Russian FSB agent who has to help the US Secret Service to prevent an international crisis. My co-stars are William Baldwin, Denny Trejo, Kelly Hu, Maria Bravikova, Eric Roberts, Bai Ling, Tom Arnold and Polina Butorina. Mark Dacascos and Matthias Hues are in a movie too. 
I should also mention our stunt choreographer and second unit director James Lew (he recently won an Emmy for his work on Marvel's Luke Cage). Maximum Impact is the biggest movie I produced to date, we opened it theatrically in Russia/CIS already and I hope it will be released in North America this year.
16.Any news you can give us on Savage Attack and any other projects you have cooking?
The script for Savage Attack was rewritten several times by Showdown in Manila writer Craig Hamann. I hope we'll start shooting before the summer. This film should be hardcore action and we want to shoot it in Indonesia and The Philippines again. Ralf Moeller (Gladiator), Conan Stevens (Game Of Thrones) and Mathias Hues will co-star. 
I'm also seriously thinking about a fantasy genre film but it's too early to talk about this one.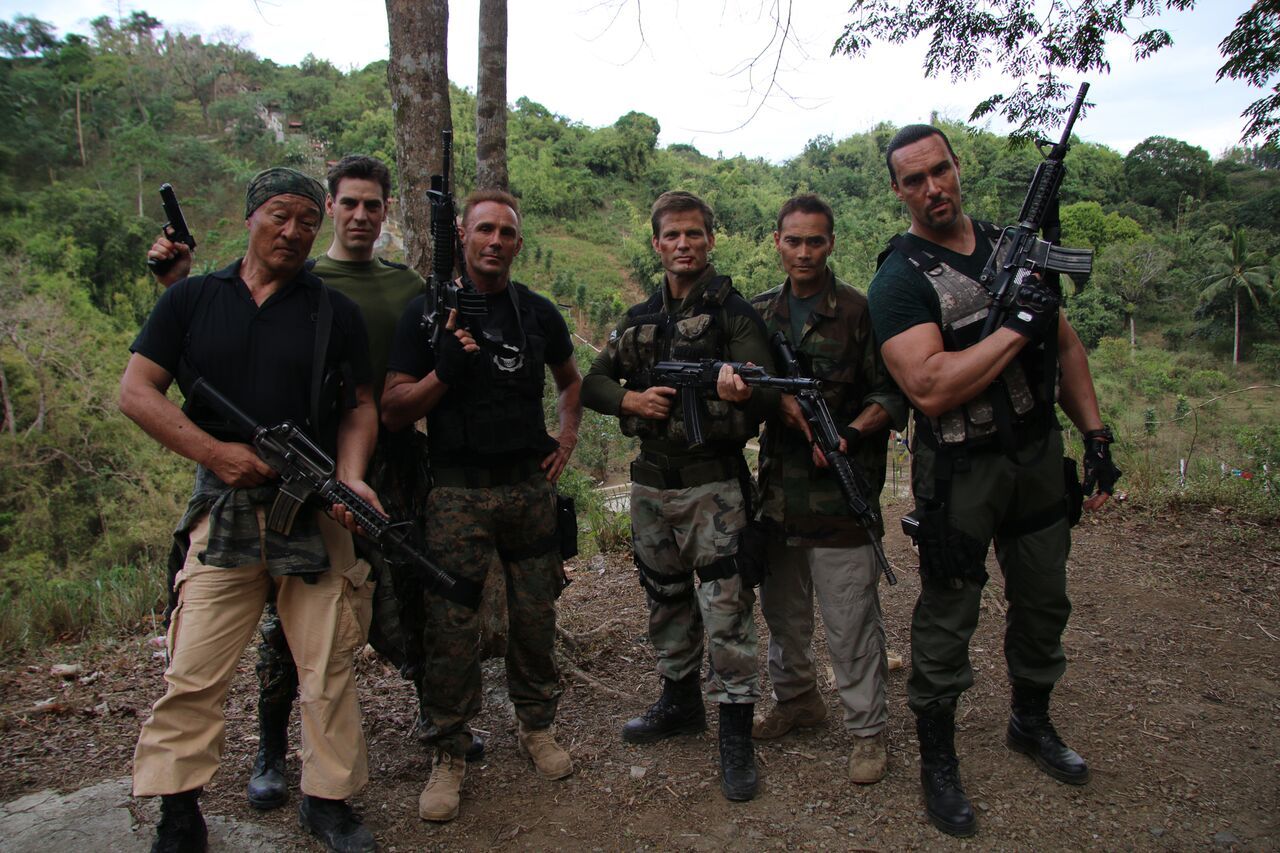 17.You have been in the industry for a while now. How are you and the industry different from when you first started?
It's much harder now for independent action films compared to 2003 when I produced my first film Moscow Heat. But I still have a perfect business model: I'm an established movie star in Russia and ex-USSR countries, my films are wide theatrical releases there always. We're shooting in English, with Hollywood cast and crew and are able to sell my films pretty much everywhere worldwide also.
I'm much more experienced as a producer now and every movie I'm making is bigger than the previous one. 
Thank you again Alexander for the amazing interview!!!
Thank you again and I hope you and your readers will like Showdown in Manila!
  To keep up with Alexander and all his current and future projects, check out his social sites!
TWITTER: @NevskyAlexandr
Instagram: realalexnevsky
  Showdown In Manila is now playing in select cinemas as well as all Digital Platforms!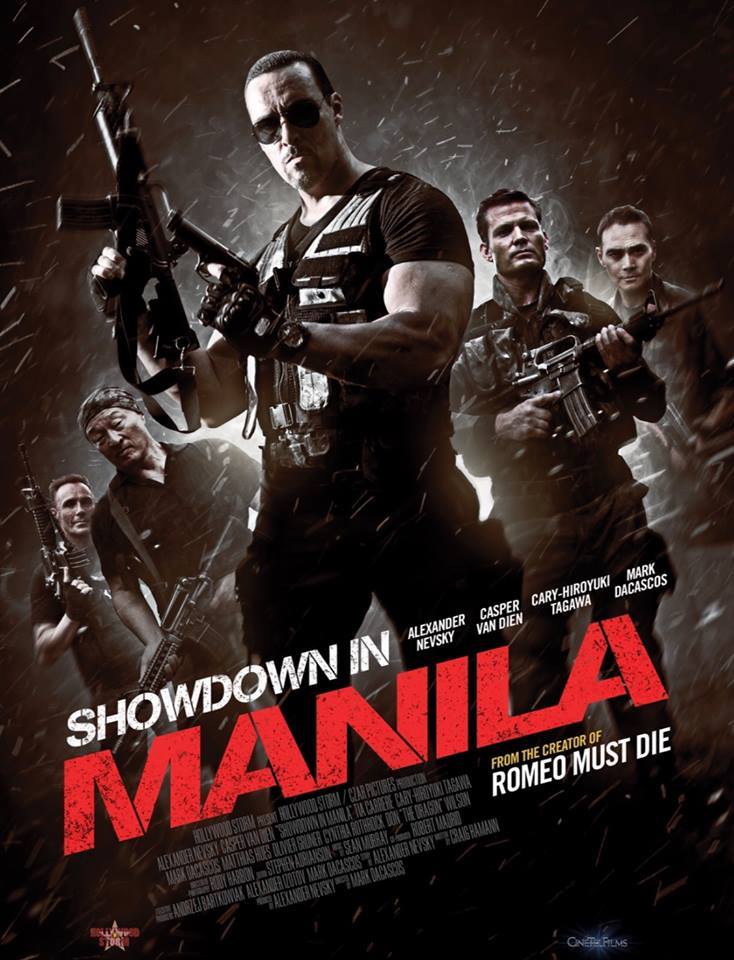 Official Trailer: