(Original Publication Date: January 4th, 2018) By: John M Jerva
Review: BEYOND SKYLINE
Starring: Frank Grillo, Bojana Novacovic, Johnny Weston, Callan Mulvey, Yayan Ruhian and Iko Uwais

Directed By: Liam O'Donnell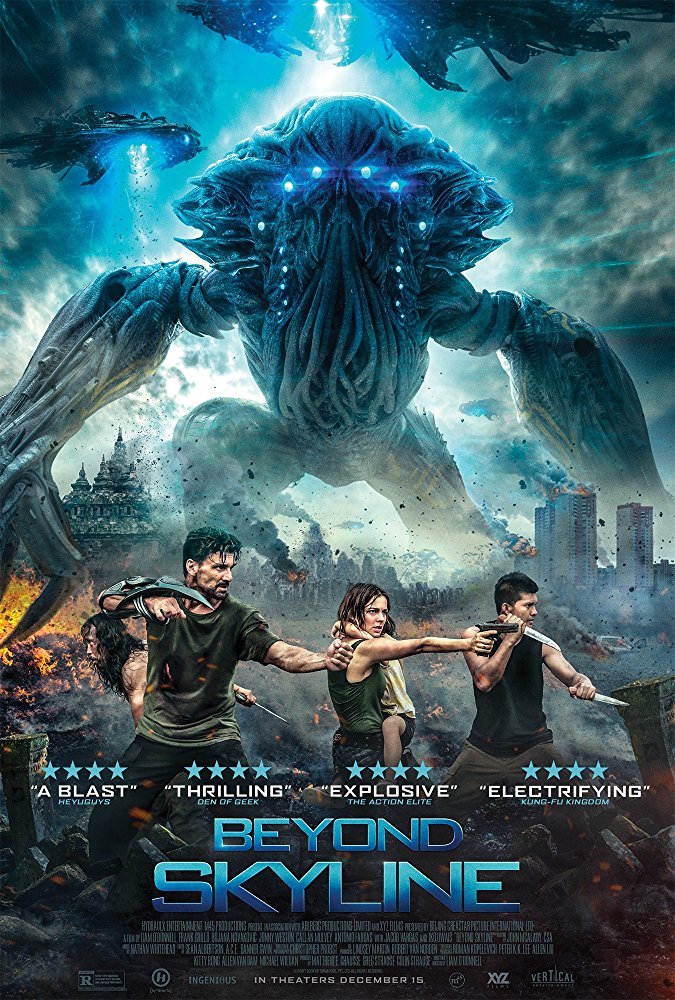 Official Synopsis: 
Los Angeles Detective Mark Corley (Frank Grillo, Captain America: The Winter Soldier) thought bailing out his eighteen-year-old son, Trent (Jonny Weston, Taken 3), was the worst part of his day. But on the ride home, the skies above fill with a strange blue light. Within moments, the entire city's population is vacuumed up into a massive alien ship.
In the aftermath, father and son lead a band of survivors to the marina. But when Trent is abducted, Mark relentlessly storms after his son onto the nightmarish warship.
As the aliens move across the planet, feeding off the remnants of humanity, the resilient Mark battles through the bizarre environment, uncovering their horrific secrets. Before long, he forges an alliance with an unlikely ally. Together they are able to crash the ship and rescue several abductees.
Landing in Southeast Asia, they encounter a highly skilled resistance force, led by the deadly Sua (Iko Uwais, The Raid 1 & 2). In a race against time, these warriors from different sides of the world must unite to save their families and take back the planet.
The Review: In 2010, the sci-fi feature film Skyline was released and while it was meant with some rather bad reviews from critics and audiences alike, the film was profitable enough to warrant a follow up movie which was welcome news since the film ended with a rather intense cliffhanger (check it out and you will know what I mean). That first film was written by Liam O'Donnell who was also a visual effects director on the film and it was helmed by Colin and Greg Strause (also known as The Stause Brothers). I enjoyed the film and thought that it was a fresh take on the alien invasion theme and I was very excited when I heard a sequel was planned. My excitement grew when I learned that Frank Grillo would be starring in the film as he is definitely one of the best actors working in the action genre, or any genre, today. Grillo brings a heavy dose of intensity and gravitas to all his roles and even if he is only a supporting player, he leaves his mark. My excitement reached an apex when it was then announced that The Raid stars Iko Uwais and Yayan Ruhian would also be appearing in the film. Uwais and Ruhian are action dynamos and it would hopefully bring another level of action to the project. With the addition of all these great actors, would the film live up to expectations or would it be a disappointment to say the least?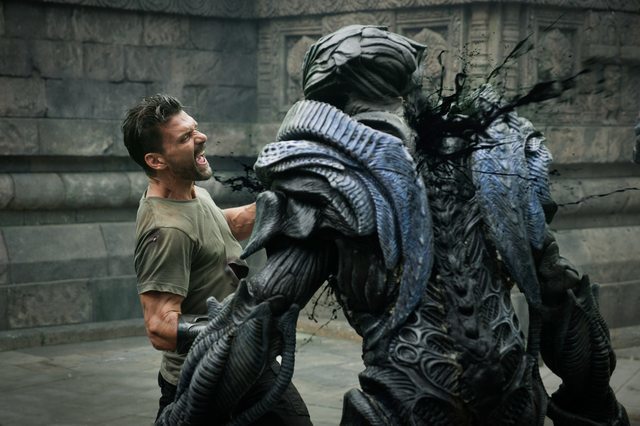 I am officially here to say that Beyond Skyline not only reaches expectations, it takes those expectations and totally kicks it in the ass and comes back for seconds! The film is a rare gem in just Like James Cameron's Aliens, it is far superior to the original film. O'Donnell takes over directing duties as well as script writer once again and I have to say that this man has a future in the genre movie making department. The film was only released in limited cinemas but it should have had a wide release in that it is far better then most of the crap Hollywood dishes out on a yearly basis. The film takes the original concept and amplifies it to the next level and by switching locales in the plot, we get a fresh take on a familiar subject.
Lets talk about Grillo again shall we. He is certainly making a name for himself in the action department with roles in The Purge franchise, Captain America and most recently the high-octane Wheelman which debuted on Netflix. Grillo is one of those thespians that when he enters the room, everyone takes notice. He talks the talk and certainly walks the walk to back it up. He delivers his performances in a matter of fact manner that is both dramatically superb and exhilarating at the same time. He's the kind of man that you want on your side when the world is invaded by genocidal aliens. In the film, he portrays police detective Mark who has just lost his wife and is estranged from his son Trent played by Johnny Weston. At the beginning of the movie, you can tell that even though they are at odds with each other, there is still a level of respect and love that is there.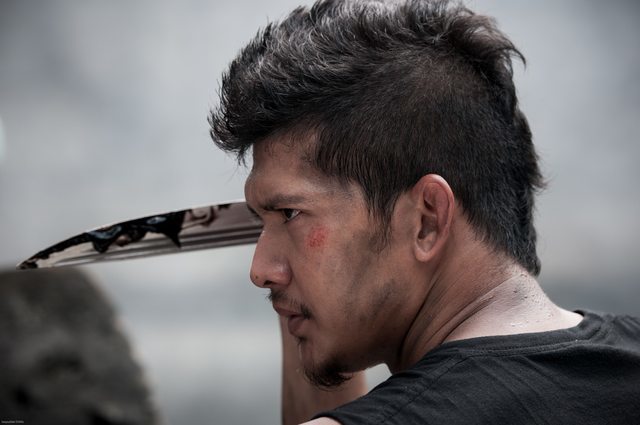 There is no time for family therapy however as the alien invasion erupts within the first few minutes of the film and Grillo and Weston are forced to put their differences aside in order to survive. They hook up with a motley group of civilians which include Audrey (Bojana Novacovic), and Mark's partner Garcia (Jacob Vargas) and together they begin a whirlwind mission to navigate the streets to avoid capture.  Unfortunately, they are caught and taken to the alien ship and this is where the film really takes off as Grillo navigates the alien vessel in a desperate mission to save his son. The sequence is loaded with action and thrills and it is truly cool to see the action take place on the ship. O'Donnell even does a clever bit of tidying up loose ends from the previous film at the same time. This is a spoiler free review so you will have to just watch the film to see what I mean. Mark discovers an infant child on board and it is this child that will turn out to be the piece to the puzzle they will need to stop the invasion.
The action shifts from the ship to Indonesia as Mark and Audrey stumble across a group of rebels led by Sua (Uwais) and his sister Kanya (played by Pamelyn Chee). At first there is uncertainty between the two groups but they quickly learn to trust each other to survive this unusual ordeal. Uwais brings a fresh sense of charisma that he didn't have in his previous films and he, of course, showcases his deadly skills along the way. Even though he was a star in The Raid movies, it is here that he elevates himself. Callan Mulvey (Batman V Superman: Dawn Of Justice) is pretty good in a small role as a hippie scientist that is helping the rebels.
Now lets talk about the action! Just like I said in the title of this review, this is one of the best kick-ass adrenaline rushes you will see all year. The thrills literally start from the beginning and they never let up until the credits roll at the end. Grillo is at his action man best as Mark and is once again solid in the action set pieces. He knows what he is doing at it is evident from the word go. We get shoot outs and fisticuffs galore throughout and the finale is one of the best climatic sequences I have ever seen in a sci-fi action film. How do you make a movie better? Well you have Iko Uwais go all Silat on the aliens in a flurry of hands, feet and blades. His cohort Yayan Ruhian is only in the film for a few scenes but he certainly makes an impact on the finale. There is even a cool spinning shot of all the actors huddled together right before they are about to unleash holy hell on the aliens. The scene reminded me of the first Avengers film when the camera panned around all our heroes before the mayhem commenced. I would like to think that this was an intentional nod on O'Donnell's part. Anyway, I digress. The fury of the climax will not disappoint and you will have to see it to truly appreciate it! I think I watched the ending 20 times in a row alone!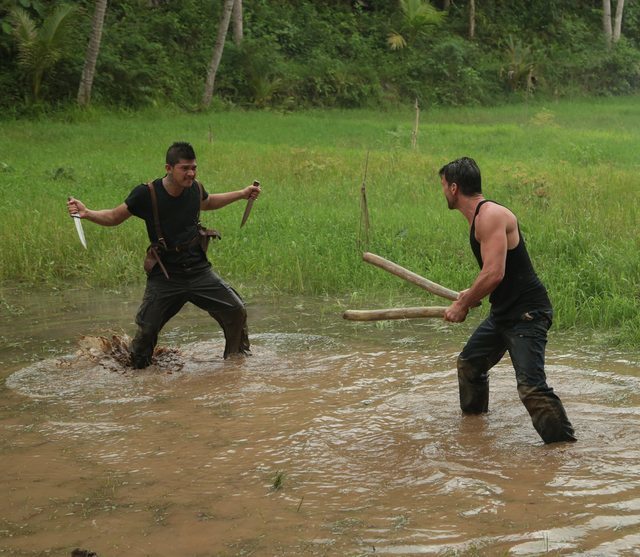 Another aspect that sets Beyond Skyline apart from other films is the special effects. You wouldn't know that this film was filmed on a budget because it looks just as good as any Star Wars film. O'Donnell is truly a master of this and you get the sense that with a bigger budget, he could truly make a masterpiece. Not that this doesn't come close. The aliens themselves are menacing and extreme and we even get some full fledged epic battles at the same time as gigantic alien monster war machines go to battle against each other. My inner child was unleashed while watching this film! A tip of my hat to you Mr. O'Donnell. 
To sum it all up, Beyond Skyline should be one of those films that should be studied at film school so future filmmakers know how to get it right. Frank Grillo once again delivers in the drama and action department and the additions of Uwais and Ruhian was a stroke of genius. This is the sci-fi action film that we have been waiting for and I enjoyed it 100 times more then the last Star Wars film. It's an exhilarating blast from start to finish and the way it ends, I hope we have the makings of a new franchise on our hands. Do yourself a favor and watch it today!!
VERDICT: ACTION-FLIX APPROVED!!!!!!
Beyond Skyline is now available on Blu-Ray, DVD and Digial