By: John M Jerva (Original Publication Date: March 31st, 2019)
Just last week, I posted an article about MARTIAL OUTLAW which stars 90's action star Jeff Wincott which was one of my favorite go to guys for action during that time frame. I got such a positive response for the post that I decided to keep the Wincott train rolling and feature one of my other all-time favorite flicks from Wincott which was MARTIAL LAW II: UNDERCOVER. This particular film holds a special place in my heart because it was actually the first film I saw that introduced me to the Canadian born actor and martial artist. Wincott had reached star status in his native Canada after starring in the popular cop show NIGHT HEAT which aired up north between 1895 and 1989 but it was this film that brought Wincott to the U.S. and it still holds up today with its non-stop barrage of fisticuffs and beat downs as Wincott teams up with the Queen of martial arts cinema Cynthia Rothrock. 
Sean (Wincott) and Billie (Rothrock) are undercover cops and martial arts masters. Investigating the death of a cop, they uncover a deadly ring of murder and corruption at a glitzy nightclub where the rich are entertained by seductive women and protected by martial arts experts. Billie goes undercover to infiltrate the crime ring, leading to an explosive finale.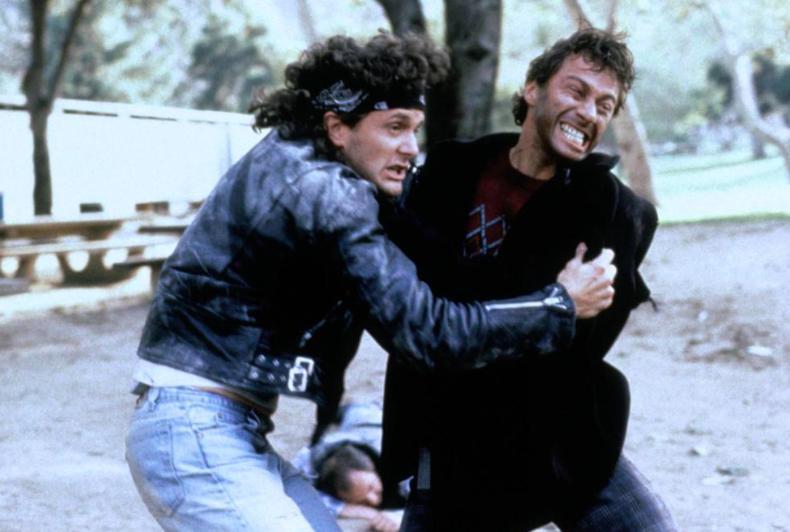 Now it's important to remind everyone that this is the sequel to 1990's MARTIAL LAW which also starred Rothrock as Detective Billy Burke but the other lead in the original was Chad McQueen who played Detective Sean Thompson. The late, great David Carradine also starred as the heavy in the picture and while that film was good in its own right, the second film was by far the better of the two.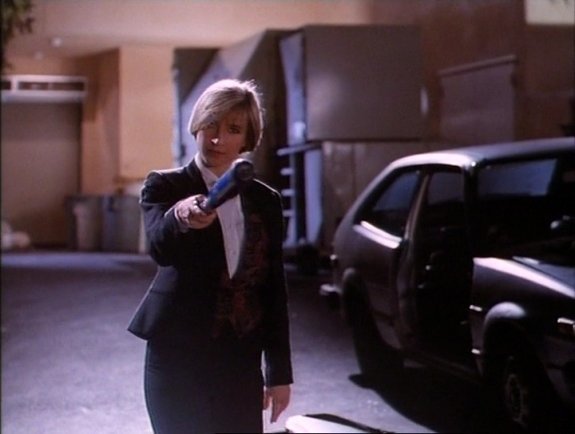 Wincott took over McQueen's role of Thompson and he made it his own while Rothrock returned as Billy. That's where the connections stopped as MARTIAL LAW II pretty much stands on its own and doesn't really have anything else to do with the original film. All you needed to know was that our stars were MARTIAL LAW, a name they earned for using their fists and feet to dispense their own brand of justice, and that's all you needed to know.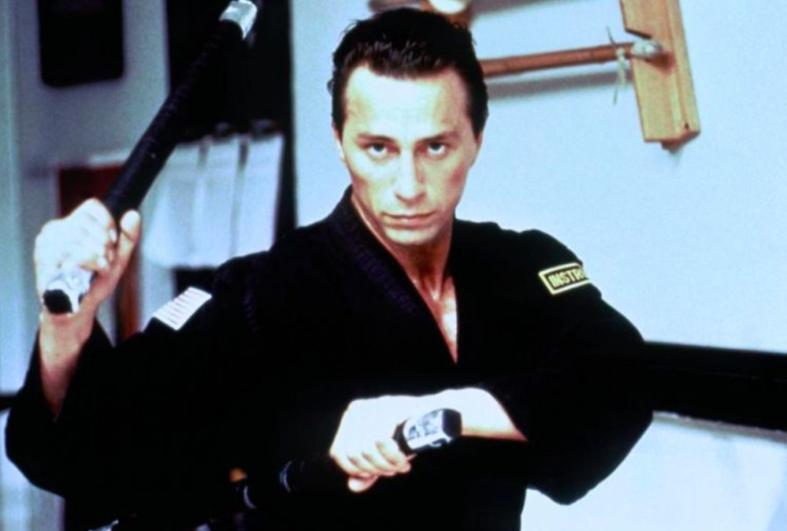 The sequel is loaded with non stop fight sequences as our two heroes take on a criminal organization led by Spencer Hamilton (Paul Johansson) who runs his empire out of his lucrative night club. We pretty much don't get any reason as to why Hamilton does what he does but it's probably because he's bored and is just plain bad. To ensure that his network of illegal operations is running smoothly, Hamilton employs an elite team of ruthless martial artists to enforce his will and take out anyone that stands in his way. These killers include Bree (Sherrie Rose), Han (Leo Lee), and Tanner played by Evan Lurie who starred in a host of 90's action flicks. When a fellow detective and close friend to Sean gets killed for getting too close to Hamilton and his crew, Sean sets out with Billy on a bone crunching mission of revenge that will leave only one side standing.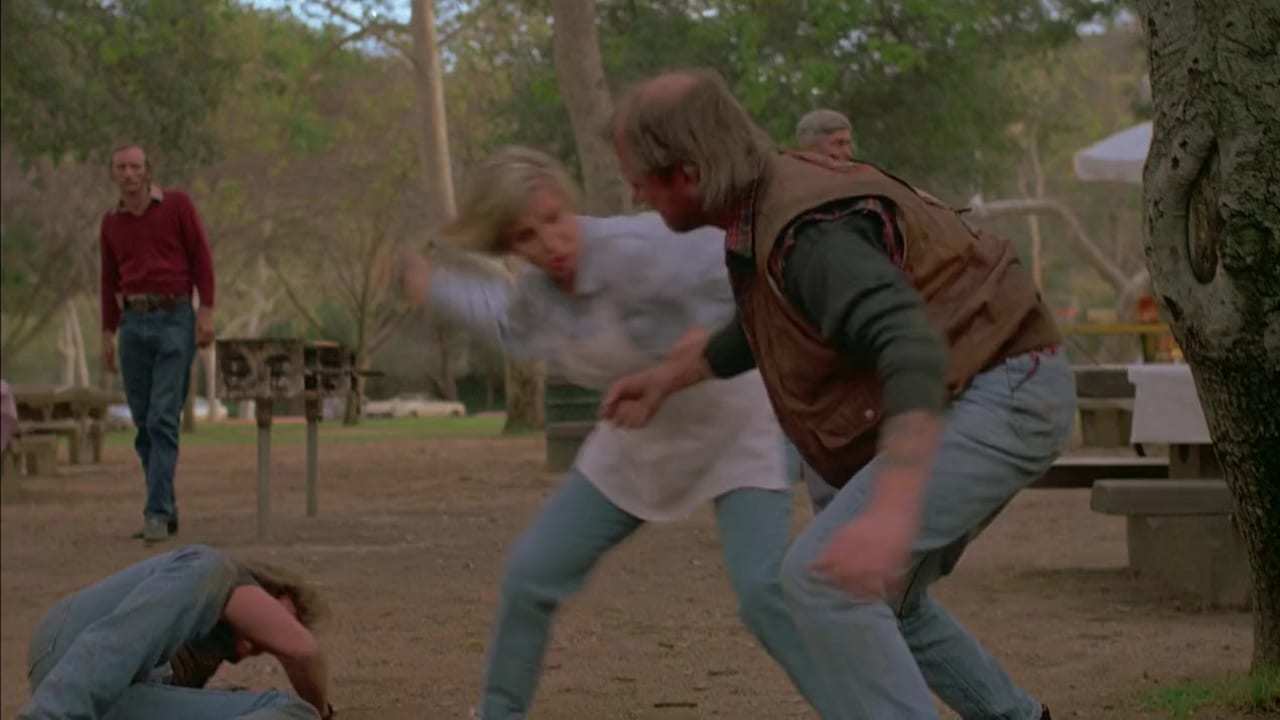 Now like I said MARTIAL LAW II is a step up in every way from the original (no offense to Mr. McQueen) but the fights are relentless and the choreography is top notch with veteran martial artist, stuntman and on screen fighter Jeff Pruitt serving as the film's fight coordinator. Pruitt also has a small role in the film as one of Hamilton's elite fighters and gets to show off his awesome speed in a few fight sequences. The man is just plain fast as hell and I enjoyed a lot of fight films with him during those glorious days.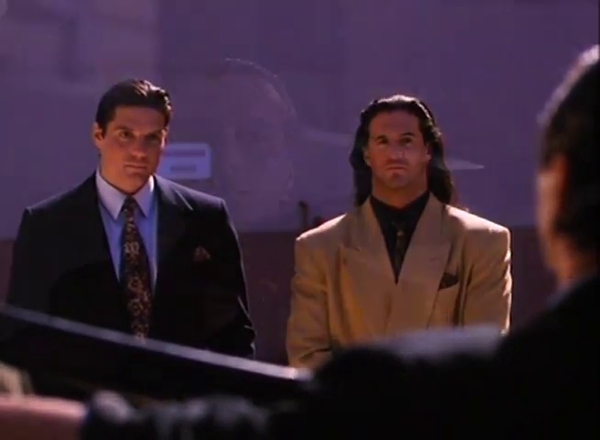 The standout fight for me in the movie has to be the blistering Dojo fight between Wincott and some goons who pay him a visit while he's training. Legendary James Lew gets in on the action here as well as Lee and the battle includes a blistering barrage of Escrima as the fighters use sticks to pummel one another. This particular three on one fight has it all with weapons, fists and feet culminating in a flurry of awesome kicking techniques from Mr. Wincott as he lays out his assailants. As a third degree black belt in Kenpo, I trained extensively with the Escrima sticks and I love any scene that features these bad boys in them. Check out the full fight below (it's not in English but like I always say, the action speaks loud in any language).
Now, of course, Ms. Rothrock has plenty of opportunity to shine in a multitude of fights and she gives the boys a major run for their money once again. Rothrock is stellar in any fight scene and as Billy she pummels the competition with grace, beauty and brutality. One of her biggest moments happens early on as she takes out a group of muggers who make a very bad decision in trying to rob the Queen. All of her signature moves are on display in this scene and she shows us why she is the best of the best. 
MARTIAL LAW II: UNDERCOVER came out in 1991 when the VHS martial arts craze was just getting started and it set the bar high for all other films to follow with its sweet action and awesome star power in Wincott and Rothrock who were the ultimate team. Watching this move today, which I do a lot, just puts a smile on my face and reminds me of how great it was to experience this phenomenon in pop culture when every week meant a fantastic trip to the video store to see what action goodness awaited you on the shelves. This time in my life is sorely missed to this day. 
If you investigate on sights like Ebay and Amazon, you can still find old VHS copies for sale as well as overseas DVDs and I am happy to tell you that the film is available to stream on Amazon Prime as we speak.
As we close today on our trip down memory lane, check out the official trailer and the fierce Dojo fight scene for MARTIAL LAW II: UNDERCOVER along with the climatic finale down below because when to cops go up against the city's biggest crime ring some people would call it impossible but they call it MARTIAL LAW!