(Original Publication Date: March 15th, 2019) By: John M Jerva
REVIEW: TRIPLE THREAT
STARRING: Tony Jaa, Iko Uwais, Tiger Hu Chen, Celina Jade, Michael Jai White, Michael Bisping, JeeJa Yanin, Ron Smoorenburg and Scott Adkins
DIRECTED BY: Jesse V. Johnson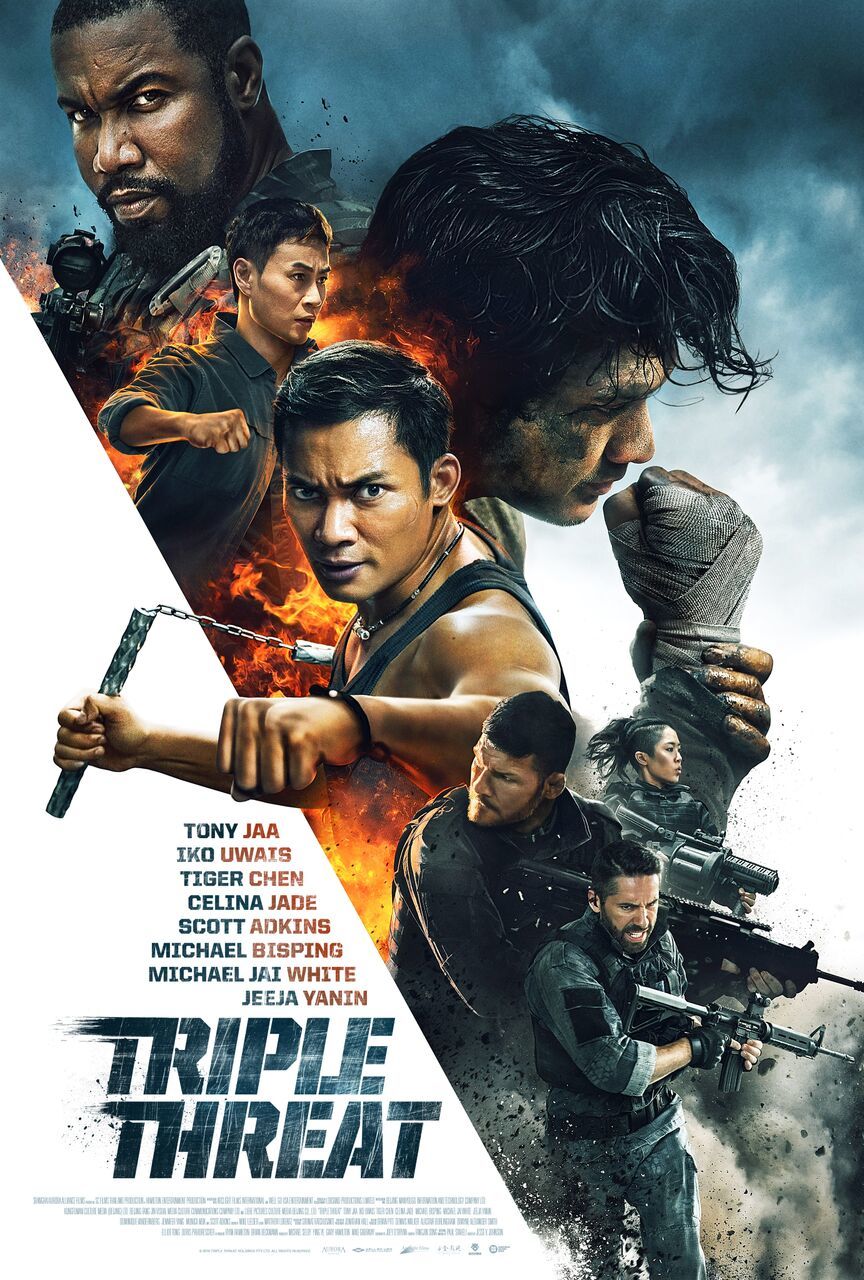 OFFICIAL SYNOPSIS: This breakneck thriller teams over half a dozen of the world's biggest action stars for the martial arts film event of the year. When a hit contract is taken out on a billionaire's daughter (Celina Jade) intent on bringing down a major crime syndicate, a team of wanted mercenaries (Tony Jaa, Iko Uwais and Tiger Chen) must take on a group of professional assassins (Scott Adkins, Michael Jai White, Michael Bisping, Ron Smoorenburg and JeeJa Yanin) to stop them from hitting their target.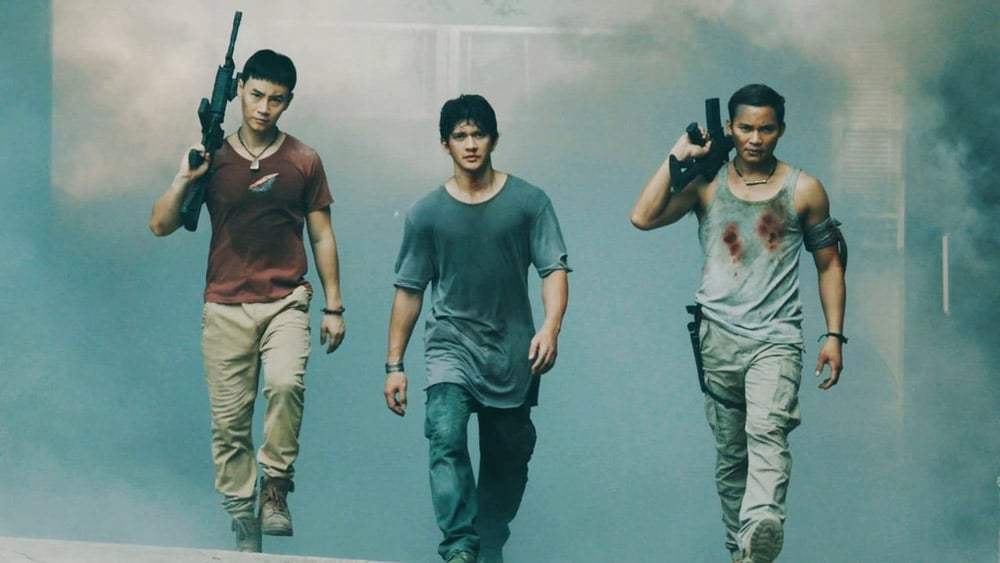 THE REVIEW: It has been a long road since TRIPLE THREAT was first announced. I remember it though like it was yesterday when news hit that Tony Jaa, Iko Uwais and Tiger Hu Chen would be teaming up for an action-thriller like no other. Than slowly more casting news came out and people literally blew their minds when actors like Scott Adkins, Michale Jai White, MMA champ Michael Bisping and JeeJa Yanin were added. The inevitable comparisons to THE EXPENDABLES emerged and the film has even been dubbed The Asian EXPENDABLES but to its credit, while being compared to that classic, TRIPLE THREAT is in a whole other class by itself. Many times, movies promise one awesome thing but sadly drop the ball on the one yard line but I am here to say that this isn't the case with TRIPLE THREAT as director and action maestro Jesse V. Johnson has crafted what is essentially a blood soaked and bullet hole filled love letter to fans all over the world who worship these kinds of films as a type of religion. I know this because I am one of them. Johnson, who I have said in the past, knows what the fans what and he constantly gives it to them. He has cut his teeth in the film industry as a stunt professional and actor and has parlayed his years of vast knowledge into a career that is destined for greatness.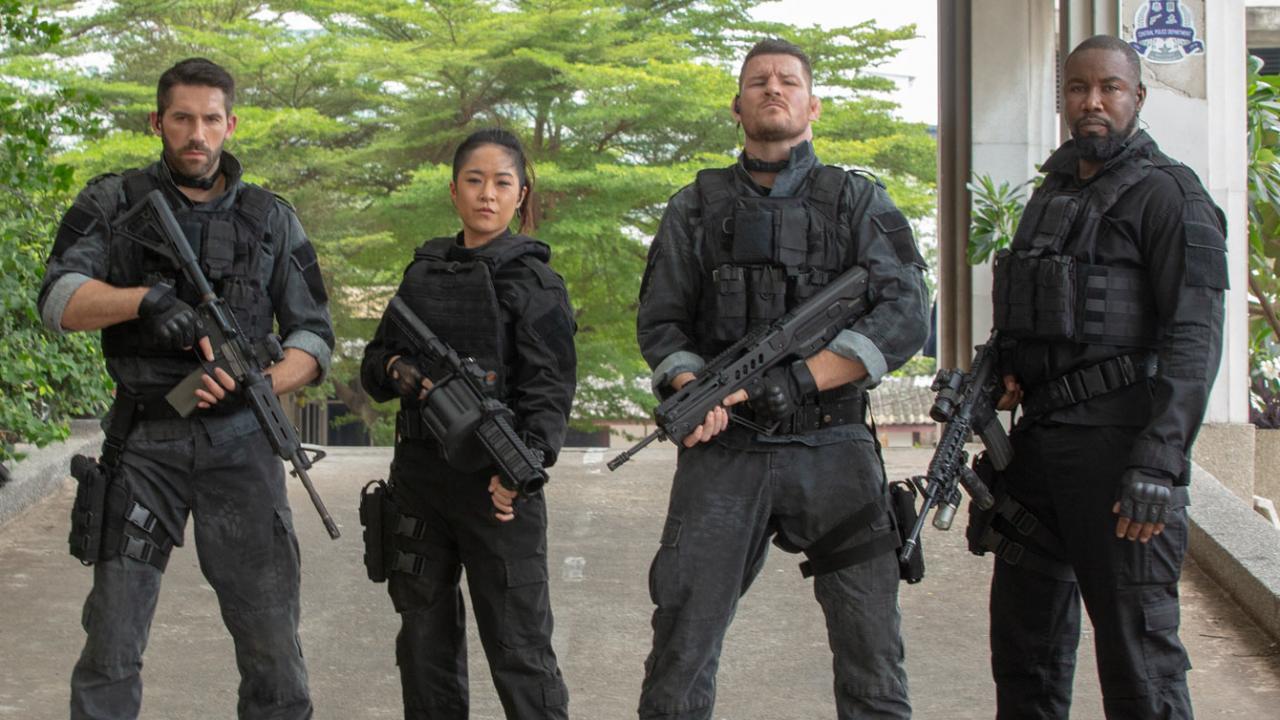 It's easy to set your expectations at the highest level for these types of movies but TRIPLE THREAT is not only one that reaches them, it surpasses them on every level. Each star has his or her chance to shine and Johnson makes sure that fans of each or all as the case may be get to relish their idols doing what they do best on screen and that is kick ass and take names. This is the action film version of the Olympic Basketball All-Star Team that won gold and if there was an award for best action film at the OSCARS (and there should be along with a stunt category) this one would take top prize this year. There isn't a slow moment to be had and once the pedal hits the metal, audiences are in for a breakneck pace of ferocious firefights and high-octane fight sequences. It's OK though. Once the credits role at the end, you can catch your breath but you will want to watch it again. 
In terms of plot, TRIPLE THREAT is simple and that's the way it should be because it's the stars and the action that we have come here to see. International star Celina Jade plays Xian, an heiress who has just inherited her late father's estate and she is one of the richest women in Asia. She has a mission, however, and that is to rid her country of the vile criminal element that plagues it and she will stop at nothing to bring those who deserve it to justice. This, of course, paints a Bullseye on her back and she becomes the high profile target of the very evil organizations that she is trying to eliminate.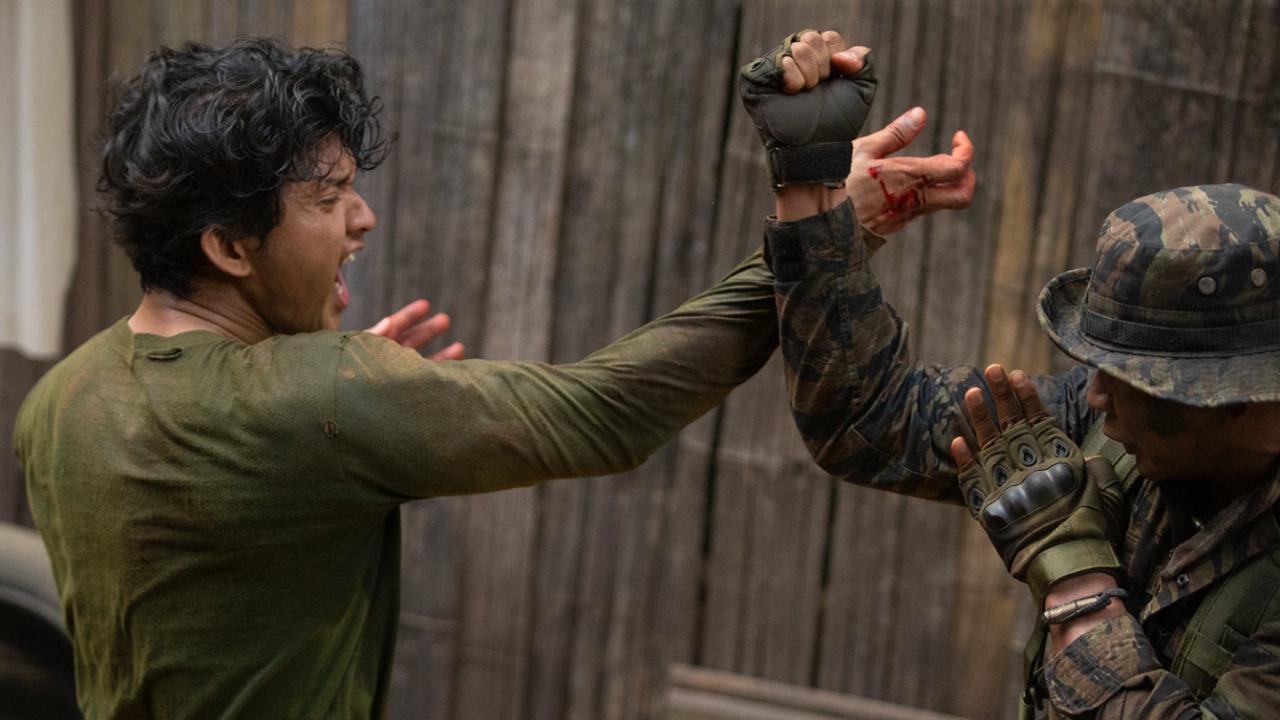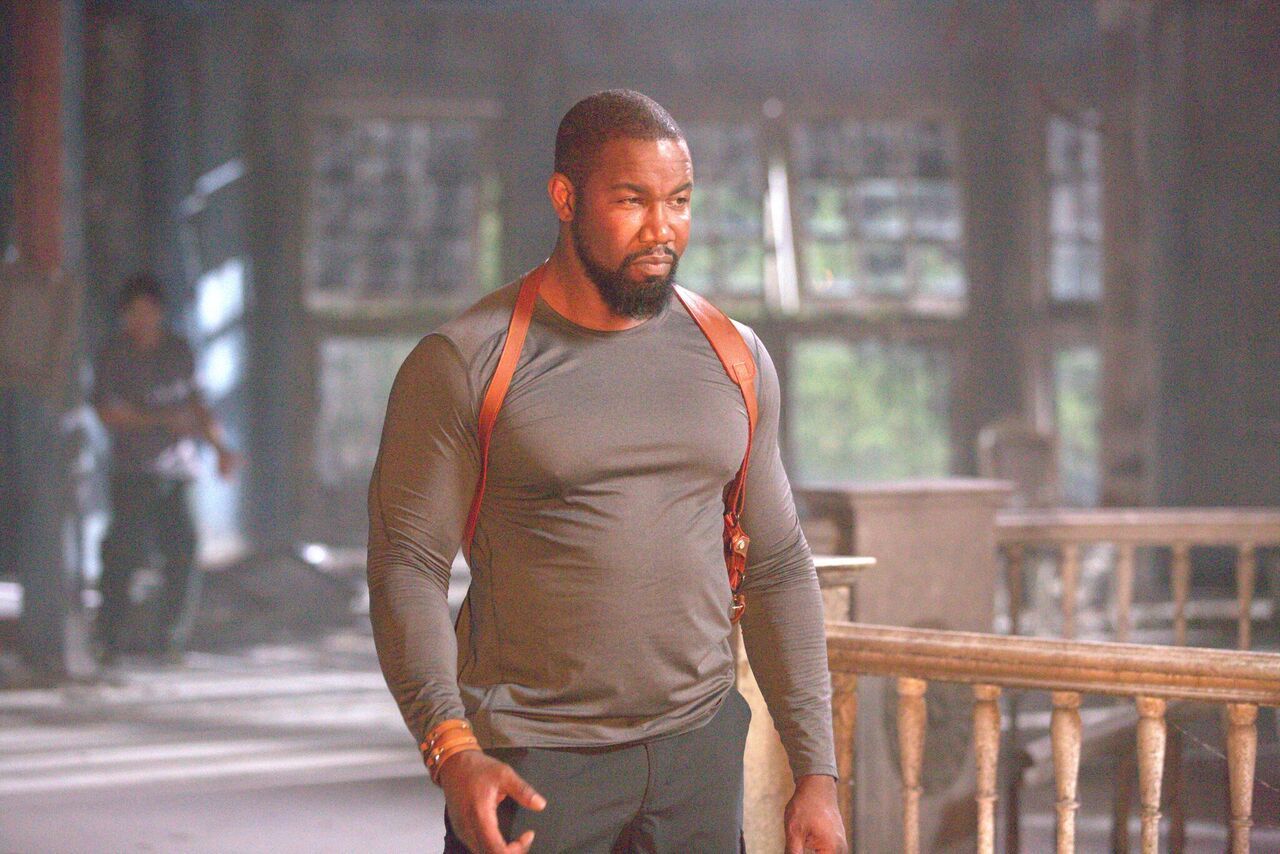 Enter Payu (Jaa) and Long Fei (Chen), two guns for hire who have been selected to lead a group of mercenaries on what they think is a humanitarian mission. Only problem is, they have been suckered and the mercs who consist of Deveraux (Michael Jai White), Joey (Michael Bisping), Mook (JeeJa Yanin) and Steiner (Ron Smoorenburg) have tricked them into leading the party to an MI-6 black site in the jungles to free their leader Collins, played by Scott Adkins. A fierce firefight ensues and one of the rebels, Jaka (Iko Uwais), who guards the camp loses his wife in the bloody crossfire. Collins is freed and the deadly group of warriors lay waste to the village. Now consumed with rage, he seeks out Payu and Long Fei to exact revenge. It doesn't take much time for Jaka to learn that the two down and out mercs were tricked and are looking to take down the same team responsible as well.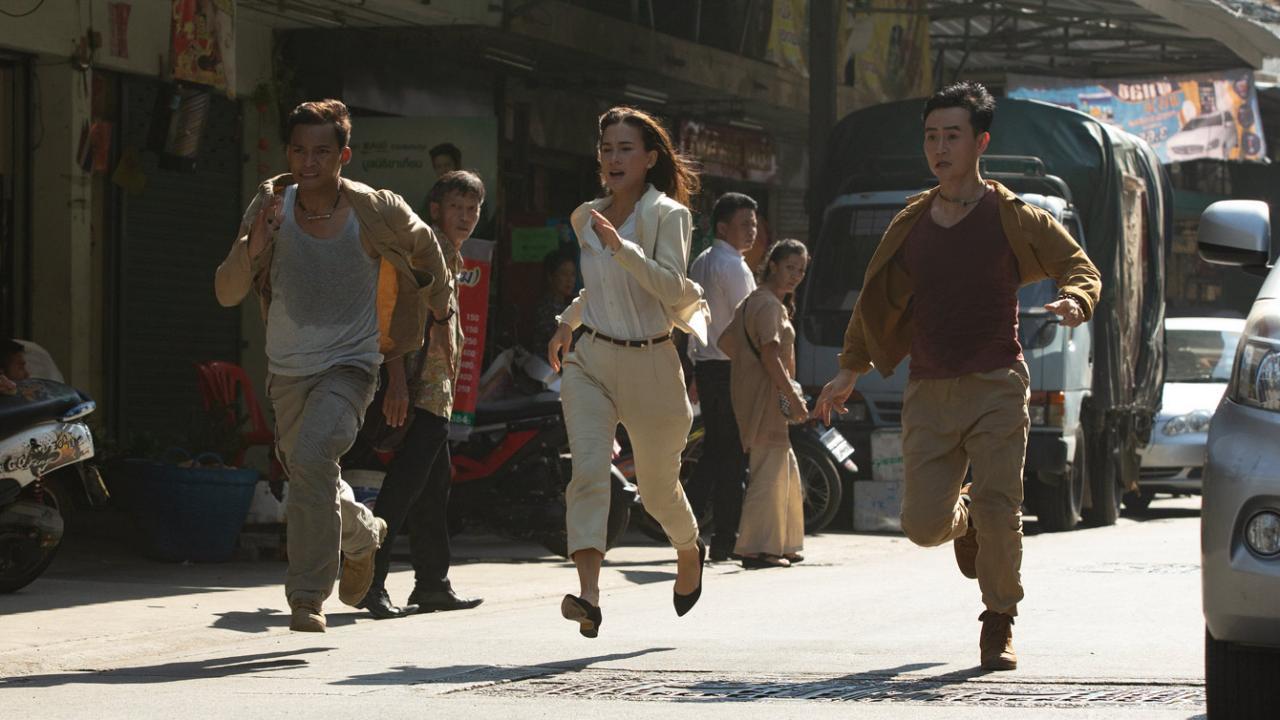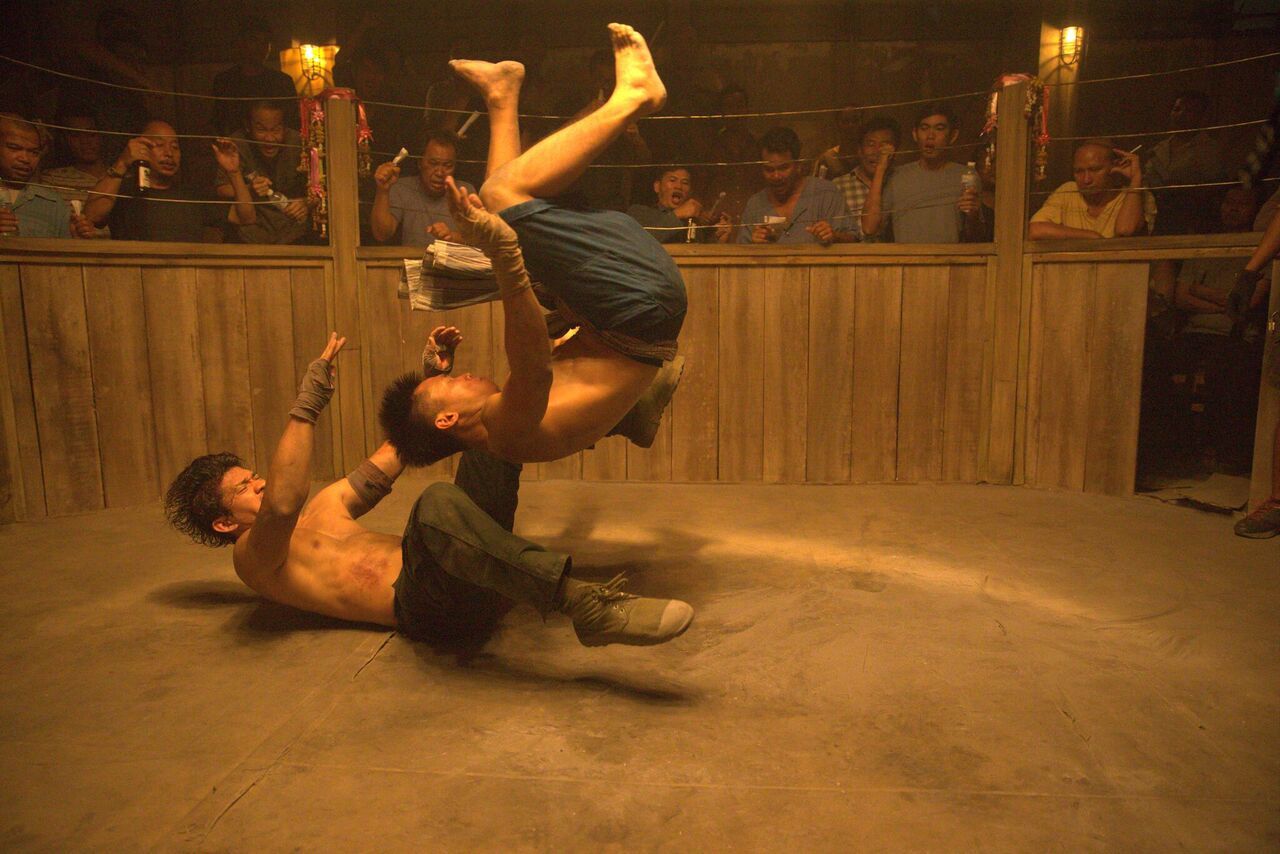 Now a free man, Collins and his band of evil merry men and lady are hired by a mysterious female criminal to take out Xian before she can do any damage to their criminal empire. Unfortunately for them, they are about to cross paths with Jaka, Payu and Long Fei who stumble into their plot to assassinate Xian. What follows is 96 minutes of action bliss that will surely please even the most jaded of action fans.
Like I said, this is a love letter to all action fans and it is the action that is the name of the game and it is a nonstop display of epic showdowns from start to finish. In terms of action set pieces, there are three main sequences including the jungle battle at the beginning followed by a have to see it to believe it action scene at a local police station where our three heroes try to protect Xian. This scene which hits in the middle of the film is worthy to be a climatic conclusion in any other movie but here it is just to wet your appetite for the brutal and bloody showdown at the end which takes place at an old, broken down polo club. It is this climax that fans will truly get their money worth as a host of one on one confrontations leads us to the apocalyptic and epic beat down between Adkins and Jaa that will make you want to watch it again and again. To see these two action giants square off is a dream come true and it even turns into a two on one affair. That's OK though because if anybody can take on this trinity, it's Mr. Adkins.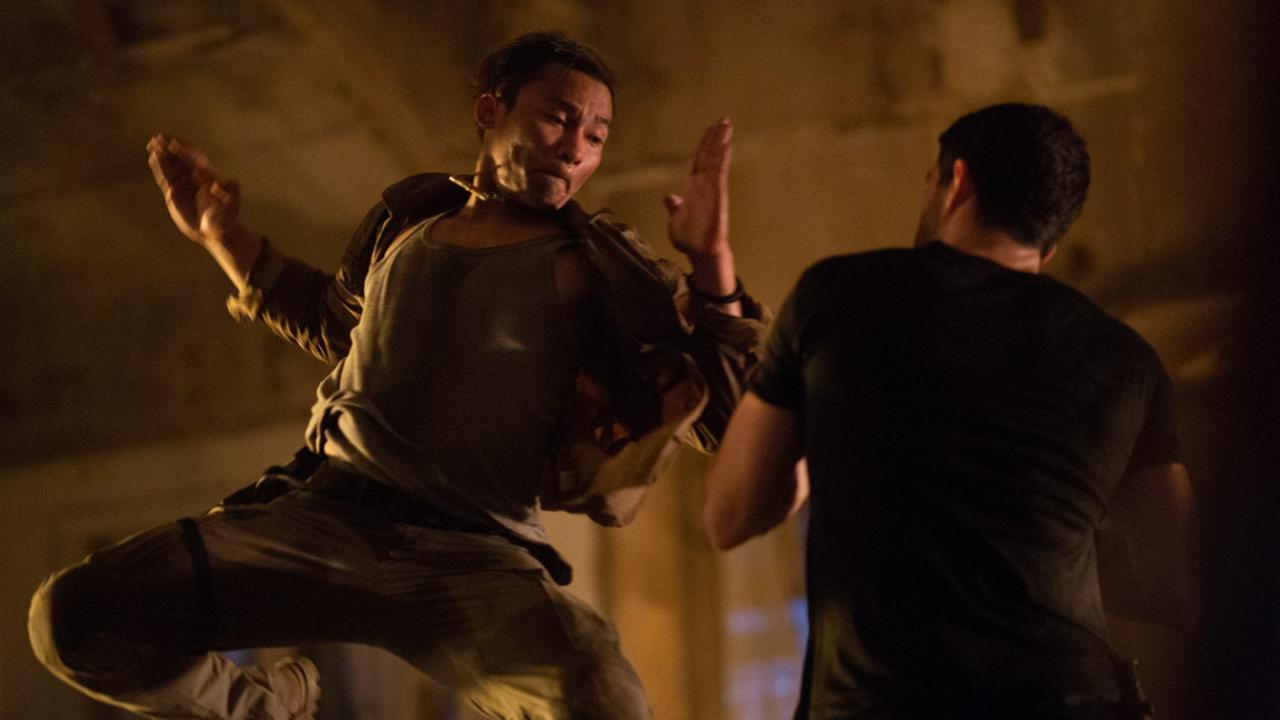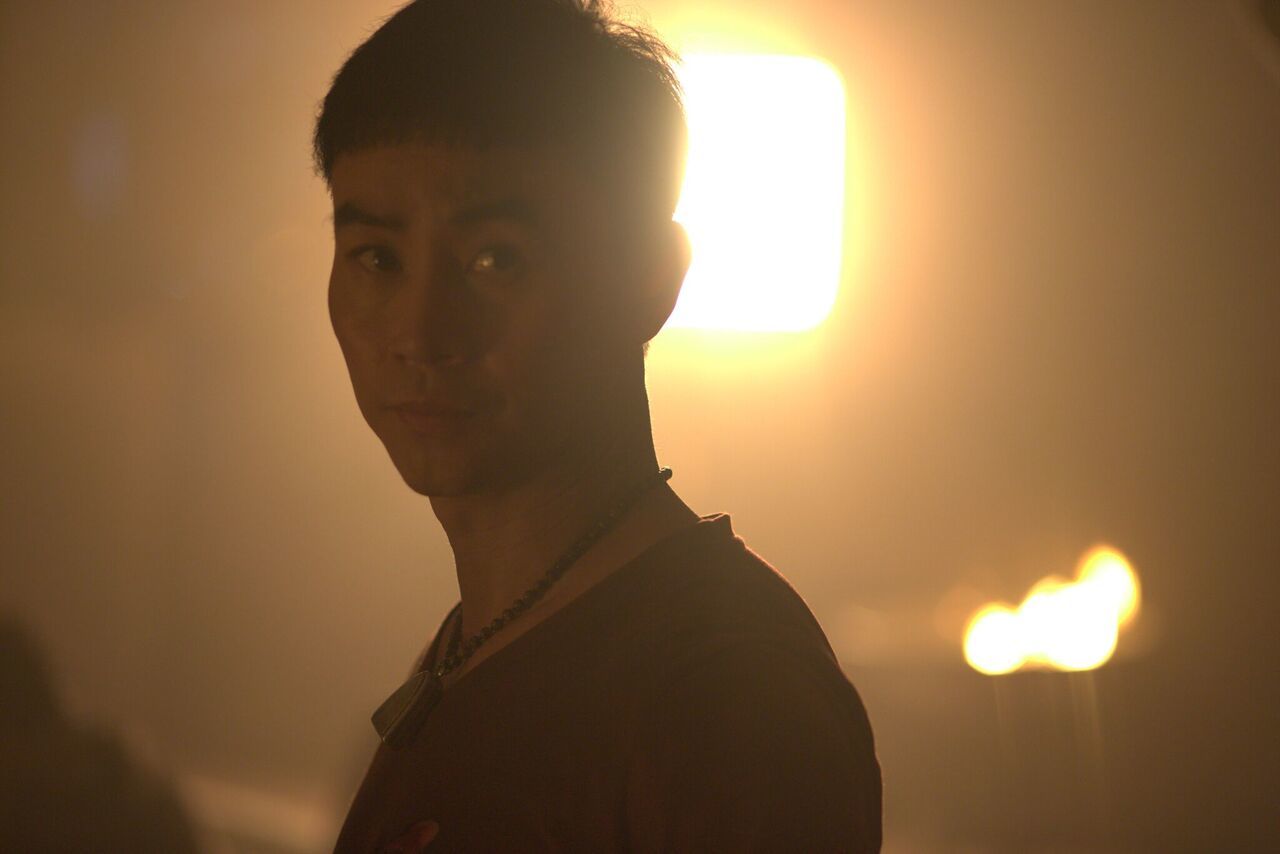 Veteran action director and stunt choreographer Tim Man handles the carnage once again for Johnson after serving up classic action scenes in his other movie ACCIDENT MAN which also starred Adkins. The stunt crew consisted of both Thai and Chinese professionals and these guys can truly utilize a stunt. Along with Man, Kazu Tang and veteran sword and fight master Luke LaFontaine handle some of the action as well with LaFontaine choreographing the nail biting exchange between Chen and Bisping at the end. Man is the real deal and crafts elaborate fight sequences that will make your jaw drop and with TRIPLE THREAT he has a lot of weapons to paint his masterpiece with. Man can make an epic action movie with even lesser talent but here, he has the elite of the elite to work with and to his credit, he has molded one of the most truly awe inspiring action films to roll out in years. The action scenes are truly a merging of great minds and the audience is all the better for it.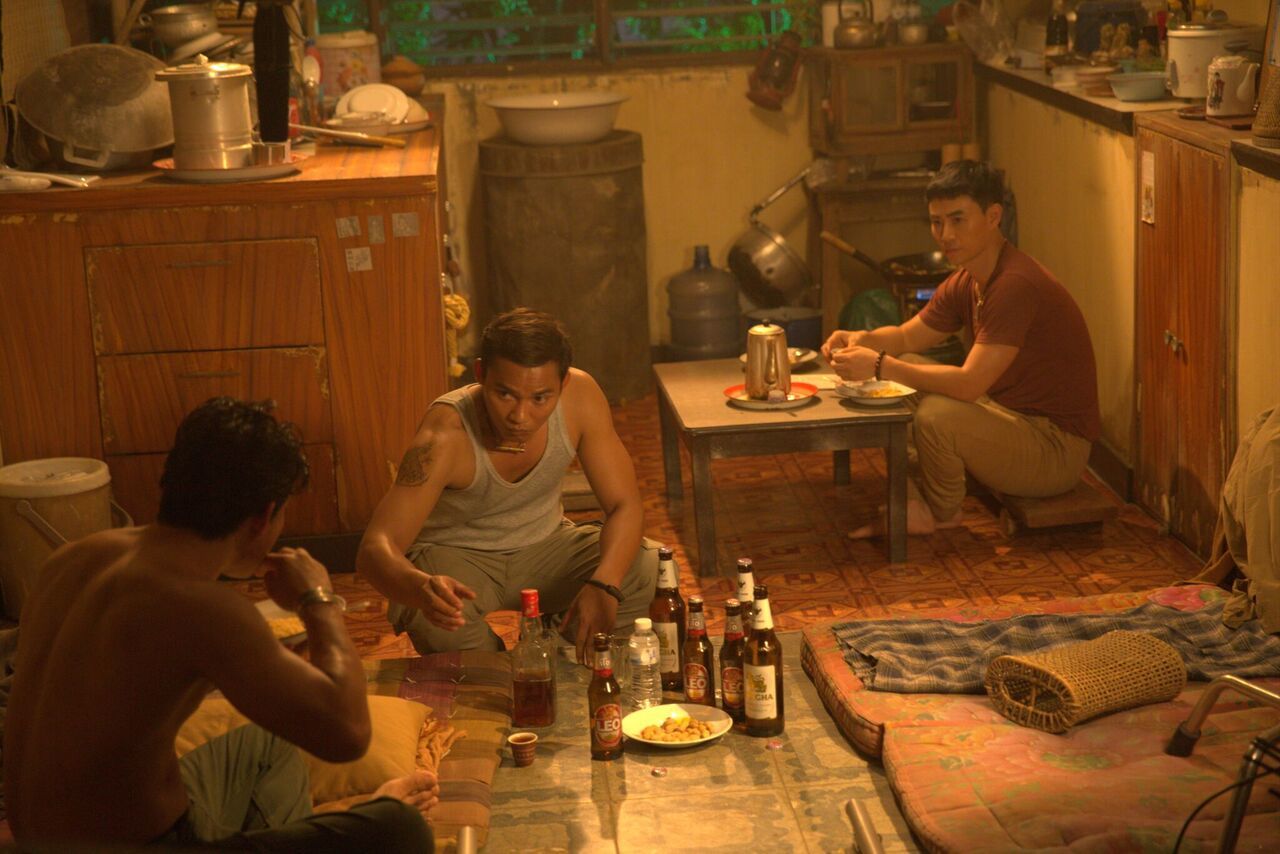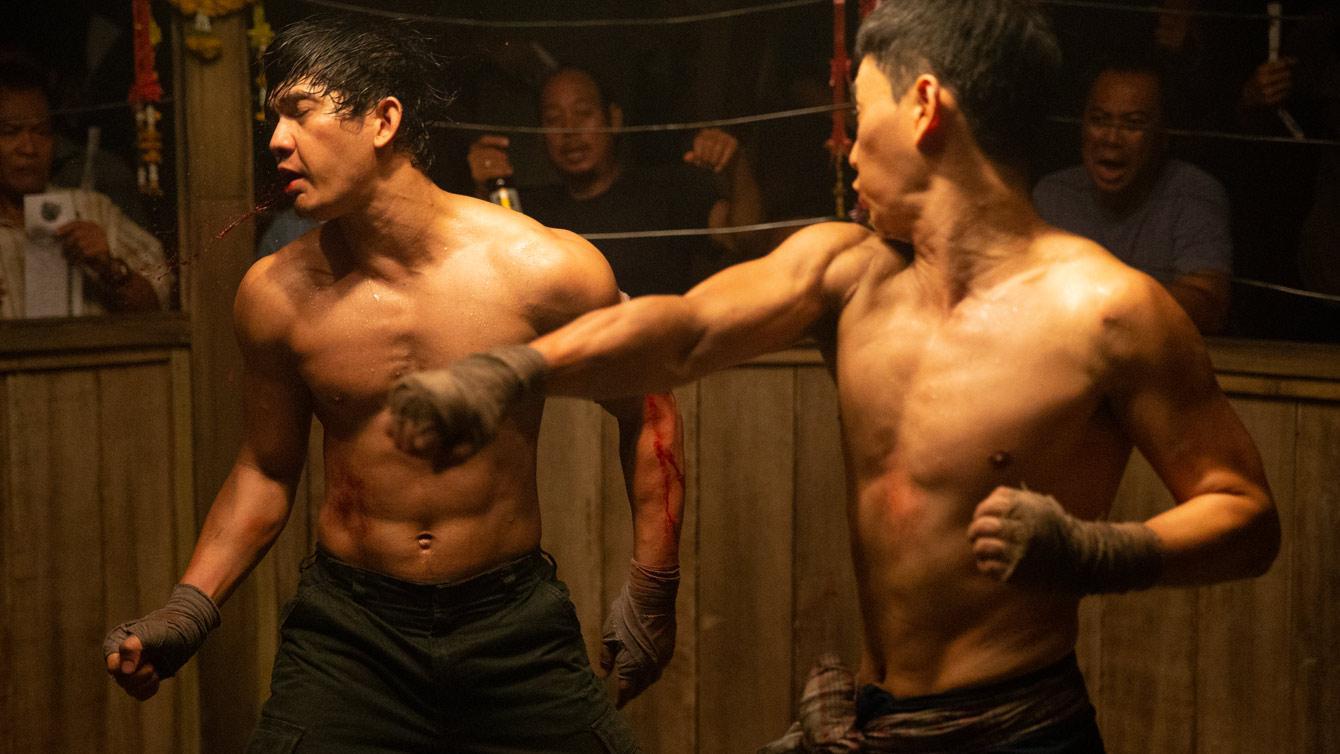 TRIPLE THREAT also lives and dies with the cast and here they have wonderful chemistry and you can tell by watching the film that each one has nothing but the upmost respect for the other. Each player brings something different to the table and the different styles of martial arts that each delivers only serves to compliment the one another. You have grace and fluidity versus blunt force trauma. Jaa, Uwais and Chen are at their best as the wayward heroes who get in over their heads at first but quickly catch up. Jaa showcases a different side to himself that we normally don't see as Payu, playing a more brash and arrogant individual who jumps in head first into everything. Uwais brings the fire and the rage to his role of Jaka and while he normally is more soft spoken in other films, here he radiates fury on a grand scale, Chen serves as kind of the glue that holds them together and is mostly like the voice of reason and calm in the storm. He's a quiet tornado to put it best. In the physical sense, each of them get their moment in the sun when it comes to the fight sequences.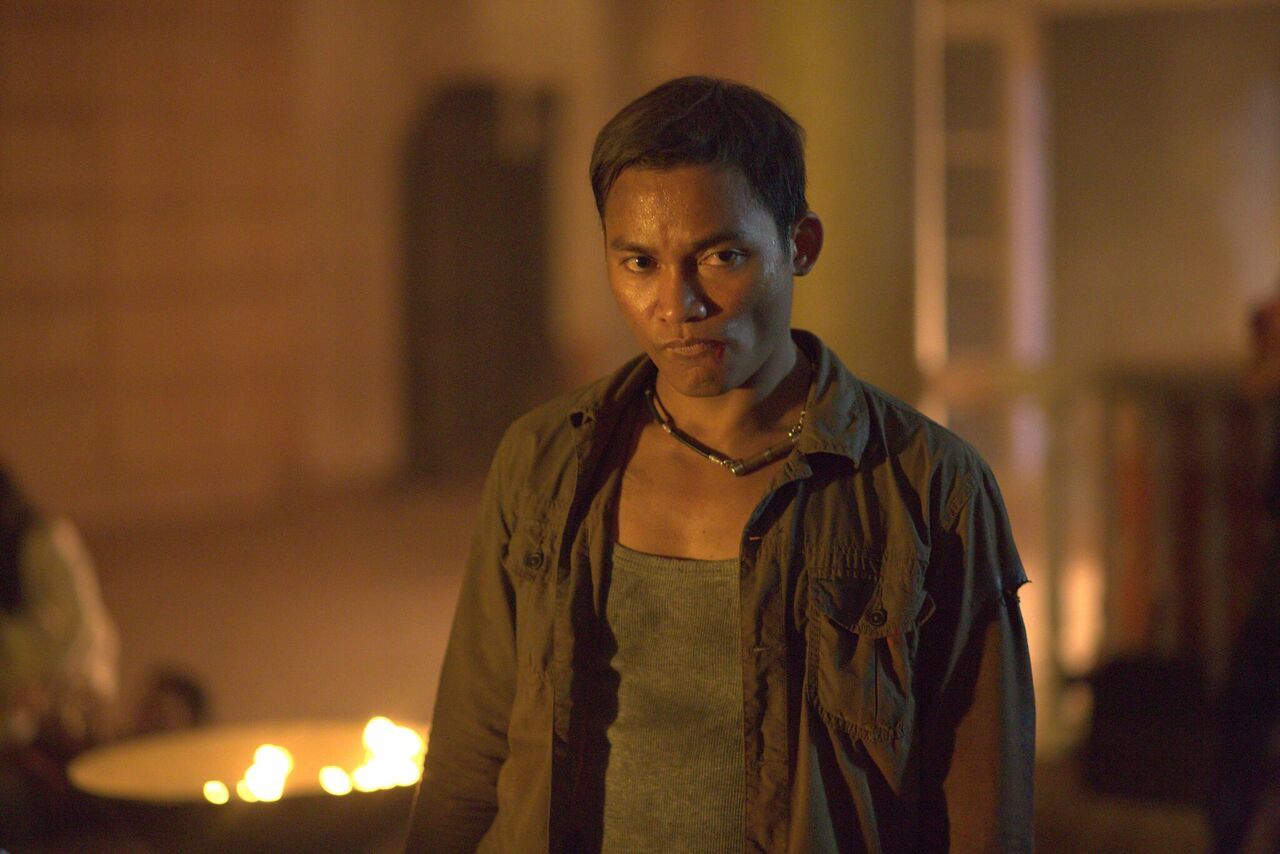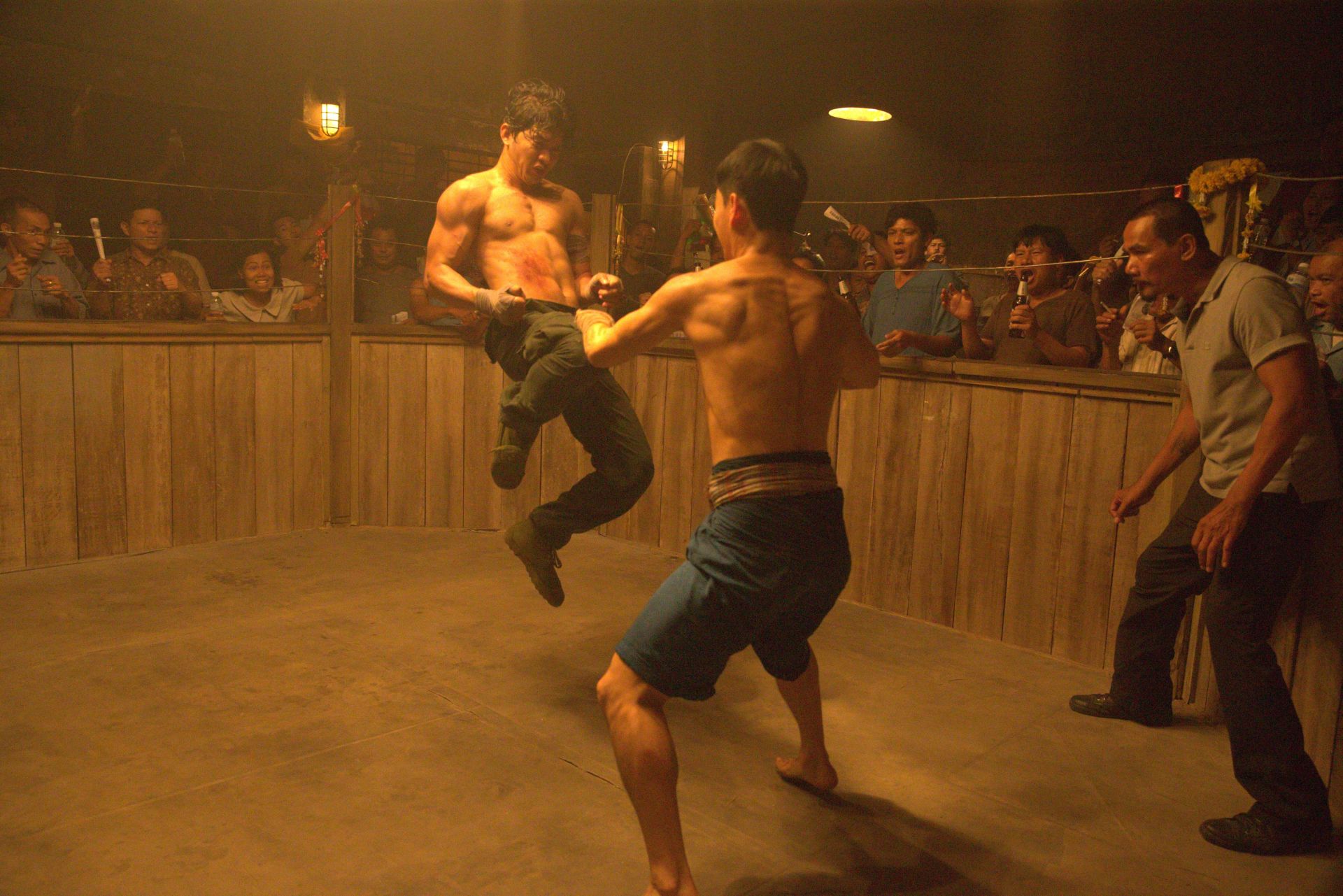 On the bad guy side, Adkins, who normally plays the heroic lead, turns in a scene stealing performance as the brutal and unforgiving Collins. He's a man who would run over anybody, children included, to get what he wants and it was refreshing to see him play such a vile character. Adkins is no stranger to playing this kind of role, however, having created his iconic character Yuri Boyka who did start out as an antagonist before transforming into the anti-hero we all know and love today. Adkins is the complete package and has proven to millions that he is much more than an action star in recent years and that is a testament to working with Johnson. Michael Jai White is solid in anything that he does and once again he brings the pain with his portrayal of Devereaux who is essentially Collins' right hand of punishment. White delivers a truck load of gravitas in all his roles and here, you can just tell that he was relishing in the chance to play this character. Even though Devereaux is technically bad, he is the kind of bad guy you would want to have a drink with. The rest of the cast made up of MMA bad ass Michael Bisping, Asian action star JeeJa Yanin (CHOCOLATE) and veteran film fight master Ron Smoorenburg all get their chance to deliver for the fans. Smoorenburg, in particular, has a ravishing fight scene with Tony Jaa that is both brutal and demanding.  Yanin, especially, is a breath of fresh air among all the testosterone and she pretty much shows everybody that she can keep up with the big boys in spades. As Xian, the target of everyone's interest, Celina Jade might not have any fight scenes but she gets to be just a physical as everybody else and probably has one of the best lines in the film when shes asks Adkins, "do you remember the first time you felt your soul slipping away?"  That's good writing on the part of co-writers Joey O'Bryan and Paul Staheli. Jade has star quality and she brings elegance to a film that is all about mayhem.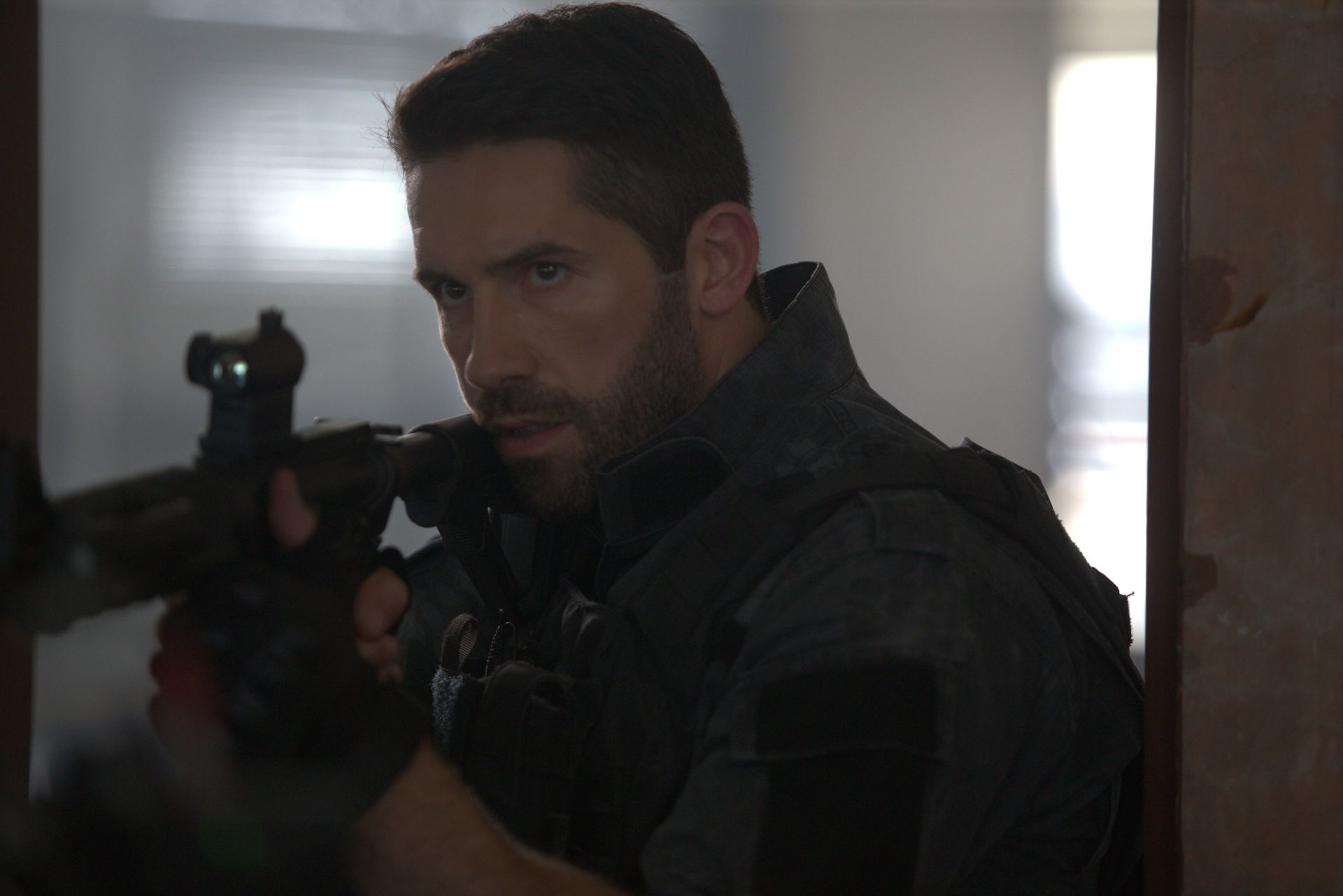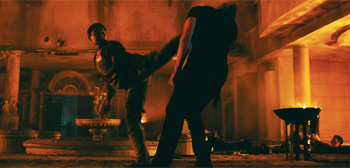 I touched upon it already but it is really TRIPLE THREAT'S finale that drives this epic home. While the other two thirds is gravy enough, the last act is what brings it all together. It is here that we get to see Iko Uwais and Michale Jai White go toe to toe while Tiger Chen and Michael Bisping dish it out in a flurry of fists and feet. Each fight highlights the other and Johnson cuts and weaves between them as if they are one large battle. But like I said and not to take anything away from the others, it is the Adkins on Jaa throw down that really pushes this epic into the stratosphere. While Uwais does get into the mix for a little while which culminates into one of the best money shots of the film, it is really just between Adkins and Jaa and that's the way it should be. You have to literally pinch yourself as you are watching these three have at it and it was well worth the wait. It's also important to note that Adkins doesn't unleash his lethal skills until the end but that just makes it all the better when he finally showcases his aerial assault matching Jaa punch for punch and kick for kick. This is the Super Bowl of on screen empty handed fights and these two titans of action cinema will send everyone home with a huge grin on their face. It sure as hell did for me.This lethal exchange is the reason why we have slo-mo on our Blu-Ray players. The action gods have answered our prayers and delivered a scene that will go down in the history books.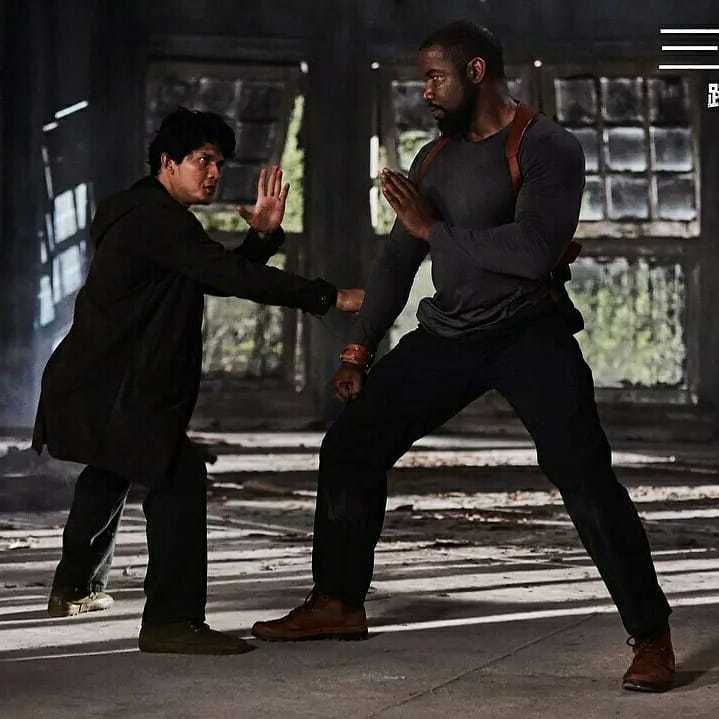 To sum it all up, TRIPLE THREAT is the bullet riddled, fisticuffs filled action epic we have been waiting for. It is old school kick ass action with real stunts and real effects that pays homage to the classics of the 80's and 90's and delivers on the promise it made over two years ago. This is a film for the fans plain and simple and this gathering of action and martial arts superstars deliver the goods and deliver it in spades. Hopefully, this film makes its presence known when it is released next week to become a franchise and it should. I hear complaints all the time that action films have become nothing more than CGI fests so here you go world. Here is the stripped down, brutal and bloody action extravaganza that we have all been looking for. Jaa, Uwais, Adkins and everyone else put their blood, sweat and tears into the film and the reslults show on the screen. Help support the movie when it hits next Tuesday and if it plays near you on Friday, go see it more than once. Hopefully TRIPLE THREAT signals a new era of truly epic and vintage action back on the big screen for all to enjoy. These films a rare and when they happen, it is best to not take them for granted. It is a film of epic showdowns from start to finish and we are all in the presence of greatness. Simply put, TRIPLE THREAT is the Holy Grail of action movies! Long live action cinema!
VERDICT: Need You Ask?!!! 5 Out of 5 Stars and ACTION-FLIX APPROVED!!!!
TRIPLE THREAT is Now Available on Blu-Ray, DVD and Digital!