(Original Publication Date: February 10th, 2019) By: John M Jerva
Last week, the new sci-fi action-thriller CROSSBREED finally made its debut and the film is an awesome throwback style thrill ride that reminds you of the classic movies that graced our local video store shelves. In the flick, a group of heavily armed ex-soldiers have their work ut out for them as they go up against an alien hybrid killing machine that would just love to wipe out humanity as we know it. Only one man can lead this group of battle hardened mercenaries and that's Adam "Boss" Ryker played by the versatile actor Stink Fisher who is best known for playing Aaron Helzinger on the hit FOX and DC TV series Gotham. 
In this exclusive interview with Action-Flix.com, Fisher gives us the 411 on the new film as ell as getting started in the film industry and what it was like to be part of Gotham and much, much more. So take a few minutes and sit down with The Boss himself…Stink Fisher!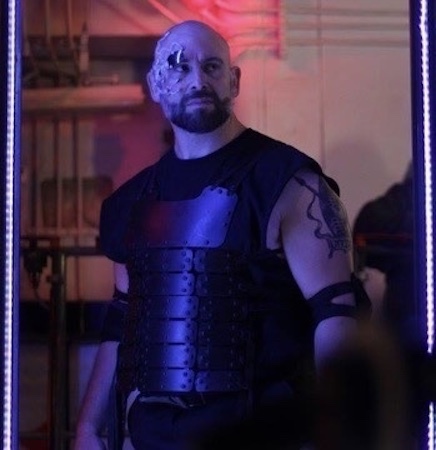 1) Hi Mr. Fisher. First of all, I wanted to thank you for taking the time to chat with me about Crossbreed. Before we talk about the film, tell us about how you started in the film industry. Was this always the plan?

 Hi John! You're very welcome but it is I who would like to thank you for the interview and for the interest in Crossbreed. Let's get to it…I was playing professional football in Canada for the Montreal Allouettes and the season had just ended. They offered me a 2 year contract extension but I needed to go home and discuss it with my wife at that time. I arrived home sometime around Halloween and was probably home for about a hot minute when my phone rang. On the other end was a high school friend that was in the casting world in Philadelphia and she needed a football player type for a commercial and wanted to know if I was interested. I grew up in a very amazing household where my dad was my high school football coach but he also was a writer/director/actor and actually had been directing the musicals at the school for seventeen years at that point. So I was in a house filled with sports and theater and was either dragged to a musical up in NYC or a movie every weekend after my football or baseball games were over. I loved my mom and dad's passion and intensity for the arts and picked up on that right away and always thought that was something I would like to do one day. Right out of college I continued to play football but I was on the fence with living in Montreal for two more years and not making more than a teacher's salary at the time. So that phone call came in on the day that I was supposed to have dinner at my Grandmother's. I gave her a call and asked if she minded me missing dinner to shoot a commercial and she replied, "You do whatever it is you love!" So …I shot the commercial that night, loved every single bit of it, declared the quietest retirement in pro football history and I was off to the races with acting.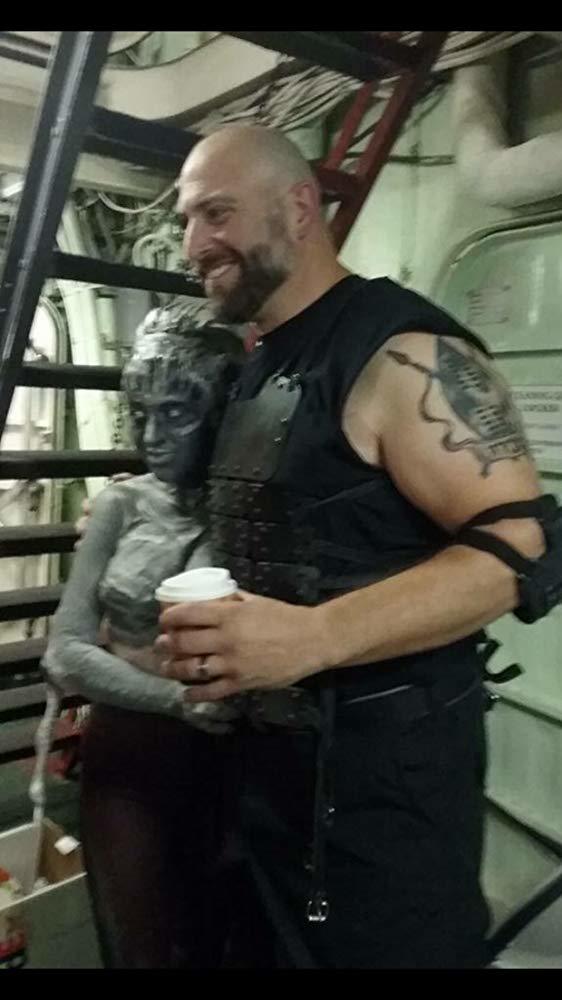 Stink Fisher and Devanny Pinn on the set of CROSSBREED
2) I know you have been asked this question a thousand times already but for my audience, how did you  acquire the name Stink? I'm sure there's a great story that goes along with that.
Well, now that is a question that if I answer honestly I won't get anymore interviews let alone movie roles so let's just leave it at it is a childhood nickname that I brought back to life when I needed to join SAG and at that time you could only have one person under one name. They have since changed the parameters but I was dead set on comedic acting and sketch comedy and thought the moniker Stink worked perfectly. If
folks are still wondering about the root cause of the name I can only offer …use your imagination 🙂

3) Now, you have also played Aaron Helzinger on Gotham. How was that experience and do you have any great stories from that experience?

Being a part of the Gotham family was just an amazing experience all around. The sets are incredible and the talent on the show is A+ so I am very thankful I was given the opportunity to work in that arena. In
terms of great stories I have three that come to mind. I'm not sure they're great but they are fun memories. There was one scene where the Maniax, myself and a bunch of Arkharm inmates are seated around the table at Galavan's pad (he's the dude that broke us out). It was morning and we had breakfast treats spread out before us including these amazing donuts. No one was touching the donuts and I instantly assumed that Aaron, my character, could care less about why he's there and what's going on. He just wants the damn donuts. So during the scene I eate my way through a chocolate iced donut and when it was my turn to speak, I had a giant mouthful of donut. The prop master came up to me after the second take and said, "you know if you're going to do that you need to do that for every take." I said of course, that's the point." Well 16 or 17 donuts later I was wishing I hadn't made that choice. I skipped lunch that day.

Another instance surrounds food as well. When Penguin and I are eating in that one scene where I freak out that he has ice cream and I'm screaming, "WHAT FLAVOR IS IT!" as they are dragging me away I actually fought the guards harder on one take and dragged them back to the table and grabbed the ice cream and slammed it in my mouth and as they then dragged me away I screamed, "IT'S CHOCOLATE! CHOCOLATE! I LOVE CHOCOLATE!" The entire set was screaming with laughter but unfortunately due to the mess and the camera missing most of it we didn't use it.

And the other fun memory is that I do all my own stunts for the most part and I actually jumped off that building ledge when I attacked Gordon in the alley. It was pretty high up, 15 feet or so, and the alley was really tight so we had padding all over the place and stunt coordinators down there to stop me from face planting into a wall. That was quite intense.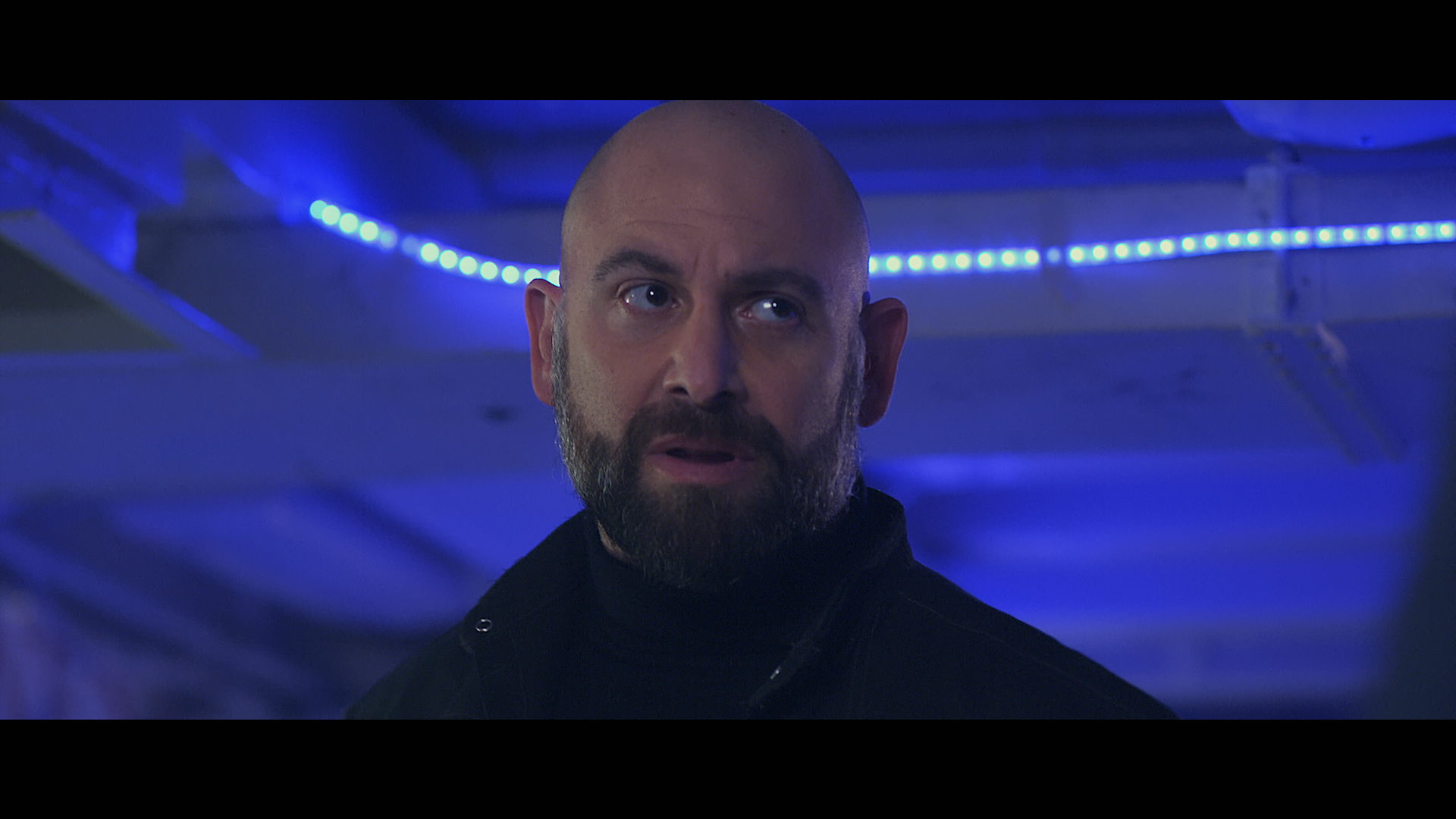 Stink Fisher as Adam "Boss" Ryker in CROSSBREED
 4) Now lets talk Crossbreed. This is a great throwback film to the 80's and 90's when films like this ruled the VHS and DVD shelves at video stores. How did you get involved with it?

Crossbreed is a fantastic nod to those films and I am thrilled and honored to be a part of it. I was in between films and my manager called me and said she had this audition for me for an action-adventure sci-fi film and was I interested. Being a huge fan of sci-fi and the deep reaches of space I jumped at the opportunity.
5) Tell us about your character Adam "Boss" Ryker. Did you tailor him after anyone in particular"?

Ryker has skeletons in his closet for sure. He's loyal to death and loves his men but he has nothing but disdain for the government and their shady dealings that led to him losing his family and giving him little option but to start over on a settlement on the moon. This is the future you know. I'm currently looking for ways to see if we can send Trump there. I think he'd be better off in space. So Ryker is up on the moon now
and wants no part of his past life …BUT, his business up there is not doing well and he is going to lose it and in essence all that he has if he doesn't take this job. He really sees it as having no choice. This is the only family he has left now and he'll do anything to preserve it. I didn't tailor Ryker after any one character, but rather drew upon my own life experiences as a football team captain, business owner, father, son etc etc and molded him into a hardened man that is damaged goods but still cares for people and for taking care of those he cares about.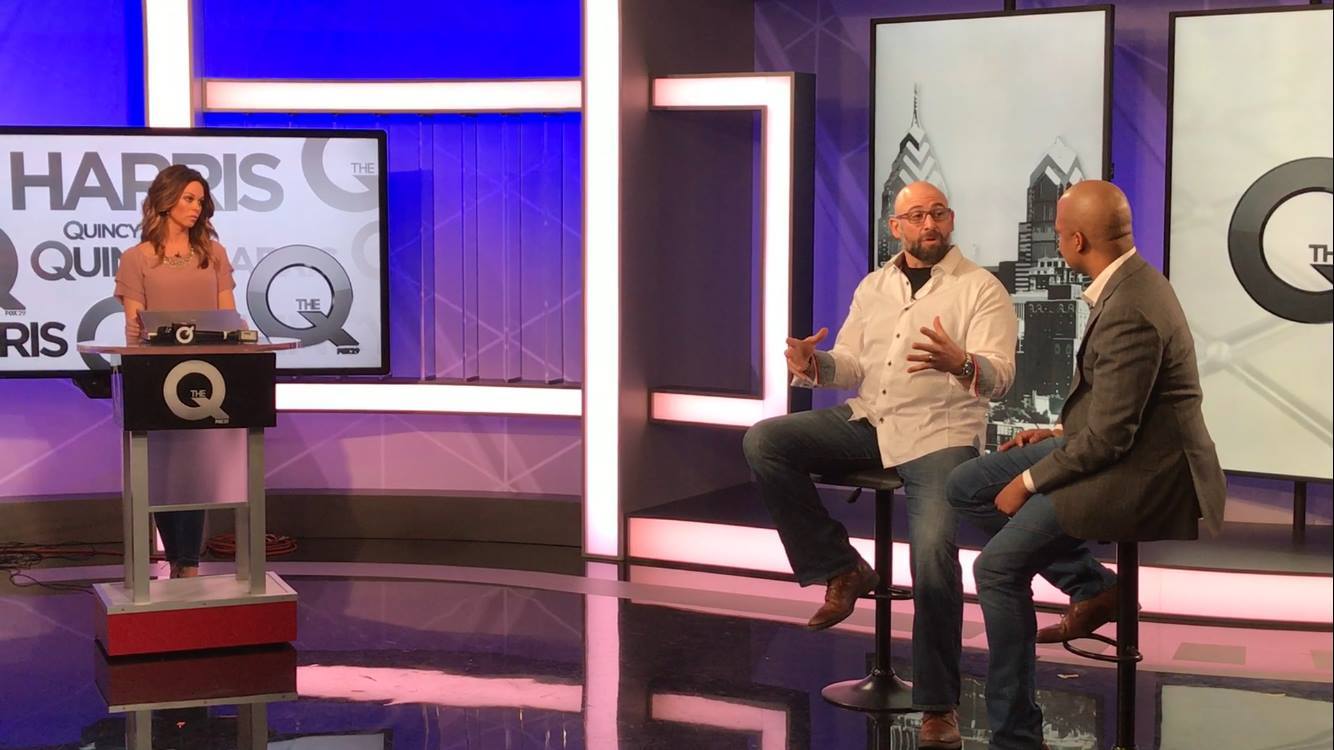 Stink Fisher at an event for CROSSBREED
6) Was there any training involved that you and the rest of your team had to do to physically and mentally prepare yourselves for the shoot?

Well Brandon (Slagle) and Devanny Pinn were able to send me to the moon for a two week acclamation course so that really helped. Back on Earth we trained in stage combat. The preparation was minimal due to the immediate bonding the cast created. It was truly amazing how quickly we all clicked and became friends.

7) Director Brandon Slagle is great and he's also an actor. How was it to work for him? Is he as cool as he seems?

Brandon truly is a cool cat and is great! I have no doubt we will be seeing his work for years and years to come. Working with Brandon was an awesome experience. He was calm, poised, focused, caring and the list goes on and on. Brandon knew exactly what he wanted and allowed the actors to find it rather than force it down our throats. I think having that acting background really helps directors in that fashion. They've been in front of the camera, they get it. I honestly can't sing enough praise about Brandon (and Devanny) and their entire team. I would jump at the chance to work with them again. Hell, I'd even sell one of my kids to do it.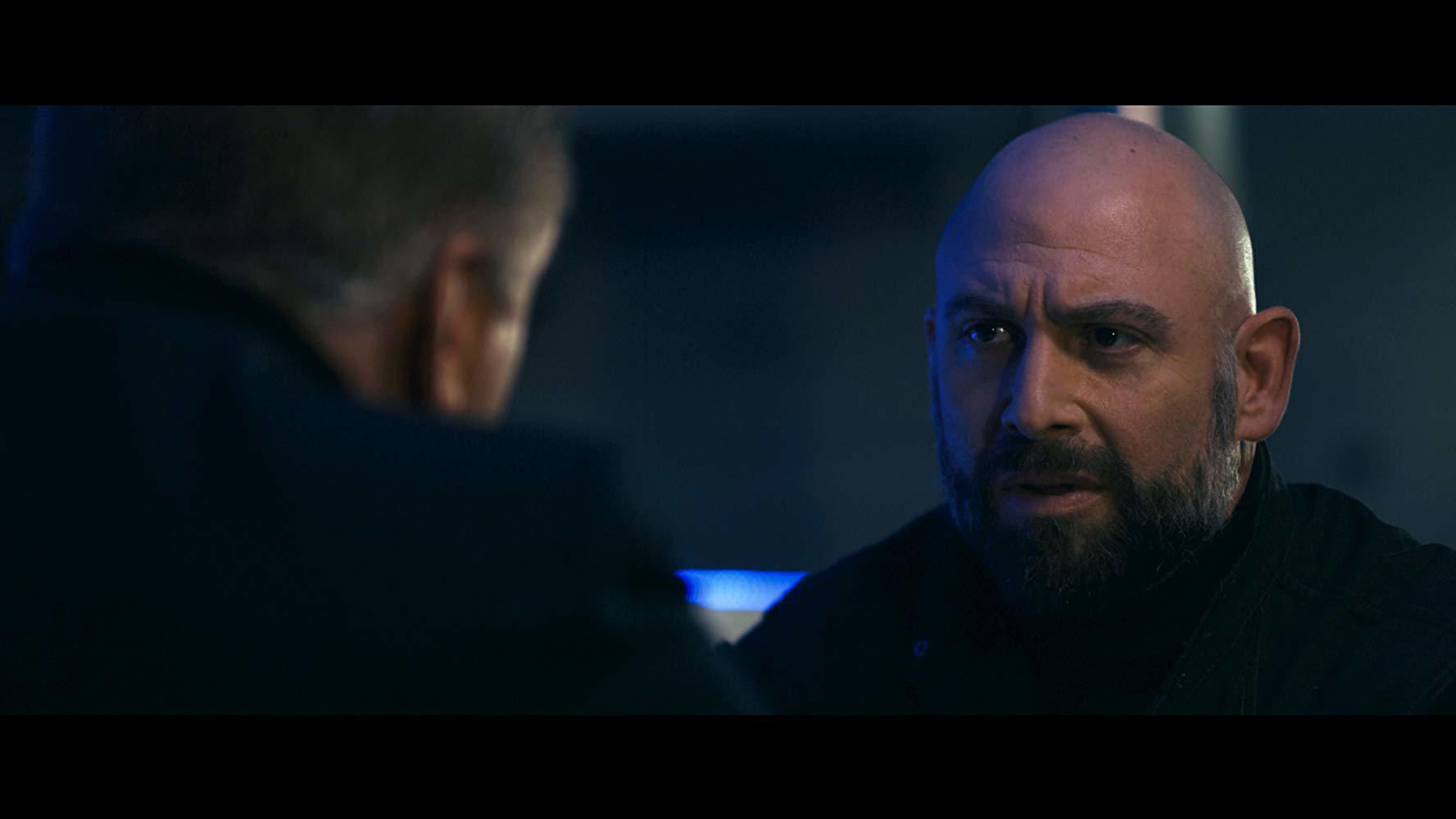 Stink Fisher with Daniel Baldwin in CROSSBREED
8) In terms of the action sequences, what scene sticks out in your mind that was the toughest one to film for you? What's your favorite scene?

There were so many scenes where we were shooting in the bowels of a war ship ( Buffalo Naval Yard) so there were many tight spaces, low hanging pipes and basically steel all over the damn place. It was tight, not very comfortable, and to get the effects we needed it was dim to dark in a lot of scenes. So I think the best answer to this question is that it was a physically and mentally demanding set but we were having such a blast making movie magic that it didn't matter. My favorite scenes are where we just were able to rift with each other and be in the moment. We had so much fun together. I think the outtakes on the DVD are going to be a real treat to watch. I'd give you more but I don't want any spoilers creeping up. You're just going to have to watch the movie. And buy the DVD. I have to put my kids through college you know.

9) The cast features some great stars like Daniel Baldwin and Vivica A. Fox. How awesome was it to be involved with the type of talent that was in this film? I am honored to be part of a film that housed these two great talents.

Vivica and I have a scene together but it's via video conferencing so we didn't actually need to be on set together. I think Brandon actually read her lines to me and I can tell you …he's no Vivica 🙂 On the serious side of things, working with Daniel Baldwin was wonderful. We instantly had a chemistry, which is a concern sometimes when you haven't worked together before. But we just clicked and I think our time together on screen shows that. He is just a pure naturally talent and has great instincts which makes it really enjoyable with the whole give and take of acting.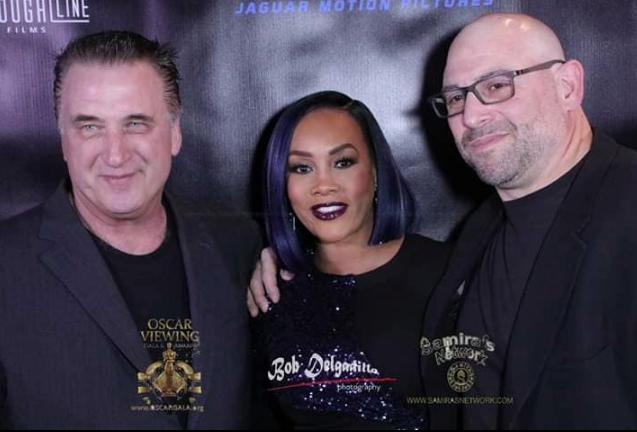 Vivica A. Fox, Daniel Baldwin, and Stink Fisher at an event for Crossbreed (2019)
10) This was a very ambitious movie to shoot. Talk about being on the sets and strapping on the gear. Was it like a boy's dream come true to play soldier especially fighting a monster like the one in the film?

I kind of jumped into this a bit above regarding the sets. Looking back on the shoot I can totally appreciate how ambitious it actually was but at the time it just all seemed so right and natural to be where we were.
Everyone was on the same page, cast and crew, and we just worked our asses off to make sure we delivered Brandon's vision. Strapping on the gear was exactly that! I was the kid back in the day that if I wasn't playing football or baseball I was dressing up and playing Cowboys and Indigenous Peoples (can I still say Indians?) or playing Army or what have you. I am a dreamer and an adventurer. That's never stopped. So I just loved getting into the gear and slipping into Ryker's skin. A total blast.

11) Now these types of Sci-Fi films have been made before. Tell us what stands out about Crossbreed and why people will like it.

First and foremost I will say hands down that the chemistry and co-existence of all the intensely talented cast will set this apart. This is a fun film and I think the audience will come along for the ride with us. I also
believe that the work Brandon did in post is AMAZING!!!!! This film looks like big budget production. I think that alone will blow people away.

12) Out of all the projects you have done besides Crossbreed, what one or ones are you most proud of?

Compared to Crossbreed nothing else matters. I kid. I kid. I am really proud of my body of work in general. I live in South Jersey. My kids go to school here. My business (restaurant) is here. And somehow, someway, I have managed to eek out a resume. I think that says a lot. I don't come from a famous family where my parents are in the biz to the point where opportunities were given to me just because of my last name. I'm not taking anything away from all of those actors/actresses/directors …there are some very talented people in that pool. I'm just saying that nothing has been handed to me. I've opened every door through persistence, perseverance, tenacity and just being too stupid to quit.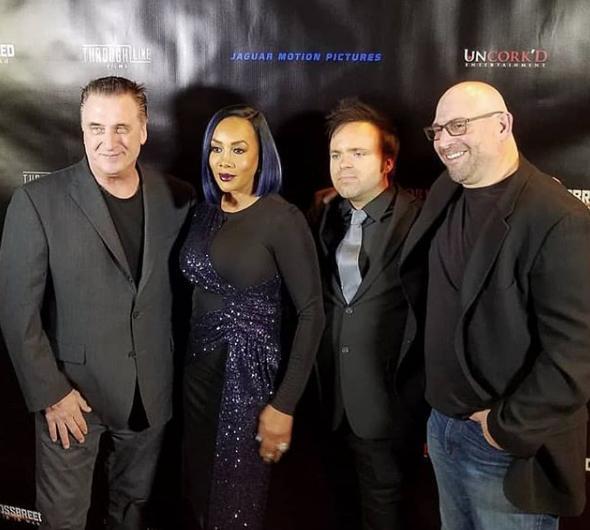 Vivica A. Fox, Daniel Baldwin, Stink Fisher, and Brandon Slagle at an event for Crossbreed (2019)

13) last, tell us about the future. What upcoming projects can we expect from you?!

I'm very excited for the future. I believe in China this is the year of the Stink. I have a couple films so far that I am attached to that hopefully will get their production schedules tightened up shortly. I am also a series regular on an Amazon Prime series called New Dogs, Old Tricks where I play comedic college administrator and get to have a lot of fun with that. We have been picked up for a second season so that is exciting. And I have a screenplay (Comedy) that I wrote that is attracted some interest so I am very excited to see that come to fruition which is a big IF but still garners a lot of excitement in my world.

Thanks again for the interview Stink. It was truly an honor to chat with you about the film!

 All the best John! THANK YOU for the great questions! I thoroughly enjoyed answering them. And thank you for your interest and support of Crossbreed!!! We all greatly appreciate it!

CROSSBREED is now available on DVD, VOD and Digital!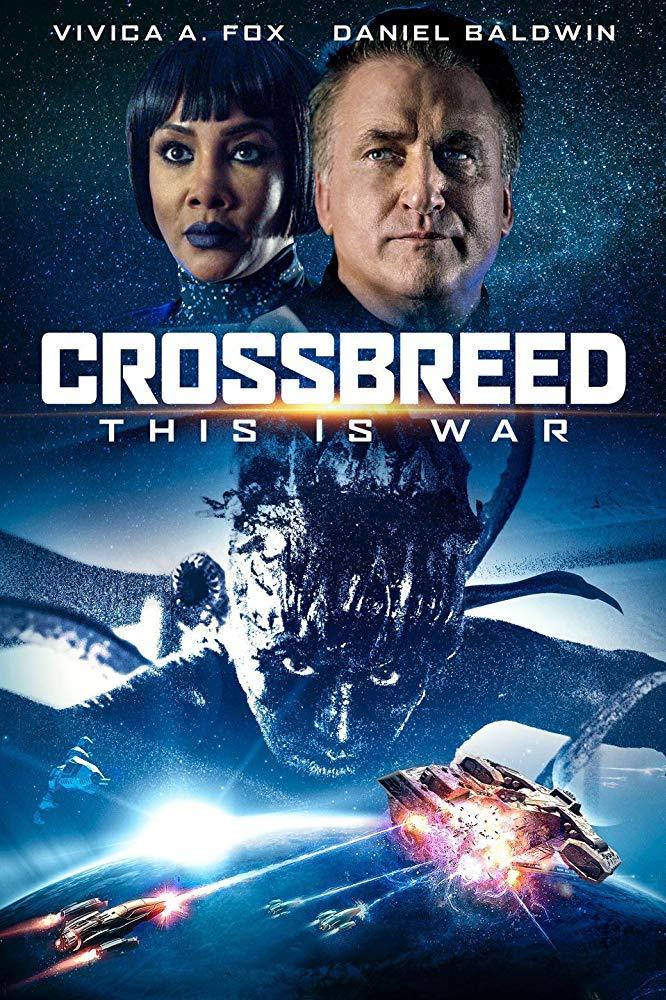 OFFICIAL TRAILER