By: John M Jerva
(Original Publication Date: January 7th, 2019) In the world of action cinema, martial artist and actor Jean-Paul Ly has taken the genre by storm and then some. The award winning actor burst onto the scene in the Cambodian action-comedy JAILBREAK, now on Netflix, and has been in demand ever since. Ly's most recent starring role is in the critically acclaimed action-thriller NIGHTSHOOTERS which took on the festival circuit with no mercy before launching on UK Blu-Ray and DVD this past December. Ly is one of the most exciting on screen fighters in the genre today and you just need to watch one fight scene with him to become a fan as he is a force of fury on the screen.  Ly will also be seen in Disney's ARTEMIS FOWL directed by Kenneth Branagh along with an ever growing mass of projects. Ly isn't just an actor however, he is also an action director just recently delivering the action sequences for THE PREY and also directed a proof of concept short film titled THE DIVISION. To top it all off, he will be seen in this year's sequel VENGEANCE 2 from director Ross Boyask and starring Stu Bennett and Vinnie Jones.

To say that Ly is one busy man would be a major understatement but he was gracious enough to take the time to chat with me about himself and his past and future projects. So sit back, relax and enjoy the exclusive Action-Flix.com interview with the phenom himself…Jean-Paul Ly. The Warrior has Arrived!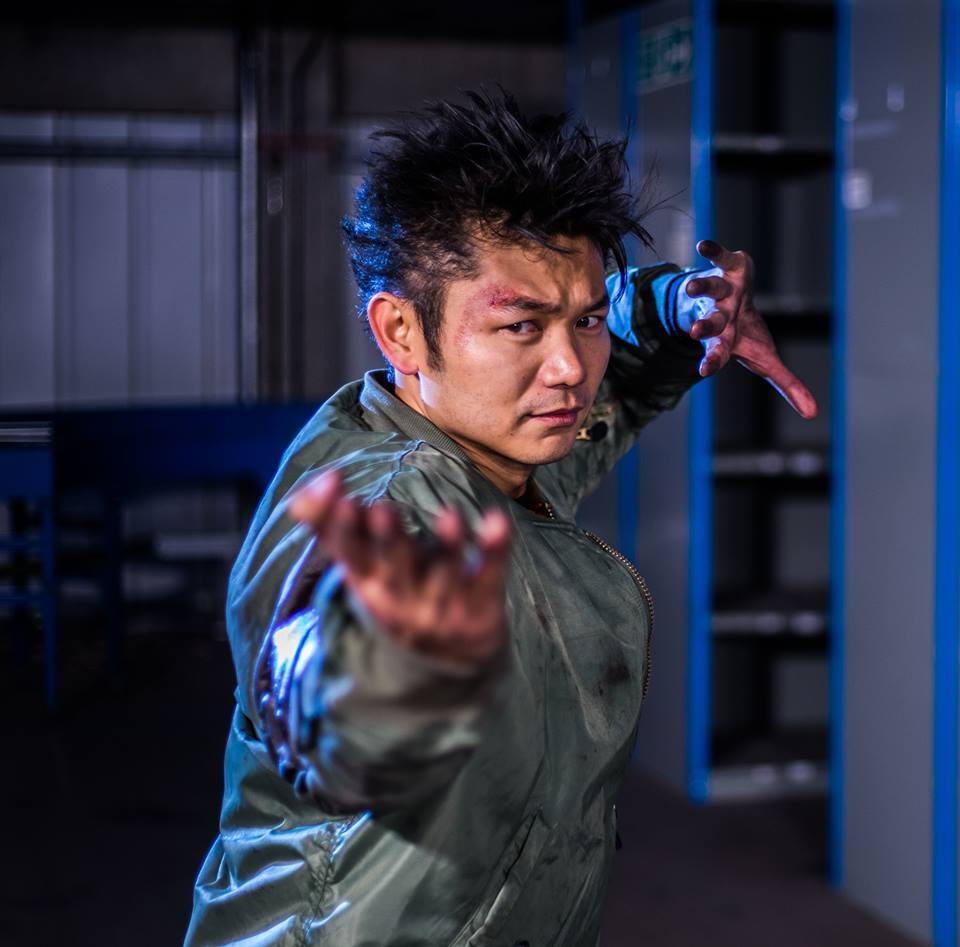 1)  Hi Jean-Paul. First I wanted to say thank you for taking the time out of your busy schedule to chat. It truly is an honor. Since this is your 1st interview with the site, tell us how you got started in the martial arts.
Hello ! All the pleasure is mine, thank you. I started Karate when I was 5 in Lyon with my older brother. Like many, I was influenced by Bruce Lee movies and also by my father, who was a Hapkido practitioner back then in Cambodia. I appreciated the kata practice very much, and shifted into different martial arts when I moved to Paris at the age of 10. I trained in Capoeira for 2 years with the Capoeira Senzala group, then in Hapkido Duk Moo Kwan style. I was always interested in the technical side of kicking, so I decided to practice Tricking in 2001, which I did for 8 years.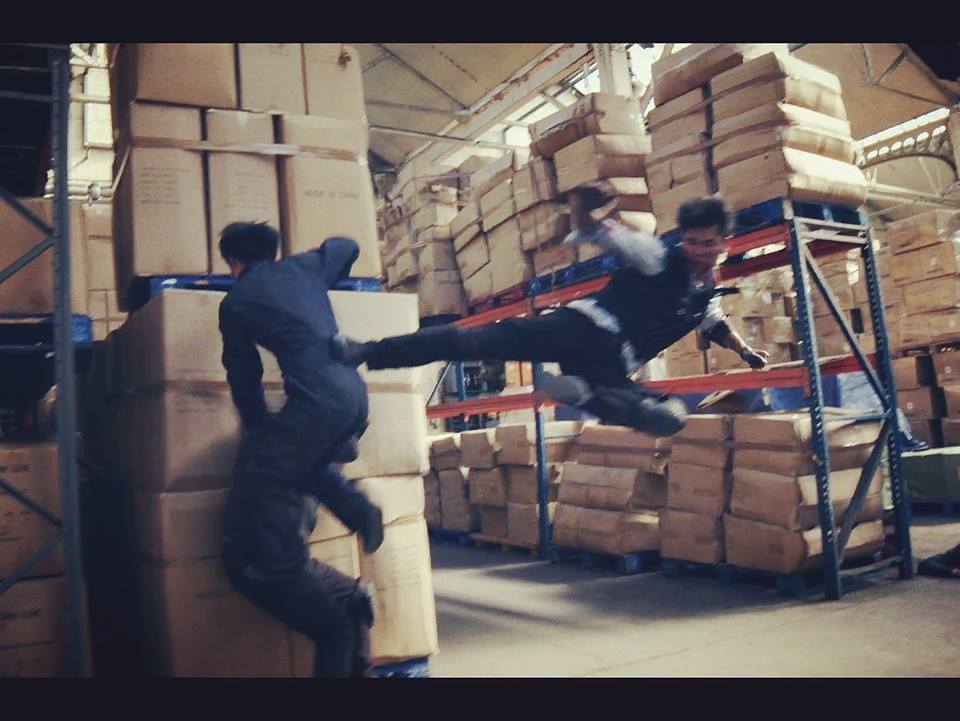 2) When did you know that the film industry was something you wanted to do? Was it always your dream to  make kick ass action films?
I actually found that very late! I was always into martial arts, but I didn't intend to make it a career.
I studied business for 4 years and graduated with 2 Masters in Marketing (MBA), so I thought my path was already made. I guess it wasn't ! 


I've been working in the pharmaceutical industry for 2 years in Qsia, but I wasn't satisfied. I kept on thinking about martial arts, every single day. I've also started to develop a (fast) growing interest into filmmaking, especially after watching Christopher Nolan's The Dark Knight Rises, and also James Bond in Skyfall at that time.  So I decided to quit my job and go to London, see how things will be to work in the film industry.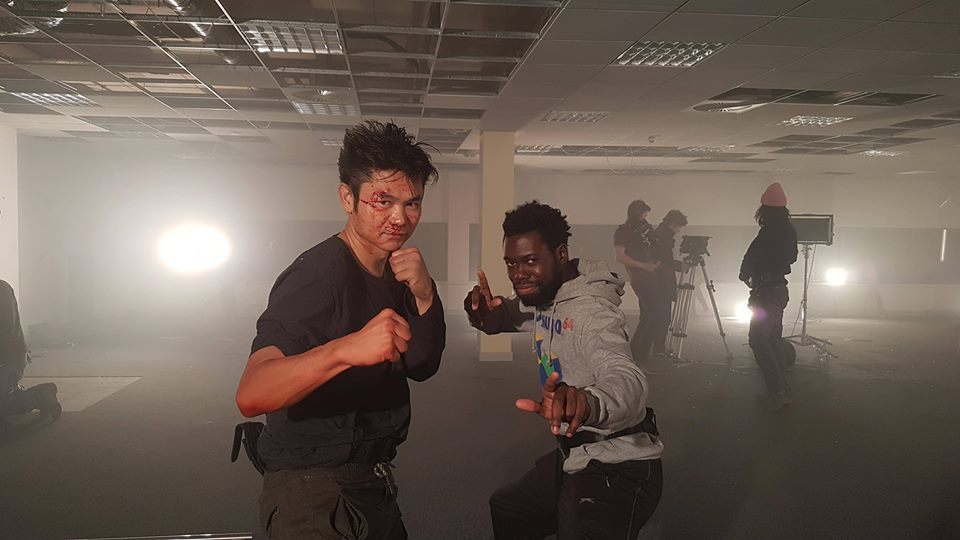 3)  We are here to talk about Nightshooters but first can you talk about Jailbreak your first hit film? How did that come about and how was it to make it?
I was talking with a producer in Cambodia about his idea to make the first "big" action film in the country's cinema history. How could I refuse! I said yes and right after working on Doctor Strange in London, I went to Cambodia alone for pre-production. It remains my hardest film experience to date, but it was a challenge I was willing to take. Many conditions made this film very difficult to shoot : changing the genre of the film while filming, to train 80 background artists to become stuntmen in 2 months time, 40 degrees on set without air conditioning (we had to go out and breathe because of the dust in between takes), and also, only one camera available and operating for the entire shoot. Having that sole prison location forced us to be creative, not only with the choreography but also with the camera. 
Facing all these struggles and reality on set helped me tremendously on my following films, it was a massive learning curve and I'm very grateful for it.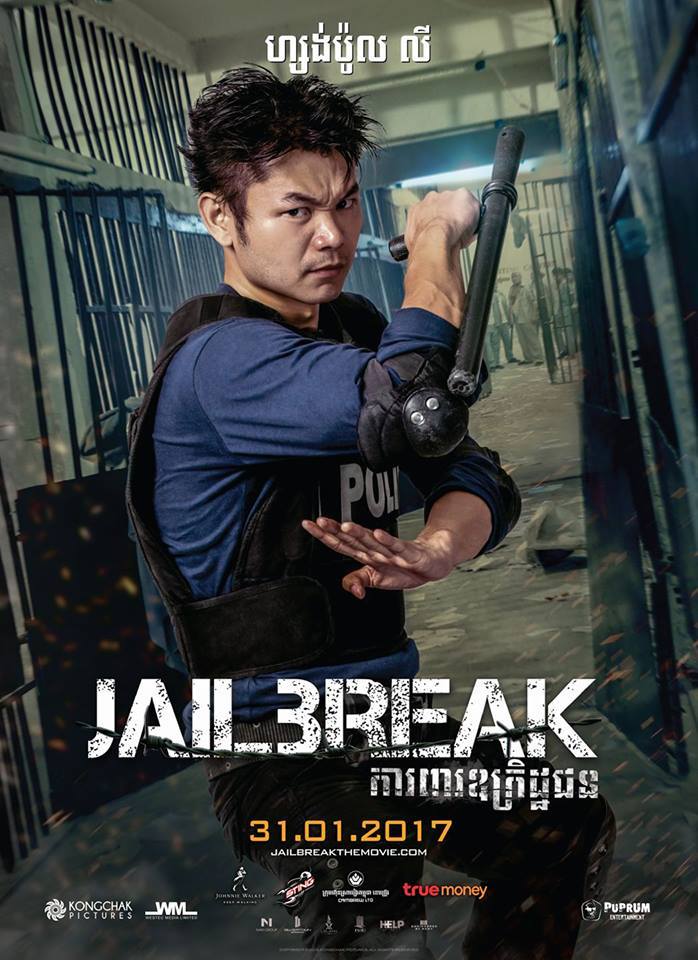 4)  Your new film Nightshooters, has hit home video this past December in the UK. How did that project come about and how does it differ from Jailbreak?
We were discussing with the director, Marc Price, on making an awesome British action comedy, a la Hot Fuzz. Nightshooters wasn't the initial project he had in mind, so the production had to shift on this one instead. The shooting went great, with 19 night shoots in a row in a remote warehouse, it was an enjoyable ride. I prepared the choreography and action design in 2 weeks time with a team of 5 stunt performers, which made it easier to approach than Jailbreak, but it had its own difficulties too.

For the knife fight against Hung Dong, the production couldn't afford our training sessions since he was based in Manchester, so we had to work on it entirely through Whatsapp: we never met until the shoot.
The idea was to develop a different style of fight per scene : one would reference John Wick, the other would be Police Story etc. I am very proud of the team by achieving such a good job in that short amount of time.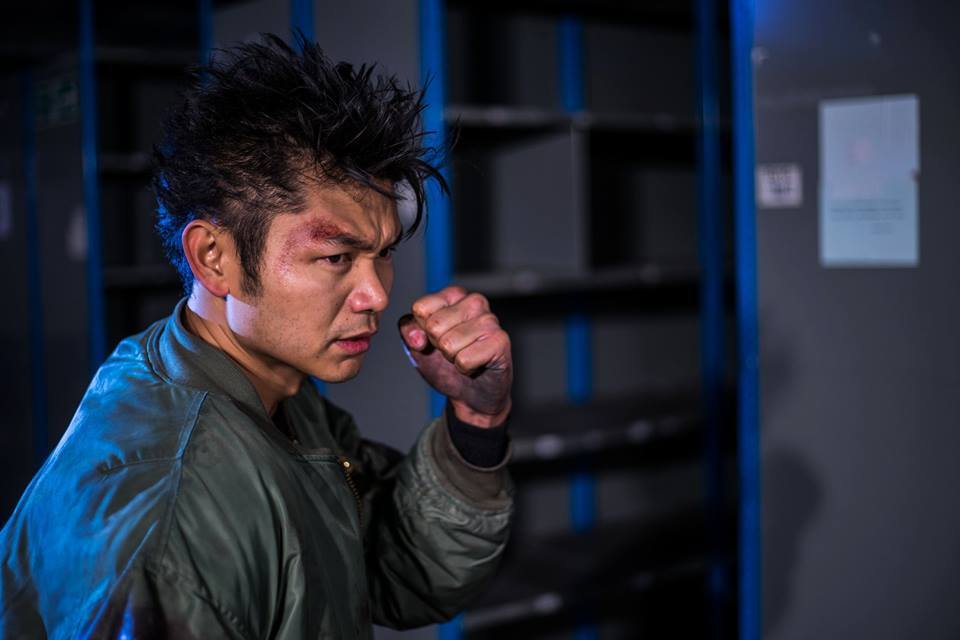 5)  You play the role of Donnie in the film. Tell us about him. How is he similar or different to you?
Well he was very much similar to me since I am playing a stunt double! I've done stunt doubling several times, so it was natural to me. 
Donnie starts very quiet (as all stuntmen do), then gets more courage when he tries to rescue his team.
6) It is loaded with some great fight sequences. Tell us how difficult was it to make such intricate fight scenes? What was your favorite fight from the film?
The time factor is always challenging to me. I'm always changing my fights until last minute: if I believe that I can add a very short sequence then I'll do it. It doesn't please my team but they understand that way of working !
The creativity itself is fine since I am the one performing so I know what I could achieve or not, and which camera angles to get for each sequence. Having the support of my action team made things smoother too.
My favorite one in the movie was the knife one, we shot it in 5 hours or so and without rehearsals, but we knew what we wanted and did our best regardless.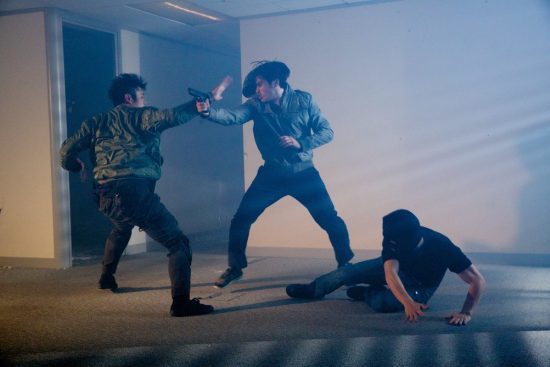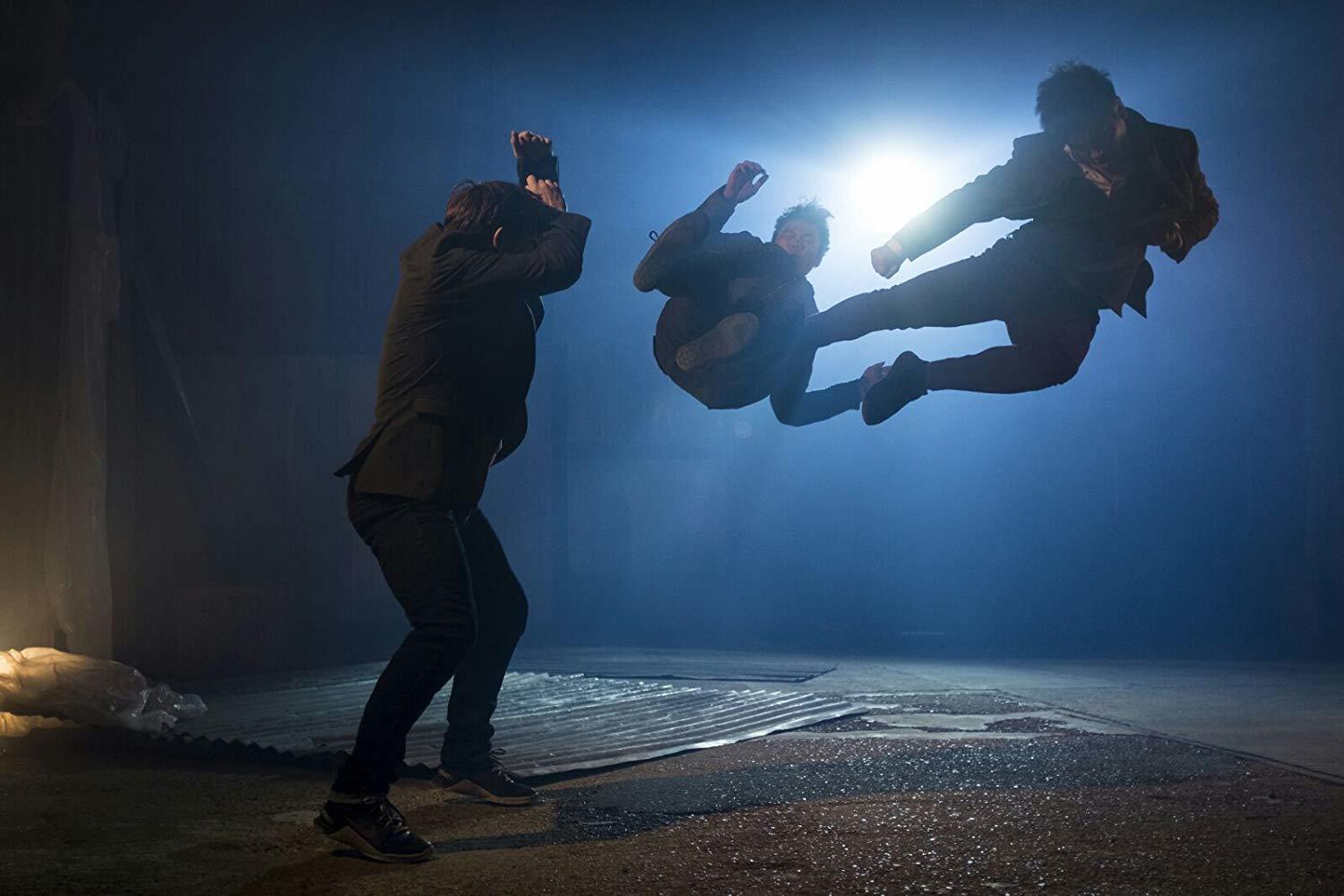 7) The film also has a lot of dark comedy in it. How hard is it to balance that with the dramatic and action aspects of the film?
Now that's a very interesting point, and also a recurring problem that occurs in most of my films. It is difficult for me to focus entirely on the acting since I am the one building the action.
I have absolutely no idea how Jackie Chan does it (because he's the only one who does it well) !
So it happened on both Jailbreak and Nightshooters, which is the main reason why I preferred to step back on The Prey (the other reason is that I'm a bad swimmer).
More seriously, I think it is very difficult to do both as acting needs all your attention and craft. I barely have an assistant fight choreographer so I mostly create the fight scenes alone, which doesn't help.
It's a challenge that I need progress with, in either delegating more so I can focus on the acting beats with more depth. I am dreaming of the project where I won't have to fight at all.
8) The film has been well received during its festival run. How satisfying is it for you to know that audiences are loving what you are doing?
That is everything to me. We are in the realm of indie films, so we do not have a mainstream audience: only the action movie lovers will watch it, and that's fine. I received many messages from all over the world thanking me for the fun I brought in movies, and this is enormously satisfying. If I could bring joy to someone during their time watching a movie then that's a win. I hope that Nightshooters will make them laugh.
Also, winning at the US festival Thriller Chiller and the nomination at Raindance Film Festival this year are great achievements. At least, we can get some recognition!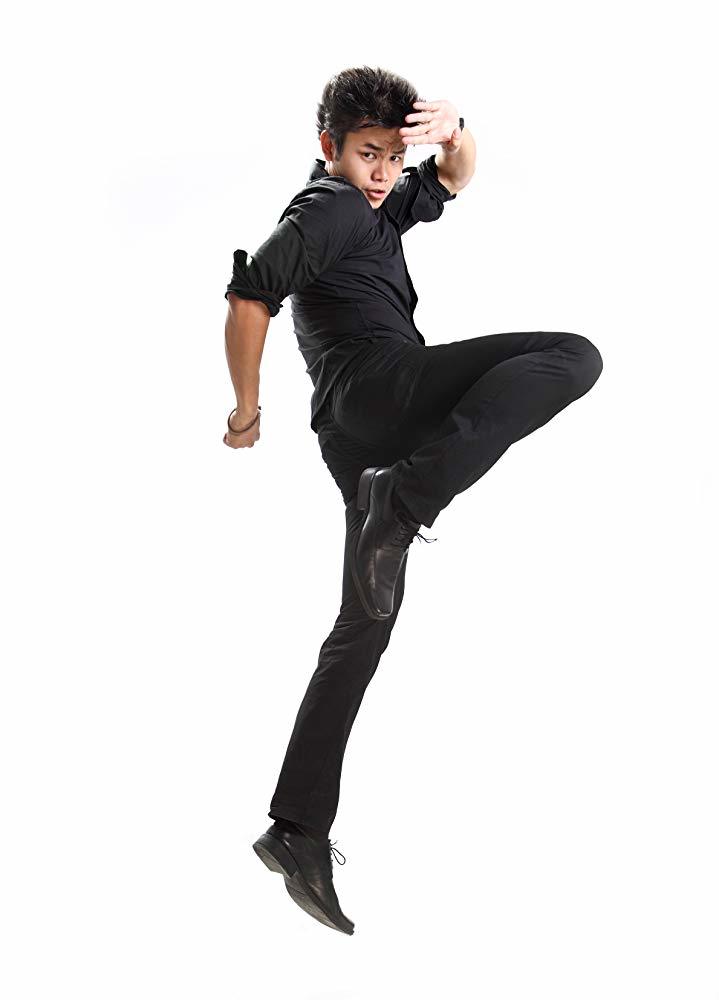 9) You act in front of the camera but you are also getting in on the action behind it with doing fight choreography like in The Prey as well as producing and directing now. What is your favorite one to do so far? What's the most difficult?
I've always wanted to try different sides of filmmaking so I can understand it better, from its creative to practical approach. So far :

The most challenging : acting
As mentioned earlier, this is also the one that I'm the most interested in and I will focus this new year particularly on this one. Playing Nguyen on Kenneth Branagh and Disney's Artemis Fowl was my favorite highlight of 2018!

The most fun : action design / choreography
Surely the most exciting, I take great pleasure into writing fight choreography sequences during my relaxing time. Don't ask me why !

The most intriguing : directing
I've directed my first short film (The Division 23min) and I found directing fascinating. I would love to direct my first feature in the next 2 years.

The most stressful : producing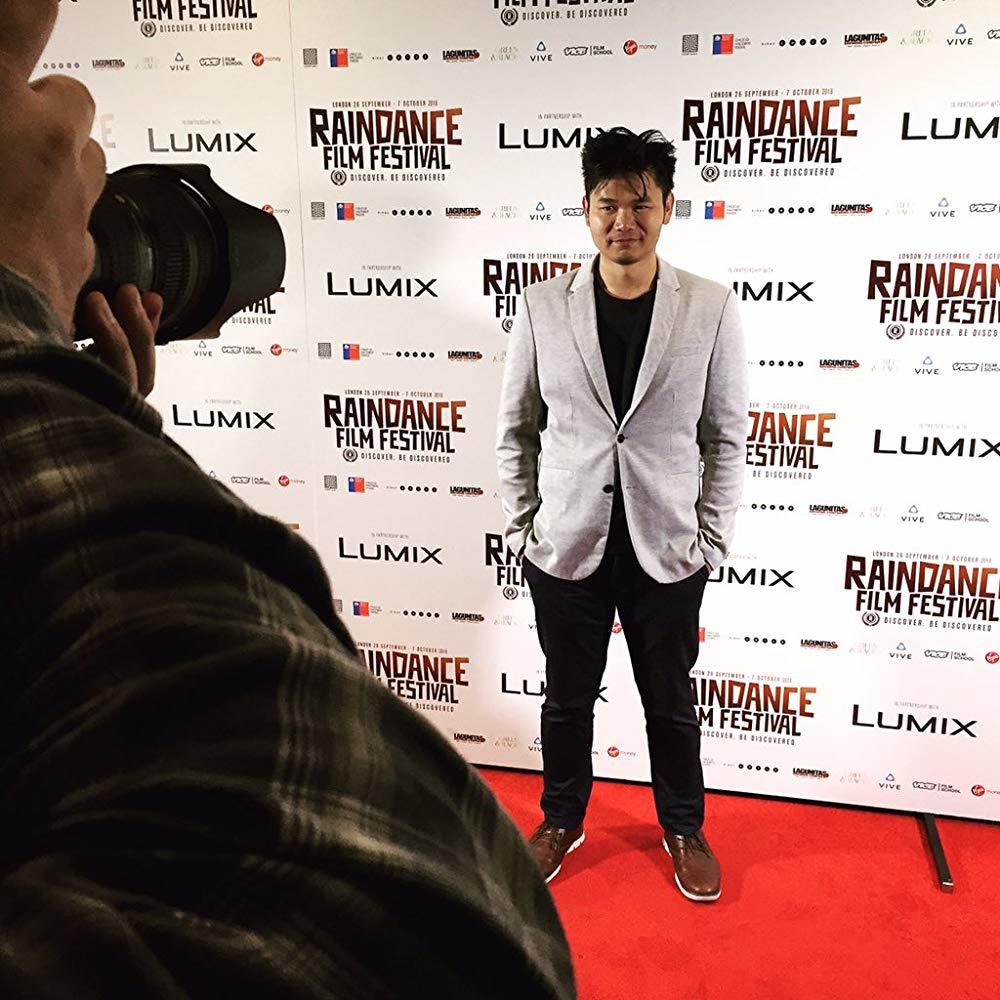 10) The action genre has certainly evolved over the years. Tell us what has changed for the better or worse and what does the genre have to do to make strides in the future?
I will try to make it short since I can talk about that for hours, so I'll give a general opinion.
The standards and quality in action blockbusters are getting higher and the indie action genre can't keep up with that pace. Therefore, more efforts in indie movies have to be made in order to be seen, to be more ambitious and bold in their approach.
So in a concrete way to say things, it has to do "better" than blockbuster movies in their execution.
That's the current problem that I've noticed in the indie film industry.
If your indie movie is a "John Wick" like story, then the action has to be as good or as innovative as John Wick, so it has to be "competitive" and original. Or else, the movie doesn't stand out and won't go anywhere, regardless of the investment of time, energy, and financial resource.


With that always in mind, I make sure that we deliver in the action department, as a responsibility and duty towards the production. It's a challenge to come up with a vision all the time but that's part of the game. I've made movies with very low budgets but we managed to get some recognition along the way, so I'm very grateful.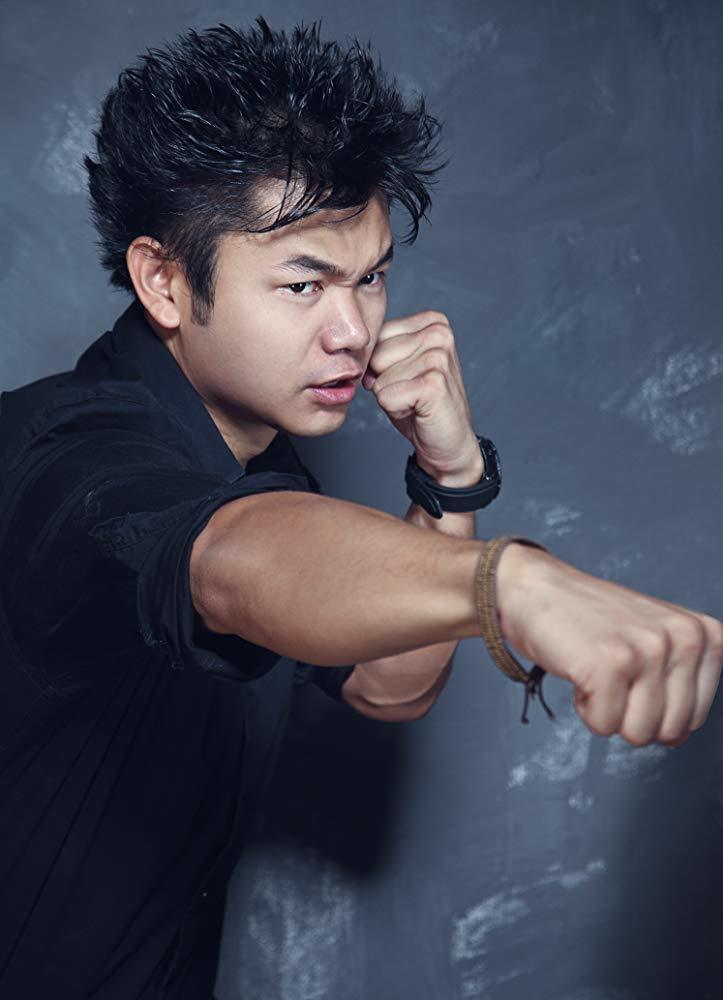 11) Can you tell us about your other upcoming projects like Vengeance 2 and 14 Fists. Any updates?

I cannot announce anything about 14 Fists at this stage yet. However, I am aware that director Ross Boyask started to share some news about Vengeance 2. Please check his page !
12) There is also the announcement of the Sci-Fi action Rift. What can you tell us about that and any other projects?
I've been working with a very successful director, Haz Dulull, on a Sci-Fi action feature idea that he had in mind. We did a concept photo shoot a while ago and he developed it into something amazing. It was one of my goals to work with a director who's also specialized in the Sci-Fi genre, and Haz is a visionary one. What we're preparing will be explosive and a different approach regarding the action.
It will be my first feature in a solo adventure, so it's very exciting and meaningful to me !
There are 2 other brand new projects that I am working on actively. I will get them into further stages and will announce asap. I will produce them both.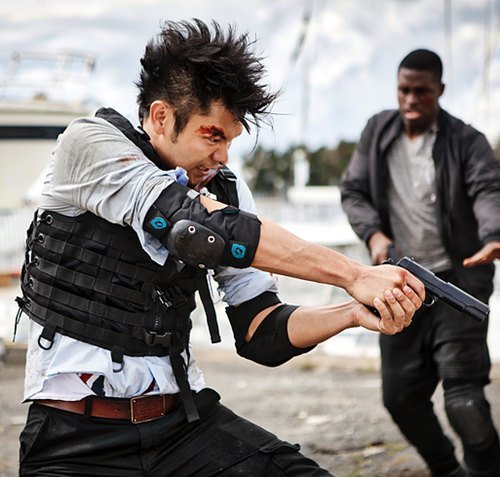 13) Last but not least, you did the action short film The Division which you helmed. Tell us about that one and will we ever get to see it or a longer version.I would love to review it for the site. 
It was my first attempt to direct my own project, which I also wrote, choreographed, edited, action directed and designed. It came from the simple statement: "let's make a film without any restrictions from a third party", so we did our own. After making Jailbreak, I am not scared of facing any productions anymore, trust me!
I am working to develop it into a feature, but only as an actor and action designer. I am talking with some productions about it at the moment. Fingers crossed !
Thank you so much Jean-Paul and best of luck in the future. Hope we can do this again!
Thanks a lot !! 
Keep up with Jean-Paul and all of his projects on his official Facebook, Twitter and Instagram pages!

NIGHTSHOOTERS is now available on UK Blu-Ray and DVD. Order the film from Tribal Film now.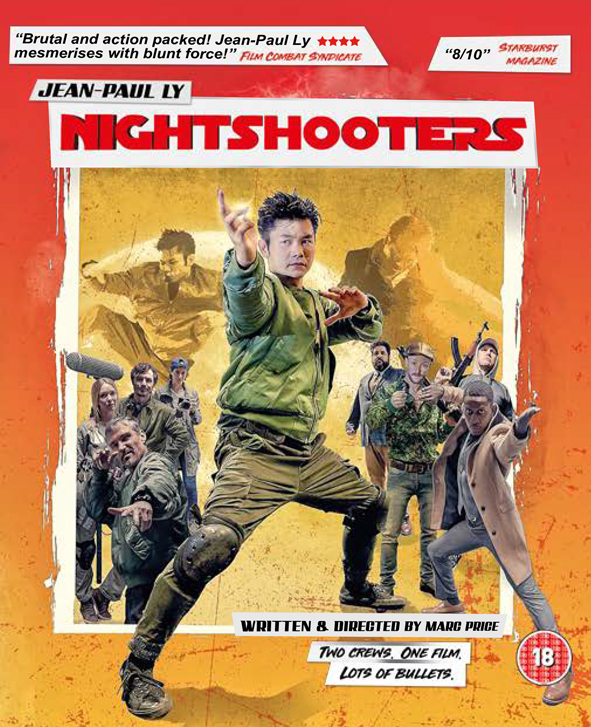 OFFICIAL TRAILER