(Original Publication Date: November 5th, 2018) By: John M Jerva
REVIEW: REPRISAL
STARRING: Frank Grillo, Olivia Culpo, Johnathon Schaech and Bruce Willis
DIRECTED BY: Brian A. Miller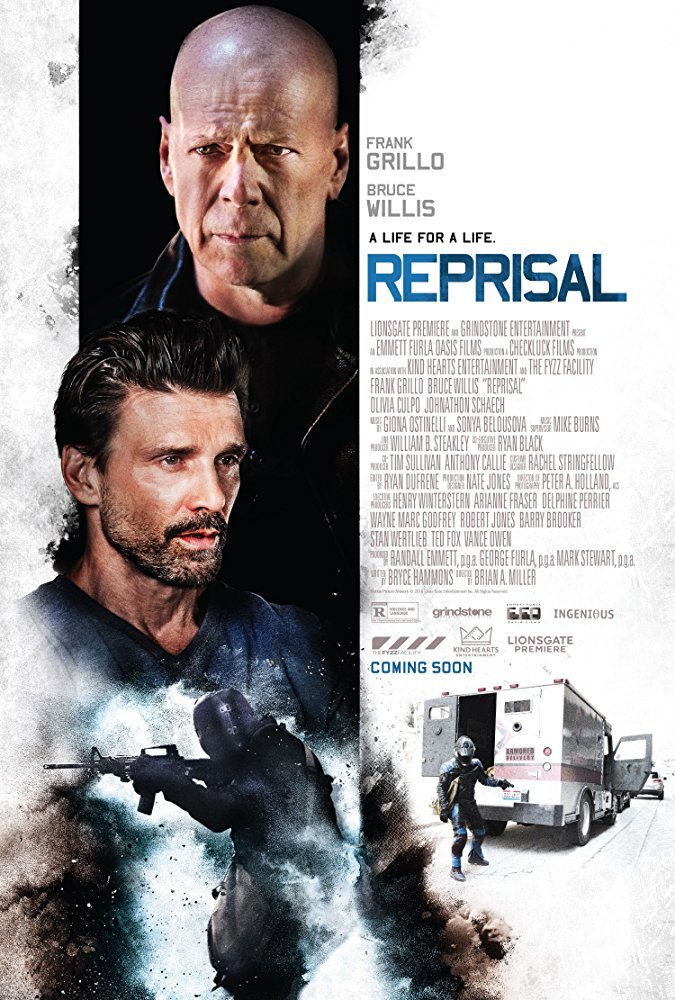 OFFICIAL SYNOPSIS: A bank manager haunted by a violent heist that took the life of a coworker teams up with his ex-cop neighbor to bring down the assailant, initiating an explosive counterattack that brings all three men to the breaking point.
THE REVIEW: Frank Grillo is one of my favorite actors in the world at the moment and I have always said that he can act the crap out of anything and brings a certain level of gravitas to all of his roles. Whether it's action, comedy or drama, Grillo brings it on all occasions and his newest film REPRISAL, which just hit Blu-Ray and DVD last month is no exception. The only problem is, the rest of the movie is just OK. The film also stars Bruce Willis in a co-starring role but he is given little to do and appears to be bored with the material at hand. It's truly a missed opportunity because a film that stars both Grillo and Willis should be a macho match made in heaven but alas it is not. 
In REPRISAL, Grillo goes a different path and instead of playing a tough as nails cop or fighter, this time he is just your ordinary hard working family man named Jacob who manages a bank and has a loving wife and daughter. One day, while at work, an armed assailant storms the bank and kills a security guard while making off with the cash. Feeling violated, Jacob wants to do something about it and he enlists his next door neighbor James (Willis) to who is an ex-cop to aid him on his quest to find the man responsible and bring him to justice. 
The film starts off with a thrilling scene when Gabriel, played by Schaech, robs the bank but after that it is slow and methodical as Jacob and James try to unravel the clues and find Gabriel. As the villain, Schaech is ruthless and cunning but there is no real mention of how he is who he is and why he does what he does. He has a father, who is a vet, who must live in assisted living but that subplot is never really fleshed out. He's just a bad men who doesn't care who he hurts as he plots his next heist.

As James, Willis phones in another performance and I was feeling optimistic as it looked as if he was returning to action form with DEATH WISH and the recent ACTS OF VIOLENCE. However, with REPRISAL, he takes a massive step back and just looks bored throughout and never really does much until the end. The end however, is a little cool and he does get a John McClane moment in the climax that was neat but other than that, he is just there for name recognition.
Grillo is certainly the best part of the film and like I said he elevates anything that he is in. Even though I wasn't sold while watching REPRISAL, I was vested in him and his character. Grillo has that knack of making you care for him even when he is flawed and you just want him to pull through. In terms of action, Grillo gets to turn it on a little in the last act but once again it left me wanting more. 
The action is confined to the initial robbery at the beginning and the end when Jacob finally confronts Gabriel in a shootout out in the open. The scene isn't overly thrilling and it was forgettable at best but like I said, Willis' moment to shine was a nice surprise.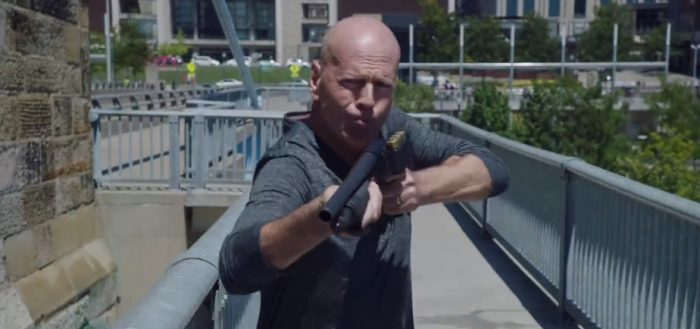 All in all, REPRISAL was an OK thriller with great stars who deserved a lot more than what they got. Grillo is solid but unfortunately his pairing with Willis was a missed target as they really are never given anything to do. Grillo is set to be seen in director Joe Carnahan's BOSS LEVEL next year and I'm sure that one will be a return to form for the actor. Willis is also set to hopefully reprise his iconic role of John McClane in the next DIE HARD so here's hoping he can turn it on one more time.
VERDICT: 2.5 Out Of Stars
REPRISAL is now available on Blu-Ray, DVD and Digital from Lionsgate Home Entertainment

OFFICIAL TRAILER