(Original Publication date: April 18th, 2017) If you're a fan of the action genre, then you're a fan of veteran bad guy Matthias Hues. Through the heyday of the action video boom of the 80's and 90's and into today, the hulking German born actor has made a name for himself taking on some of the best the martial arts and action genre has to offer. From Bolo Yeung to Don " The Dragon" Wilson, Matthias Hues has taken them all on and smiled in the process. He has cemented himself as an action genre powerhouse starring in such classic films as I COME IN PEACE (DARK ANGEL), TC 2000, MISSION OF JUSTICE and KICKBOXER 2: THE ROAD BACK. When you needed a menacing bad guy, he was the man to call. To this day, Matthias keeps himself busy starring in genre films and is even a writer and producer now. It was an extreme honor to be able to talk to one of the men I grew up watching in dozens of awesome action flicks.
In the third and final interview of the cast of BLACK ROSE, Matthias talks to Action-Flix.Com about his time in the film industry. his role in the new film, co-stars and more! He comes in peace, so you should listen!
1) Action-Flix: Matthias, thank you for taking the time to chat. Can you tell us what it was about Black Rose that drew you in and made you want to do it? 
Matthias Hues: When Alexander Nevsky talked about making another movie he pitched me the story and I right off liked the premise. What happened next was he presented me with the script "Black Rose". I smiled as all this started about a year earlier while sitting together in Beverly Hills Great Havana Cigar Cub. We just finished smoking cigars and Arnold walked in. It inspired me to the conversation we had that day that I believe if he does another action movie he would need an adversary that would truly give him a run for his money. I mean someone that once you beat him the audience will believe, ok this guy is for real. So we hatched out the idea of me and him opening the movie that way. I believe you will get the idea when you will see the movie ! We were kicking ass. Alexander, like Arnold and myself are very physical actors who need to always make sure it looks realistic when we head out and lay out our action arsenal of making it BIG.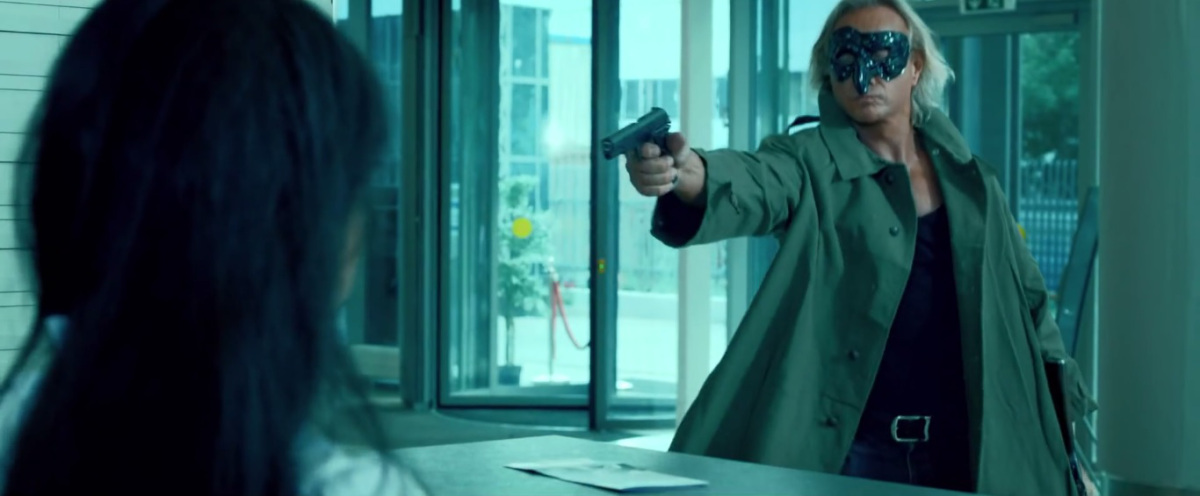 2) Action-Flix: can you tell us a little bit about your character in the film. What can audiences expect from you role in the new film BLACK ROSE?!
Matthias: The character is basically a euro type criminal who is as ruthless as he appears the moment he shows up on screen. Quickly you will get the idea that this is all going to be bad and the action is about to shower the audiences with pulverized adrenaline rushes.
Its not someone who will resurface later in the film as this was solely intended to grab the audience right off the start with a bang. Job done and off to the next one.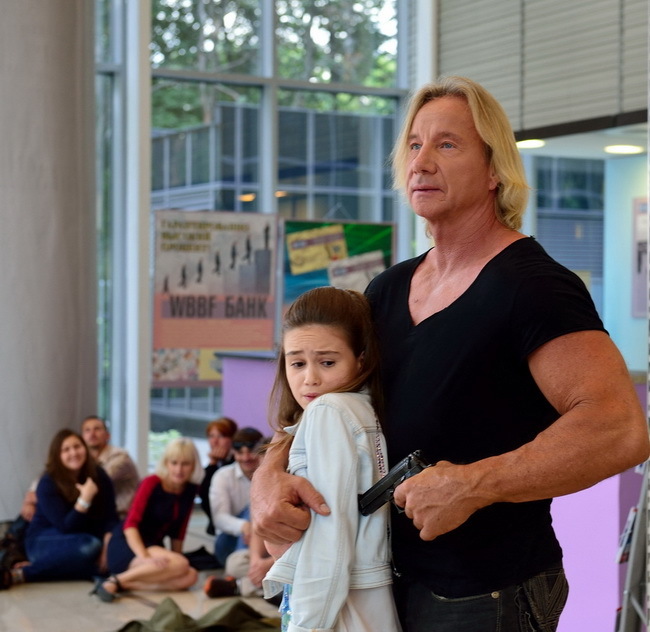 3) Action-Flix: What can fans expect from Black Rose? How does this film differ from all of the other action oriented films you have starred in the past?
Matthias: What fans can expect is a great group of actors, stars that will give this film a likable facade and huge professionalism.  Of course not to forget Alexander who is larger then life, witty and Arnold like solving this ruthless crime and a twist that leaves you all wondering how you were tricked.
4) Action-Flix: BLACK ROSE is about a serial killer and the police officers who try to hunt him down. Can you tell us what kind of an impact this type of film has in today's climate and current times? 
Matthias: Well all evil is short lived even if it seems that it doesn't vanish so quick but in the end it burns itself out, meaning it has a short shelf life in a way. Mostly evil brags or cannot help wanting to be accepted and pushes to hard while exposing itself and once unmasked it can be wiped out by the ones it hurt down the way.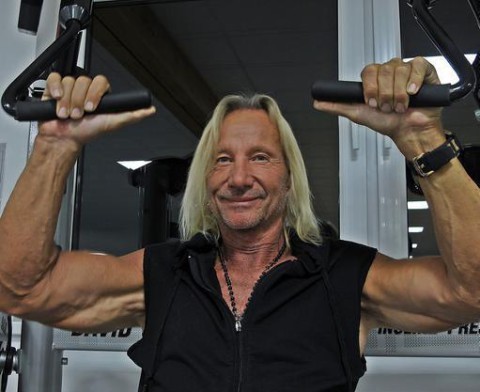 5) Action-Flix: You have been a veteran of the movie industry for many years now. How, in your eyes, has the action genre changed since you got started?
Matthias: The sky is the limit and lets embrace it. And you can always now buy or rent classics as well and feast yourself on Old Hollywood. So life is great if you are a film fanatic. Add about two handfuls of new channels like Netflix and Amazon, and god knows how many more channels with their own programming and huge financing slate for tv series and features and you will be amazed about the future content.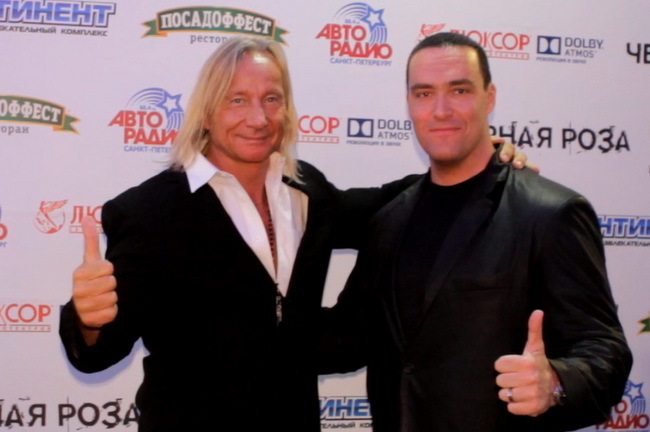 6) Action-Flix: Once again, you play a bad guy like you have done well so many times in the past and you have had some great fights onscreen with some great martial artists and action stars. Do you like playing the antagonist and would you like to do more roles where you are a good guy like in your upcoming film ULTIMATE JUSTICE with Mark Dacascos?
Matthias: I am always happy to be the antagonist, and I love to be a challenge for the good guy but I am slowly shifting over to be the hero and I aiming for some upcoming projects where I will use my physicality for bringing swift justice back to the people and chase an array of bad guys out of town. I Think I gathered enough experience of kicking ass by now. What do you think? (Laughs)
Anyway keep you popcorn firmly in your hands, the shows will keep coming to your screen and it is super exciting to be able to be part of this entertainment!
Thank you Matthias for taking the time to talk to me. It was an honor!
BLACK ROSE premieres in select theaters and Video On Demand on April 28th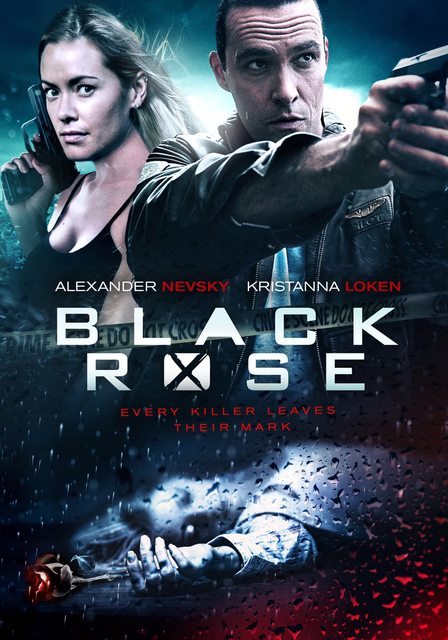 To follow Matthias and keep track of current news and future projects, visit him on his social sites:

INSTAGRAM:https://www.instagram.com/officialmatthiashues/ 

FACEBOOK:   https://www.facebook.com/profile.php?id=703556803 

TWITTER: https://twitter.com/MatthiasHues

To find out more about the new movie BLACK ROSE, visit the official website at:  http://www.blackrosemovie.com/

Watch the explosive trailer for the film and get ready for BLACK ROSE!