By: John M Jerva
(Original Publication Date: April 21st, 2017) As a kid growing up in the 80's I was fortunate to be a part of the home video boom that brought us so many classic action movies of the period. One of the men that was instrumental to that time period is legendary filmmaker Sam Firstenberg. Throughout the 80's and 90's, Mr. Firstenberg helmed some of the most classic action films such as AMERICAN NINJA, AMERICAN NINJA 2: THE CONFRONTATION and REVENGE OF THE NINJA.  It was these movies and more that made me fall in love with the action genre and it is that reason I am such a fan to this day. It is a dream come true to be able to interview one of the filmmakers that shaped my life.

Now Sam Firstenberg is the subject of a new book titled STORIES FROM THE TRENCHES that details Sam's wonderful career and highlights one of the best periods of action movie making. Film journalist and author Marco Siedelmann is creating the biography for a release later this year. There is a Kickstarter program live now where you can help fund the book and help make it a reality.

Mr. Firstenberg talks to Action-Flix.Com about the new book as well as some great stories from his life and career so sit back and enjoy the exclusive Action-Flix interview with Sam Firstenberg!

1) Action-Flix: Thank you so much Mr. Firstenberg for taking the time to talk! Before we talk about your new book, STORIES FROM THE TRENCHES, tell the Action-Flix readers how you got into the film industry.

Sam Firstenberg: I have loved movies since I was a kid growing up in Jerusalem; we had a neighborhood movie theater that ran a twin-bill double feature with big-Hollywood movies like Tarzan and World War 2 pictures. I always liked American movies. As it was mandatory in Israel, I served three years in the military after high school. When I got out I was 21years old and I put myself on an airplane and came to Los Angeles to study filmmaking. I knew absolutely nothing about making movies. During that period I was lucky enough to meet Menahem Golan who would later become head of Cannon Films. He was making a film with Tony Curtis titled Lepke, so I asked for a job on the set and I became a runner. From there on I slowly moved up to asst. director. I worked in many movies as an assistant director but my intention was always to direct; in 1979 I went back to school for graduate work at Loyola Marymount University. When I went back I had this massive amount of experience, from working on features and directing a few short films of my own. I thought the program would be a fantastic opportunity to make a film because in school there is access to equipment and volunteer crew members, everything was available to me. I wrote a script One More Chance, another student was a producer and it actually became a class for the film school. We shot every weekend for a year and a half. I took my student loans and poured it all into the movie. I actually cast Kirstie Alley in her first role. When we finished the movie I contacted Menahem Golan who, along with Yoram Globus, had purchased Cannon Film. I showed them my film and they liked it. We made a deal in which they agreed to take care of some debt I had occurred on the production, and they would in-turn handle distribution. That was how I became a director and the beginning of a long film making career.

2) Action-Flix: Did you know that this was the path for you?

Sam: Naturally. I did not know what laid ahead but it was my intention and goal to become a film director that tells stories projected on a screen through cinematic means.

3) Action-Flix: You directed some iconic action and martial arts films, did you always have a love for those types of films? How were you drawn to making that genre of film?

Sam: Prior to directing the movie Revenge of the Ninja I have never seen a martial art film. I was familiar though with Japanese Samurai movies directed by Akira Kurosawa, and I did love those. I became a director of low budget genre movies because I was constantly offered to direct them and I just accepted that challenge and kept doing them.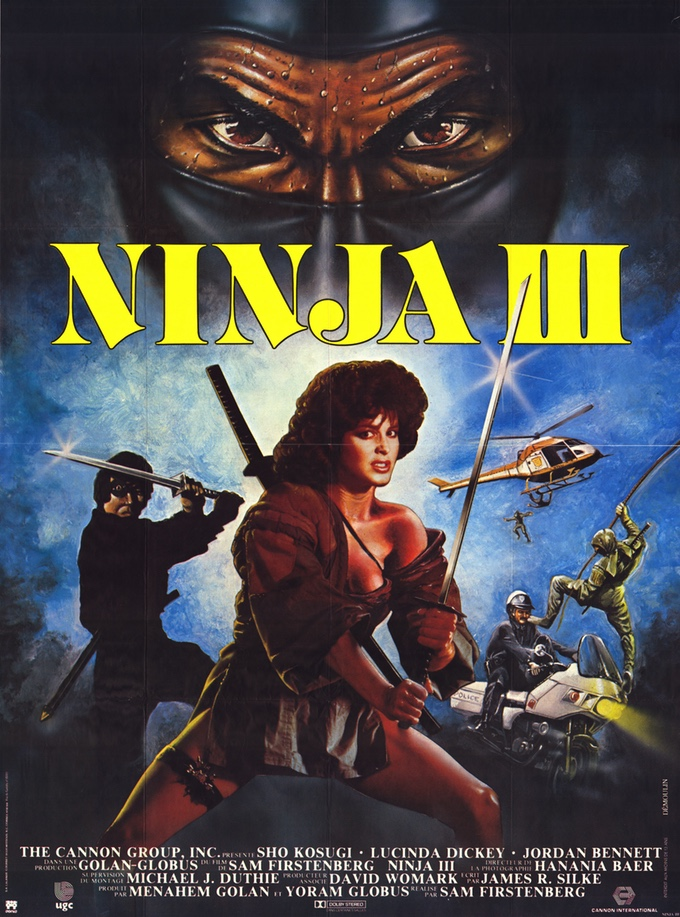 4) Action-Flix: Your first real feature was Revenge of the Ninja, a true classic? How did that come about?

Sam: I just finished the work on my first directorial film "One More Chance" when producer Menahem Golan was preparing to produce "Revenge of the Ninja" a sequel to "Enter the Ninja" he produced and directed earlier on. Since he did not want to direct it he was looking for someone to replace him. Golan was willing to take a chance on me. He knew I could put a movie together; I had proven that I could construct a scene, shoot, and edit logically. The big question was whether I could handle action, could I tackle a fight sequence or a chase. Clearly I did not have experience in these areas, but when he asked if I could do it, with utmost confidence I gave a positive yes. I knew I was not going to let this once in a lifetime opportunity slip away. Apparently my self confidence assured them so the next question was what kind of salary I would demand. I told Golan to pay me whatever he saw fit and so the deal was made and I was given the script and asked to start pre-production immediately, with David Womark as line producer. It is true that directing action takes some expertise but in my opinion any director that understands the cinematic language, filming and editing should be able to put together an action sequence. I had good teacher to usher me into the world of action cinema and I learned fast and found it be challenging and yet satisfactory to direct action.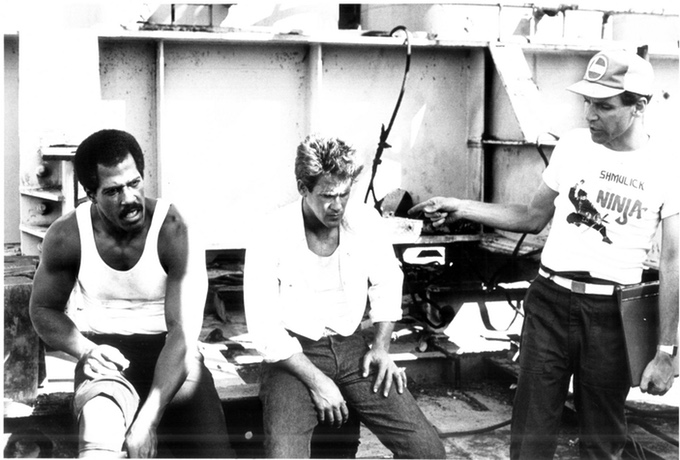 5) Action-Flix:   American Ninja 1 and 2 are two of my all time favorites to come out of that time period. How were those films created? Give us some history behind them?

Sam: After producing three Ninja movies; Enter the Ninja, Revenge of the Ninja, and Ninja 3: The Domination, which did not enjoy the box office success of the first two, Cannon film wanted to keep the franchise alive but to go in a different direction. Menahem Golan, head of the company, decided to create a Ninja hero that is American and will appeal to domestic as well as global audiences. He hired producers Gideon Amir and Avi Kleinberger, and me as the director and writer Paul De Mielche and entrusted us to come up with that hero called "American Ninja". Working together the four of us came up with the characters and plot line of the story collectively. Of course the writer Paul did most of the work. The character of Joe Armstrong ,the reluctant hero, was clear to us from the beginning and so was Curtis Jackson his friend and the rest of the story developed as we went along. The huge success of the movie led automatically to the development of the sequel that does not follow in the footstep of the original story but preserved the characteristics of the two heroes Joe Armstrong and Curtis Jackson.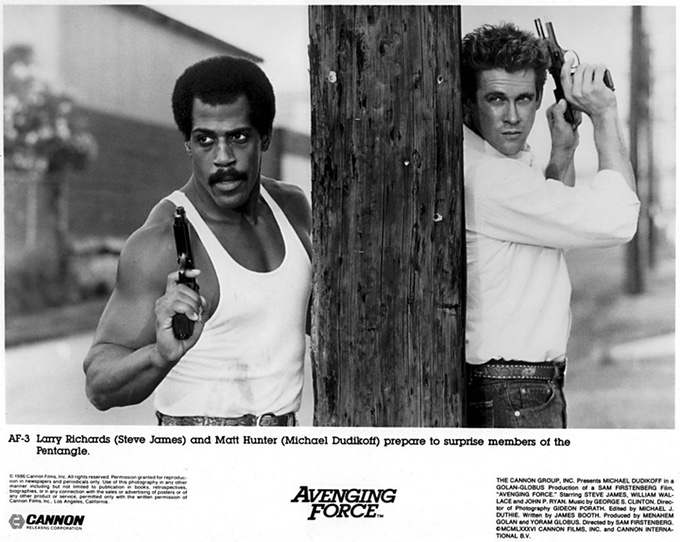 6) Action-Flix:  You have worked with some legendary action heroes such as Michael Dudikoff, Sho Kosugi, David Bradley and the late, great Steve James. How was it to work with them especially when they weren't as known yet?

Sam: All these great actors had some movie experience when I worked with them but it is correct that they were all at the beginning of their cinematic career. As I remember it they were all hard working dedicated action actors that were 100% committed to the success of the movies they stared in. With David and Steve I kept in touch for many years afterward and with Michael Dudikoff I am in contact until today, 35 years after making American Ninja.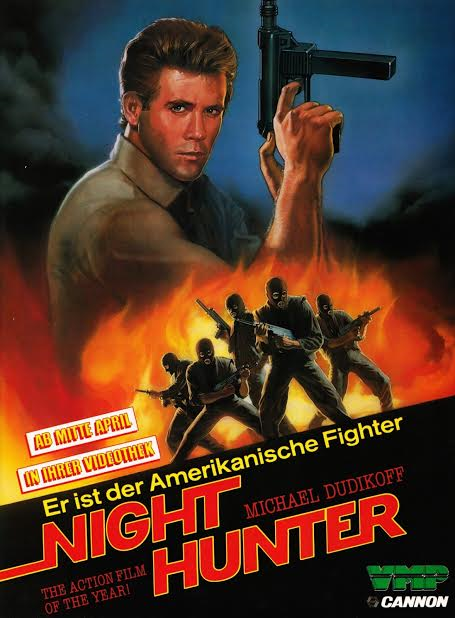 7) Action-Flix:   I love the story that Avenging Force with Michael Dudikoff was actually a planned sequel to Invasion USA for Chuck Norris. Can you give us some history on that?

Sam: As I have mentioned before, it is correct that the project was developed for Chuck Norris and he rejected it but I was not aware of it until a few years later. All I know is that one day during the sound mixing of American Ninja, Menahem Golan presented me the script, that was entitled then Night Hunter and asked me to read it and let him know if in my opinion it would be good for Michael Dudikoff and Steve James to star in. The script blew me away and I thought it will be perfect for them so upon my recommendation, Cannon Films decided to make this movie and I was asked to direct it. Until today I have no idea way Chuck Norris rejected this wonderful script by James Both and declined to star in it.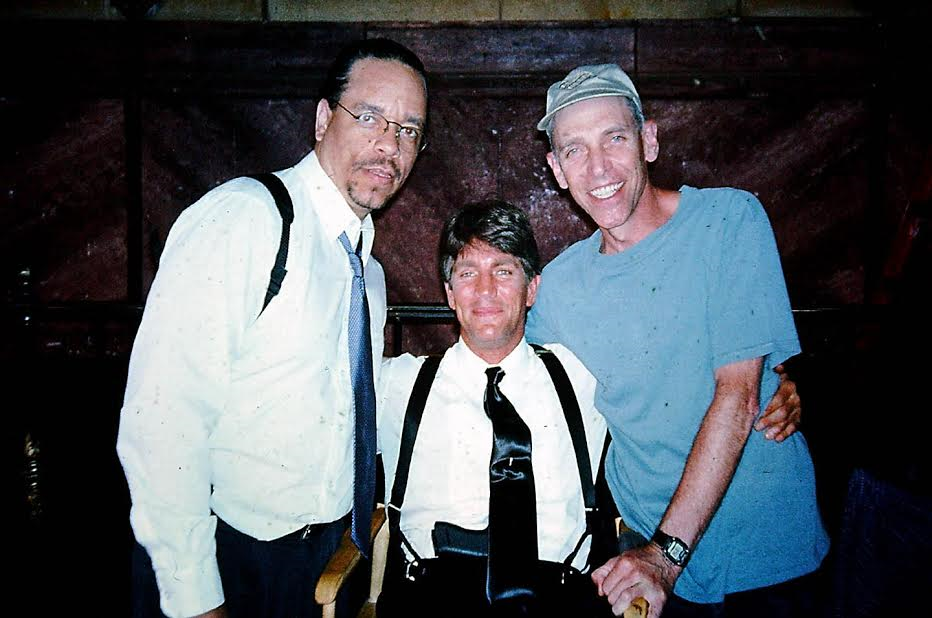 8) Action-Flix: Now lets talk about the new book, Stories From The Trenches which is about your career. How did the book come about? How did you meet author Marco Siedelmann who is doing the book? How did you get involved?

Sam: One day I got a phone call from Germany and Marco Siedelmann was on the line. He introduced himself and asked me to participate in an interview for a book he is planning to publish about the Cannon Film company. I agreed and subsequently he started to conduct a set of interviews with me and at some point he told me that he found our interviews so interesting, vast in scope, and rich in content that he was thinking of concentrating on my career and the movies I directed only. Publishing a book about my movie making career was always on my mind and I already had the title "Stories from the Trenches" but writing is not my forte so Marco's proposal was a pleasant surprise.

The subject of low budget genre movies is close to my heart, within the story of Hollywood's history. They are neglected and seldom mentioned, but yet they have millions of fans and enthusiastic followers all over the world. The story of those films in particular of the 80s and 90s, in my opinion, should be recorded and preserved and the more that is written about them the better. One of the people (among others) dedicated to that cause is publisher writer Marco Sidelmann.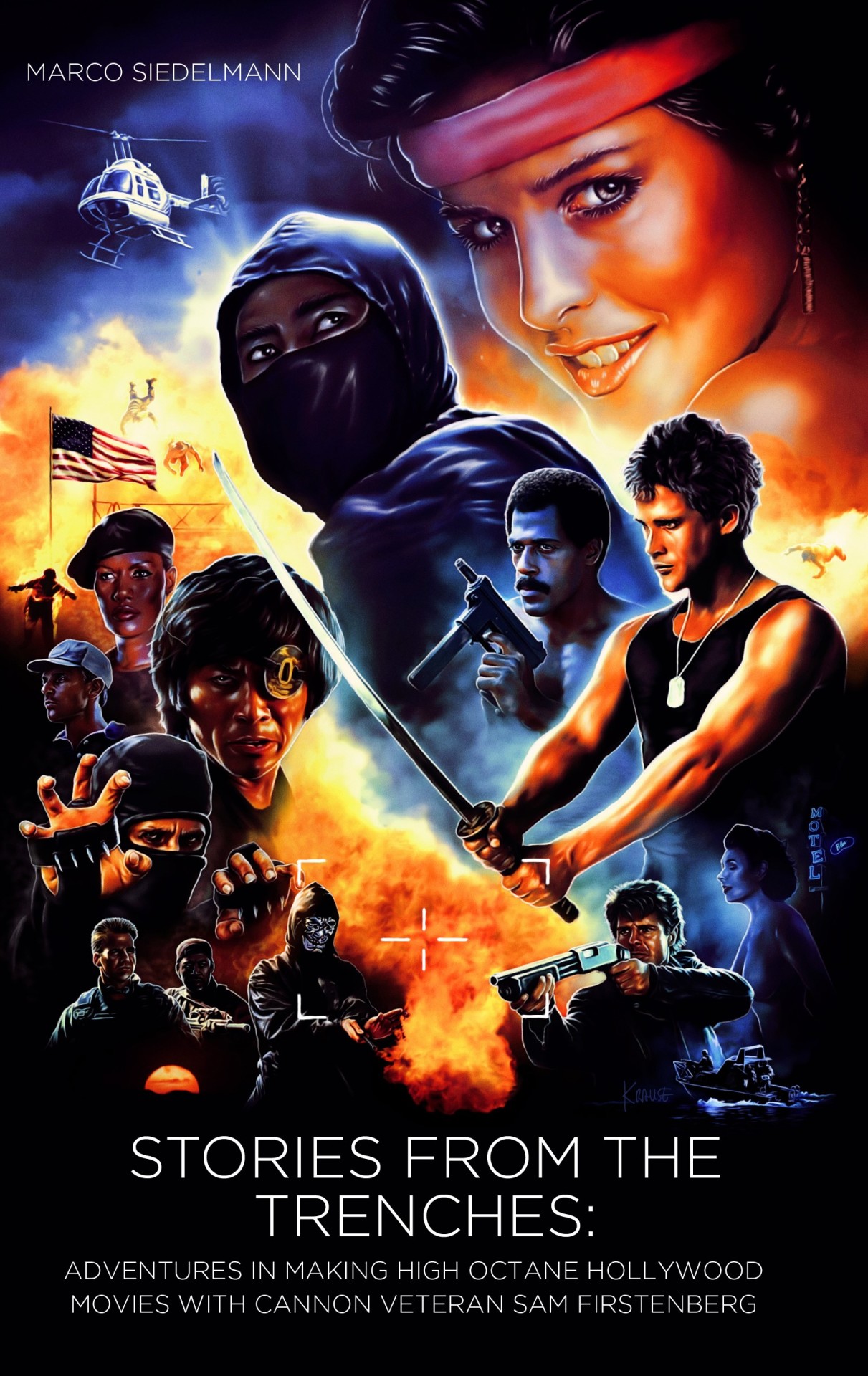 9) Action-Flix: What can genre fans expect from the book? Give us your insight on what to expect.

Sam: For this book, Marco Siedelman interviewed me extensively as well as many other people associated with the films I directed. The journey of this interview collection starts even before I made my way to direct the box office hits just like REVENGE OF THE NINJA, NINJA III: THE DOMINATION, BREAKIN' II: ELECTRIC BOOGALOO, AMERICAN NINJA, and several others. The conversations he recorded with me are very thorough, and they shed light on my origins and influences, including childhood memories, private biographical chapters, my years as a film student in Los Angeles, and my early work as an assistant director and technician for people like Menahem Golan, Charles Band, Ephraim Kishon, Boaz Davidson, and many more. The interviews are not totally chronological, but focus on every career-step, just as well as on every single movie I ever directed. The memories about all the projects I was involved in are packed with adventurous stories about ninjas and break dancers, about directing action entertainment in exotic countries, and about working with numerous stars, among them Michael Dudikoff, Eric Roberts, JonRhys Davis, Hulk Hogan, Grace Jones, Nick Cassavetes, Zachi Noy, Richard Roundtree, Sean Young, Steve James, Sho Kosugi, Shabba-Doo, and so many more. At the same time it's also a book about the Hollywood star system and the no longer existing mid-budget movies. It's about the home video boom, about the uprising and the decline of Cannon, but it also discusses the rules and traditions of the industry. Other topics are the practical way a film was put together in that era, the technical changes through the years, the different market situation compared to nowadays – and last but not least it's a inside story about the early years of Nu Image (THE EXPENDABLES, CONAN, the UNDISPUTED Franchise) and how Avi Lerner's company continued the spirit of Cannon, but under different circumstances and times.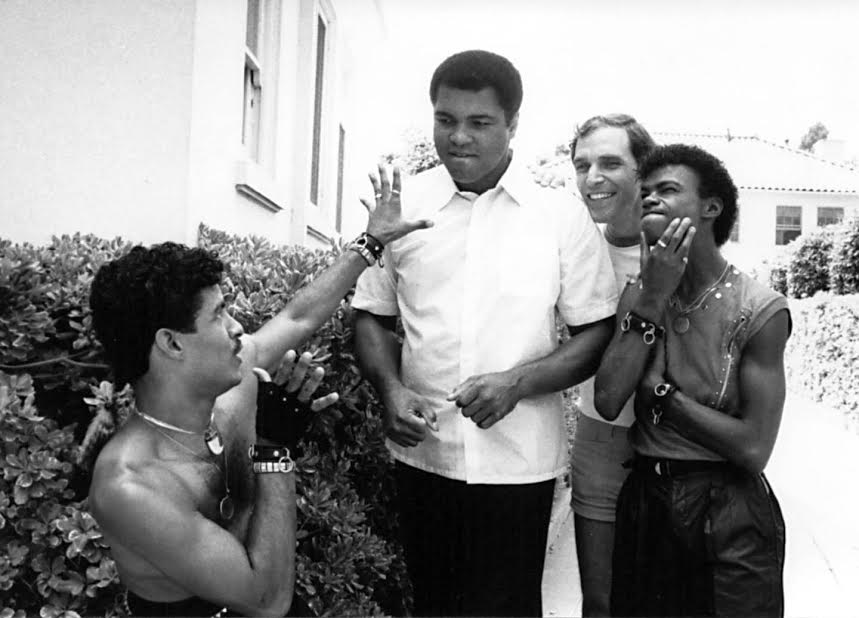 10) Action-Flix: The book contains so many iconic photos. How was it to put together all of them? Was it hard to find such classic pictures for the book?

Sam: It was actually easy. Throughout the years I have been an avid collector of behind the scene and publicity photos from the movies I directed so for the preparation of the book all I had to do was to assemble and reorganize my collection and send it to the author Marco Seidelmann.

11) Action-Flix: There is a Kickstarter program going on to help fund the book. Can you tell us how that evolved? Tell the fans what they can do to get involved.

Sam: The world of publishing books nowadays is a tough business and financially very hard to master. Any help from the fans is important and rewarding at the same time since this book, with its wealth of knowledge, photos and facts, will shed a new light on that era of film making and since participating is actually pre buying a copy of the book, it is a win, win situation.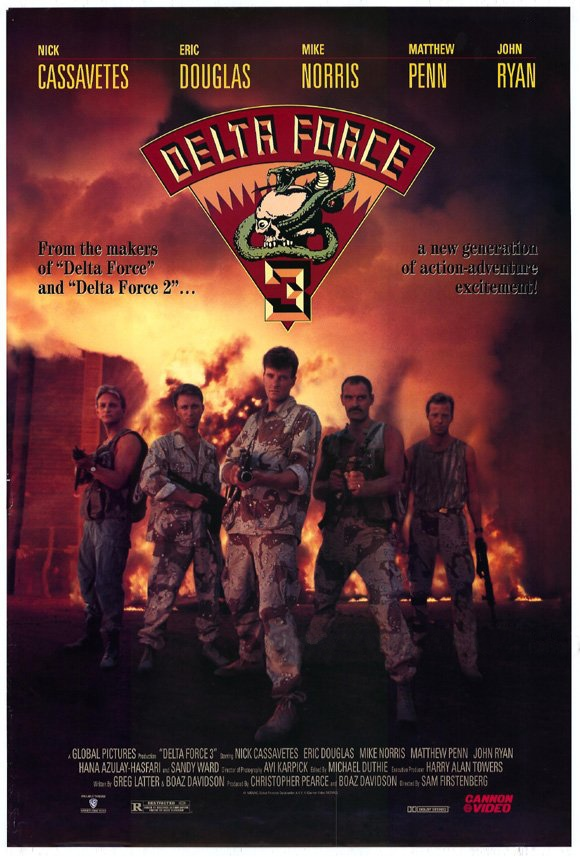 12) Action-Flix: From doing this book and looking back at your career, what are some of the highlights of you career?

Sam: My career in film making includes directing about 25 feature movies, a television series, working as assistant director in a span  of more than 30 years. I was lucky enough to work with and learn from so many talented people and throughout it all experience a great deal of personal and professional peak moments and highlights. This space is too short to start describing them but in the upcoming book "Stories from the Trenches" I discus all of this in great detail. I believe that the answer to this question is in the book and I recommend it all heartedly.

13) Action-Flix: Did you have input on what was to be included? Was there anything left out for time sake?

Sam: I don't have any input on what is included in the book but Marco Siedelmann, the writer, is a very capable author and publisher. It is his book not mine and I am convinced that he will do a great job in putting it together.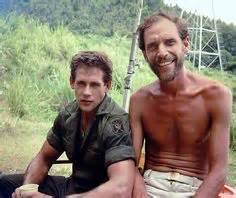 14) Action-Flix: When can we expect the book?

Sam: According to Marco and as it is stated in his Kickstarter page, the book will be ready for delivery in about half a year from the end of the crowd funding campaign.

15) Action-Flix: Are you involved in any current projects? Tell us what you are up to now!
Sam: I am not involved in any film projects nowadays instead I am concentrating in granting interviews regarding my movie making career as well as participating in film festivals that screen some of the movies I directed and dedicating time to my favorite hobby; building furniture.
There are plenty of more stories, photos, articles, and interviews in my web site at http://www.samfirstenberg.com and in my Facebook page and its photo album "Tales from the Movies" visit them and enjoy the content.

​Once again thank you so much for the interview Mr. Firstenberg, I look forward to reading the book!
For more information on Mr. Firstenberg, visit his website at: http://www.samfirstenberg.com

To learn more about the Kickstarter campaign for STORIES FROM THE TRENCHES visit the website at: https://www.kickstarter.com/projects/1351988435/stories-from-the-trenches-the-official-sam-firsten