By: John M Jerva
The Scott Adkins offerings for 2022 and beyond have been taken care of in Volume 1 so it's time to chat up the rest. New Years is but a few days away and with that, I bring you the second installment of my Must See Action Flix for 2022. The new year is shaping up to be a good one and even though John Wick 4 has been shelved until 2023, fans will still have a lot to look forward to in the coming 12 months. From big budget blockbusters to lesser-known indie fair, these are my personal picks for what to put on your radar starting in January. Keep in mind that the films without release dates are expected to hit in 2022 but that can always change as well as the ones that do have launch dates. In this ever-changing climate, release dates can change at a moment's notice. With that said, lets dive right into the action goodness.
Action Films Pending Release Dates:
The next list are the action films that are expected to hit theaters, streaming or both in the coming year.
EXPENDABLES 4
The long awaited fourth entry in the throwback action franchise recently wrapped production and is now entering post. Expect this one to hit later in the year but this one is a curious beast as it is known that Stallone has essentially passed the torch to Jason Statham and will only be in the film for a little bit. Other than that, expect the franchise to get back to its bloody R rated roots with a sensational cast that includes Tony Jaa, Iko Uwais, Andy Garcia, Megan Fox and 50 Cent along with Sheila Shah (Rambo: Last Blood), Jacob Scipio, who I did think was pretty solid in Bad Boys for Life and Levy Tran. They join the cast that already includes franchise regulars Jason Statham, Dolph Lundgren, Randy Couture, and Sylvester Stallone. Arnold Schwarzenegger is also rumored to be returning.
Plot details are top secret right now but we do know that Statham's crew will be going up against Uwais and his team of professionals in a winner take all bullet fest that will hopefully make most fans forget about the third entry.
Stunt pro Scott Waugh takes over in the director's chair and he helms from a script penned by Spenser Cohen with current revisions turned in by Max Adams and John Joseph Connolly. 
Avi Lerner, Boaz Davidson and Trevor Short are serving as executive producers via Millennium Films.
The Expendables is without a doubt my favorite men on a mission films so I'll always be there opening day to watch the latest chapter. Stallone might be leaving but Statham is a worthy accessor and I'm excited to see what this one has to offer, and I have a feeling they will not disappoint with the firepower and fisticuffs this time around.
BRING HIM BACK DEAD
Everyone who knows me well, knows that action and martial arts pro Gary Daniels is in the top three of my favorite action stars of all time. Daniels has starred in some of the best DTV actioners from the 90's and beyond and he's definitely got some of the best kicks in the business, past and present.
It's nothing short of great to see Daniels doing what he does best and now he's back with his latest action endeavor titled aptly Bring Him Back Dead which also stars the always game Louis Mandylor as well as Daniel Baldwin and Katie Keane. This is high on my priority list of must see flix.
The film, helmed by Mark Savage (Hitman's Hero, Painkiller), has just recently wrapped production in Otsego County, NY. The film is in the vein of Sam Peckinpah and Jim Thompson, the gritty BRING HIM BACK DEAD concerns a violent gang of criminals who are ordered, after a botched heist, to track down and eliminate the man who betrayed them and ran off with their loot. Daniels plays the "anti-hero," while Louis Mandylor portrays the leader of the gang and Daniels a man with mysterious motives.
The film is produced by Jeff Miller, who is responsible for such other action entries as Death Kiss with Robert Bronzi and Kill 'Em All with JCVD. The script was penned by Ben Demaree who also worked with Miller on the upcoming action film The Gardener which also stars Robert Bronzi and Daniels.
David Lavallee Jr. served as the production's fight choreographer with Ryan Patrick O'Hara serving as the director of photography. Other producers on the project include Cuyle Carvin and Avery Miritello with Azhar Pasha, Miller, Savage, Ronnie D. Lee, and George J. Merino serving as executive producers. Uncork'd Entertainment recently set up shop for worldwide distribution and sales.
Daniels is still in top physical conditioning and looks great. The action star has been sharing some great pics and videos of himself in training and he hasn't lost a step when it comes to the empty handed combat.
Daniels was the best part of The Gardener and I am most anxiously awaiting to see him go all anti-hero in this film. Plus throwing down with Louis Mandylor will be the definite highlight and here's hoping the action and fights deliver! Something tells me they will. Prepare for combat!
HAVOC
Tom Hardy is definitely an enigma in mainstream Hollywood as he really doesn't speak out that much and he's an actor am that literally transforms himself into any time that he's playing. From Mad Max to Venom, Hardy is adaptable and a welcome sight in any cast and movie whether it be action or drama.
Official Synopsis: After a drug deal gone wrong, a bruised detective (Hardy) must fight his way through a criminal underworld to rescue a politician's estranged son, while unraveling a deep web of corruption and conspiracy that ensnares his entire city.
His latest endeavor, Havoc, looks to be a good, violent and bullet riddled throwback film with gritty overtones and harsh structure. To firmly set your appetite, a new teaser poster has just dropped which gives off a distinct graphic novel vibe with Hardy illustrated front and center aiming a gun while an assault rifle hangs across his chest clearly demonstrating that Hardy's character has transitioned to his secondary firearm in true military trained fashion.
Justified star Timothy Olyphant also stars with action maestro Sunny Pang of Headshot and The Night Comes for Us fane. They join an an already stacked cast that features Forest Whitaker, Justin Cornwell, Jessie Mei Li, Yeo Yann Yann, Quelin Sepulveda, Luis Guzmán, and UFC mixed martial artist Michelle Waterson. (Per Variety).
The Raid Director Gareth Evans helms which should promise ultra-violent set pieces and groundbreaking stunt work. Havoc sounds deliciously violent and brutal so count me in with this line up. Evans, who shot to notoriety after directing The Raid films has a deal with Netflix which started with his first film The Apostle. Hardy also produced along with starring in the movie.
THE CHANNEL
William Kaufman is back in the saddle with a new action project titled The Channel. The latest film from the action maestro behind such classic movies like Daylight's End, Jarhead 3: The Siege and The Marine 4: Moving Target stars a stellar cast including Clayne Crawford (TV's Lethal Weapon), Max Martini (TV's The Unit, 13 Hours) and Hakeem Kai-Kazim (Black Sails).
Official Synopsis: After their bank heist goes wrong, a desperate criminal (Crawford), his out-of-control brother (Martini) and their motley crew of ex-marines must escape New Orleans and the determined FBI agent (Kai-Kazim) who pursues them.
Kaufman helms the film from a script he wrote, which comes from a story by Paul Reichelt.
Genre fans will surely get their fill of bullet riddled action set pieces and carnage as Kaufman is one of the premiere indie action maestros working in the industry today. Kaufman is a favorite of mine as he constantly brings a sense of throwback, old school kick ass action vibes to his movies. With a sensational cast like this, The Channel will surely be another successful notch in Kaufman's firepower filmography.
WARHORSE ONE
Filmmaker William Kaufman's second entry on the list reunites him with star Johnny Strong. It's been a while since we've heard from both men and the pandemic certainly didn't help but we have been getting brief teases of the pair's latest endeavor titled Warhorse One which features Strong as a soldier who is behind enemy lines but not out of the fight. The plot details are vacant right now but we do have the first full length trailer to wet your appetite which you can view below!
Strong brings a sense of authenticity to the proceedings with his knowledge in all things weaponry and tactics and he has that certain something when it comes to leading man bravado. Strong has that old school, throwback attitude that was welcome in the 80's and 90's and is sorely lacking in today's cinema.
WHITE ELEPHANT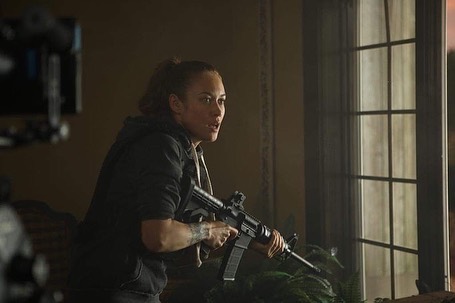 Action maestro Jesse V Johnson is coming off his most recent success with the WWII thriller Hell Hath No Fury. That film was sort of a departure for Johnson but it looks like his next offering will once again serve up some old school, throwback kick ass with a cast that includes Olga Kurylenko, Michael Rooker and the one and only Bruce Willis.
Official Synopsis: Rooker stars as Gabriel Tancredi, an ex-marine-turned-mob enforcer who must battle his conscience and code of honor when he is forced to help clean up a botched assassination job by his protégé, Carl. Willis plays Arnold, the top man in the mob. Kurylenko plays Vanessa, a cop that has been trying for years to bring down Arnold and his crime syndicate, and teams up with Gabriel to do so.
Johnson wrote the script along with Erik Martinez. Corey Large of 308 Enterprises who also produced Cosmic Sin with Willis and Frank Grillo is producing once again. Expect mass casualties and bullet riddled mayhem galore from the man who knows how to direct action!
RENEGADES
New production banner Shogun Films is coming in hot with their all-star action pic Renegades. Hollywood icon Lee Majors and genre staple Danny Trejo star along with Nick Moran and Louis Mandylor with veteran action filmmaker Daniel Zirilli directing.
Renegades boasts a heavyweight international cast including Lee Majors (The Fall Guy), Nick Moran (Lock Stock & 2 Smoking Barrels), Danny Trejo (Heat), Ian Ogilvy (We Still Kill The Old Way), Louis Mandylor (Debt Collectors), Billy Murray (Rise of the Footsoldier), Patsy Kensit (Lethal Weapon 2), Jeanine Nerissa Sothcott (Nemesis), Michael Brandon (Dempsey & Makepeace), Paul Barber (The Long Good Friday), Michael Paré (Streets of Fire) and, in one of his final roles, Tommy 'Tiny' Lister (No Holds Barred).
Official Synopsis: Renegades sees a group of ageing Special Forces Vets (Moran, Ogilvy, Murray, Trejo, Barber) set out on a crusade of violent revenge when their friend, former green beret Major Carver (Majors) is murdered by a ruthless drug gang lead by Goram (Louis Mandylor). With Carver's daughter (Kensit) pushing for answers and the police (Sothcott) closing in, these old boys are determined to clean up the streets – or go out in one final blaze of glory.
EXTRACTION 2
Chris Hemsworth is officially a go for EXTRACTION 2 which is now filming.  Tyler Rake lives and will be unloading some maximum firepower once again with former stunt pro turned director Sam Hargrave returning to direct.
With production well underway on the anticipated sequel Extraction 2, it appears that Tyler Rake will fight his next mission in a chillier climate. The star took to Instagram to share the image of himself as Rake and it's definitely snowing as you can see below. Well, it is the holiday season so maybe this one take place during the festive time of year that everyone loves. After all, we need a new Christmas action movie.
Extraction was one of the most watched movies on Netflix last year which probably was due to the fact that it came out right when COVID-19 started running rampant but hey we'll take what we can get. The first film was helmed by stunt maestro Sam Hargrave who is best known for doubling Chris Evans in the MCU. It was his directorial debut and a great one at that which proves my point that the best action directors are the ones who literally sweated and bled for the genre.
A follow up has been teased by the Russo Brothers for some time now and there's been even talk of expanding the universe set forth in the movie.
ADRENALINE
What's better than a movie that stars either Louis Mandylor or Costas Mandylor? Well it's a movie that stars both of them! That's right, the Mandylor brothers team up for the newest action-thriller Adrenaline from director Massimiliano Cerchi (Mayday, Lockdown). 
The below trailer for the movie which also stars Constance Payne, who looks to be one fiery femme fatale with some skills, is coming soon. The new trailer is loaded with enough bullets and fisticuffs to satisfy action cinema faithful so check it out!
Official Synopsis: A female FBI agent holidaying in Eastern Europe with her family gets her life upside down when her daughter is kidnapped. She has to team up with a criminal on the run to save her daughter before time runs out.
Look out for Adrenaline to hit sometime in 2022!
The following films have a definite 2022 release date but of course is subject to change:
January 7th- THE 355
One film that is definitely on my Must See Flix for 2022 is the female centric ass kicking spy thriller The 355 which stars Jessica Chastain and an all-star team of actresses in a new thriller from director Simon Kinberg. Chastain is one actress that can do any genre and I am glad to see her trying her hand at the action-spy thriller.
Starring along with Chastain is the cream of the crop including Lupita Nyong'o as Khadijah, Penelope Cruz as Graciela, Diane Kruger as Marie, and Bingbing Fan as Lin Mi Sheng. Representing the males in the new thriller are Edgar Ramirez and Sebastian Stan.
Simon Kinberg, who directed Dark Phoenix with Chastain, reunites with the actress to direct from a script he also penned.
I was really disappointed by Chastain's other action offering Ava as I felt it didn't know what type of movie it wanted to be but this one looks like it'll make up for it. The Oscar nominated actress is solid in anything that she does and here she definitely looks action ready.
This film is brought to us by the same studio that gave us Jason Bourne so here's hoping the shaky cam doesn't become a factor this time around. From the footage we've seen, the fight choreography looks solid so this one is on my eagerly awaiting to view list.
March 8th- INVINCIBLE
Well, here's a movie I promoted heavily for a couple of years that has yet to come out. I even put it on my 2020 Must See Flix list so it looks like I'll be doing it officially for 2022. Director Daniel Zirilli's long-awaited action-thriller Invincible which pits Johnny Strong against Marko Zaror against each other in a battle royal is finally getting released on DVD on March 8th. I can't tell you how many posts I did for this film in the last few years and now we are finally going to be able to see it.
Official Synopsis: At a secret military site, injured soldier Brock is treated with advanced nanotechnology that turns him into an uncontrollable killing machine. Sent to stop the threat, security agent Cam is badly injured in a battle with Brock. To save his life, Cam must be implanted with the same technology that turned Brock psychotic and invincible. Will Cam gain the power to stop Brock, or will he become a lunatic menace himself? Intense hand-to-hand combat brings this stylish sci-fi action thriller to life.
Starring along with Strong and Zaror are Vladmir Kulich (The Debt Collector, Savage Dog), Paul Kennedy and Sally Kirkland (Best of the Best).
With the home release announcement, expect a trailer at anytime but in the meantime, you can check out an Action Elite exclusive fight clip from the film from Eoin Friel that he put out a while back. The clip shows off a lot so if you don't want to be spoiled then steer clear until release day!
March 4th- THE BATMAN
Warner Bros. is feeling the sting from the release of The Matrix Resurrections as it's getting not so great reviews (I liked it so sue me) so I'm sure they're looking forward to their next big tent pole release with the newest version of Gotham's Caped Crusader. Another new trailer recently dropped for The Batman which is director Matt Reeves' version of the iconic character, and you can check it out directly below! Also, more big news on that the movie will hit the streaming service HBOMAX a lot earlier than first thought.
Official Synopsis: Two years of stalking the streets as the Batman (Robert Pattinson), striking fear into the hearts of criminals, has led Bruce Wayne deep into the shadows of Gotham City. With only a few trusted allies — Alfred Pennyworth (Andy Serkis), Lt. James Gordon (Jeffrey Wright) — amongst the city's corrupt network of officials and high-profile figures, the lone vigilante has established himself as the sole embodiment of vengeance amongst his fellow citizens.
When a killer targets Gotham's elite with a series of sadistic machinations, a trail of cryptic clues sends the World's Greatest Detective on an investigation into the underworld, where he encounters such characters as Selina Kyle/aka Catwoman (Zoë Kravitz), Oswald Cobblepot/aka the Penguin (Colin Farrell), Carmine Falcone (John Turturro), and Edward Nashton/aka the Riddler (Paul Dano). As the evidence begins to lead closer to home and the scale of the perpetrator's plans becomes clear, Batman must forge new relationships, unmask the culprit, and bring justice to the abuse of power and corruption that has long plagued Gotham City.
Starring alongside Robert Pattinson (Tenet, The Lighthouse) as Gotham's famous and infamous cast of characters are Zoë Kravitz (Big Little Lies, Fantastic Beasts: The Crimes of Grindelwald) as Selina Kyle; Paul Dano (Love & Mercy, 12 Years a Slave) as Edward Nashton; Jeffrey Wright (No Time to Die, Westworld) as the GCPD's James Gordon; John Turturro (the Transformers films, The Plot Against America) as Carmine Falcone; Peter Sarsgaard (The Magnificent Seven, Interrogation) as Gotham D.A. Gil Colson; Jayme Lawson(Farewell Amor) as mayoral candidate Bella Reál; with Andy Serkis (the Planet of the Apes films, Black Panther) as Alfred; and Colin Farrell (The Gentlemen, Fantastic Beasts and Where to Find Them) as Oswald Cobblepot.
I'm not gonna lie, I'm pretty excited for this version and once again when Pattinson was first announced, I didn't jump ship like so many did. I always wait til I see the product and this looks pretty bad ass for a Batman flick.
The Batman hits theaters exclusively on March 4th! If you won't be able to catch the Dark Knight on the big screen, then you're in luck as the film will hit HBOMAX for all subscribers on April 19, 2022.
March 18th- OPERATION FORTUNE: RUSE DE GUERRE
Director Guy Ritchie and Jason Statham reunite and are bringing an epic sense of adventure to the proceedings. Ivan Atkinson and Marn Davies (The Gentlemen, Wrath of Man) penned the script and if it's anything like Statham and Ritchie's last film Wrath of Man, this one will surely deliver the action goods. It definitely looks lighter in tone than their previous collaboration but is still looks like it delivers signature Statham action set pieces with that Guy Ritchie flair.
Official Synopsis: Super spy Orson Fortune (Jason Statham) must track down and stop the sale of a deadly new weapons technology wielded by billionaire arms broker Greg Simmonds (Hugh Grant). Reluctantly teamed with some of the world's best operatives (Aubrey Plaza, Cary Elwes, Bugzy Malone), Fortune and his crew recruit Hollywood's biggest movie star Danny Francesco (Josh Hartnett) to help them on their globe-trotting undercover mission to save the world.
April 1st- THE CONTRACTOR
The Contractor, which was originally called Violence of Action, was at first set to release on March 18, 2022, but has been switched to April 1, 2022. The movie stars Chris Pine as well as Ben Foster and Jack Bauer himself Keifer Sutherland.
Official Synopsis: The Contractor centers on James Harper (Pine), who is involuntarily discharged from the U.S. Special Forces, then joining a private contracting organization alongside his best friend (Foster) and under the command of a fellow veteran (Kiefer Sutherland) in order to support his family. Overseas on a covert mission, Harper must evade those trying to kill him while making his way back home.
April 22nd- THE NORTHMAN
For those of you starving for some seriously bloody and brutal Viking action, we've got you covered with the release of the new trailer for The Northman which hails from director Robert Eggers. Alexander Skarsgård stars in the movie as a Viking warrior who unleashes some pretty intense carnage when his father, played by Ethan Hawke, is brutally murdered.
The Northman is based on a Scandanavian legend that inspired Shakespeare's Hamlet and also boasts an all-star cast including Nicole Kidman, Willem Dafoe and Anya Taylor-Joy. Eggers also co-wrote the script along with Icelandic poet and novelist Sjón. 
 Skarsgård is in fantastic shape here as he plays a Viking prince who is exiled after his father is killed leading him to go on one massive quest of vengeance that features enough blood and dismemberment to satisfy all bloodthirsty crowds. There's no denying the Schwarzenegger's Conan the Barbarian vibe with this one and it certainly looks like it won't shy away from showcasing the violent set pieces so if you're squeamish at all, you'd probably do yourself a favor and boycott this one. As for me, this one's right in my wheelhouse.
July 15th- BULLET TRAIN
Sony Pictures has officially set a new summer 2022 launch date for its star-studded action-thriller Bullet Train which hails from John Wick alum and stunt pro turned filmmaker David Leitch. Brad Pitt leads the cast in what is sure to be a rollicking and action drenched, stunt filled bonanza.
Bullet Train will hit theaters on July 15th of next year and the film is centered on a group of assassins who converge on a train to Tokyo. The sh?t hits the fan of course as the rogue's gallery all have different and conflicting reasons as to why they are on the train. The body count will then start to rise in spectacular fashion.
Joining Pitt is a robust cast that features Aaron Taylor-Johnson, Andrew Koji, Joey King, Brian Tyree Henry, Michael Shannon, Hiroyuki Sanada, Benito A. Martinez Ocasio, and Sandra Bullock. An impressive ensemble indeed and one that just might bring audiences out to see it.
Leitch also produced via his 87North production banner along with Kelly McCormick as well as Antoine Fuqua (The Magnificent Seven, Training Day, The Equalizer) and Kat Samick (The Equalizer, Southpaw, Infinite). Zak Olkewicz (Fear Street) penned the screenplay.
With Leitch at the helm and 87Eleven developing the action set pieces, this one remains high on my list for must see movies in 2022. First look footage cannot come fast enough.
Other note worth blockbuster films hitting in 2022 include
May 27th- TOP GUN MAVERICK
Official Synopsis: After more than thirty years of service as one of the Navy's top aviators, Pete "Maverick" Mitchell (Tom Cruise) is where he belongs, pushing the envelope as a courageous test pilot and dodging the advancement in rank that would ground him. When he finds himself training a detachment of Top Gun graduates for a specialized mission the likes of which no living pilot has ever seen, Maverick encounters Lt. Bradley Bradshaw (Miles Teller), call sign: "Rooster," the son of Maverick's late friend and Radar Intercept Officer Lt. Nick Bradshaw, aka "Goose".
Facing an uncertain future and confronting the ghosts of his past, Maverick is drawn into a confrontation with his own deepest fears, culminating in a mission that demands the ultimate sacrifice from those who will be chosen to fly it.
July 29th- BLACK ADAM
Dwayne The Rock Johnson makes his long-awaited debut as Black Adam, who is a popular DC character who was once the archenemy of Shazam! who was first known as Captain Marvel. Adam was an Egyptian prince who was selected by the wizard Shazam! To continue on as his champion. The ultimate power corrupted him however and he became evil until later on in the comics he was turned into more of an anti-hero.
Black Adam is helmed by Jaume Collet-Serra and the movie also stars Noah Centineo, Aldis Hodge, Quintessa Swindell, Marwan Kenzari, and Sarah Shai.
To round out my list of worthwhile films for 2022 we have Morbius hitting theaters on January 28th, Uncharted on February 18th, Dr. Strange and the Multiverse of Madness dropping on May 6th, Thor: Love and Thunder on July 8th, The Samaratin with Sylvester Stallone on August 26th, Tom Cruise in Mission: Impossible 7 on September 30th, the highly anticipated The Flash hitting on November 4th and Jason Momoa returning in Aquaman and the Lost Kingdom arriving next holiday season on December 16th!
Of course, the release of action films is always in flux so I'll make sure to update my list as more titles are announced and will share release dates for some of the above when they are available.
Until then, here's to a kick ass 2022 and keep it locked and loaded right here as we are your destination for everything action!!!!