(Original Publication Date: May 20th, 2018) By: John M jerva
As I reprint a lot of my past interviews and reviews from my old site onto the new and improved one, I have been skimming through almost five years worth of work and it is always funny to see articles about things that never came to be. Can you say Deathstroke movie? One article that I posted back in May of 2018 was when director Dimitri Logothetis released a teaser for the the third and final film in the Kickboxer franchise. Titled Kickboxer: Armageddon, the movie promises a more brutal and savage Kurt Slaon, played by Alain Moussi.
The teaser doesn't show anything new since the film hasn't been filmed yet as Moussi and Logothetis have chosen to make the sci-fi action epic Jiu Jitsu first which is in production as we speak but I thought it would be fun to repost this article and get hyped up for the last installment in the franchise. We do get to see Moussi as Sloan in the teaser and he looks completely bad ass and in my interview with the action star, he mentioned how Sloan will go through a lot of changes in the upcoming sequel. So check out the old article below and lets hope we get the third film sooner rather than later!
(Original Article) There is no denying that the second film in the new Kickboxer reboot trilogy titled Kickboxer: Retaliation was a rousing success with critics and audiences alike. Action star and martial arts sensation Alain Moussi has definitely brought the 80's fun back into the mainstream martial arts genre and the third and final film in the trilogy, Kickboxer: Armageddon, is amping up production as we speak. Director Dimitri Logotheis, who helmed the second film, is back in the director's chair once again and this time, we are promised a more dark and savage Kurt Sloan for the final battle. The new teaser primarily showcases scenes from the first two films but we do get a glimpse of Moussi's new look for the film and it is lethal to say the least. Check it out below along with what Moussi had to say in our exclusive interview!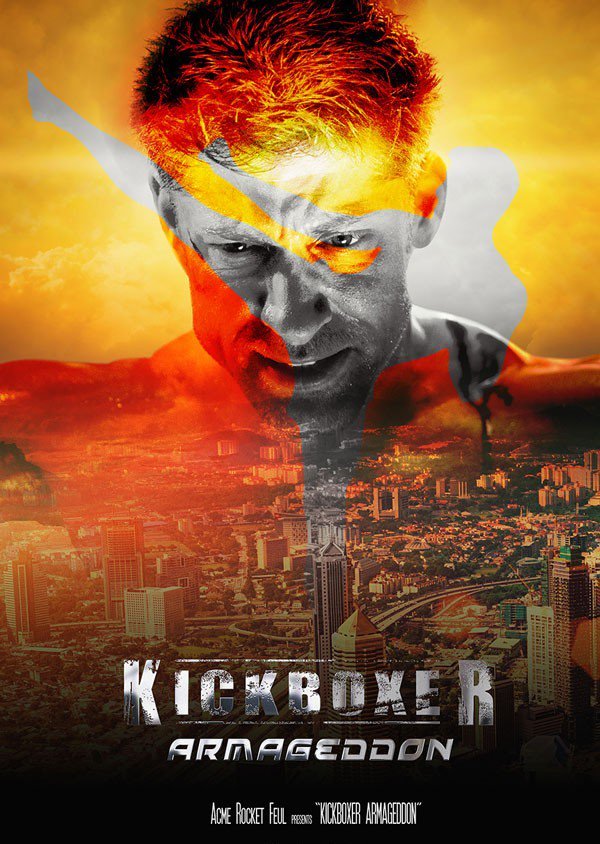 The plot for the third film is still a mystery but I had the distinct honor of interviewing Alain for Kickboxer: Retaliation and here is what he had to say about Armagedon: "I have to tell you right now from reading the first draft of the script, this is by far the best script I've read for all three Kickboxer films just from the starting point. It amps up the action, it amps up the character which is really cool. Kurt Sloan's journey is really interesting and it's kind of like my journey as an actor because I still consider myself a total rookie. I'm learning as an actor all the time and I'm constantly training so I feel like the character is evolving like my evolution as an actor. The first film didn't ask much of me in terms of performance. Dimitri told me that he wanted me to be as natural as possible. He said that he wanted to get as much of me into this role. Now with the second film, there's a little more trauma. He's thrown into jail in Thailand and there is more going on there. For me because of my experience and training, I can deliver more in the second film. Now in the third film, Kurt Sloan has to go deeper and darker. That's where he is going right now and bad things happen and instead of being pulled into this world, he decides to go back into that world to put an end to it so that's where the story is going. He's going into a very dark place because he needs to put an end to all that has been done to him. I can't tell exactly what it is (laughs) but that's where the story is headed. He's going on a rampage from one person to the next to find the people responsible and put an end to it. That's why the look I have now is completely different. I've been growing my hair out and the beard and that's all for Kickboxer 3. This movie is going to a totally different place than the last two which is great."
Moussi then talked about what we can expect from the action for the third film: "Now in terms of action, we know the things that our audience loves so we just want to deliver more and better versions of it and that is what we are working on now. In terms of a oner like we talked about earlier, you are going to see a crazy, amped up oner in this movie. In terms of the end fight and the stakes, we are going totally bonkers with that and it is going to be great. As you know in a trilogy, when you get to the third film, you often revisit things about the first and that definitely happens in this film in a great way. I think story wise, Kurt is going full circle and it's going to please the audience. Our goal like I said was to top the last film and to top ourselves and that is what we are doing again with the third film. We want to top what we did in Vengeance and Retaliation but not with making the mistake of just putting everything on steroids. We want to make a cooler and newer version of what we did in the second film."  For my full interview with Alain, click here!
So far, the only other cast members are Steven Swadling who plays the role of Joseph King and Tom Walker who plays Gordo. 
Check out the new teaser trailer below courtesy of Mr. Logothetis himself and prepare yourself for a more savage Kurt Sloan! Once more info comes down on the new film, we will have it for you!