(Original Publication Date: May 10th, 2019) By John M Jerva
This week alone has brought us numerous Scott Adkins news with the announcement that his latest thriller LEGACY OF LIES is now in production. To top it off, Adkins hit the news wire again with the huge announcement that he will again be working with his UNDISPUTED series director Isaac Florentine for a new MMA thriller titled STRAPPED. Adkins is the hardest working action star in the business right now and we have a brand new poster debut for his other project with Florentine named SEIZED which is currently in post-production. Adkins is center stage on the one sheet along with his co-star Mario Van Peebles so check it out in all its explosive glory below courtesy of IMDb!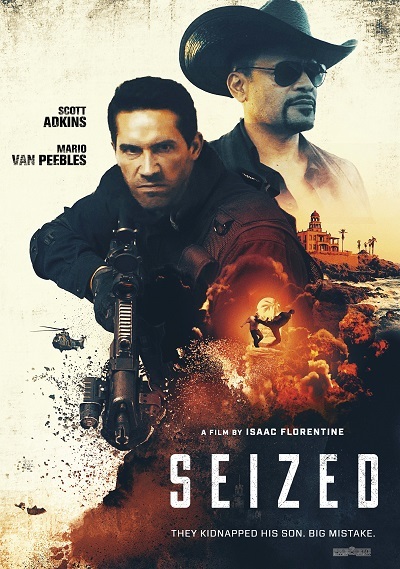 In SEIZED, Adkins plays Carl Rizk, an ex-covert operative who's moved to a small quiet town in Oregon to raise his son and daughter gets awakened by a phone call and message from a modulated voice telling him that both his children have been kidnapped and buried alive with just enough air to survive for the next 5 hours. In order to ever see his children alive again, RIZK has to take on three distinct groups of highly-skilled criminals and kill each and every one of them. But he has to work alone and face increasing obstacles and levels of weaponry to uncover the identity of the man behind the macabre plot. The clock is ticking and RIZK can't waste any time or make any mistakes or he will lose his family forever.
Adkins has had a busy year with appearances in Triple Threat and most recently the critically acclaimed Avengement and the off the wall sci-fi actioner Abduction. Add in THE INTERGALACTIC ADVENTURES OF MAX CLOUD and IP MAN 4 with Donnie Yen, fans of the international action phenom have much cause for celebration. 
Adkins and Florentine have been dishing out explosive action ever since they first collaborated with 2003's SPECIAL FORCES which pretty much introduced Adkins to the world. They have also brought us the action classics UNDISPUTED 2: LAST MAN STANDING, UNDISPUTED 3: REDEMPTION, BOYKA: UNDISPUTED as well as NINJA and NINJA 2: SHADOW OF A TEAR. Some of Adkins' best action on the screen has been with Florentine and it will no doubt continue with SEIZED. 
Hopefully, we get our first look teaser for this one soon as Adkins will surely have have his signature fisticuffs in full effect! Stay tuned!