(Original Publication Date: January 18th, 2018)
REVIEW: ACCIDENT MAN
Starring: Scott Adkins, Ashley Greene, Michael Jai White, Amy Johnston, Ray Park, Ray Stevenson, David Paymer, Nick Moran, Perry Benson, Ross O'Hennessy, Roger Yuan, Lee Charles, Tim Man, Brooke Johnston, Leon Finnan
Directed By: Jesse V. Johnson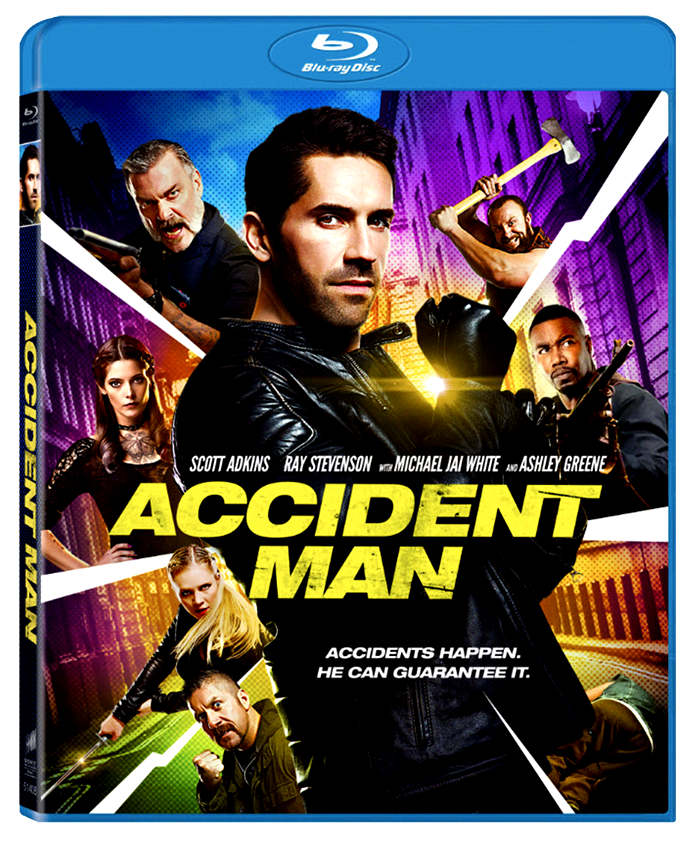 Official Synopsis: Mike Fallon (Scott Adkins), the Accident Man, is a stone cold killer, whose methodical hits, baffle the police and delight his clients, he is the best at what he does. But when a loved one is dragged into the London underworld and murdered by his own crew, Fallon is forced to rip apart the life he knew in order to hold those accountable and avenge the one person who actually meant something to him.
The Review: If you follow my website then you know that I have been saying that 2018 is going to be the year for action star Scott Adkins. The man just might be the busiest man working in the industry right now and we will have a bevy of titles from him to feast our eyes at. While everyone thought that his epic action ensemble Triple Threat would be the first to get a release, it is actually Accident Man that hits the mass of fans first when it releases on Blu-Ray, DVD and Digital on February 6th. Being one who runs an action website, I was blessed to see the film early for review purposes and let me just say that I will be purchasing the film on the first day it is released! It will make a great addition to your Scott Adkins collection!
The film comes to us from a now defunct British underground comic book called Toxic! From creator Pat Mills that didn't last very long but it lasted just long enough to make an impact on fans in the UK. One of those fans was action star Scott Adkins who was probably the comic's most loyal supporter and he made it his life's mission to bring the character of Mike Fallon to the big screen. This was Scott's passion project and let me just say that it is yet another fine example of how this action star should be headlining roles in big budget action films for all to see on a hot summer day. From watching the movie, you can tell that Adkins loves the source material and wanted to do his best bringing it to life. Mission accomplished!!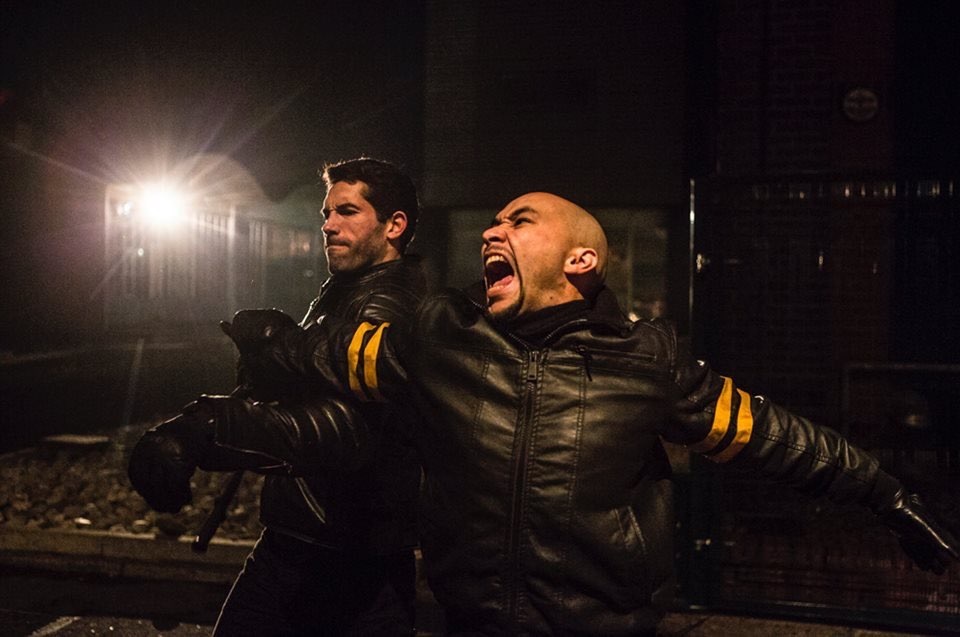 Adkins stars as the titular hero Mike Fallon, who is called the Accident Man because he is an elite assassin who is an expert at making all his hits look like accidents. When Fallon takes down a mark, you will never know that he was the cause of it. When Fallon's ex-girlfriend (who just happened to turn lesbian and was also pregnant with his child) is murdered by one of his assassin cohorts, Fallon embarks on a kill mission of revenge to find the person or persons responsible for the wrong doing. It is here that the film strike's action gold. Just like Mike Fallon, Adkins is the elite of the elite when it come to starring in action films. He has the presence, the moves and acting chops to carry any film whether its action or drama but when it does come to action, Adkins has no equal. I gave him the nickname The Human Highlight Reel for a reason. The man just makes your jaw drop every time he unleashes his skills.
We have a crew of unusual suspects to say the least in the likes of Mic and Mac played by martial arts and action stars Michael Jai White and Ray Park, who are two former special ops soldiers now "super charged soldiers of fortune," a huge mountain of a man named Carnage Cliff who has some anger management issues and a big ax played by Ross O'Hennessy and one very bad ass lady who is very good at wielding a katana sword played by up and coming female action star Amy Johnston. She plays the role of Jane The Ripper who Fallon affectionately calls a "right nasty bitch." To say that this is an eclectic band of merry assassins would be a severe understatement. Fallon is going to kick first and ask questions later as he sets out to punish everyone. It is truly a great action ensemble that they have put together here.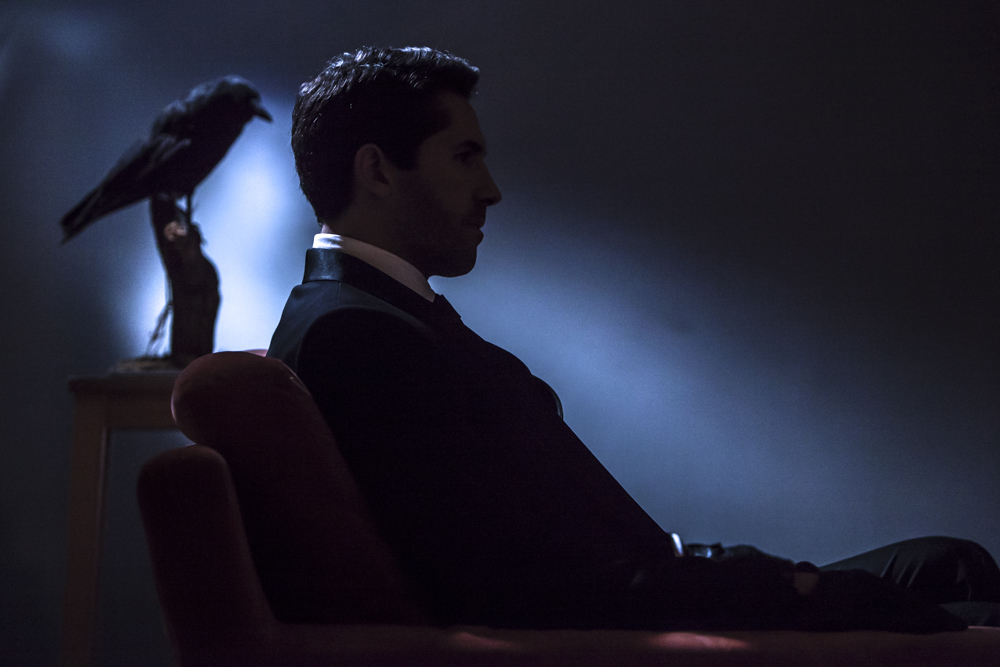 Ray Stevenson (best known to genre fans for his role as Frank Castle in Punisher: War Zone) is great again as a former hitman turned bar owner named perfectly Big Ray who owns an establishment called the Oasis where the best of the worst assassins can come to drink, play darts and find their next assignment. Think of it as a low brow Continental like you would see in the John Wick films. Big Ray has his own rules too which include no killing, no spitting (that's my favorite) and no beating up on Milton (David Paymer) who is the smarmy accountant like snake who assigns the crew their missions.
It is Fallon's search for the culprit where the deliriously enjoyable action takes place and if you came for action then you came to the right place. Accident Man is loaded with non-stop brutal fight scenes that come to us from the great mind of Tim Man, who has choreographed many of Adkins' films in the past such as Ninja 2 and Boyka: Undisputed and just like those films, Man gets in on the action again as he plays a Triad biker who engages in some rather awesome fisticuffs with Adkins. One of the true highlights of this free for all is a glorious two on one encounter where Adkins takes on Michael Jai White and Ray Park. Just like the two on one scene in Boyka, this fight delivers the brutal action that fans crave. To see all three of these great martial artists in one scene is truly like waking up to a load of presents under the tree on Christmas morning. It's that good people! In every fight scene, you can literally feel the impact of each blow!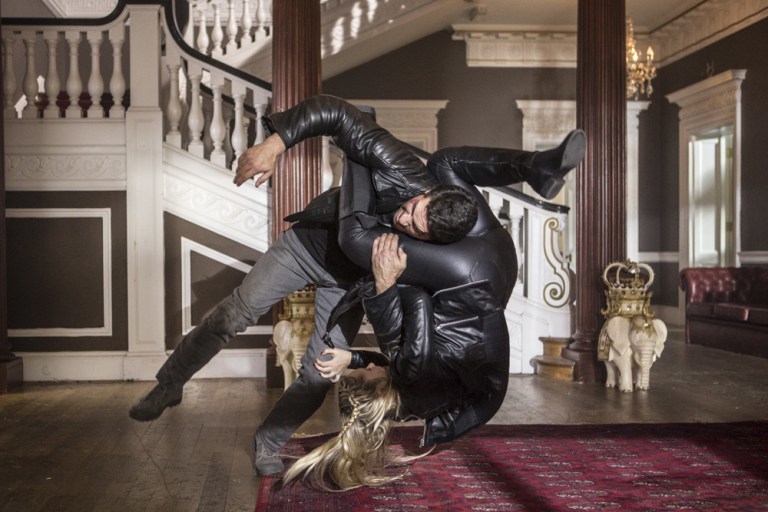 The finale is nothing short of a classic in action cinema and it erupts into a great throwdown between Adkins and Amy Johnston. Johnston, best known for her breakout role in Lady Bloodfight, delivers probably her greatest performance in her short career as a lead. Even though she is a supporting player, she handles herself with the boys just fine and shows them that women can bring it when it comes to furiously filmed fight scenes. The fight goes from hand to hand to weapons and even though Johnston is smaller in stature, she brings the pain just the same and the two trade some brutal and effective blows during the onslaught.
This is the second film that teams Adkins up with veteran stuntman turned director Jesse V. Johnson and this is truly a match made in action genre heaven. Just like in their first collaboration last year, Savage Dog, Johnson has crafted a spectacular brutal and bloody show for the fans and it is proof that stuntmen know how to film action. They just get it and with Johnson, it is no exception. There is no wild editing and choppy confusion but only wonderfully paced and clearly visible carnage. Triple thumbs up from me once again! I hope that Adkins and Johnson continue to make beautiful bloody action together for years to come. And it makes me want to see their next offerings, Triple Threat and The Debt Collector even more and I REALLY wanted to see them even before I saw this film!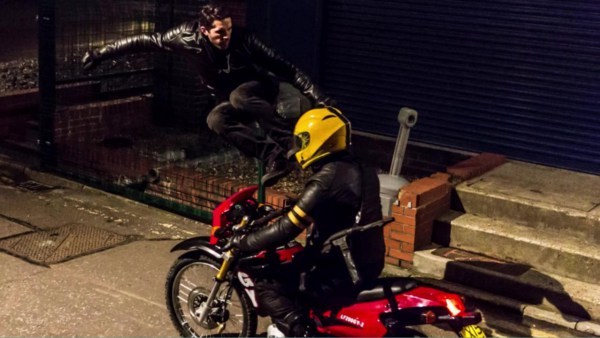 It is also important to point out that Adkins not only stars in the movie but he co-wrote the script with Stu Smalls and produced it as well. Just like his action scenes, Mr. Adkins has put together some great dialogue that even though it's not for the kiddies, it's humorous and sharp at the same time. The man can truly do it all! Some of the British slang may throw some viewers off but it just adds to the chaotic charm and feel of the whole movie.
With Accident Man, Scott Adkins has truly emerged as the go to guy in action cinema and drama for that matter. First known for his exhilarating martial arts prowess, he is showing us that he is truly so much more. This might be his crowning achievement in a career that is surely going to continue for years to come. This is a film that deserves to be played on the big screen right next to Deadpool and in a year when we have other larger comic book films like Avengers: Infinity War and Black Panther coming out, Scott Adkins' Accident Man might just be the best of the best and the film which might set the standard for future comic book inspired pictures. Accident Man shows us what we already knew, that Scott Adkins is a bona fide superstar. The year of Scott Adkins has officially started!
VERDICT: ACTION-FLIX APPROVED!!!!!