By: The Arty Dans
Donnie Yen. Could there be a more well-known and exciting Asian action star at this moment?
Some know him as IP Man, others as the Iron Monkey. He has been a tough cop, a super hero, a vampire hunter, Sun Wukong, part of the xXx and Star Wars universes.
And he has worked with the best action directors out there. So as we prepare for his next and unfortunately final collaboration with legendary Hong Kong director Benny Chan in the upcoming action thriller Raging Fire, also reuniting Yen with Nicholas Tse, we're going to take a look at his last five movies.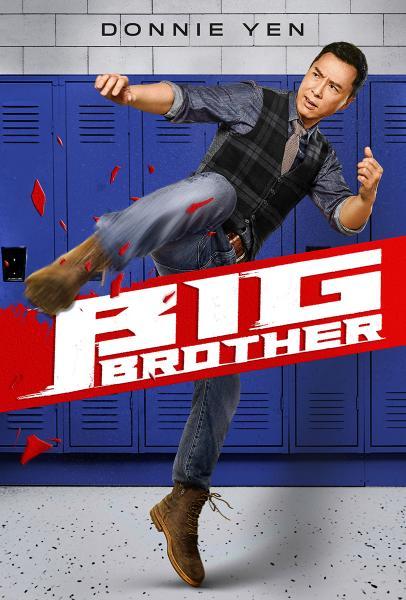 OFFICIAL SYNOPSIS: Martial arts legend Donnie Yen stars as a former soldier recruited for his toughest mission yet – teaching a class of teen delinquents. As he kicks his way into their school and home lives, it becomes clear that his unconventional teaching style might be just what they need.
A teacher, with a mysterious past, gets a job at a Hong Kong high school teaching a class of students that the school has turned their backs on. After five of the students are threatened with expulsion after a fight, the teacher gets involved in each student's life, turning their lives around and helping them discover a passion for learning.
Donnie Yen plays the teacher with the mysterious past in this drama film with action scenes. Yes, this isn't a pure action film, but the action scenes that are there are well crafted and enthralling to keep your attention, thanks to the action direction by Kenji Tanigaki, who later went on to direct Yen in Enter The Fat Dragon, with Ka-Wai Kam, assistant director on previous Yen movies, taking the helm of this one and doing a fantastic job.
Part Dangerous Minds, Part Dead Poets Society and Part Donnie Yen's usual good-guy persona, this movie is very saccharine and feel-good in nature. Plot holes are quickly patched over in this rather pacey movie, and while its full of cliches and stay-in-school propaganda, it's still a hell of a lot of fun, and the fight scene with the MMA crew in the locker room is one of the more energetic fights you've seen Yen feature in in a while.
John at Action-Flix rates this movie 3.5 stars out of 5, and I give this movie a huge thumbs up. Yen's infectious smile and high-impact stunts blend in perfectly with the traditional Asian school drama theme.
An elite guard of the emperor is frozen and awakes, unthaws, 400 years into the future in modern day Beijing. With the help of an orb, he is able to travel in time to change the past in the hopes of saving his family, his village and his emperor.
Let's be really honest, the first movie from 2014 was utter rubbish. Set in Hong Kong, it was a strange mix of humour involving a deadly warrior time travelling into the future and being confused about modern tech. This sequel seems to have a very similar storyline and quite frankly is not something I am even remotely interested in watching. User scores online have commented this is one of the worst Yen movies ever made, and considering how bad the first Iceman is, this must be an utter shocker that not even the most die hard of Yen fans would sit through.
John at Action-Flix rates this movie 2 stars out of 5, and since this movie is unseen for me, I will withhold any rating, but quite frankly I can't see this being anything other than a massive thumbs down.
Official Synopsis: Ip Man's life remains unchanged after his wife's death, but he and his son are slowly drifting apart. To seek a better future for his son, Ip Man decides to travel to the U.S. only to find the stable, peaceful life abroad is only skin deep. Underneath lies a deep rooted racial discrimination that is far worse than he has expected. Ip Man re-examines his position and ponders on the reason he took up martial arts in the beginning.
In this fourth and final part of the mainline Ip Man movie franchise, the Grandmaster himself travels to the US to find a school for his wayward son, and while he is there he catches up with a student who has managed to upset the local Chinese community by opening up a Wing Chun school and showing off the technique in action movies. That student is none other than Bruce Lee, and Ip Man gets mixed up with the issues surrounding the community in the face of discrimination and racism from the locals.
Going out on a whimper instead of the big bang that we all hoped, this fourth instalment isn't as action packed or exciting as the three mainline movies beforehand. While Yen is terrific as always, but there are moments where it feels like he would rather be elsewhere, probably on the set of Raging Fire, with some rather lacklustre and short fight scenes. Scott Adkins, playing Barton Geddes, is his usual excellent self and alongside Chris Collins they elevate the rather weak acting of the movie to bearable levels, but that's not saying much when their characters are still very one-dimensional, as seems to be the norm with Ip Man villains. While some people enjoyed the exciting, if rather limited action, others lament the demise of the great franchise and heavy handed racism themes that permeate through the whole film.
John at Action-Flix rates this movie highly, with 4.5 stars out of 5. I was lucky enough to watch this on opening day in China, and the reception at the time was positive. And I did enjoy it, but I haven't been able to bring myself to watch it again. My opinion on this is borderline, and I am not sure I can recommend it to anyone other than die-hard fans.
Official Synopsis: Sent to Japan on a routine police escort, Officer Zhu is excited to have the chance to requalify for full time duty as a police officer. However, after a series of mishaps, the mission goes terribly wrong and the suspect Officer Zhu is escorting suffers a mysterious death. Zhu enlists the help of wok-wielding restaurant owner and a former undercover inspector to solve this murder mystery in the new best action comedy movie from martial arts superstar Donnie Yen.
Fallon Zhu is going through a bit of a rough patch! He causes more damage catching criminals than it's worth, his girlfriend dumps him and his demotion at work has resulted in an enormous weight gain! Enter a special mission that should put his career back on track, and all he needs to do is escort a wanted criminal back to Japan. But things turn south in Japan when Zhu realises the police are corrupt and his ex-girlfriend is in danger.
The 1978 Sammo Hung original is one of the funniest and most creative martial arts movies from Hong Kong. So it was with much excitement when this part remake, part reimagining was announced, and with Yen in the starring role, it was assumed this would be a modern kung fu classic. But some poor direction outside of the 
action scenes, the reliance on wirework and the general silly tone of the film relegates this title to one of Yen's more weaker works. And releasing just at the beginning of the pandemic in 2020 didn't help its Box Office success either, with this movie skipping a cinematic release in almost every country other than Hong Kong and a few South East Asian territories, and releasing straight to video on demand, this movie flew under the radar of the key audience that probably would have enjoyed it the most.
John at Action-Flix gives this movie 3.5 stars out of 5. I was very disappointed with this title, considering how much I loved the Sammo Hung original and award this a thumbs down. 
Official Synopsis: When the Emperor of China issues a decree that one man per family must serve in the Imperial Chinese Army to defend the country from Huns, Hua Mulan, the eldest daughter of an honored warrior, steps in to take the place of her ailing father. She is spirited, determined and quick on her feet. Disguised as a man by the name of Hua Jun, she is tested every step of the way and must harness her innermost strength and embrace her true potential.
When a teenage girl discovers that her father will be forced to join the war efforts due to his lack of a male heir, she takes his sword and armour and dresses up as a man to enlist under the family name. Proving her smarts of the battlefield, she is promoted and given more responsibility in the war efforts, while trying desperately in vein in keep her identity under wraps.
Mired in controversy from the outset, this 2020 remake of the classic tale of Mulan frustratingly make more changes to the story than needed. With a massive Chinese cast including Liu Yifei as Mulan, Gong Li as Xianniang, Jet Li as the Emperor and Donnie Yen as the commander, audiences were left bemused why a predominately Asian speaking cast was forced to speak in English for the entire film. Yen's role as the Commander comes off the heels of his part in Star Wars for US Audiences, providing a sense of familiarity against the rather unknown, in the US anyway, Liu Yifei.
However, with all the negativity surrounding this film, it will be decades before the true impression of this film amongst movie lovers will be settled, until then John at Action-Flix gave this movie 3.5 stars out of 5, while my impression of this film was that it was a rather entertaining, if pointless, remake of a story that's been done to death countless times. China produces around 3-5 Mulan based movies and TV shows per year, and the only thing this movie has going for it is the budget of a studio like Disney. But that doesn't make it a must watch.
There's quite a few more Donnie Yen movies set it come out shortly after the release of Raging Fire including The Monkey King: The Legend Begins and New Kung Fu Cult Master.
Stay tuned here for more news and reviews on these and more Asian action films. Check back in the future as we will cover it all from the world of Asian Action Cinema.