By: John M Jerva
I think I speak for all comic book enthusiasts out there when I say that Zack Snyder's Justice League cannot come fast enough as with each and every new article about the highly anticipated redo on the film is welcome. This week saw the surprise news that Jared Leto was setting up to reprise his version of The Joker as Warner Bros. is shelling out $70 million for Snyder to do reshoots and even more additional scenes to the already 4 hour long mini-series that is going to launch on HBO Max next year. This was surprising in that Leto was very vocal in how his interpretation of the Clown Prince of Crime was handeled in Suicide Squad but like many, he probably saw what Warner Bros. is trying to do and wanted another shot at it.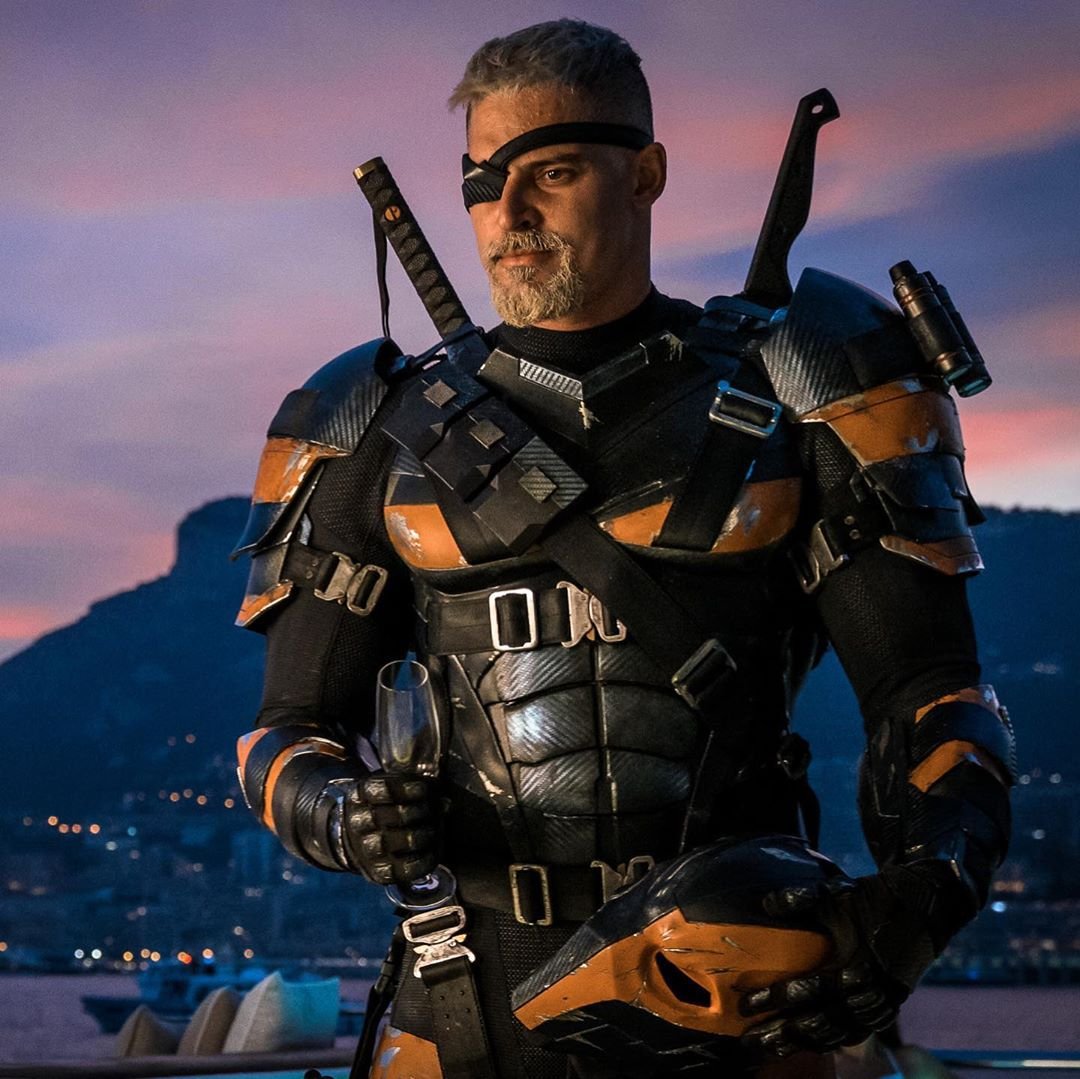 Now comes the awesome word from Collider that the one man we all wanted to see suit up again will indeed supposedly get the chance as Joe Manganiello is reportedly reprising his role of Slade Wilson AKA Deathstroke. Manganiello was featured albiet briefly in the end stinger scene of the original Justice League but that was all she wrote. It was first reported years back that Manganiello's Deathstroke was supposed to have a heavy duty role in Ben Affleck's Batman before all that was scrapped in favor of director Matt Reeves' film which stars Robert Pattinson. I, for one, was devastated when I learned that Deathstroke was no longer happening but now it appears that we will get our wish.
Now it's important to remember that nothing has been officially announced by Snyder or Warner Bros. but Manganiello was seen recently sporting his Slade Wilson hair style so it looks like he will be part of the massive reshoots that Snyder is doing. You can see the pic of Manganiello rocking the golden locks below!
As you can see from the above pic, either Manganiello is feeling nostalgic for the look he had as Deathstroke or he's in fact reprising the role in the reshoots. We can only hope that this will become reality and that Deathstroke will be able to kick all kinds of ass on the screen. An animated Deathstroke film debuted a few months ago and while that film was good, I believe that the live action version with Manganiello in the iconic suit will be even better.
In the article, Manganiello was cryptic in whether or not he's returning as the actor stated,  "If I was a part of it, that wouldn't be my place to announce that. That would be Zack's place. So, whether or not that's happening, that is an answer that is below my NDA level, or whatever you wanna call it." By that answer, I fell that Manganiello is saying basically yes I'm back but it's not my place to say. Fingers crossed people, fingers crossed.
Manganiello also spoke in the past of a different end scene that was originally supposed to happen instead of the one where he meets Jesse Eisenberg's Lex Luthor on the yacht where he talks about forming the Legion Of Doom. There has been speculation that the original scene was an epic battle between Deathstroke and Batman. These reshoots may be what they are doing in that regard or there may also be additional footage that was initially shot that ended up on the cutting room floor. Only time will tell but Zack Snyder's version is a reality and we only have to wait until next year to see it. Watch the teaser that was released at DC Fandome once again below if you're feeling the urge.
Manganiello is set to be seen this Winter in his own dark superhero flick called Archenemy which will be released on Digital, VOD and select theaters on December 11th so while we wait for 2021, at least we can see Joe light it up on screen in this adrenaline looking good time.
This is one hell of a developing story so stay tuned and keep it locked and loaded right here as we are your destination for everything action!