Above: Action star Ron Smoorenbug who plays Steiner with his TRIPLE THREAT co-star Iko Uwais
(Original Publication Date: March 10th, 2019) By: John M Jerva
What's up Action-Flix Fanatics?! We are just over a week away from the premiere of the highly anticipated action event of the year as TRIPLE THREAT will officially hit theaters for its one night only assault on theaters nationwide and our extensive coverage of the film continues with an exclusive interview with action star and martial artist Ron Smoorenburg who plays Steiner in the film! Smoorenburg is no stranger to taking on the best in the business as he has throwdown with the likes of Jackie Chan, Scott Adkins and Tony Jaa to just name a few. TRIPLE THREAT is ready to blow the doors off of action cinema! 
In this exclusive chat with Action-Flix, Ron not only talks about the new film, what it was like to star with such heavy hitters in action cinema and taking on the best but he also talks about his experiences and getting started in the martial arts and film industry and more in this interview you will only see here!
Exclusive Ron Smoorenburg Action-Flix.Com Shout Out!
Without further ado, here is the TRIPLE THREAT Interview with Steiner himself, Ron Smoorenburg!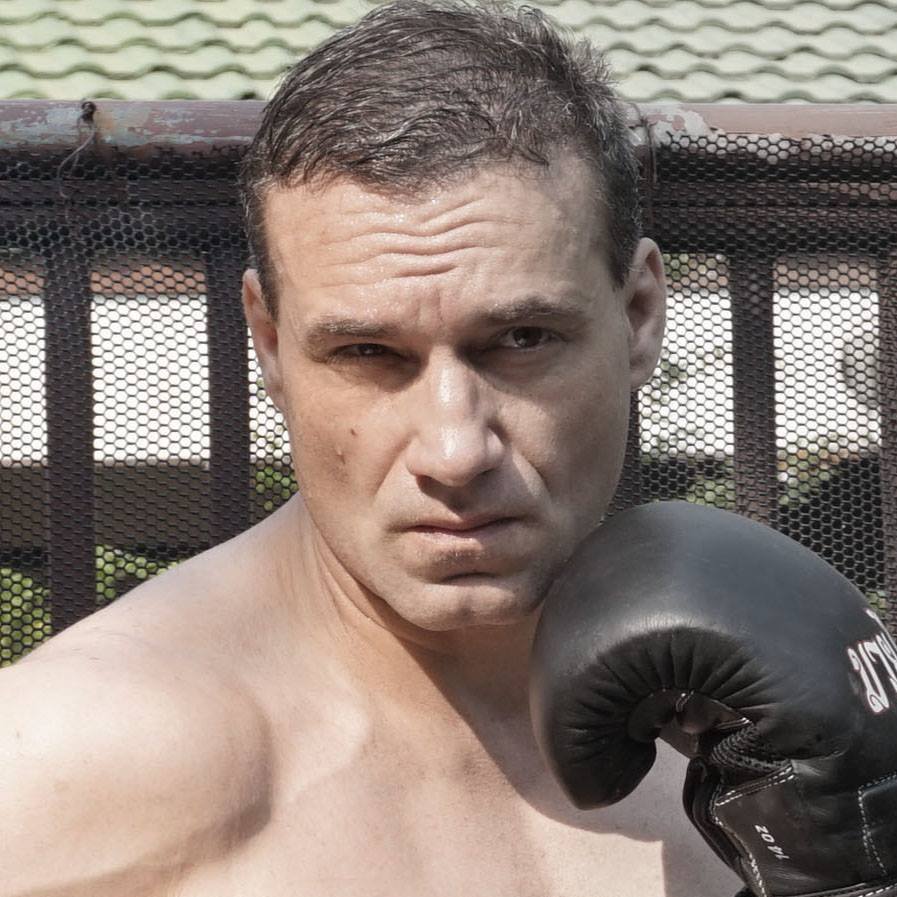 1) Hi Ron! Thanks for taking the time to chat! Before we talk Triple Threat, tell us how you got started in the martial arts? Was it something you always wanted to do?

I have been so lucky that I've experienced the 80's, a period in which we had real martial art movies with passion, movies which made you jump out of your chair and start training. When I was 11 years old I saw Karate kid at a kids party. It had a powerful impact on me. I was skinny and shy and this kid learned to fight.

Karate was mysterious, I studied Karate books and I started with Kyokushin Karate in The Netherlands, in a dojo which was actually a famous boxing school with the atmosphere of Rocky 4 and No retreat No Surrender with Van Damme. It was exactly in this period that these movies came out so it was just full on. We were watching these VHS Cassettes till there was no sound anymore. I had a partner which was very competitive so we kept each other so sharp, it was a good thing. Then I started to practice Free Fight as we all loved Bloodsport and the Kumite. I was lucky to have had amazing teachers in this who were very tough on me, and made me all round as it was a mix of many martial arts.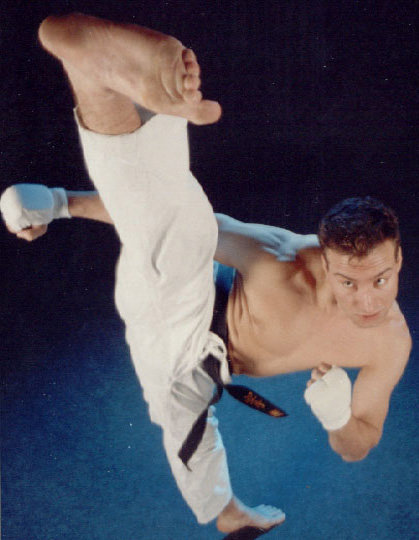 Ron showing his tremendous flexibility in executing an awesome side kick!
2) How did you become involved in making action movies? What has been the biggest highlight for you?

I always wanted to play in action movies and wasn't shy about telling people about my dream, but mostly they said I was a dreamer and I also was a boring guy who never went out to clubs. Just after I got the record highest kick (11 feet) on Duch TV, Jackie Chan came to Holland to shoot 'Who am I?'. I managed to become an extra on the set and gave Jackie's team a video tape of all the martial art demo's I did, as I always made movie fights and forms on music with my partner to perform on events. During a lunch break, Jackie Saw this tape and asked me to audition straight in front of his team.

They decided to give me the end fight of the movie with him. The Fight with Jackie Chan got a HK Oscar for the best fight scene of 1998. It was a highlight for me but there was also a downside. I also Lost my 5-year relationship with my girlfriend, my job and my best friend and I was buried in the press straight after the movie release with a documentary 'Jackie Chan: My Stunts' in which it was shown that it wasn't easy to keep up with Jackie's Rhythm.


Professionals in the business can tell that fighting Jackie would be hard for everyone even people who are in the stunt business for years. But a normal audience doesn't know that. Jackie is absolutely one of the best teachers you can ever imagine and also one of the most demanding.

Jackie showed me the last edit while he still was in the Hotel in Rotterdam, Holland, during the shoot and he was actually very happy with it. He said that I could be very big in the action industry if I had more experience. I made myself a big challenge which was to fight every action actor possible to get as much experience as I can and to never let this happen again.

I saved money and went to Hong Kong to escape the trap of daily life and try to live the adventure and action life.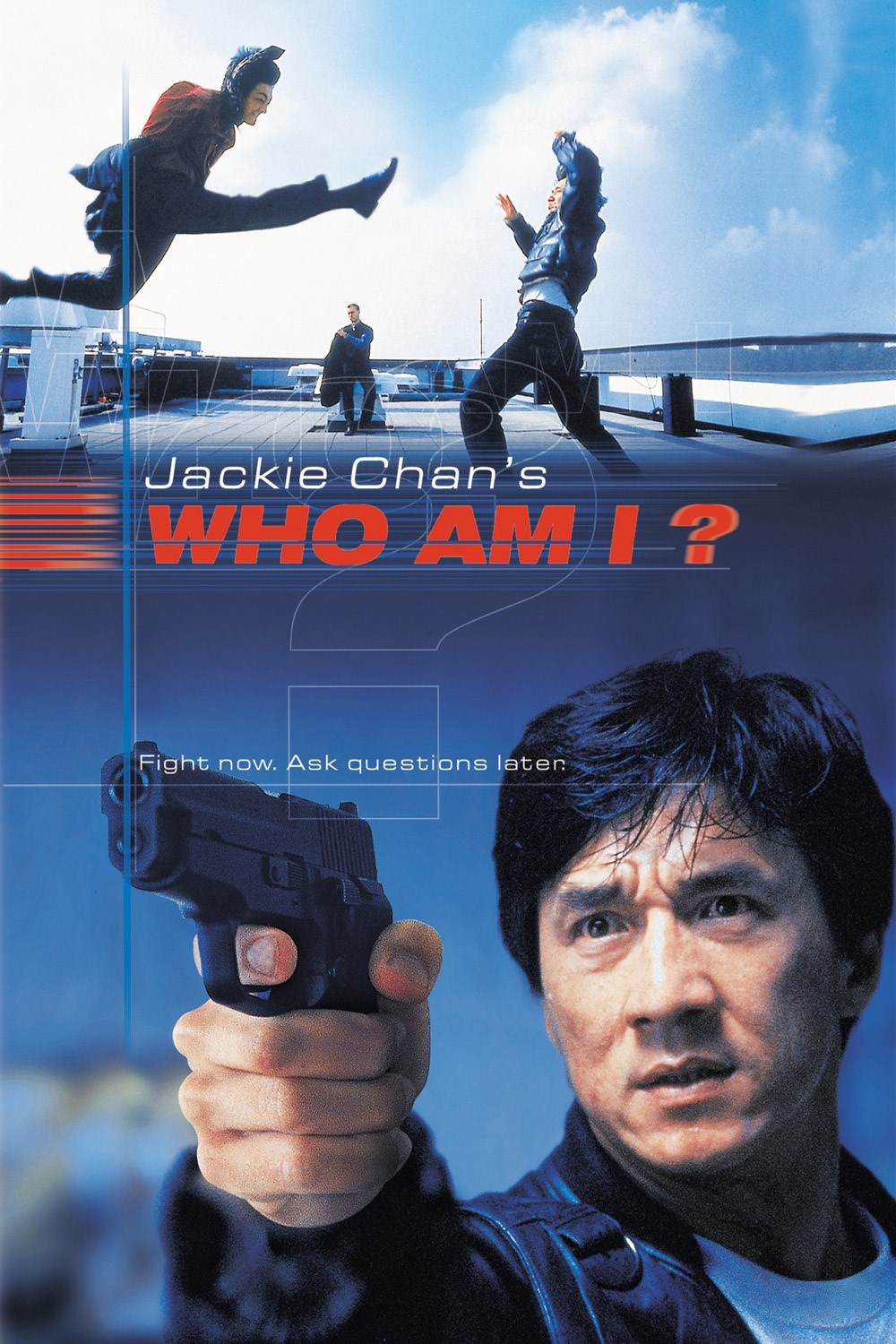 The theatrical poster for Jackie Chan's Who Am I
3) You star in Triple Threat which is probably the most hyped action movie of the year. Tell us how you got involved in the project.


I found out that Triple Threat was shooting in Thailand where I lived and Thailand is my home base to do action movies all over Asia. I sent Jesse a message that I am on standby for him. Tim Man, the film's action director,  recommended me as well and Jesse invited me for a casting call as a big part became available. He looked at me with a smile and changed the part which was actually Brazilian to a German guy, called 'Steiner'. Jesse said 'OK Ron, You're from Holland Right? Now you are the German 'Steiner', we'll make it work.' 


Armed and Deadly! The bad guys and gal of Triple Threat: Michael Jai White, Michael Bisping, Jeeja Yanin, Scott Adkins and Ron Smoorenburg
4) When you heard of the great action stars you would be working with, what was your initial reaction and who were you most excited to work with?


I had actually already worked with Tony Jaa before in Warrior King A.K.A. THE PROTECTOR (Final fight) and Scott Adkins in Ninja 2 (Dojo fight) and Michael Jai White from Never Back Down 3. It was great to work with all of them again. They are really awesome people from the heart, who made their careers happen by hard work and pure dedication.

This felt like this was becoming a kind of Expendables of Action stars. I was very honored to have a great talk with Iko Uwais and also Dominiquie Vandenberg. They are such great personalities with such a great martial art background. I think I've never seen this amount of firepower together on set.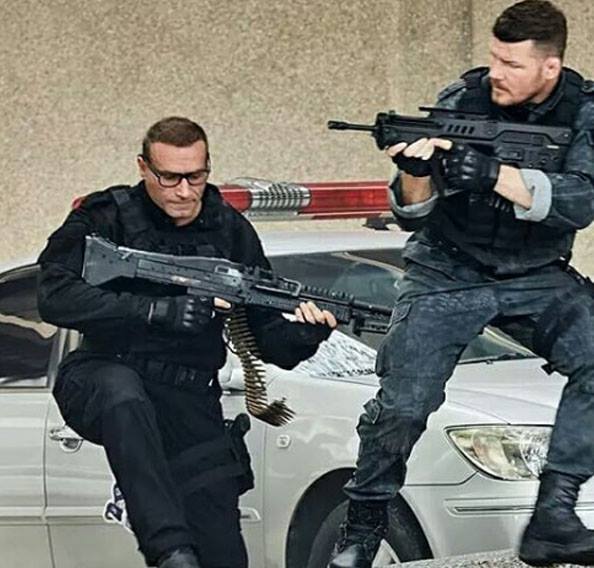 Ron storming the gates with Michael Bisping in  a scene from Triple Threat!
5) You play the role of Steiner in the film who is a part of Scott Adkins' mercenary team. Tell us about the character and how did you go about tailoring the character to best suit you?


First of all, Jesse is an amazing director. Just before shooting, he put some nerdy glasses in my hand and said these are yours, wear them, this is your character. A German war veteran, who has aggressive traits, weird, and a kind of loner. I was slightly worried I couldn't be as good as the other cast, I just hoped I could pull off something special. The first shots went very well and from that moment on I really became a 'Steiner'.

In the Jungle scene Jesse told me; 'Ron, this is gonna be your Rambo shot.'  He gave me some great angles in which I shoot the M-60 Machine gun, and he let me get a little disturbing and interact weird with one of my collegues in the shot to create that character. Jesse gave me some very very good directions regarding my looks and speech,…advice which made it perfect for the character and I still use now.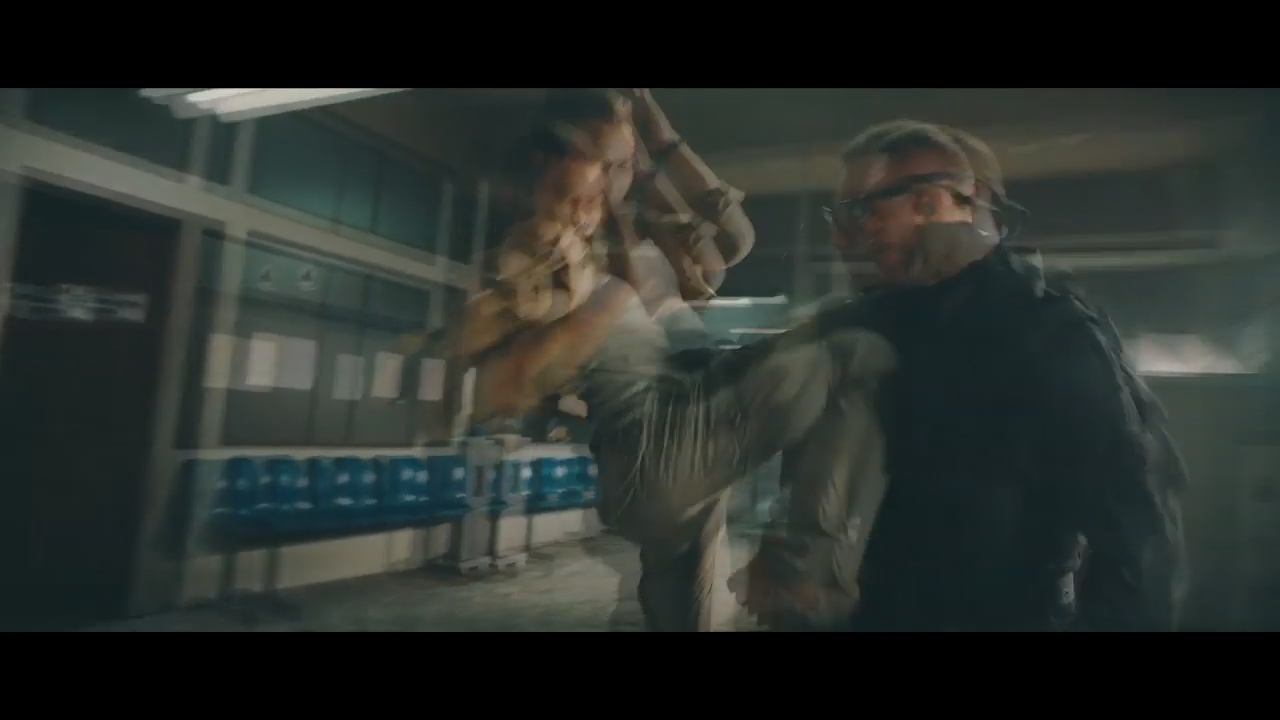 Ron absorbing a lethal knee from the great Tony Jaa in a scene from Triple Threat!
6) Talk about the training that was involved for the film. What did you and the other cast members do to get camera ready?
The first rehearsal day, I had a rehearsal With Tim Man and the stand in for Tony Jaa. They showed me the choreography which was very cool, well designed and rough. There were not many kicks in there I could normally perform but it didn't matter as this fight was brutal and of course i was so honored to do all this. The next day Tony Jaa came and went through it with me. He changed a few things but not much and we were sure we could go for this with great power.

7) I've seen the film and it boasts some of the greatest on screen fights ever put on film. How much pressure did you and the cast feel to deliver the goods to the fans?
Great question. I knew this fight was going to be hardcore as Tony Hits hard and you don't want to fail anyone as well as they believe in me. We knew we had something, but still had to get the shots as sharp and powerful as possible. Tim is very great as a coordinator and he made the block shots perfect. Also maybe because I felt, I had nothing to lose with so many good action actors, I just gave it all I could, to the max, and let Tony Hit me hard. If I survive today I will survive every next action movie I said to myself. This has to be a super strong fight. I was so into it that I said to Tony, 'OK go for it, don't worry' during the last kick. I can't say much but I can tell you for the reaction on that kick, I didn't need to act at all (laughs).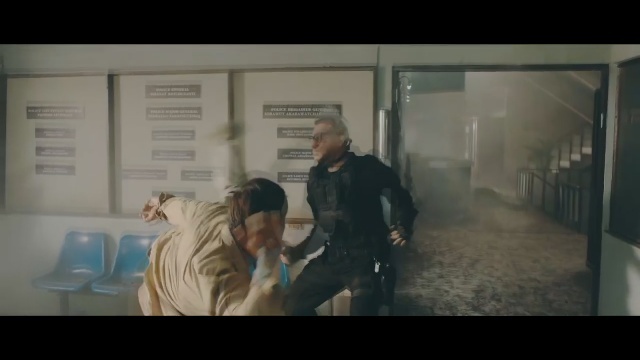 Taking on Tony Jaa in a fight scene from Triple Threat!
8) Now of course, the  great Jesse V. Johnson directed the film. Tell us how it was working with him and what makes him such a great action director?


Besides making my character, he also knows exactly what he wants. He is very nice to everyone, and gives you good and very personal guidance. So it's not like you guys are just bad guys no1 and no2. He really wanted the characters to come out. And yes it's just a pleasure to work with Jesse and everyone will tell you the same.

9) You shot the film in some pretty steamy places like Bangkok. What were some of the difficulties that you guys faced while filming?

It was a hot period and this it was really hot in the jungle for example and some buildings. I have to give credit to the production team for this. The catering was outstanding, and we needed that. There was always water, towels, energy drinks and food nearby.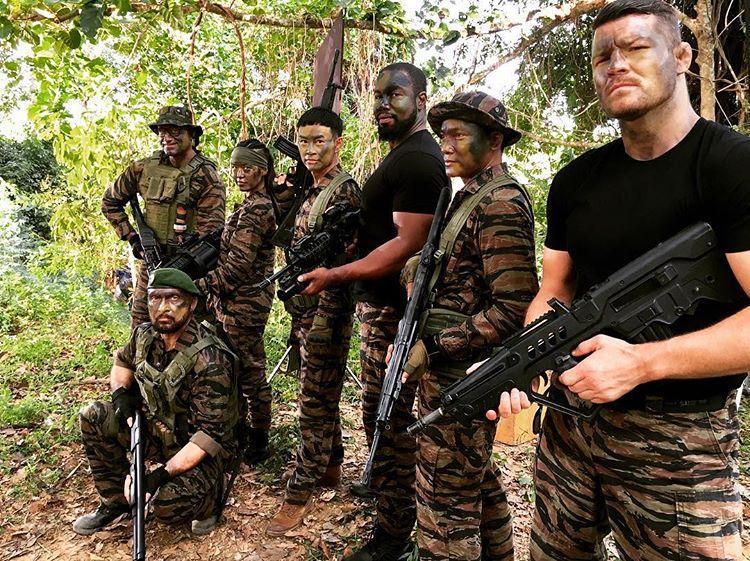 Ron with his Triple Threat co-stars Dominiquie Vandenberg, JeeJa Yanin, Tiger Chen, Michael Jai White, Tony Jaa and Michael Bisping
10) You get to take on the great Tony Jaa in the movie. Describe how it was to construct the fight with him and was there any improvising? 

The good thing is I think Tony trusts me as we had worked together before two times. We both felt great and he also kind of knows that I'm not too worried about getting hit, so there were no limits except going for it. During the fight, I threw Tony Jaa a little bit too hard and he went through a wall. Tony (Smiling) was totally OK, but we had to adapt the wall a little. That's why I always say 'Life is Action'
Exclusive Dan's Movie Report and Action-Flix.Com behind the scenes footage of the Ron Smoorenburg/Tony Jaa Fight!
11) You get to rock the iconic M-60 machine gun in a very important scene of the film. Talk about the experience you had in wielding that lethal piece of machinery around.


They had a prop version of it but it was still very real and heavy. Then we had the real one which was even more heavy. Such a great weapon for this Steiner character especially. Sometimes the gun kept shooting a little as the bullets go like butter but it was good for the scenes as Steiner is excited to kill!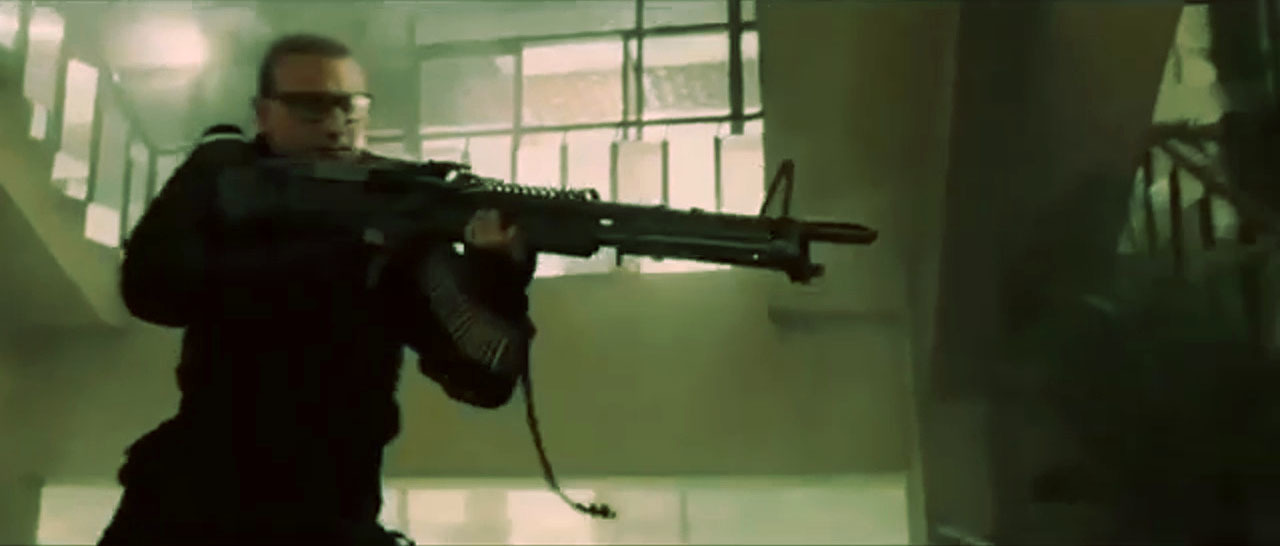 Ron rocking the M-60 machine gun in a scene from Triple Threat!
12) Talk about working with everybody like Scott Adkins, Tony Jaa, Iko Uwais, Michale Jai White and Jeeja. What did each one bring to the table.


First of all ,everyone got along so well. Also I'd like to mention great people like Michael Bisping, Dominique Vandenberg,  Selina Lo and Daniel White.

Scott Adkins: Meeting Scott is always great. We have a few things in common and there's a lot of mutual respect. It was cool to have scenes this time on his side, instead of fighting Scott as the villains were a real match against the heroes

Tony Jaa: Tony Jaa always very nice, when you meet him on set or anywhere else.
I love Tony! He put Thailand on the map of Martial arts movies and that's basically why I live there. Also he took a very nice picture with my son Nicky on the wrap party.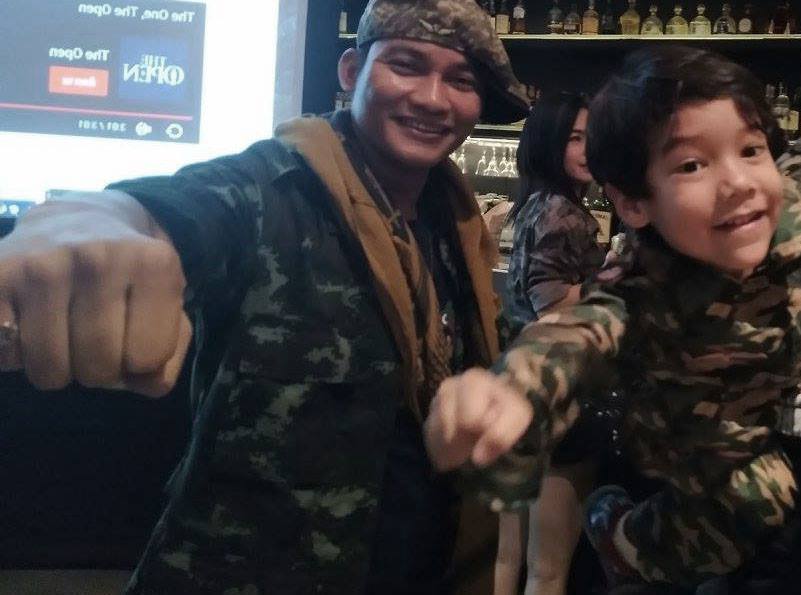 Tony Jaa with Ron's son Nicky!

Iko Uwais: For me, he's a double star, very very humble. I would really love to have a nice 1-1 fight with him one day !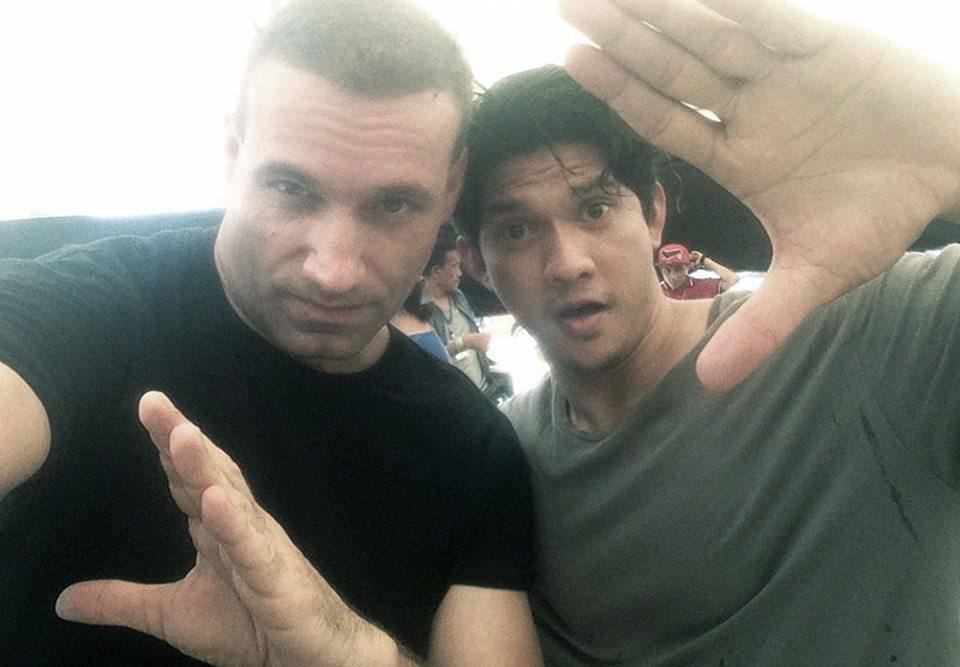 Ron with his Triple Threat co-star Iko Uwais!
Jeeja Yanin: Always great, she is the first girl who impressed me in martial art movies. Chocolate was great. The fights and also her acting. So happy to be by on her side in many scenes in Triple Threat !

Michael Jai White: Just great ! A lot of experience and his character was very strong to be near and for me to play the scenes well.
13) Do you have any great stories from set?


Well we had some explosions on the set that were so hard, that was really heavy and there was just one very funny stunt guy who said to me every day, 'Ron, so you're a superstar now, can you still eat with us and sit with us together?', Weird as he knows, I never have any Diva issues… I'm not sure if this is a great story but you can see if you get a chance that some people also don't like it. That's reality. But the real stars on set were all great that's the irony !
14) Tell the fans why this movie is going to deliver the action goods. What separates it from other action films?

The lineup of people is just amazing, this has never been done on this scale. The matchups between the good guys and bad guys is very optimized at a point that you won't know who will win. This is real Martial arts – No CGI, with nice long takes as well. The martial art styles are very different of each person so all the different fights all have an interesting clash between not only the actors themselves
but also their styles. Besides martial arts, there are also great and heavy shooting scenes, explosions etc, so it's a mix of both and both are so well represented. I think the story is great as well as there are some very unexpected events.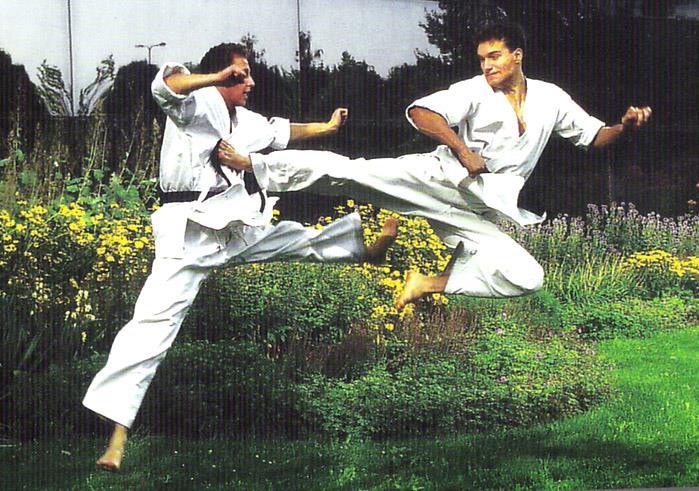 Ron Smoorenburg (Right) and partner Daniel Broekman (left)

Interview Bonus! Danny Templegod of Dan's Movie Report asks Ron the following questions!

1) Hi Ron! Chat about the glasses you wore for Steiner. You told me in a private chat about the character that  director Jesse V. Johnson gave them to you to look like a nerdy villain.

Just before shooting Jesse looked at me and gave me these nerdy glasses, 'you're gonna wear these' he said. I was like really? I wanted to look cool but he wanted me to be different, a nerdy , weird, aggressive loner. A war veteran called Steiner. Actually, that was the best decision ever as that made my character and I became Steiner. It's also due to really great directing and guidance from Jesse.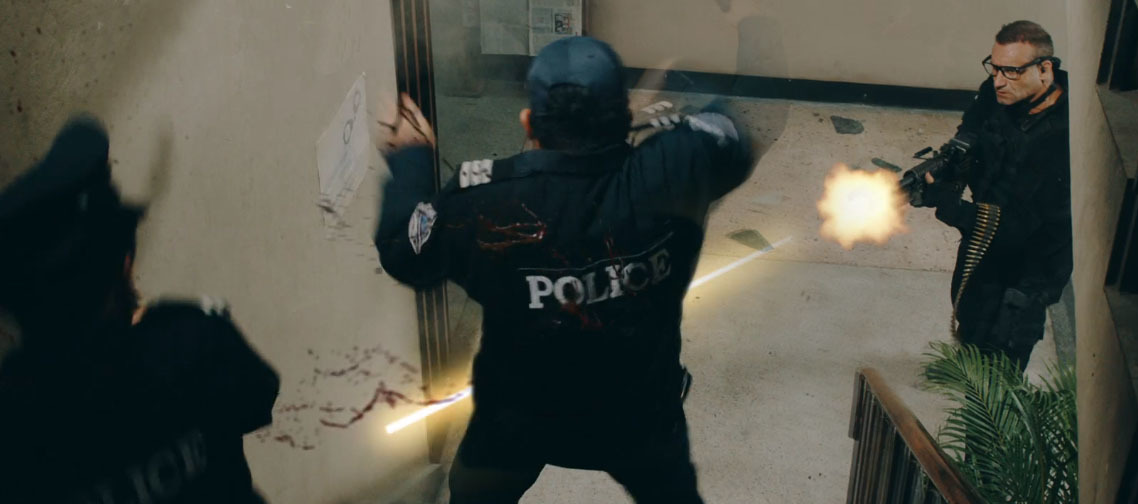 Kicking ass and taking names in a scene from Triple Threat!
2) Chat about how long and detailed the fight training was prior to the filming of your fight sequences, and gun work. Elaborate on what you talked about in question 6.


The first rehearsal day I had a rehearsal With Tim Man and the stand in of Tony Jaa. They showed me the choreography which was very cool, well designed and rough. There were not many kicks in there I could normally perform but it didn't matter as this fight was brutal and of course so honored to do all this. The next day Tony Jaa came and went through it with me, He changed a few things but not much and we were sure we could go for this with great power

3) How was it to work with Celina Jade? I know you just had a short meeting with her, but chat about her energy on set.


She's Great! She is very charismatic. I spoke with her at lunch one of the days and she brings a lot good energy to the set, also she's really into character…Everyone got along so well with her and each other.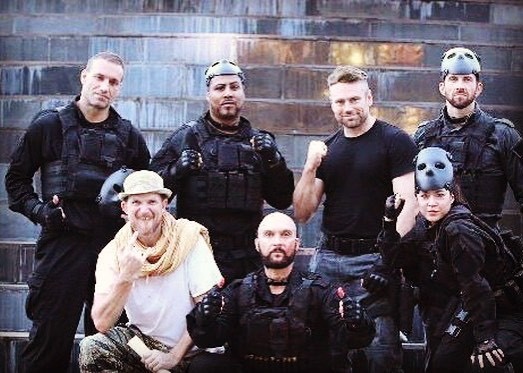 Ron on the set of Triple Threat with director Jesse V. Johnson (Bottom Left)
4) Without any spoilers, talk about your hard hitting fight with the great Tony Jaa. Chat in general terms about the action and your scenes.


Basically we went for it hard. In my case had not much too lose I could only win by giving really all the the max. I had to take Tony's hits… and he is tough, for me I like it as its like method acting. I told myself If I survive this day I will survive every next day ! The choreography was great, it went smooth, we really do respect each other and I cant wait for any next with with Tony !

5) Do you have anymore fun stories on set?
There is one but I really have to be careful about offending anyone, or giving the wrong impression. I totally take the blame as I was wrong…. It was really a mistake from my side and I corrected it. I was talking with Michael Jay White about aura's, energy fields of humans. As I was sitting next to him and I kind of see auras, I said to Michael, 'look, now because I'm close to you I'm actually penetrating you.' He stood up fast and said 'What ????? What did you just say Ron……????' (Laughs)
Another actor corrected me and said 'No, maybe Ron means the aura's are blending. Like overlapping.' That's what I meant of course, I said sorry… really sorry. Michael said I was a funny guy. Lucky he could laugh about it. I'm from Holland and my native language is Dutch , not English. I usually don't make mistakes that quick but this was a kind of big one. !!!!


A big thank you for the chat Ron! All the best in the future and I hope we get to do it again! 

Follow Ron on his official social sites for all the latest news and movie info!
TRIPLE THREAT is now available on Blu-ray, DVD and Digital!